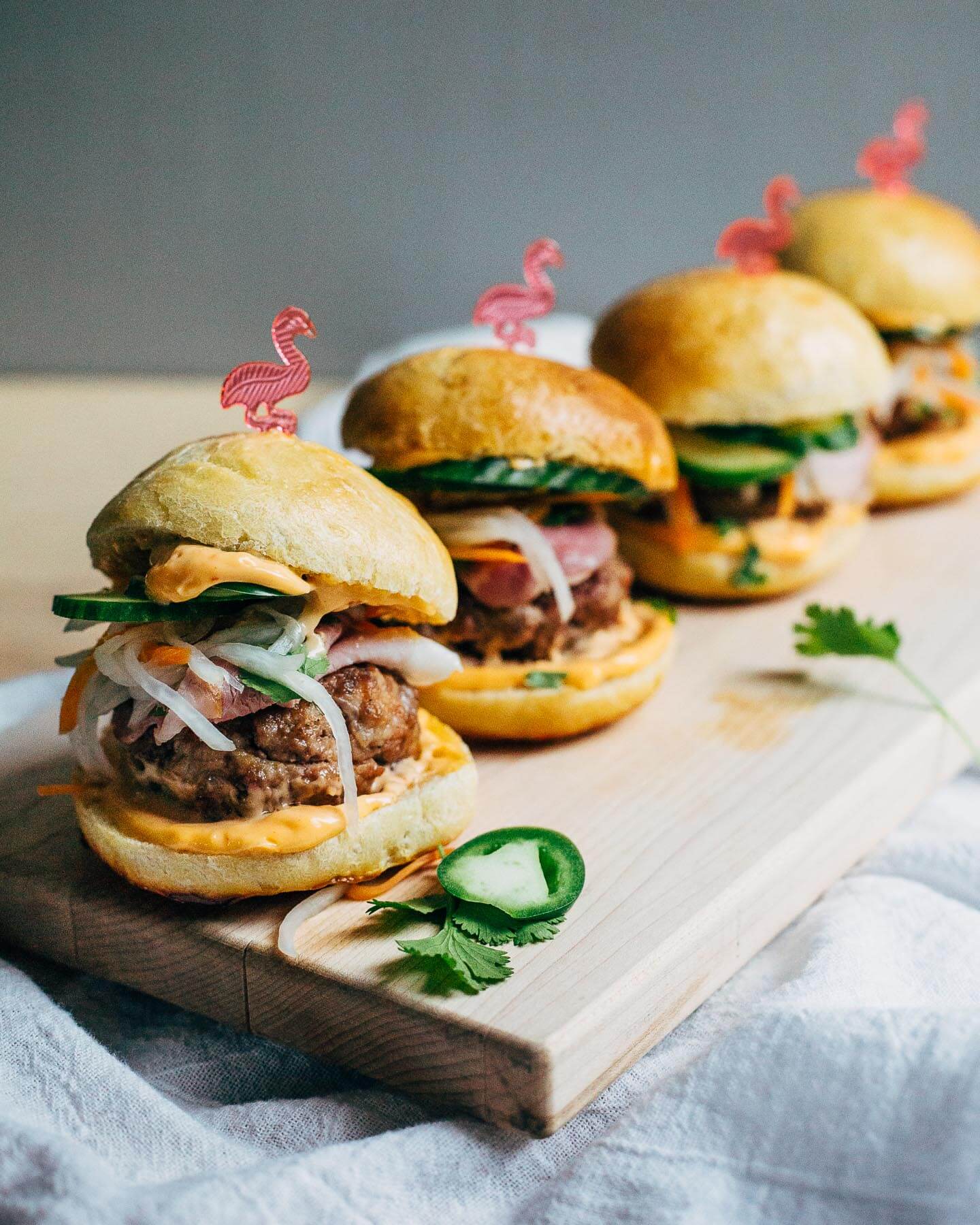 Tasty grilled pork banh mi sliders with all the fixings, from Jonathan Melendez's fantastic cookbook The Slider Effect. Jump to recipe.
Heat and sun have never been my thing, but I've been doing a good job at summer stuff nonetheless. Lots of trips to parks and various pools – both the picturesque quiet one out in the woods and the loud city pool with a water slide and lazy river that draws tons of kids. Despite all that bug spray and sunscreen, my daughters' complete joy and peals of laughter go a long way to making me a summer person.
In the evenings, we grill. It pushes dinnertime back, but the late sun and knowledge that the day's adventures will send the girls straight to sleep mean a lazy evening feels just right. Once we're alone, Brian and I head to the stoop to enjoy the light of a citronella candle and thrum of cicadas and crickets.
With so much else to do, I'm consciously cutting back on work for the summer. In my fifth year of freelance life, I've decided to (finally) be a better boss to myself. So while it seems the whole world's on holiday, I'm closing the laptop and living life.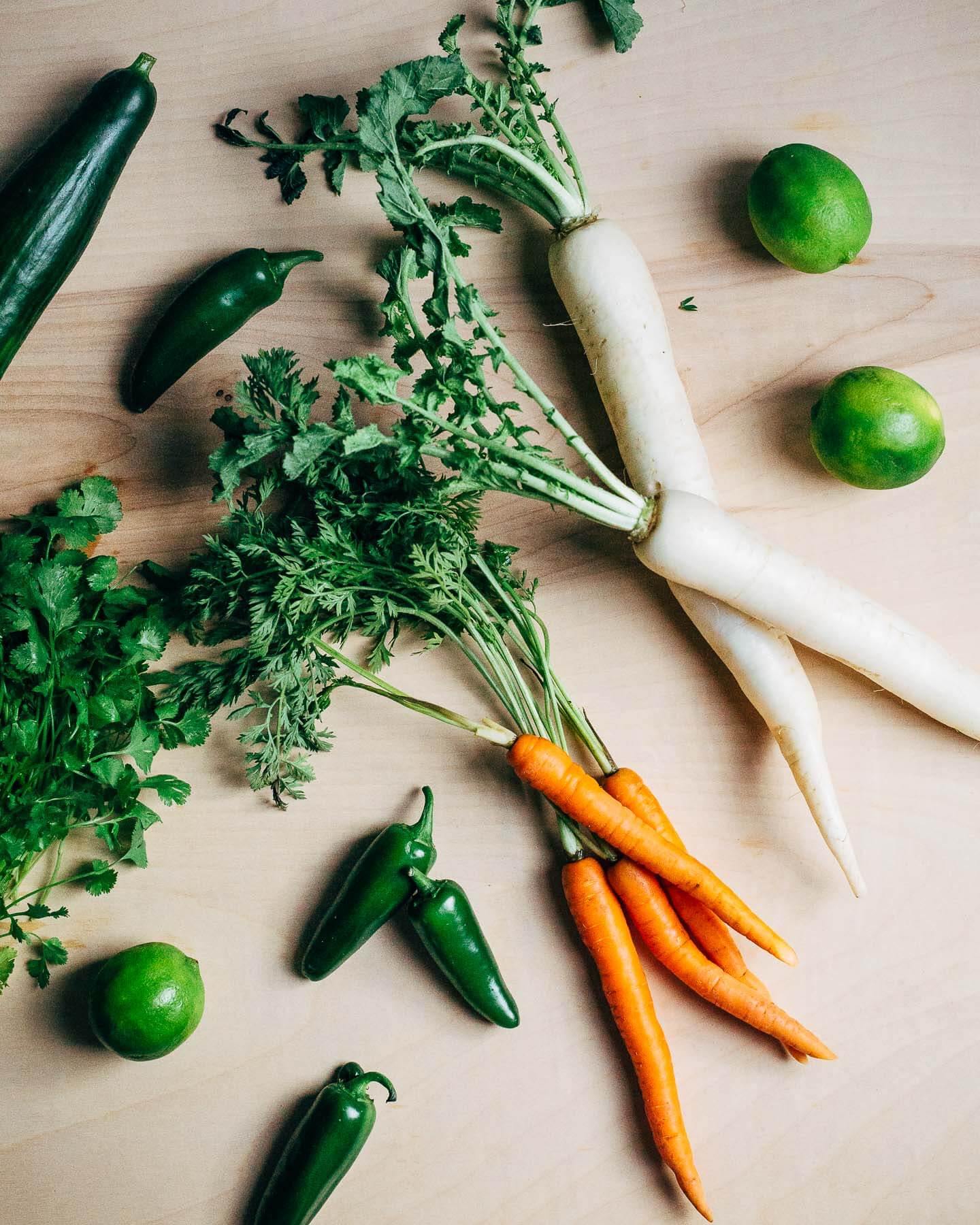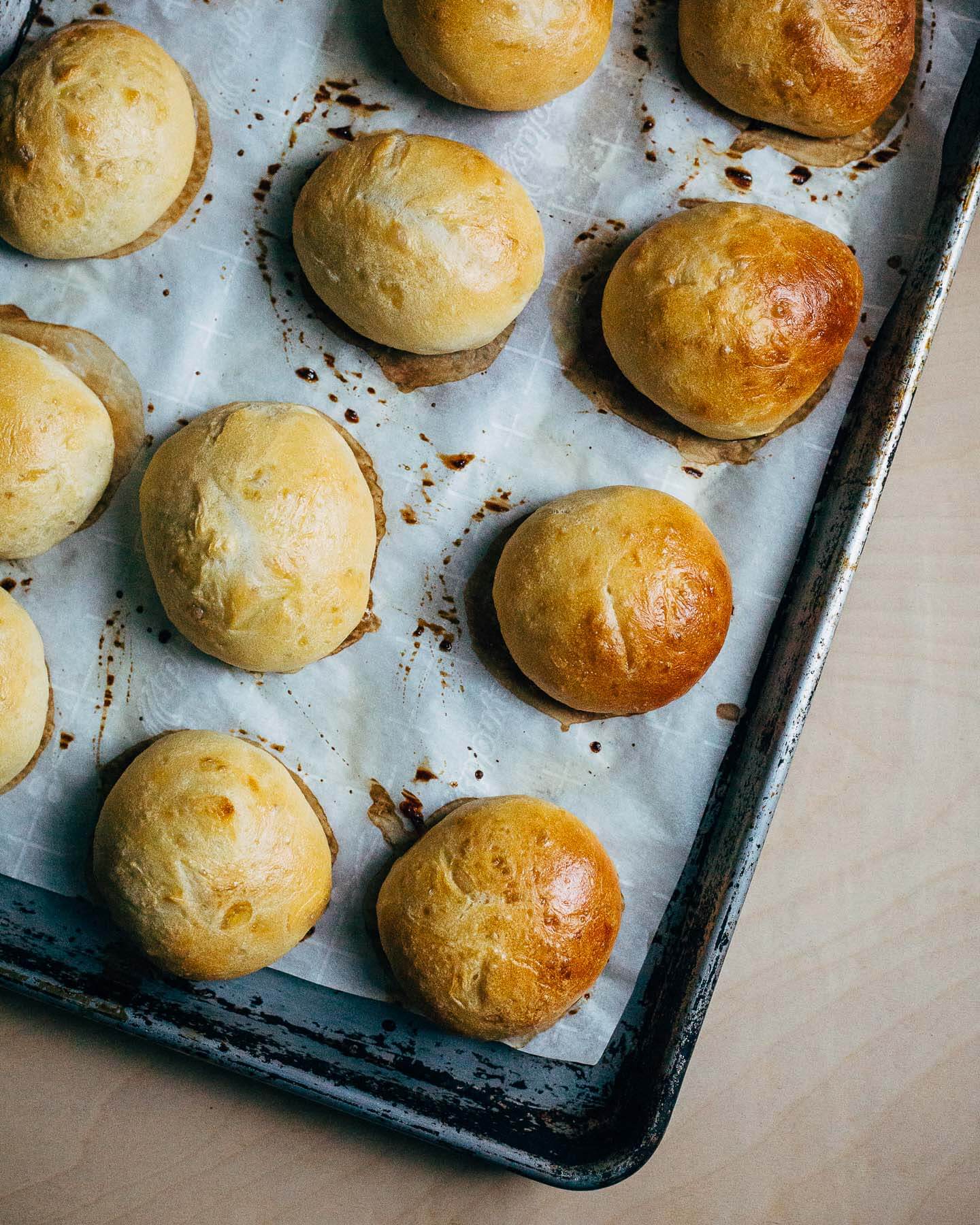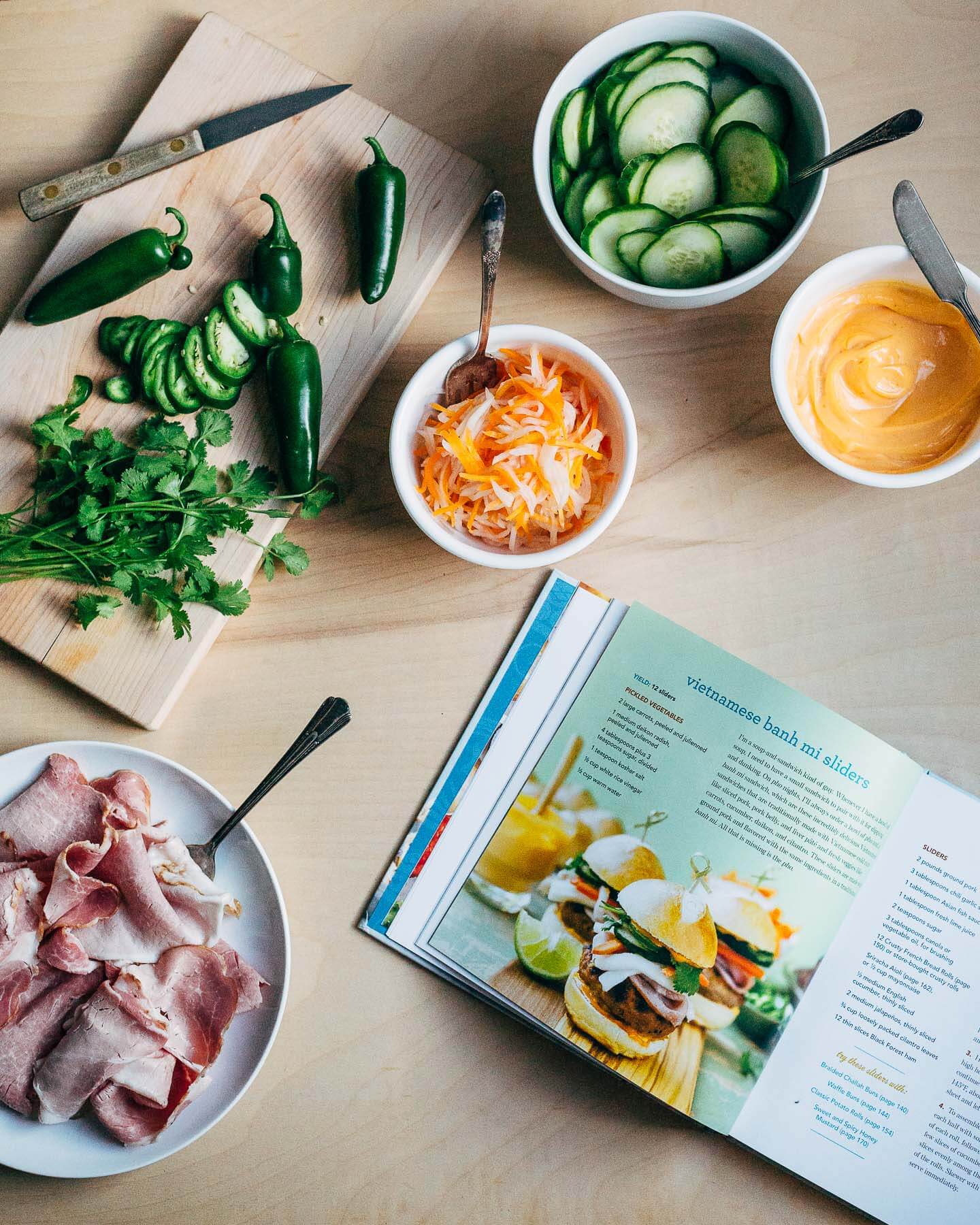 So much time in the sun and by the grill means we've been eating very well – thanks to my friend Jonathan's new book The Slider Effect. The slider effect, of course, is the tendency of one slider to lead to another. Great burgers and sandwiches are all about the add-ons, and every recipe in Jonathan's book takes things to the next level. I love his mix of simple (really!) homemade bun recipes, creative and deliciously layered flavors, and thoughtful condiments. Standouts include fish and chips sliders with perfectly breaded fish, shoe string fries, and roasted garlic aioli; cauliflower curry sliders brimming with fresh vegetables and vibrant layers; and tex-mex black bean sliders with lettuce, tomato, and avocado served on pillowy waffle buns. Friends, you need The Slider Effect in your life.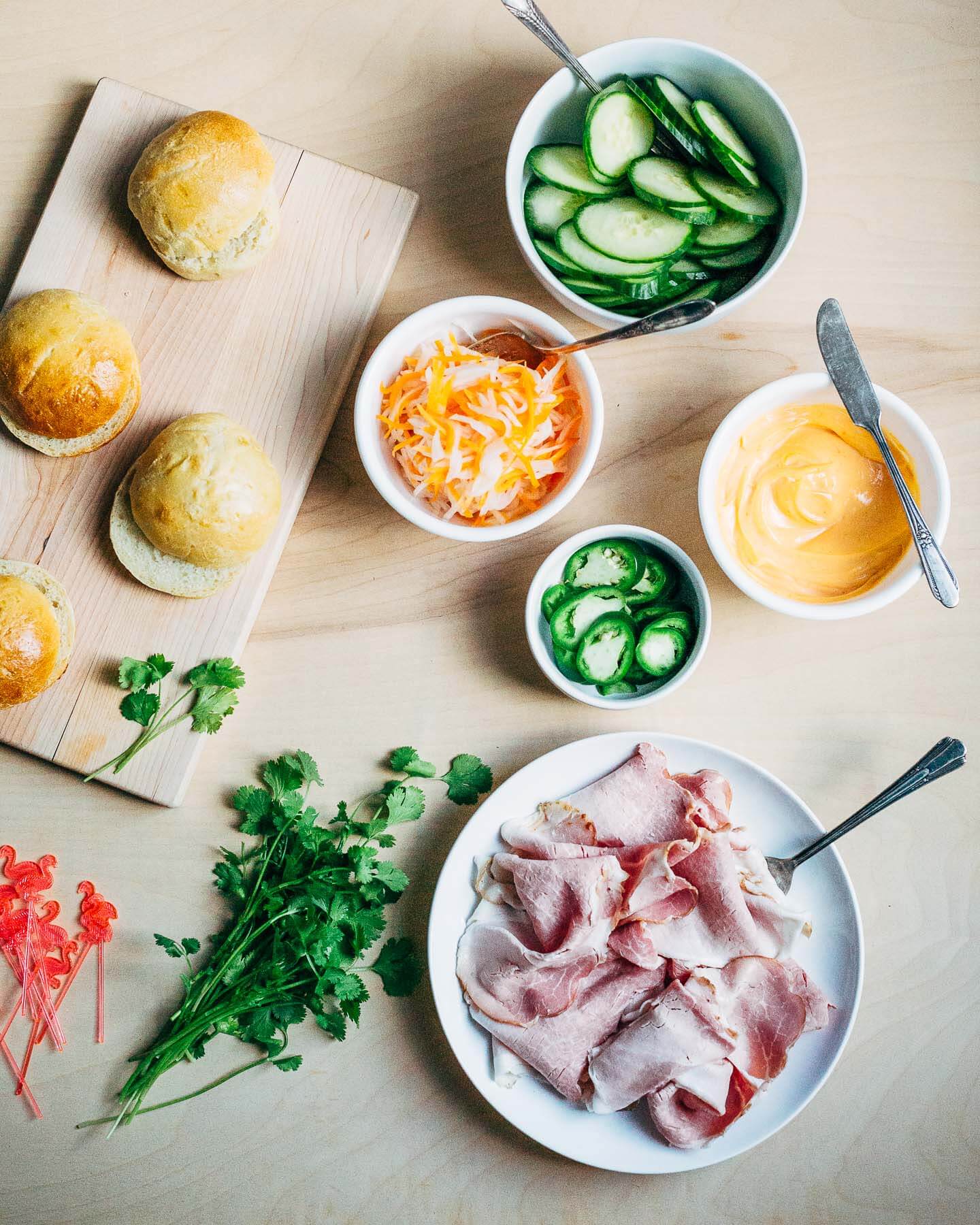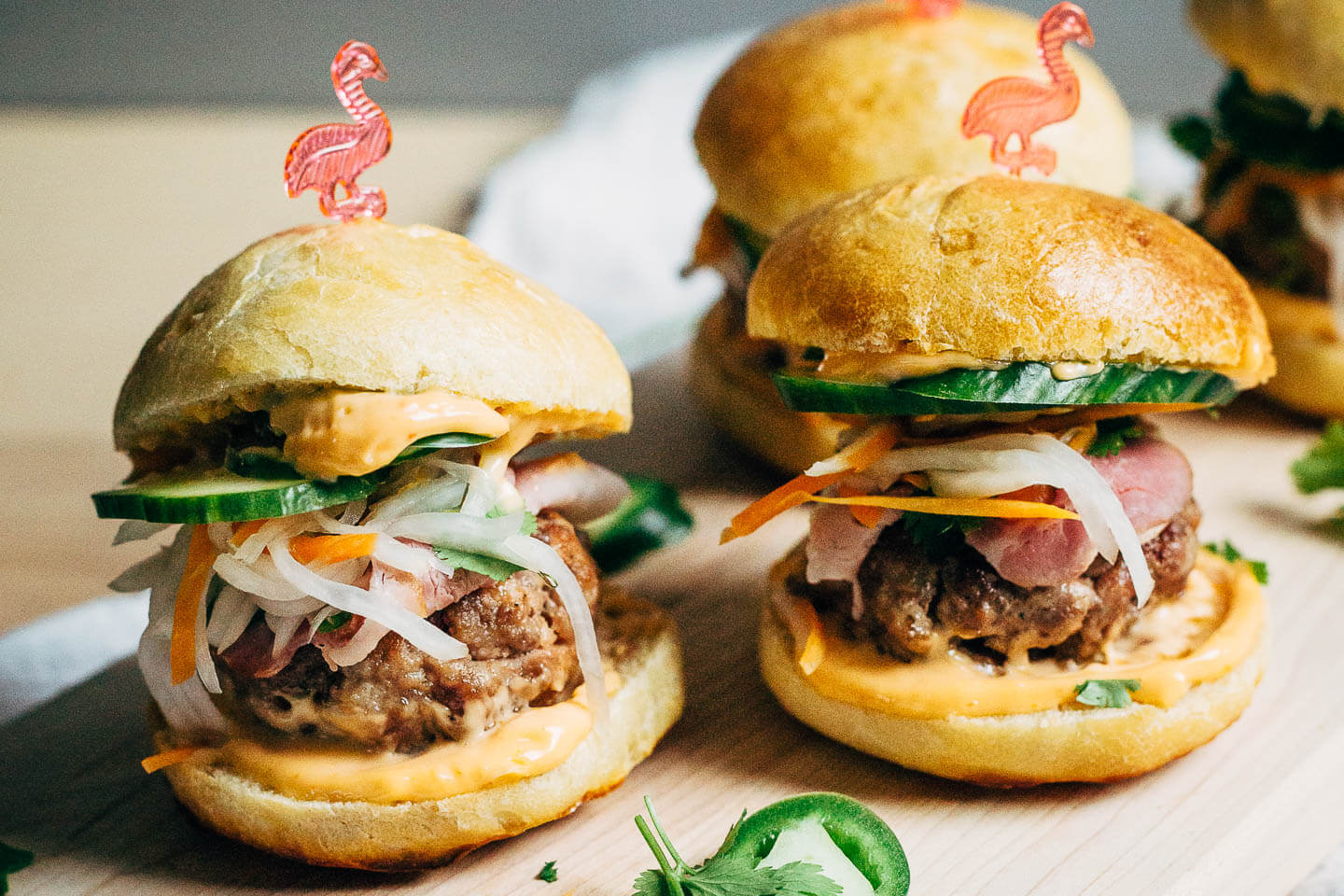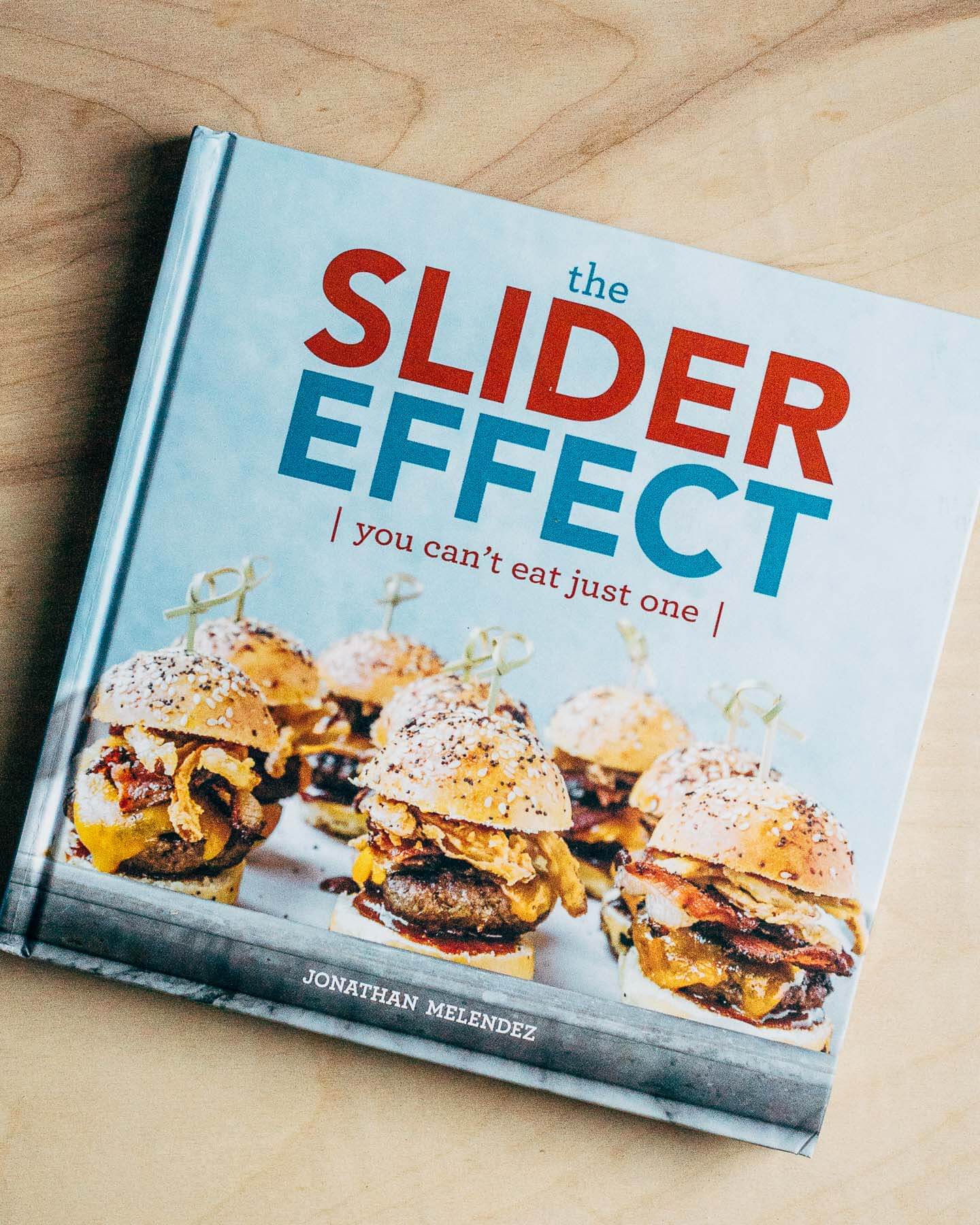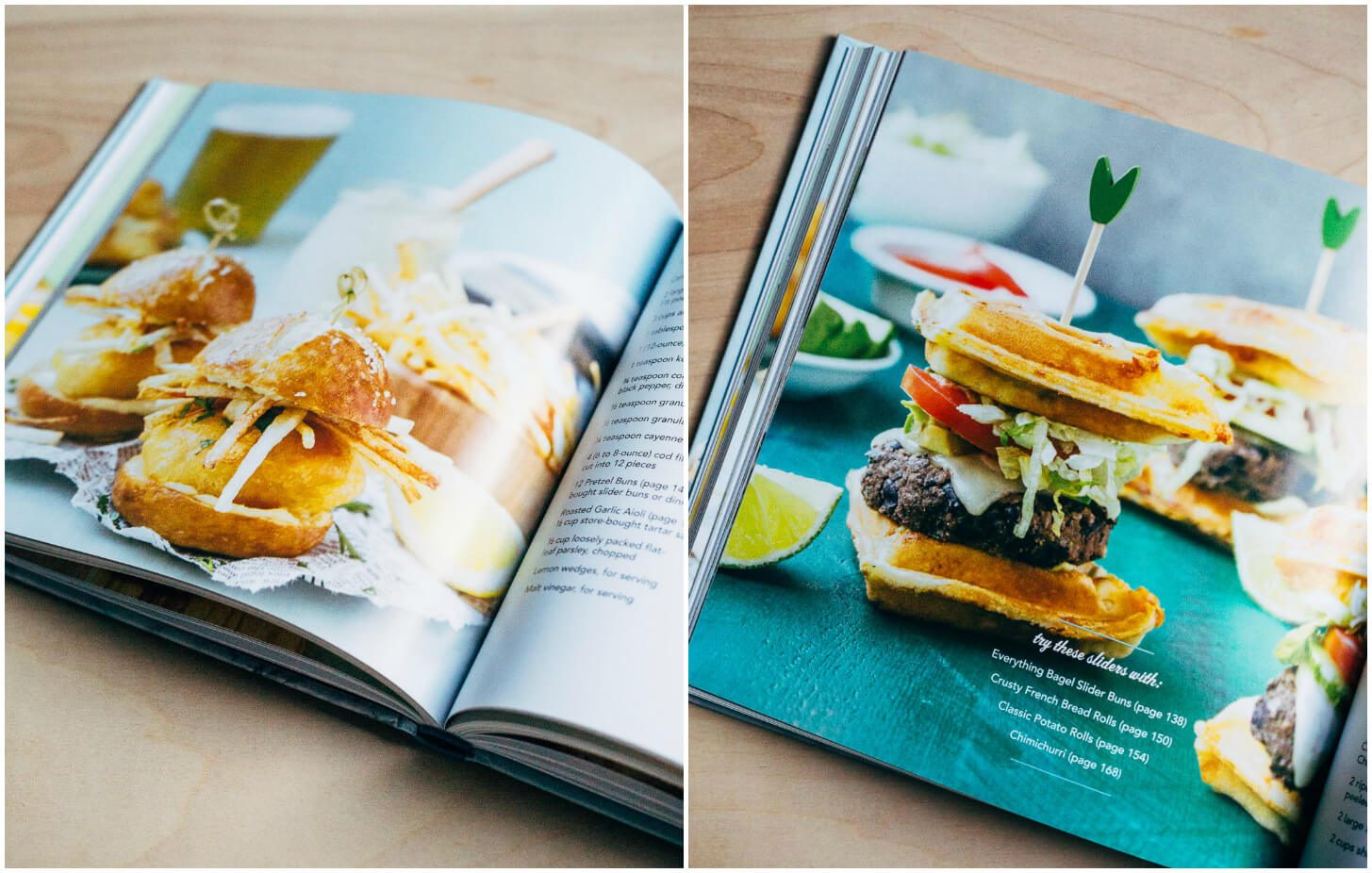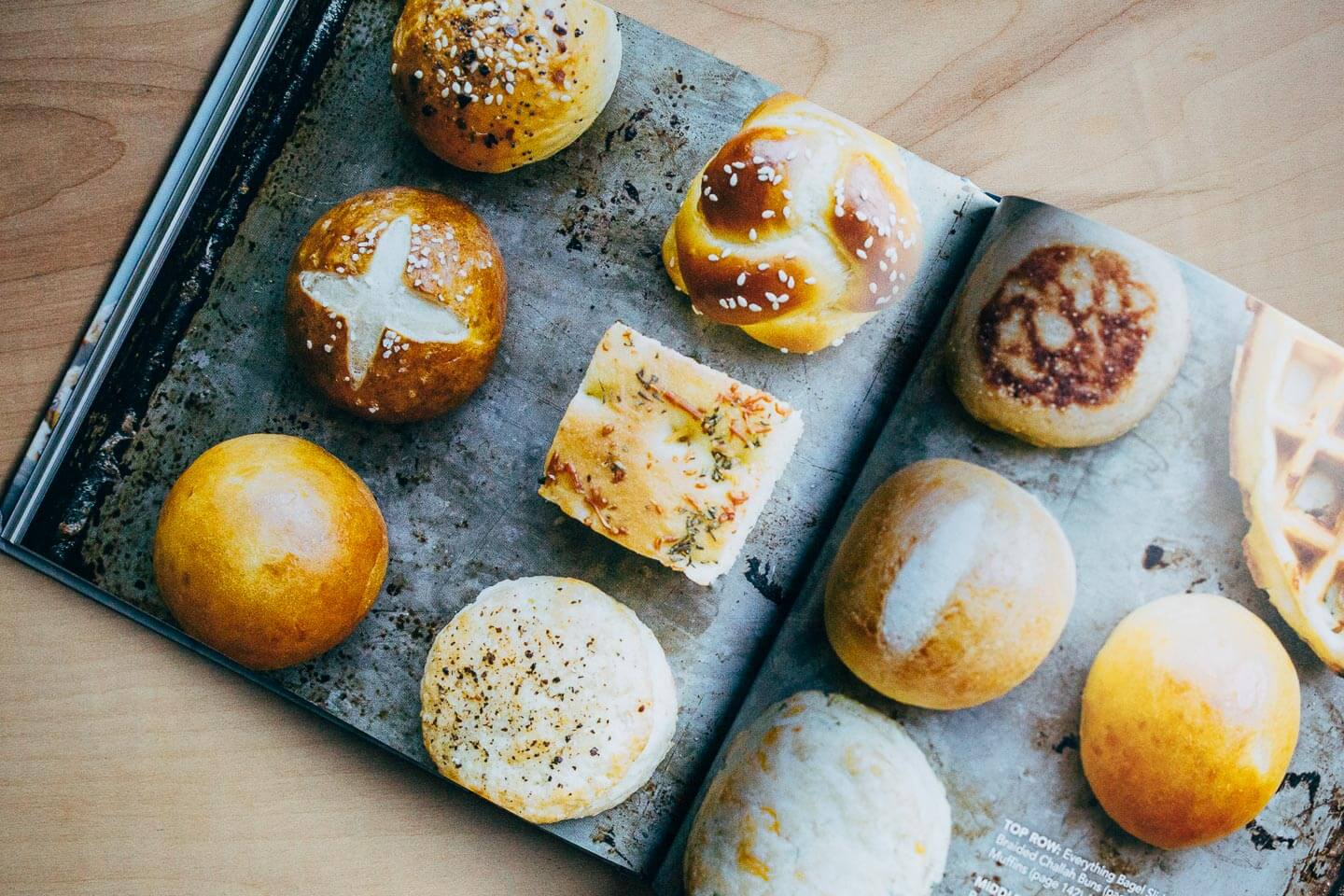 Among all of Jonathan's delicious recipes, I chose to feature these banh mi sliders. Inspired by the classic Vietnamese sandwich, they're made with ground pork swirled with fish sauce and sriracha, ham, pickled daikon and carrots, fresh cilantro and cucumber slices, not to mention sriracha mayo and homemade french bread rolls, these sliders achieve complete summery perfection.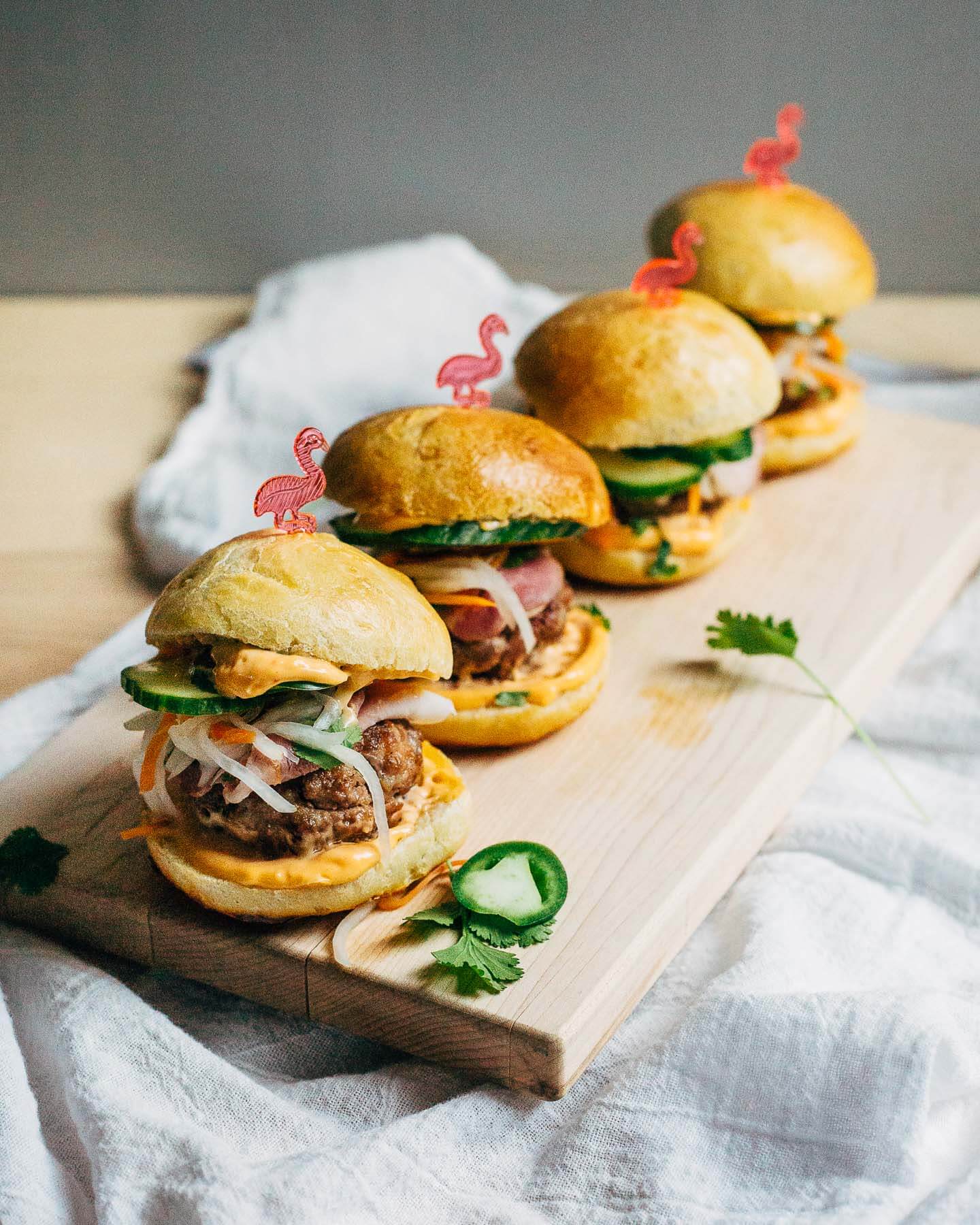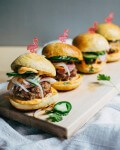 Banh Mi Sliders
Tasty grilled pork banh mi sliders with all the fixings, from Jonathan Melendez's book
The Slider Effect
.
Ingredients
For the Pickled Vegetables
2

large carrots,

peeled and julienned

1

medium daikon radish,

peeled and julienned

4

tablespoons

plus 3 teaspoons sugar,

divided

1

teaspoon

sea salt

1/2

cup

rice vinegar

1/2

cup

warm water
For the Sliders
2

pounds

ground pork

5

tablespoons

sriracha,

divided

1

tablespoon

fish sauce

1

tablespoon

freshly squeezed lime juice

2

teaspoons

sugar

3

tablespoons

neutral, heat-tolerant vegetable oil, for brushing
Crusty French Bread Rolls or store-bought crusty rolls
1/2

cup

mayonnaise

1/2

medium English cucumber,

thinly sliced

2

medium jalapeños,

thinly sliced

3/4

cup

loosely packed cilantro leaves

12

thin slices ham
Instructions
To make the pickled vegetables, in a large bowl, toss together carrots, daikon, 3 teaspoons sugar, and salt. Let sit 5 minutes to release their natural water, soften, and lose some of their volume. Drain in a colander and press down a bit to release any excess liquid. Return to the bowl and combine with the remaining 4 tablespoons sugar, vinegar, and water. The vegetables should be completely covered with vinegar mixture. Cover with plastic wrap and set aside until ready to use.

To make the sliders, in a large bowl, using your hands, mix together the ground pork, 3 tablespoons sriracha, fish sauce, lime juice, and sugar until evenly combined. Shape into 12 even 2-inch wide patties and place on baking sheet. Brush both sides with oil and let sit for 15 minutes.

Meanwhile swirl remaining 2 tablespoons sriracha into 1/2 cup mayo. Set in fridge to chill.

Heat an outdoor grill or stovetop grill pan over medium-high heat. Grill sliders 4 minutes, flip, and continue to cook until an instant read thermometer reads 145 degrees F, about 3 minutes. Transfer to a large platter or baking sheet and rest 5 minutes.

To assemble sliders, cut rolls in half and spread sriracha mayo on each half. Add a pork slider to the bottom half of each roll, followed by a handful of pickled vegetables, a few slices cucumber, jalapeño, and cilantro. Divide the ham evenly among sliders and then replace top half of the rolls. Skewer with a long toothpick to hold in place, and serve immediately.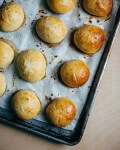 Crusty French Bread Slider Rolls
Homemade french bread slider rolls with a perfectly golden crust and chewy, elastic center, from Jonathan Melendez's book
The Slider Effect
.
Ingredients
2 1/2

teaspoons

active dry yeast

(1/4-ounce packet)

2 1/4

cups

warms water

(about 110 degrees F)

1

tablespoon

sugar

5

cups

all-purpose flour,

divided

2

teaspoons

sea salt

1

egg

1

tablespoon

whole milk
Instructions
In the bowl of a stand mixer fitted with the paddle attachment, dissolve the yeast in the warm water. Stir in sugar and let rest in a warm spot until foamy and doubled in size, about 45 minutes. If yeast doesn't foam up, discard and start again.

Stir in 3 cups flour and salt, and beat on low until smooth, 5 - 7 minutes. Switch to the dough hook and beat on medium, adding as much of the remaining 2 cups flour as needed, until dough comes together and pulls away from the sides of the bowl.

Transfer dough to a lightly floured work surface and knead by hand until smooth and elastic, about 5 minutes. Oil a bowl and transfer dough, turning to coat both sides with oil. Cover loosely with plastic wrap and a damp kitchen towel. Let rest in a warm place until doubled in size, about 1 1/2 hours.

Punch dough down and transfer to a lightly floured work surface. Divide into 24 even pieces, and cover with a damp kitchen towel to prevent drying. Line 2 baking sheets with parchment paper. Working with 1 piece at a time, roll dough between your hands on the work surface until it forms a tight ball. Place on prepared baking sheet. Repeat, spacing dough balls evenly on baking sheets.

Cover baking sheets loosely with a damp kitchen towel, and let rest until doubled in size, about 30 minutes. Preheat oven to 400 degrees F.

Whisk to combine egg and milk, and brush on rolls. Use a sharp knife or razor bade to make a 1-inch slit down the center of each roll. Bake 20 - 25 minutes or until rolls are golden brown. Transfer to a wire rack to cool completely before serving.

Store leftovers in an airtight container at room temp for up to 4 days.