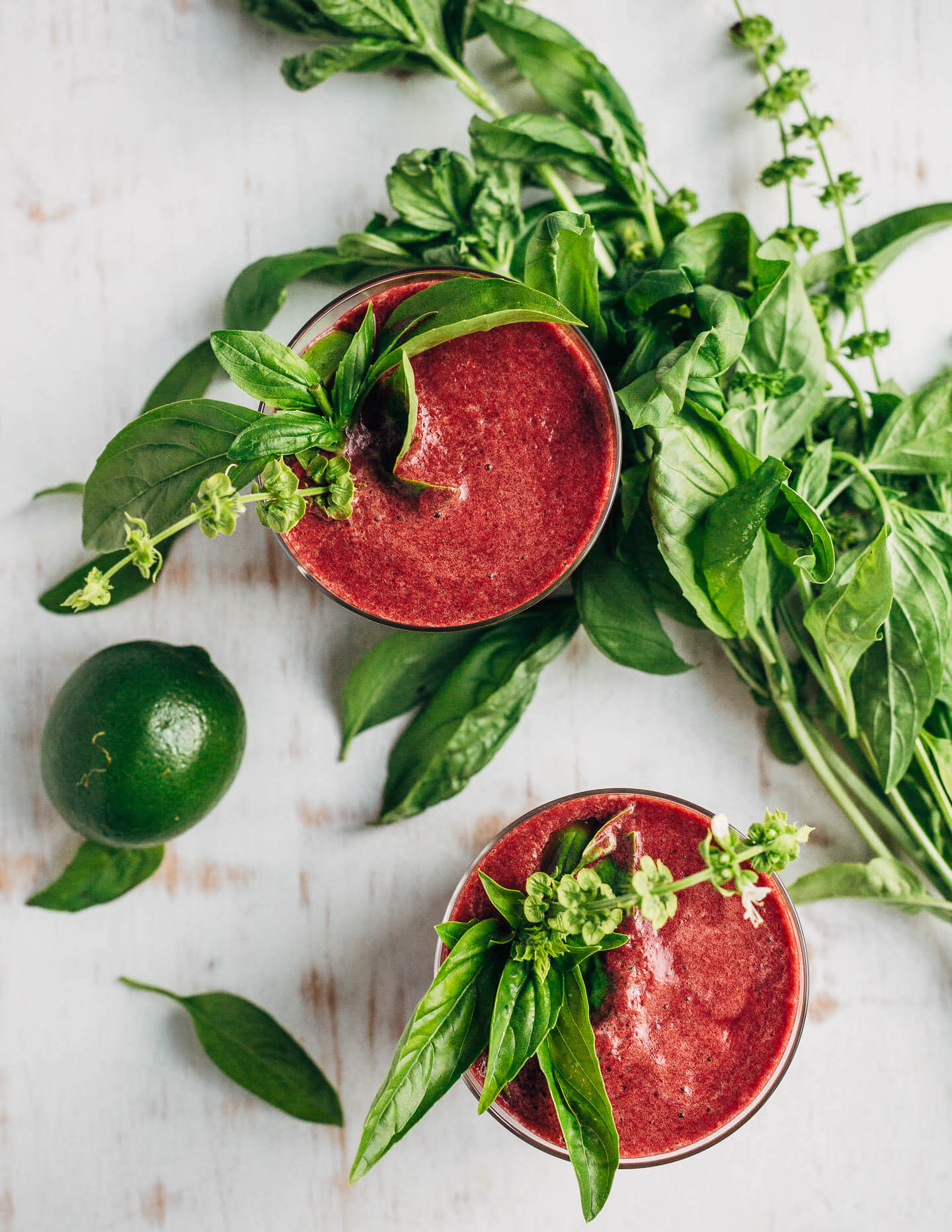 We've partnered with ZICO Coconut Water to bring you a batch of ultra-refreshing blackberry smoothies with fresh squeezed lime juice and garden basil. Jump to recipe. 
Stepping back into daily life after vacation has been pretty rough, especially because I came home to the blazing inferno that is Virginia in July. Still, after lots of time in the car, I was eager to get back into my exercise routine, searing heat or no. I planned my hikes for the morning when the air was still cool and brought plenty of water along, but found myself drained afterwards instead of energized.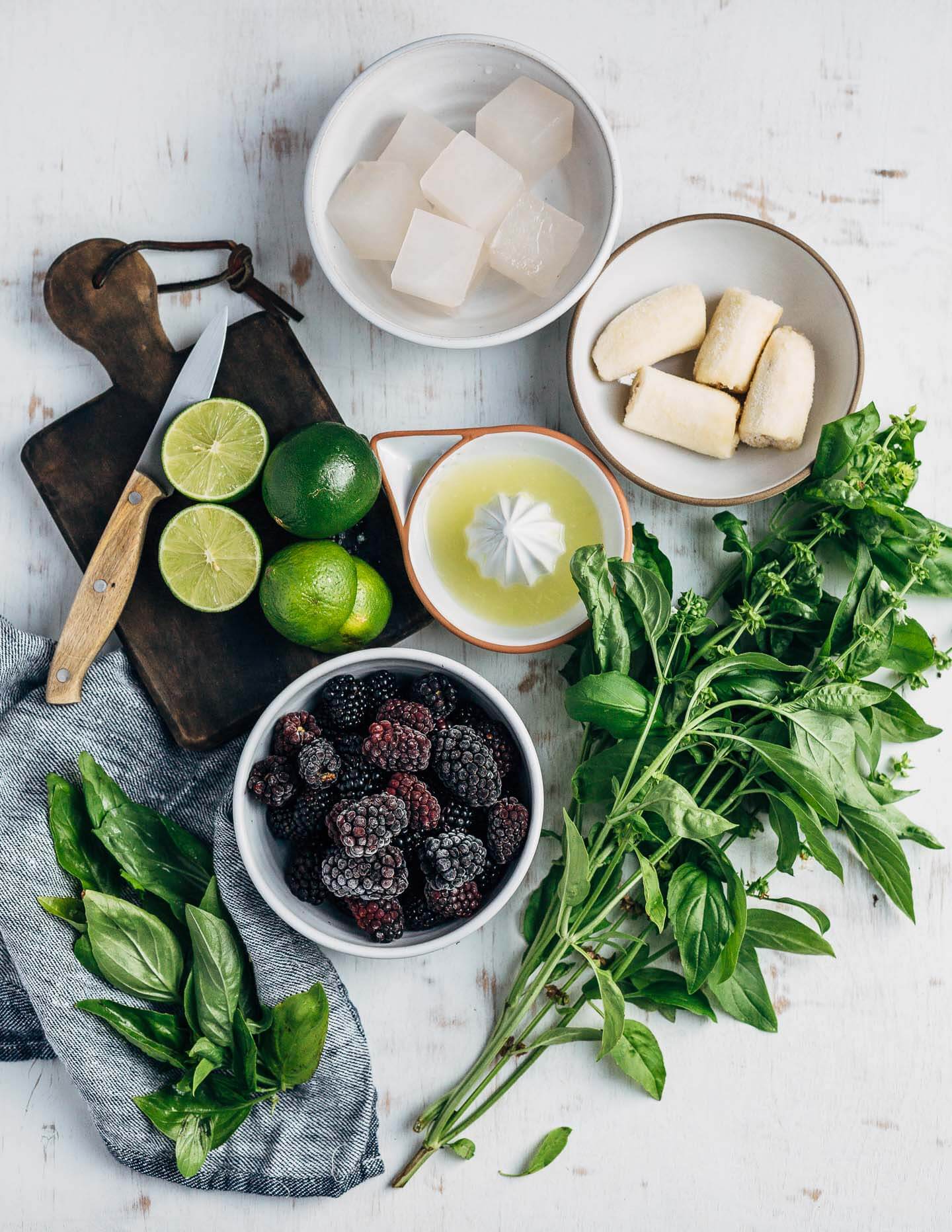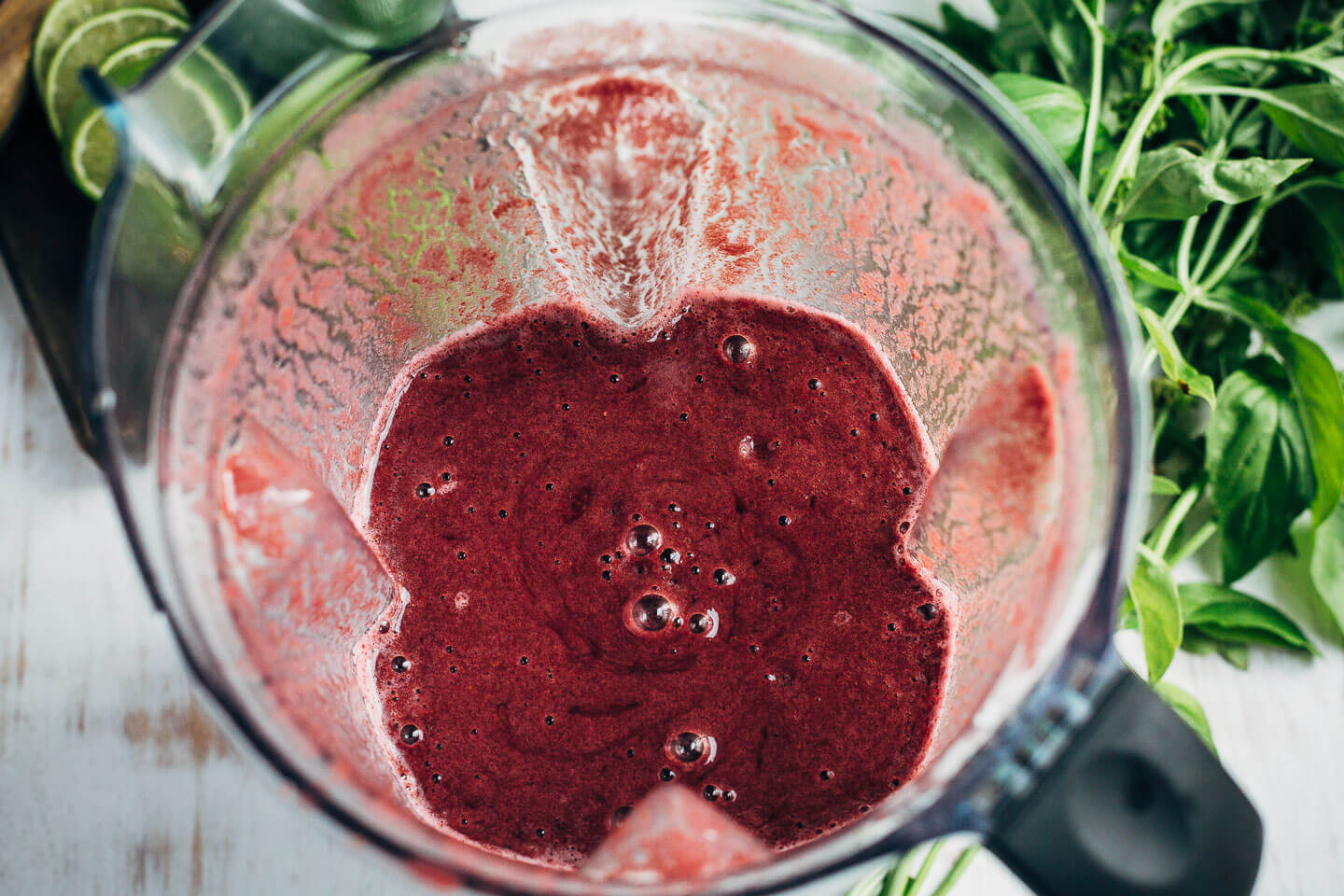 Clearly, I needed to change things up. I started focusing on hydration throughout the day, and on days when I spent a lot of time outside in the heat, I whipped up a refreshing, super hydrating fruit and coconut water smoothie.
This basil lime blackberry smoothie was by far the best of the bunch. The blackberries are bright and vibrant with just the right mix of herbaceous basil, tangy lime, and thirst quenching ZICO Coconut Water. The intriguing play of flavors make it an enjoyable way to sate a serious thirst.
ZICO Natural Coconut Water is 100% not from concentrate coconut water, with no sugar added, making it the ideal base for nourishing smoothies like this one. My recipe features ZICO Coconut Water two ways – frozen into cubes and right out of the bottle. This gives the smoothie an optimal mix of frostiness and blendability, while maximizing the delicious flavor of coconut water. If time is of the essence, feel free to sub in regular ice cubes.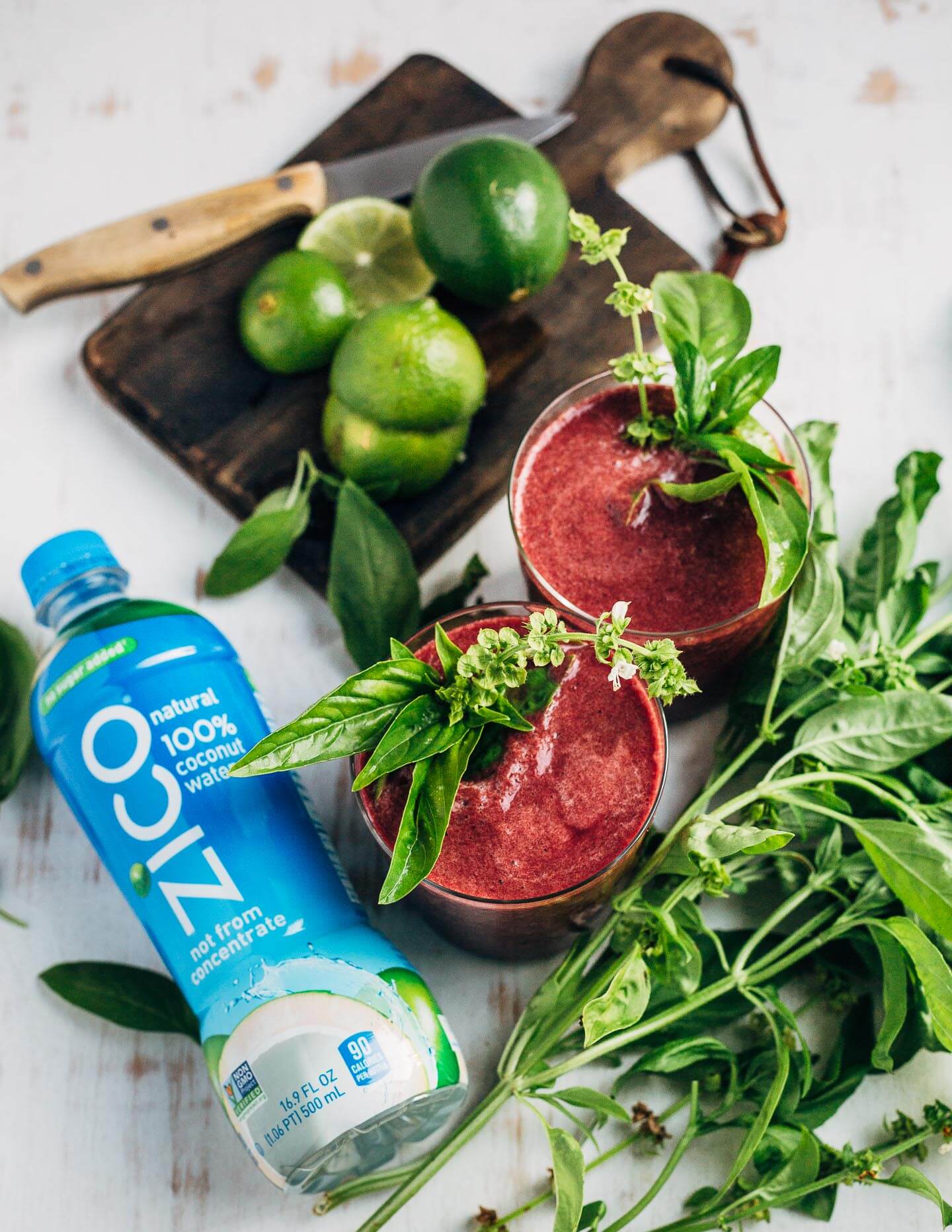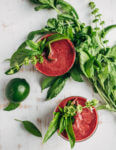 Basil-Lime Blackberry Smoothie
A refreshing blackberry smoothie with coconut water, fresh squeezed lime juice, and garden basil.
Ingredients
28

ounces

ZICO Natural Coconut Water

(about a bottle and a half), divided

1

cup

frozen blackberries

1

frozen banana

juice of 1 lime

1/4

cup

packed basil leaves

, plus more for garnish
Instructions
First, create the coconut water ice cubes. Pour 18 ounces coconut water into an ice cube tray and freeze.

To make smoothies, combine 5 coconut water ice cubes, frozen blackberries and banana with lime juice and basil in the pitcher of a blender. Pour in 1 cup (8-ounces) coconut water, and blend. If needed, add another 1/4 cup (2-ounces) coconut water. Garnish with basil leaves and serve right away.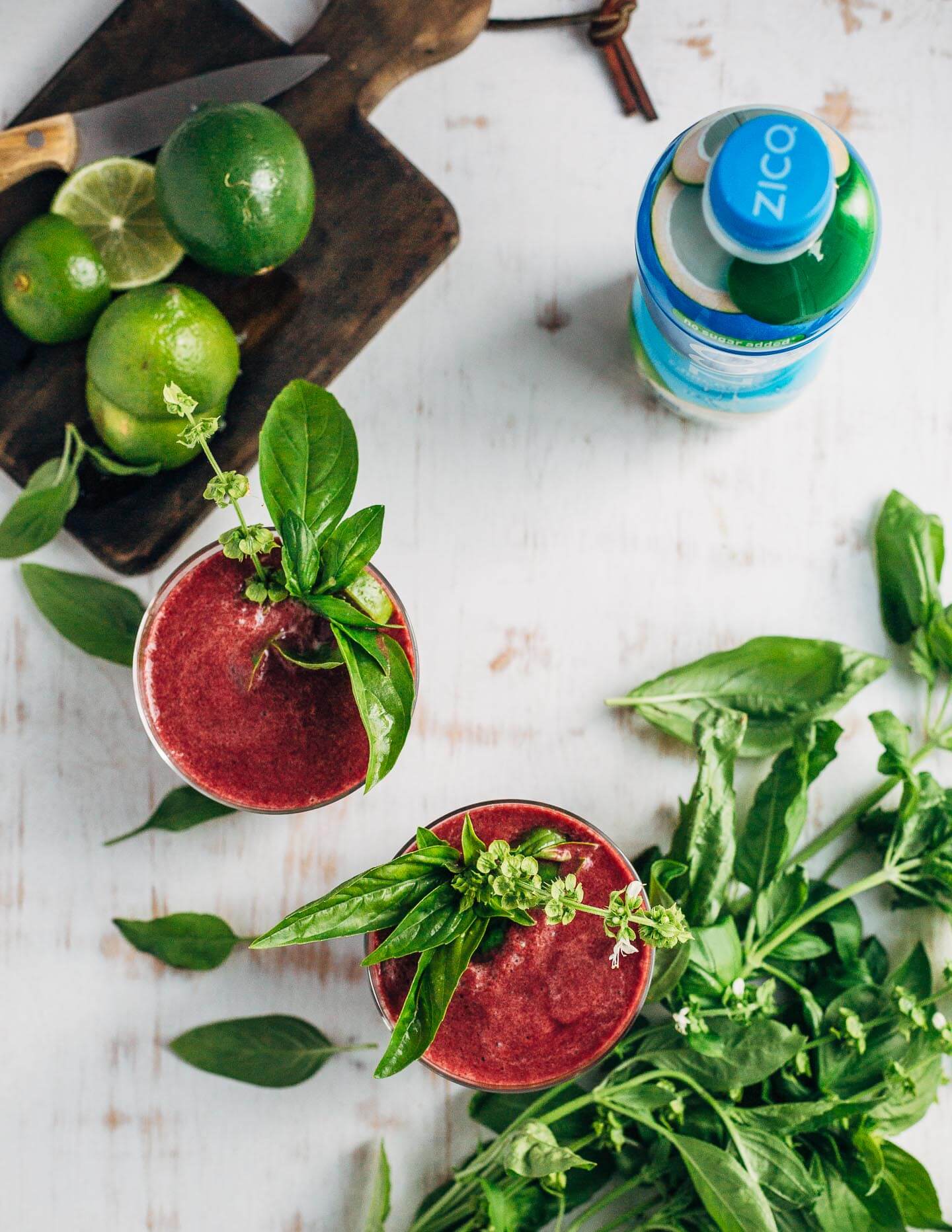 SaveSave
SaveSave
SaveSave
SaveSave
SaveSave
SaveSave