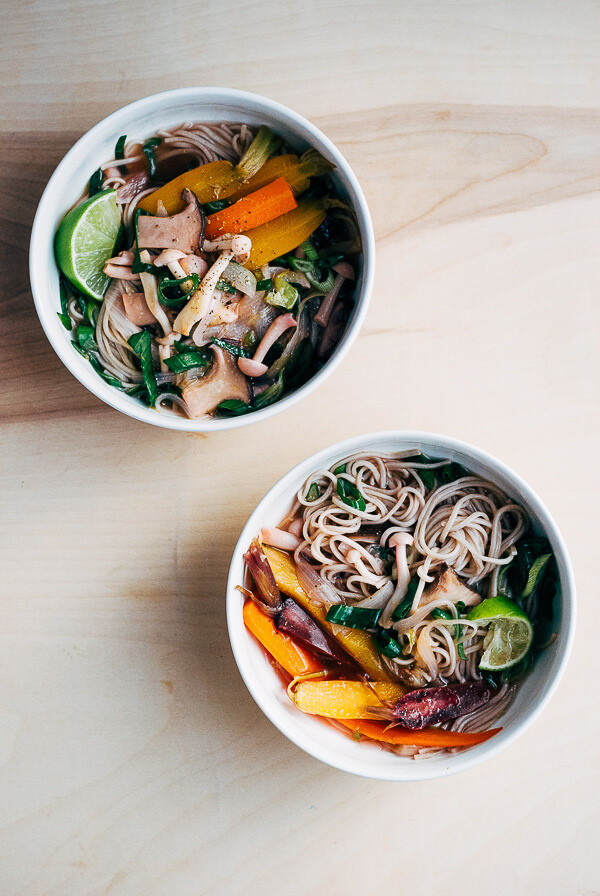 Spring vegetables, lime juice, and soba noodles swimming in a homemade roasted beef bone broth. Jump to recipe.

The internet, and everyone else, wants the path to good health to be easy. Drink juice for a week or buy a cup of ten dollar bone broth and undo months of microwave pizzas topped with barbecue sauce. I've railed against the idea of fast! easy! cooking before, and I think many of the same ideas apply to health. Attention-grabbing quick fixes are a booming industry, but they all hide the simple truth that the real work of healthful eating is slow, steady, and frankly, kind of boring.
Likewise, many good meals can be made in a hurry, but, just as often, nourishing foods takes time. In turn, the time we spend cooking nourishes us. Stirring, skimming, tasting, these are all sensory tasks that keep me in the moment. When I'm making broth, for instance, I always ladle out a bowl or two as it cooks, add a generous pinch of sea salt and indulge in one of my favorite foods.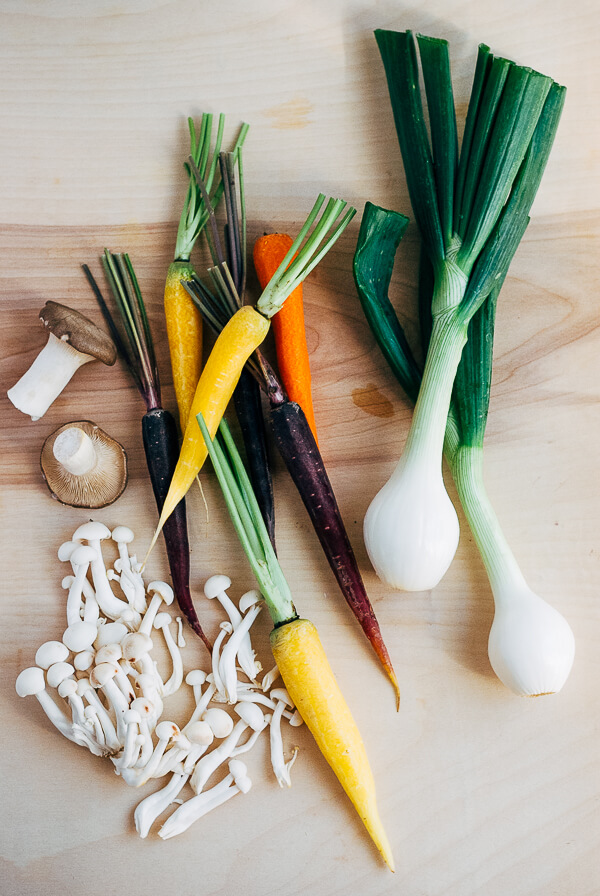 I think it's great that bone broth is having a moment. Truly, I do. But let's not assign miraculous qualities to it. A bowl or mug of rich bone broth is fortifying, but it won't give you mutant healing powers. What it can do, though, is help with your budget and reduce your food waste. We've long saved our leftover bones in the freezer or plunked a whole turkey (or goose) carcass into our biggest pot for stock. I like to have a freezer full of bone stock, carefully labeled and ready to go.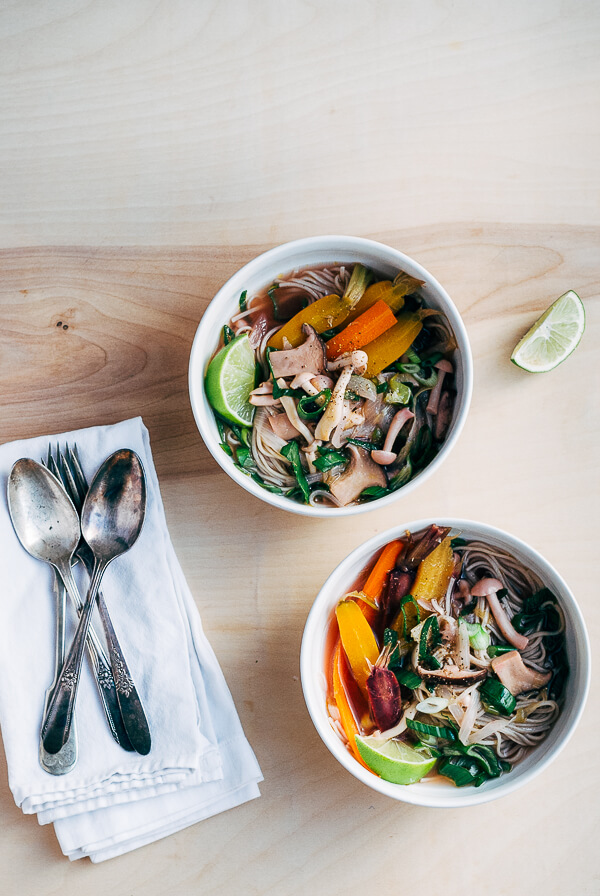 This recipe begins with a rich, flavorful beef bone stock made with marrow bones that have been roasted and simmered for hours. Because the stock itself cooks for so long, I wanted my beef broth to be simple and straightforward – something that could be tossed together in minutes. I also wanted it to be of the moment, and included early spring produce like baby rainbow carrots, white spring onions, and mushrooms. Soba noodles lend heartiness and flavor. I finished it all off with lots of freshly squeezed lime.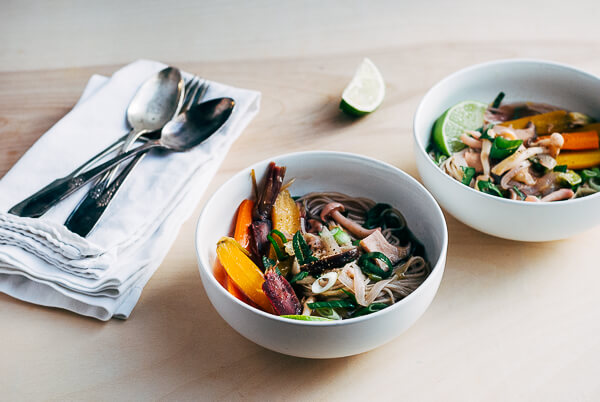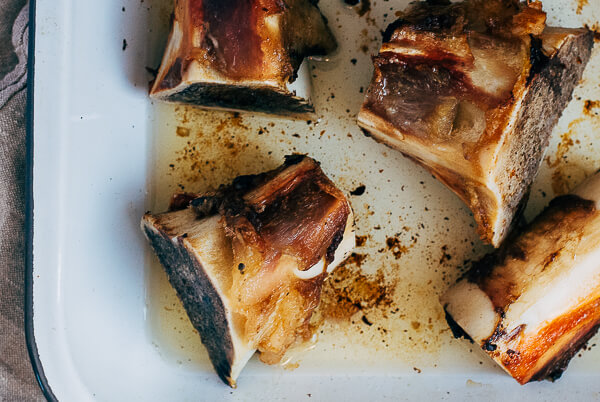 A few recipe notes: The purple carrots made for a surprisingly pink broth – omit them if that's a turnoff.
I like to freeze my stock in glass jars. Following the advice of Simple Bites' Aimee Wimbush-Borque, I ladle the strained stock into wide mouth quart jars, leaving a full two-inches of head space. I then refrigerate the stock overnight, and then stick the chilled jars in the back of my freezer, screwing on the lids only after the stock is frozen. Since I've followed these steps, I haven't had a single jar crack in the freezer.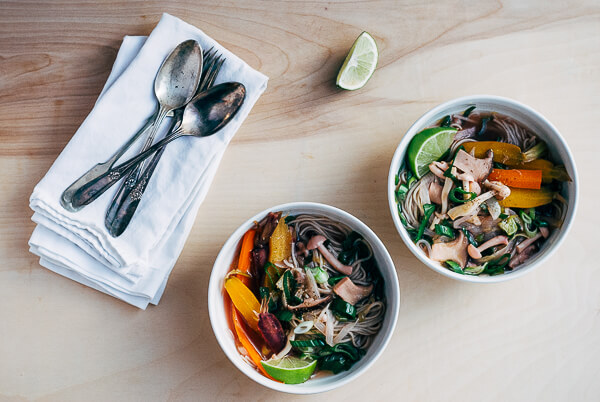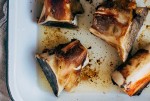 Roasted Beef Bone Stock
A rich, fortifying roasted beef bone stock recipe.
Ingredients
5

pounds

marrow bones

1

tablespoon

olive oil

2

large yellow onions

4

medium carrots

, peeled and halved

1

small bunch celery

, stalks halved

4

bay leaves

10

black peppercorns

sea salt to taste
Instructions
Preheat oven to 400 degrees F. Drizzle the marrow bones with a tablespoon of olive oil, shake pan, and then roast for 25 - 30 minutes or until bones are a rich brown hue. Remove from oven and set aside.

Leaving the skin on the yellow onions, trim the very tip of the roots then cut into fourths.

Set a large, 8-quart stockpot, over medium-high heat. Add two tablespoons of the fat from the bone roasting pan. Toss in the onions and sauté for 5 minutes. Next, add carrots, celery, garlic, bay, and peppercorns. Sauté for another 5 minutes.

Use tongs to add the roasted marrow bones (leaving any rendered fat behind) and pour in 5 quarts water. Bring mixture to a boil, and then turn heat down to medium-low, so mixture bubbles very gently. Simmer stock for 6 - 8 hours, adding 1 - 2 quarts more water as stock cooks down. I typically add just a pinch or two of sea salt – just enough so that I can taste the stock. Occasionally use a mesh spoon or strainer to skim any brown foamy stuff that rises to the top.

This method produces a very fatty stock. I like to cook my stock for 8 or more hours, until the marrow is very soft and any muscle or skin is falling off the bone. I then set pot in the fridge overnight (on top of pot holders) and skim and discard the thick layer of fat in the morning. Use tongs to remove large objects (like marrow bones), then strain stock and discard solids.

If using glass jars to store stock, ladle broth into a wide mouth quart jar, leaving 2-inches of head space. Set in the fridge overnight to chill. Then freeze, seal, label, and store for up to 4 months.
Beef Bone Broth with Spring Vegetables and Soba Noodles
Spring vegetables, lime juice, and soba noodles swimming in a homemade beef bone broth.
Ingredients
2

tablespoons

extra virgin olive oil

1

bunch white spring onions

(also called salad onions), white part sliced 1/4-inch thick with greens reserved

1

bunch young rainbow carrots

, cut lengthwise into 1/4-inch thick slices

1/2

teaspoon

chili oil

, or more to taste

4

cloves

garlic

, smashed, peeled, and minced

1

quart

beef broth

(or in my case, 3 cups beef stock and 1 cup water)

5

ounces

fresh

, flavorful mushrooms (I used beech and king trumpet here), stems trimmed and caps sliced

2

bundle soba noodles

3

tablespoons

freshly squeezed lime juice plus lime wedges for serving

2

tablespoon

soy sauce

sea salt

black pepper
Instructions
Set a large, wide-bottomed sauce pan over medium heat. Drizzle in olive oil, and, when hot, add onions and carrots. Add two pinches sea salt and several twists ground black pepper, along with the chili oil. Sauté 10 minutes, or until vegetable edges have browned and onions are translucent. Toss in garlic and mushrooms, cook 3 minutes more, and then pour in beef bone stock. Bring mixture to a boil. Turn heat down so mixture bubbles gently. simmer 10 minutes.



Meanwhile, cook the soba noodles in salted water to al dente according to package directions. Drain, rinse, and set aside.

Just before serving, add lime juice and soy sauce to broth. Check salt levels and adjust as needed. Mince reserved onion greens. Spoon soba noodles into the bottom of each bowl. Ladle on beef broth and vegetables, and finish with a handful of onion greens and a big squeeze of lime.