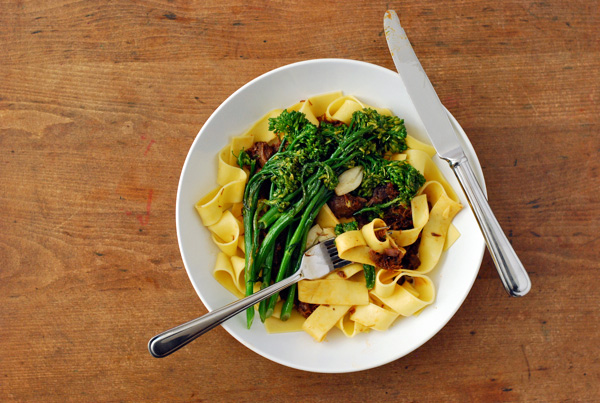 Braised beef shank ragu served with tender broccolini and served over pappardelle noodles. Jump to recipe.
The food media likes to promise the impossible. Dinner in fifteen minutes? Maybe if it's a sandwich (or summer, but let's please not think about summer right now). The thing is, I like my dinner slow. I love simmering something for hours or crafting a meal step-by-step over a series of days. Slow food. We've all heard of that. And now that winter is making a show of things, there's nothing I want more than to have a big pot of something bubbling away on my stovetop.
Besides warmth and general coziness, slow cooking has another benefit. Braises can make magic out of otherwise undesirable cuts of meat. Why bother with undesirable cuts? There are a few reasons. The first is cost. Lesser cuts are cheaper, and when you're buying pastured, sustainably-raised meats, price gets to be an issue fast. But the second reason is taste. Tough cuts are often flavorful cuts and connective tissue tastes good (when braised, of course.). The sinewy shank is marbled with collagen-rich connective tissue, but after a long braise that tissue breaks down and leaves you with a very rich dish. We've featured a few undesirables here before, including lamb shanks, lamb necks, and oxtails (for even more winter braises, check out our braising category).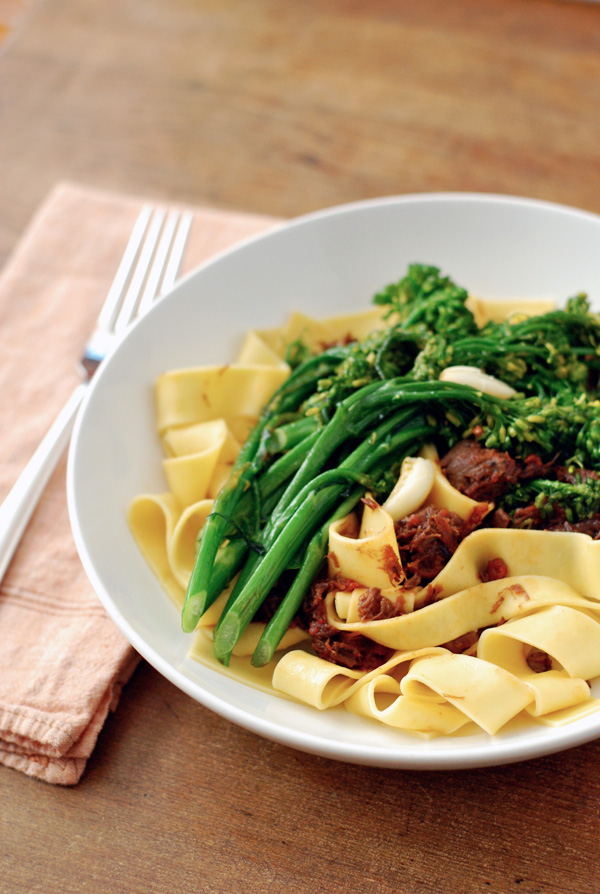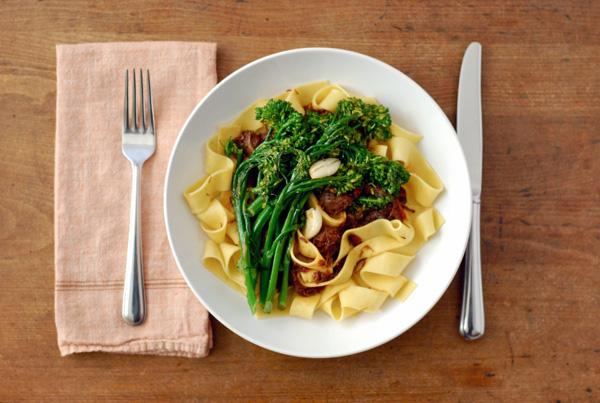 All this preamble is to say that we braised this shank for over ten hours. Enough for the meat to fall apart and then cook for another couple of  hours. As you can imagine, the sauce is wonderfully rich and goes way deep on flavor. Braised in wine with canned whole tomatoes, shallots, and paprika, and finished with an unexpected hit of lemon zest, this sauce is almost good enough to make you glad it's 5 degrees out.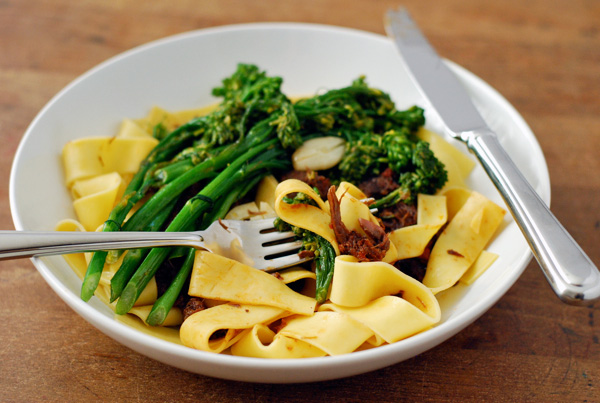 I have some exciting news to share – over on Marcus Samuelsson's blog there's an interview with yours truly about home cooking, good food, and kitchen failures. I'm so honored to be featured there!
This recipe is easiest as a two day affair. Braise the meat a day ahead, refrigerate overnight, and then finish the next day for dinner.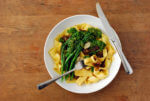 Braised Beef Shank Ragu with Broccolini
Braised beef shank ragu served with tender broccolini and served over pappardelle noodles.
Ingredients
Braised Beef Shank
1

tablespoon

grapeseed oil

, or other high heat tolerant oil

2

teaspoons

sea salt or to taste

2

pounds

boneless beef shank

2

shallots

, peeled and sliced

1

cup

dry red wine

16

ounce

can whole peeled tomatoes

1

teaspoon

ground coriander

1

teaspoon

spicy Hungarian paprika

zest of 1 lemon
Broccolini and Pappardelle
2

bunches broccolini

, ends trimmed

2

tablespoons

extra virgin olive oil

6

cloves

garlic

, smashed and peeled

16

ounces

dried pappardelle

1

lemon wedge,

for finishing

sea salt to taste
Instructions
Heat a Dutch oven over medium-high heat. Add grapeseed oil and sear the shank on all sides, about 3 minutes per side. Toss in the shallots, sea salt, and spices; nudge shallots a bit until they have browned on the edges. Add tomatoes, their juice, and wine. Use a spoon to scrape up any brown bits. Once sauce is bubbling vigorously, stir, turn heat to low, and cover.

Braise 6 - 8 hours. Check each hour, adding some liquid (a little more wine or some water, if you want) if needed. Every 3 hours, flip the shank. Eventually, the shank will collapse. At this point, pull of any large hunks of connective tissue that have not yet broken down. Cover, and continue to simmer over very low heat another 1 - 2 hours, until meat is incredibly tender.

An hour before serving, add lemon zest, check salt levels, adding more if needed. Continue to simmer over very low heat.

Meanwhile, bring a large pot of heavily salted water to a boil. Immerse the broccolini and blanche 3 minutes. Remove broccolini from water with tongs and set aside. Use the same water to boil your pappardelle to al dente.

In a small skillet, heat 2 tablespoons olive oil over medium-high heat. Add the smashed garlic cloves and sauté 3 minutes, stirring frequently. Add blanched broccolini and sauté 4 minutes more.

Arrange pappardelle noodles in wide bowls. Spoon on beef shank ragu and top with broccolini. Finish each dish with a squeeze of lemon juice.
SaveSave
SaveSave