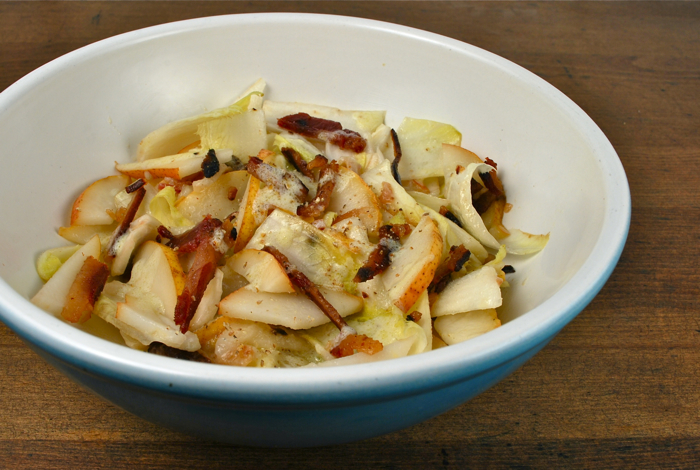 Belgian endive is actually a member of the daisy family and is completely kept from sunlight as it grows to keep the leaves from turning green or opening up. Otherwise they are too bitter to eat. I always wonder about foods like that where there is some really complicated way of growing them. Like who was the first person who was like "Ugh, this tastes terrible! Maybe if I grew it in the absence of sunlight, though."
However that person thought it up, I'm glad they did. Belgian endive is one of my favorite vegetables and this salad is one of the best ways to enjoy it. Sweet pears and rich bacon are the perfect match for the mild bitterness of the endive, and the creamy yogurt dressing with a hint of acidity ties it all together. While we had this for dinner, I can also imagine it as part of an early spring brunch.
Belgian Endive Salad with Pears and Bacon
for the salad
2 heads endive, chopped
1 pear, sliced
3 strips bacon
for the dressing
1/4 cup yogurt
2 teaspoons sherry vinegar
1 tablespoon champagne vinegar
3 tablespoons olive oil
1/4 teaspoon salt
1/2 teaspoon ground white pepper
Cook the bacon over medium heat, until it is crisp on the edges. Set on a stack of paper towels to cool. Slice the bacon into thin 2" long strips. Toss the endive, pears, and bacon. Drizzle 1/4 – 1/3 cup dressing, and gently toss.