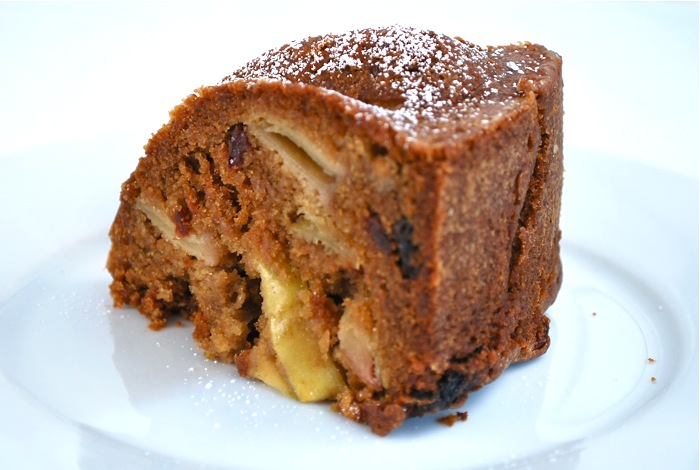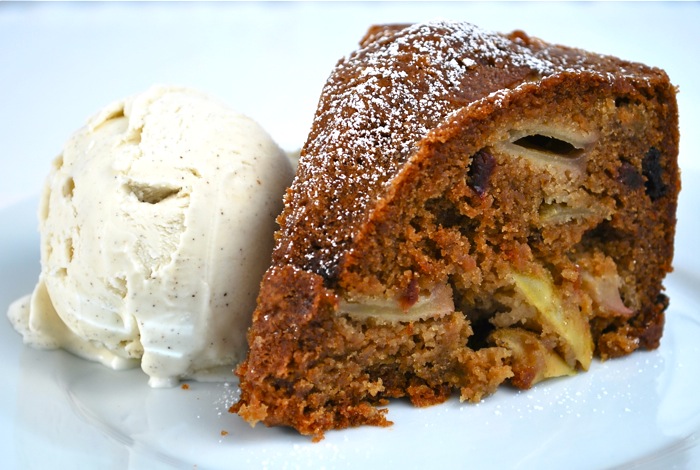 Brian and I have some big news to share–we're expecting a new baby in July! So now you know why we've been a little quieter than usual. I'm really looking forward to a new baby, though the prospect of having two kids in our one bedroom apartment on the third floor of a slightly derelict building here in Brooklyn is daunting. On the other hand, I am dreaming of small fingers and toes, gurgles and gummy smiles, and know that somehow everything will be just fine. We'll all be well-fed, that's for sure.
And speaking of making a baby, it takes a lot of food. I have been trying to eat pretty healthily this time around, seeing as my daughter was made of about 25% ice cream, but the baked goods do beckon. Especially this apple cake. A friend brought it to Thanksgiving dinner years ago, and it's been on my mind ever since.
Adapted from a classic New York Times recipes for Teddie's apple cake circa 1973, this is a moist and tender cake, with a sweet, caramelized crust, and hints of molasses and spice. Big slices of apples and dried cherries round out the spicy, sweet, amazing flavor.
This is a great breakfast or snack cake, but do yourself a favor and have it with some ice cream too.
Spiced Apple Cake (adapted from The New York Times)
1 1/2 cups vegetable oil
2 cups sucanat or sugar
3 eggs
1 cup all-purpose flour
1 cup quinoa flour
1 cup whole-wheat pastry flour
1 teaspoon baking soda
1 teaspoon salt
1 teaspoon cinnamon
1/4 teaspoon nutmeg
1 teaspoon vanilla extract
3 cups crisp, fresh apples peeled and sliced 1/4" thick
1 cup dried cherries, chopped
Preheat the oven to 350 degrees. Butter and flour a bundt pan and set aside.
Either in a stand mixer fitted with a paddle attachment, or with a regular mixer, beat the oil and sugar together for 5 minutes, add the eggs and beat for 2 minutes more.
Meanwhile combine the flours, baking soda, salt, and spices in a medium bowl. With beater on medium speed, add the flour mixture into the batter. Add the vanilla, and then fold on the apples and cherries.
Spoon into the prepared bundt pan. Bake for 75 minutes or until a toothpick inserted in the center comes out clean. Cool in the pan for 10 minutes, and then carefully flip onto a platter. This cake is amazing still warm, but cuts sloppily, so let it cool if you can wait.