An ode to June produce, this shaved fennel and Bing cherry Caprese salad is layered with creamy mozzarella, and drizzled with an herbaceous basil and green onion dressing.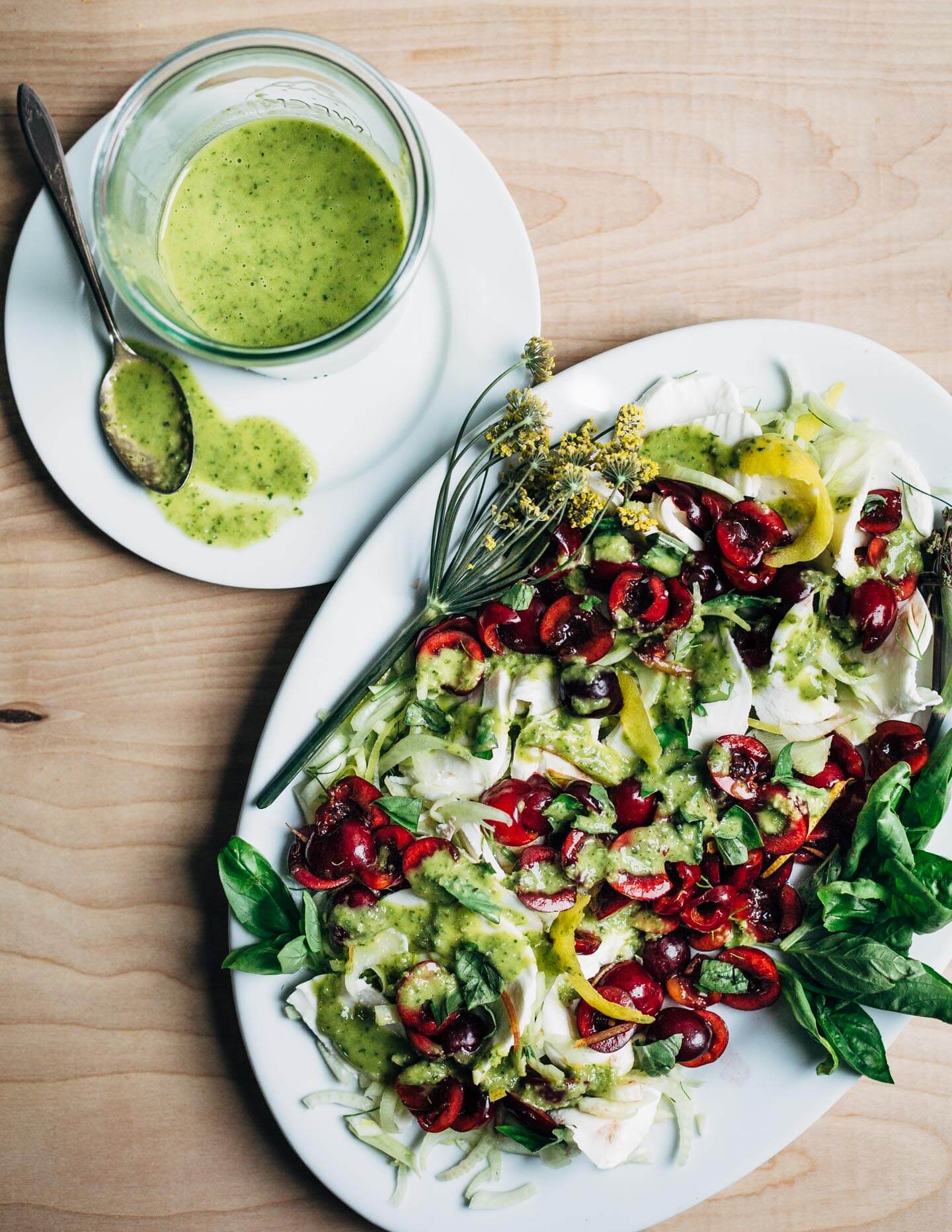 Tracing the Season
I've lived in Virginia (this time around, anyway) for six years. Long enough to almost have the progression of blooms and flowers memorized. In the yard, it's something like: wild violets, dandelions, wild strawberries, and now, clover. At the market and in the garden, mid- to late-June signals the end of lettuce, leafy greens, and cool weather vegetables like fennel and radishes until fall. Berries and cherries are endless, while the very first peaches are showing up (though I'm holding out for riper, sweeter specimens). There's also an abundance of garlic scapes, young garlic, green beans, zucchini, and summer squash.
A June Caprese
Shaved fennel and Bing cherry Caprese salad combines much of what's great to eat right now. Decidedly untraditional, the unexpected flavors meld, and also contrast, beautifully. Bing cherries are not like tomatoes, really, and yet, with the right amounts of balsamic and lemon, they fill the same sweet/acidic role that tomatoes play in a traditional Caprese salad. And shaved fennel is definitely not traditional, but I added it because it's refreshing and crisp, and also great at taking on and balancing the acidity of the dish. Besides that, there's creamy fresh mozzarella, fresh basil leaves, and a simple basil and green onion dressing.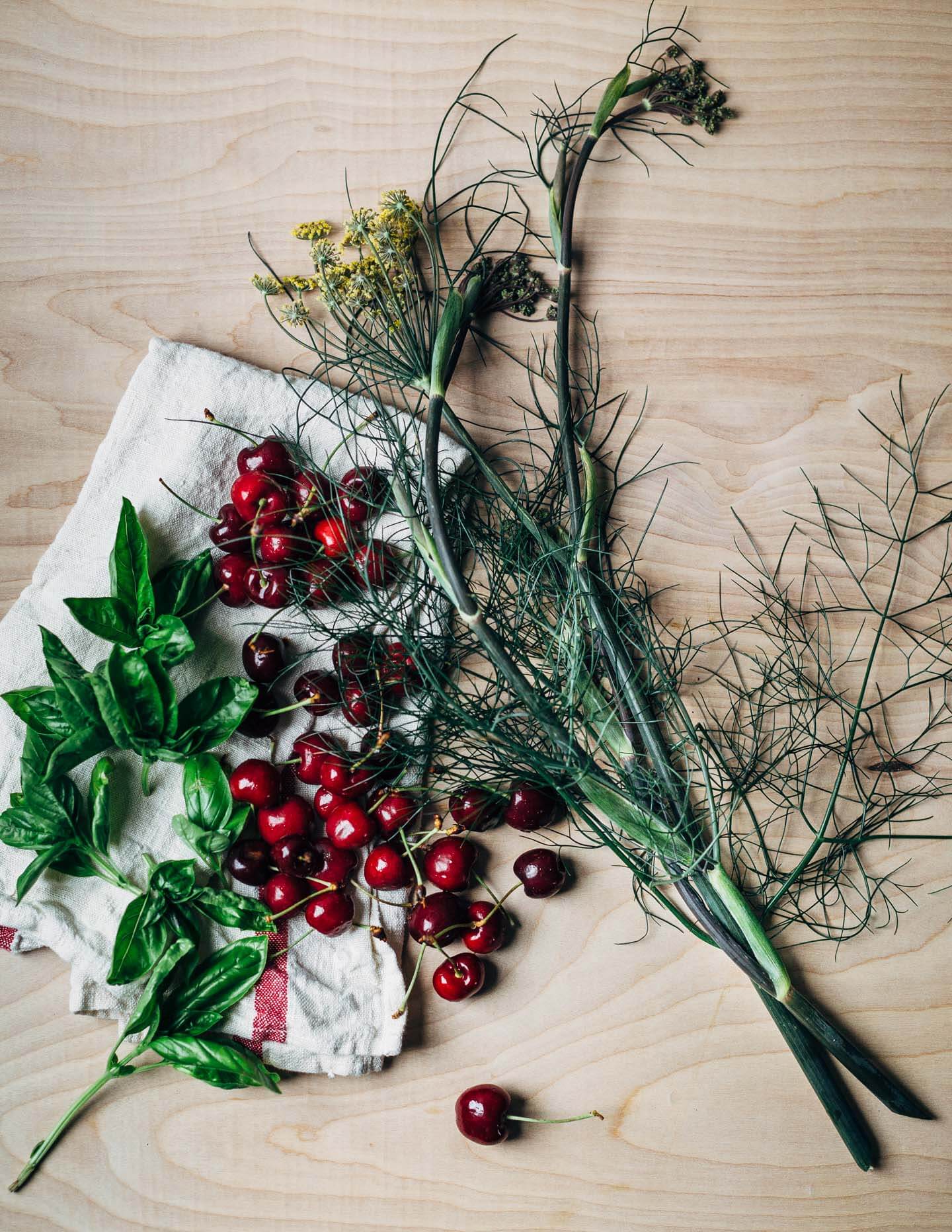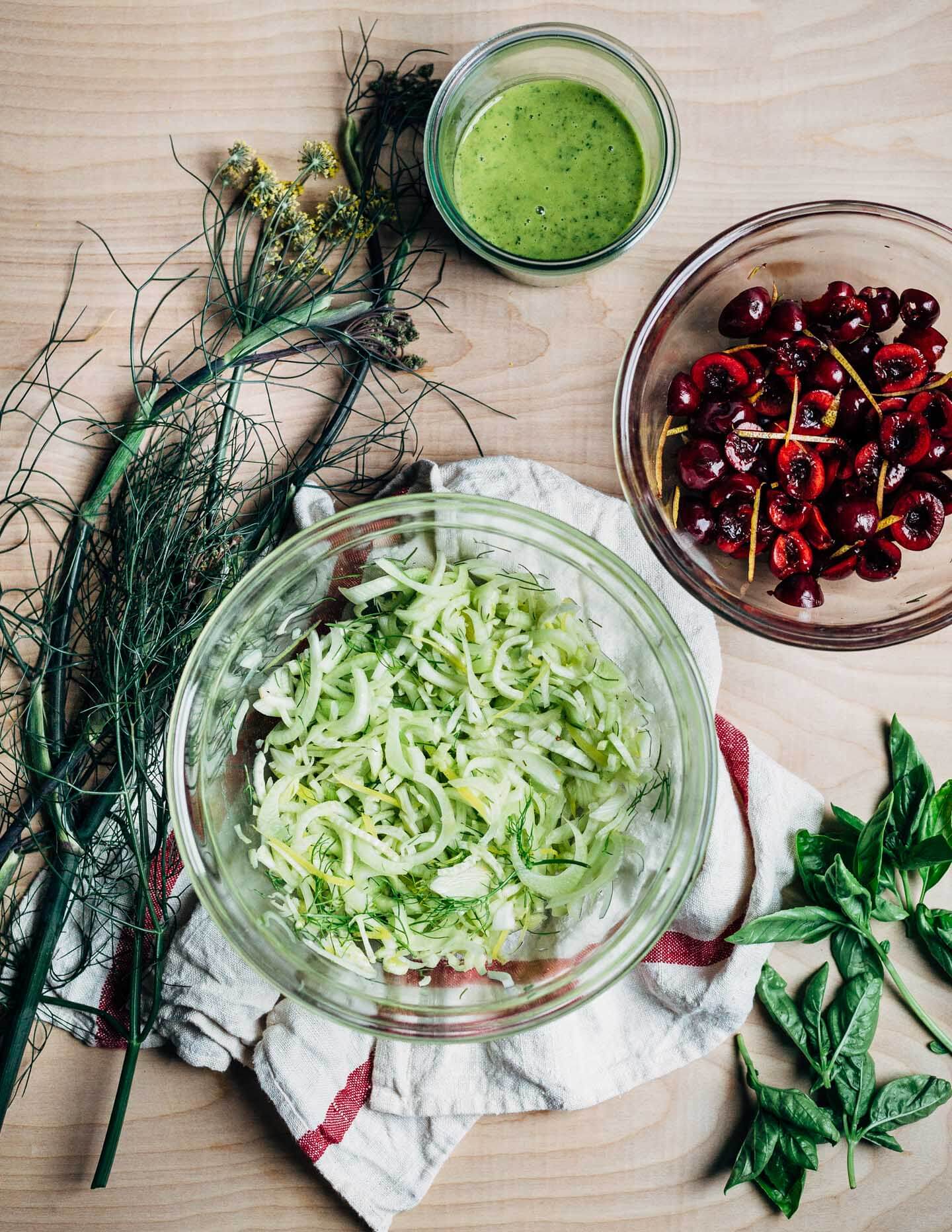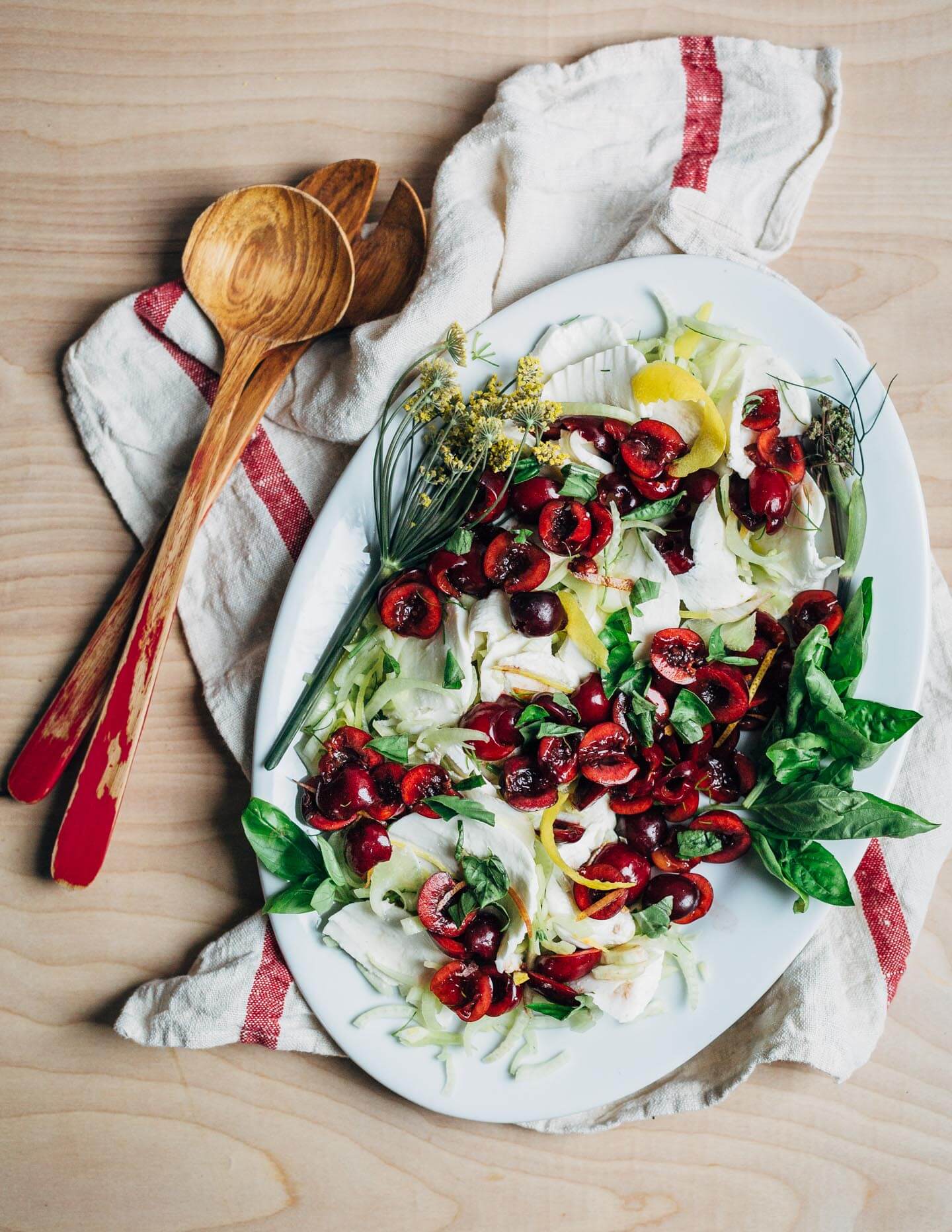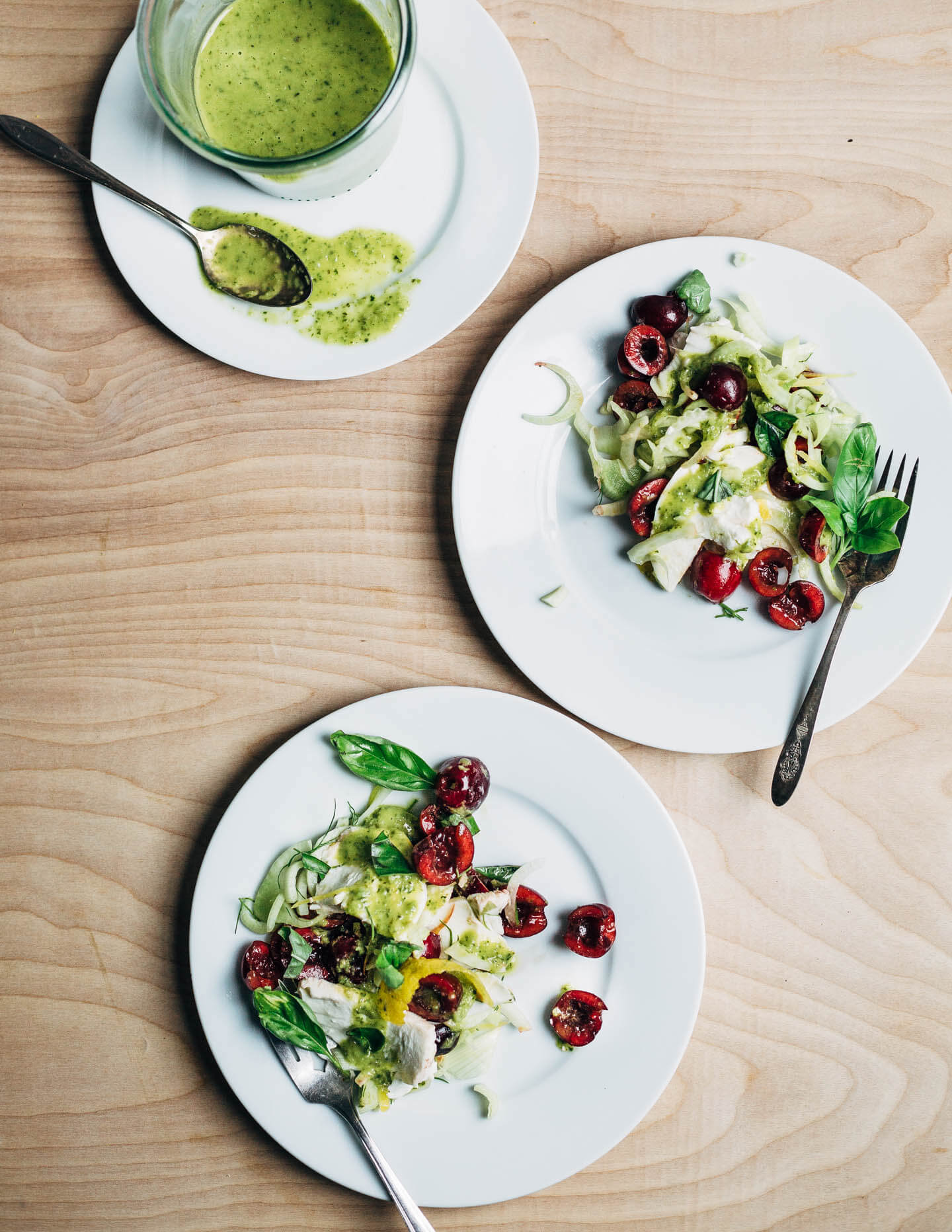 Keep the flavors (and colors) separate until just before serving. The fennel needs time to mellow and soften with sea salt and lemon. Try to give it an hour at room temperature. Other ingredients can be prepared in the moment. Each element needs a decent sprinkle of sea salt, and even then, just before serving, taste the salad and add even more. Sweet cherries and thirsty fennel seem to absorb – and neutralize? – the salt quickly, so taste and salt, and then taste and salt some more.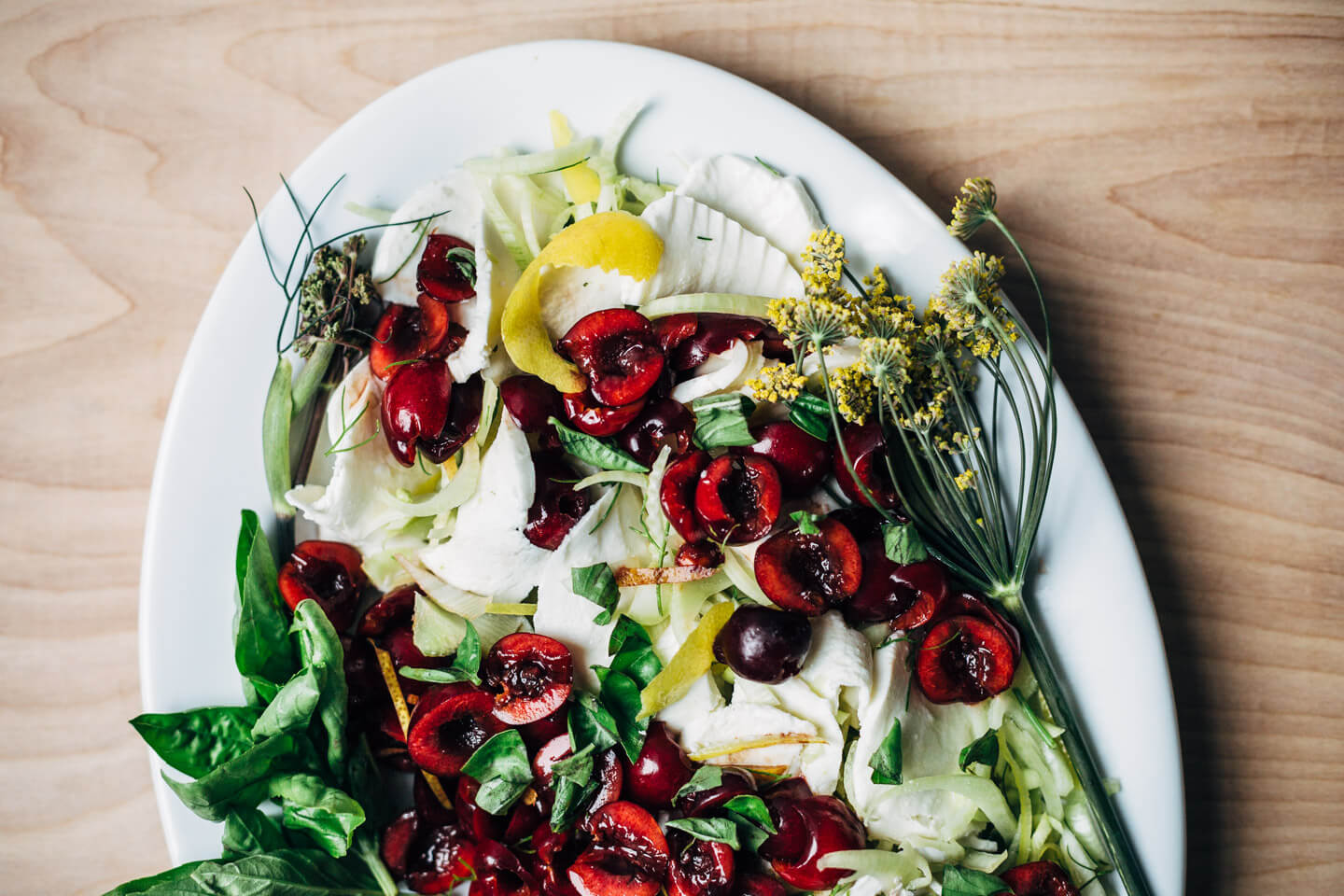 Don't miss a recipe! Follow Brooklyn Supper on Instagram, Facebook, and Pinterest.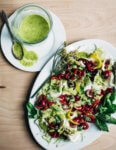 Shaved Fennel and Bing Cherry Caprese Salad
An ode to June produce, this shaved fennel and Bing cherry Caprese salad is layered with creamy mozzarella and drizzled with an herbaceous basil and green onion dressing.
Keyword:
Bing cherry Caprese salad
Ingredients
Caprese
2

small to medium bulbs fennel,

trimmed and cored

1

lemon

Sea salt

1

pint

Bing cherries,

pitted and halved

1

tablespoon

balsamic vinegar

8

ounces

fresh mozzarella

Fresh ground pepper

(*optional)
Dressing
3 - 4

green onions,

roots trimmed and chopped (about 1/2 cup)

1/2

cup

fresh basil leaves,

plus more for garnish

1/4

cup

lemon juice

(about 1 lemon)

1/2

teaspoon

sea salt,

plus more to taste

6

tablespoons

extra virgin olive oil
Instructions
With a mandoline slicer or a sharp knife, cut fennel into paper thin slices. With a peeler, peel lemon zest in strips, then slice into thin slivers. Juice the lemon, straining seeds. You should have about 1/4 cup of juice. Toss fennel with 1/4 teaspoon sea salt, half the lemon zest, and all of the juice, and set aside. Allow fennel to marinate for about an hour at room temperature.

Pit and halve the cherries. In a small bowl, toss cherries with remaining lemon zest and balsamic. Add a small pinch sea salt.

Slice mozzarella about 1/4-inch thick and sprinkle with sea salt.

To make the dressing, combine green onions, basil leaves, lemon juice, and sea salt in the bowl of a food processor or a blender, and pulse. Then, with food processor or blender running, drizzle in olive oil and process until mixture is creamy and just flecked with green bits. Taste, and add sea salt as needed.

To plate, lift fennel out of the liquid (leaving the accumulated juices behind) and arrange in an s-shape on a large platter. Tuck mozzarella into the fennel. Lift cherries out of the balsamic, and scatter wherever there's a space on the platter. Tuck reserved basil leaves throughout. Finally, drizzle generously with basil dressing. Taste, and sprinkle with sea salt as needed. If you like, add pepper.

Serve immediately.
Recipe Notes
Leftover salad can be covered and stored in the fridge (though not as pretty, it will taste delicious). Leftover dressing will keep sealed in the fridge for two days, though it will lose some of its vibrant color.