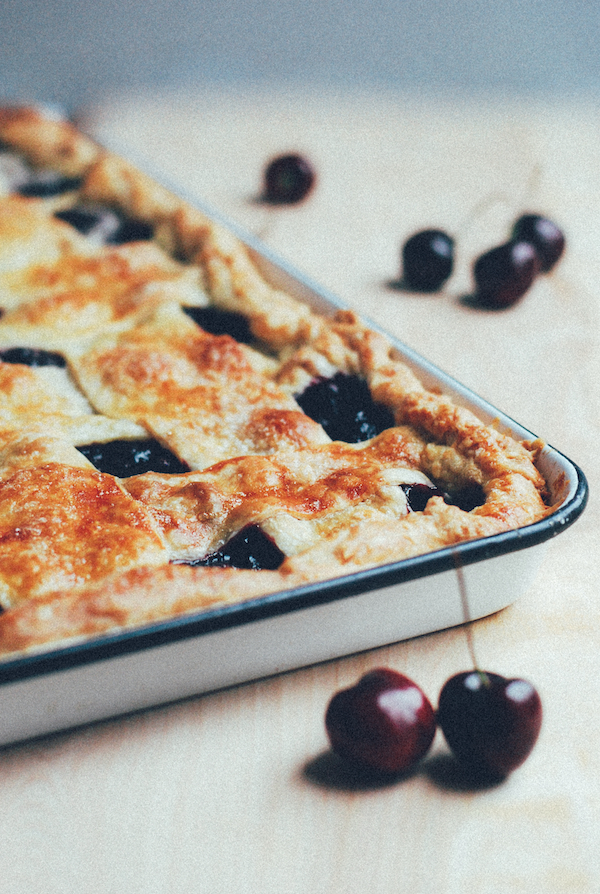 I don't know about you, but I'm a total birthday crier. On the eve of my fifteenth birthday, I sat on the floor of my dad's house, looking up at a full summer moon and sobbing uncontrollably –– overcome by the passing of time and the fleeting number of hours we have on this planet, already nostalgic for all the time that had passed.
So, if I were to tell you that in our family of four, three of us have July birthdays, you might worry that I've spent all of July in hysterics. Happily, the month is busy enough that my bouts of ennui are kept pretty well in check. Besides, there's a lot of pie to be made.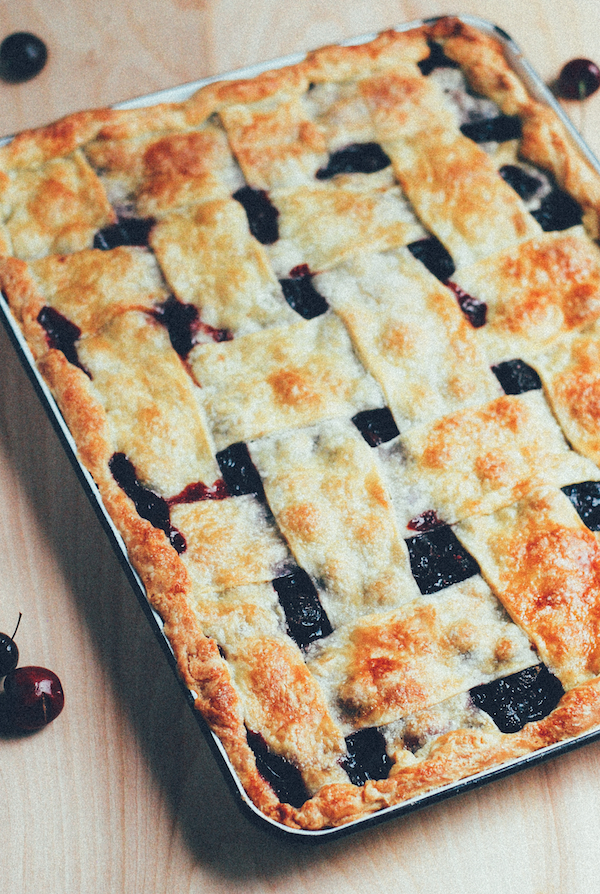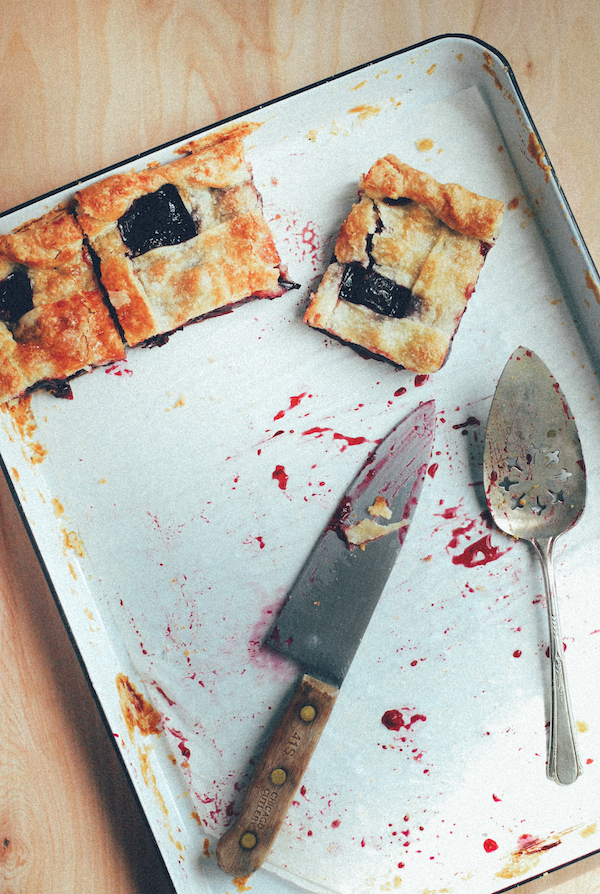 This week, it was a sweet cherry slab pie. Here in Virginia, sour cherry season passed quickly, while the sweet variety enjoy a longer season. So when (another) birthday slab pie was requested, this time for a family celebration for both of our daughters, sweet Bing cherries seemed like an excellent option.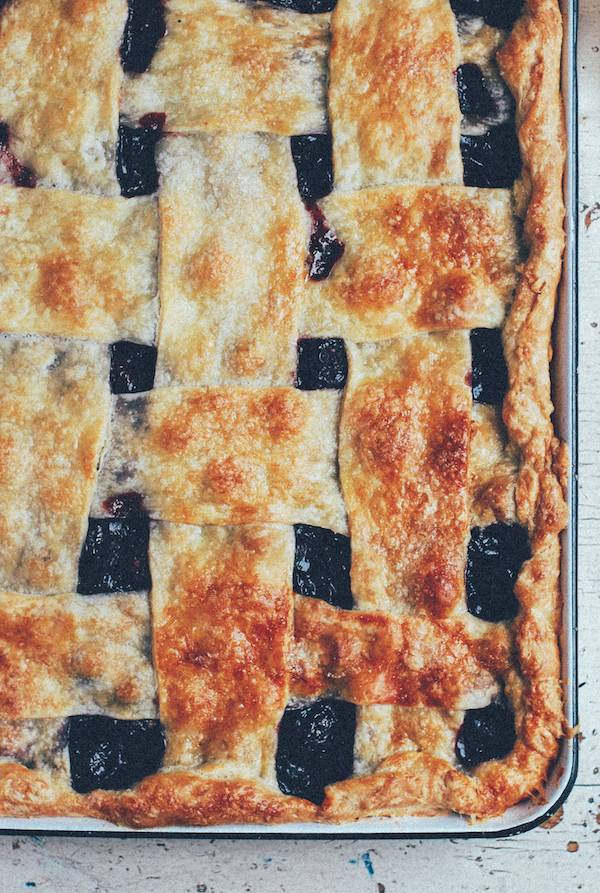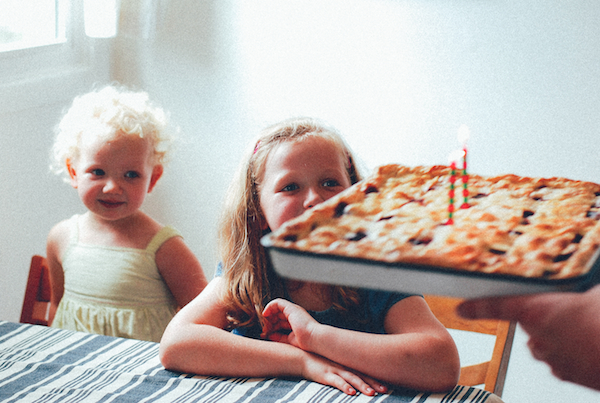 The finished pie was more subtle than one made with sour cherries –– it had a quiet sweetness with a light, flaky crust. It was just the right way to end a day of cooking out and playing in the yard. The only drawback to a birthday slab pie is that it's pretty tough to get the candles to stay up in a pie. And the only drawback to sharing a birthday pie with your little sister is that she might blow out both candles while you're still thinking of your wish.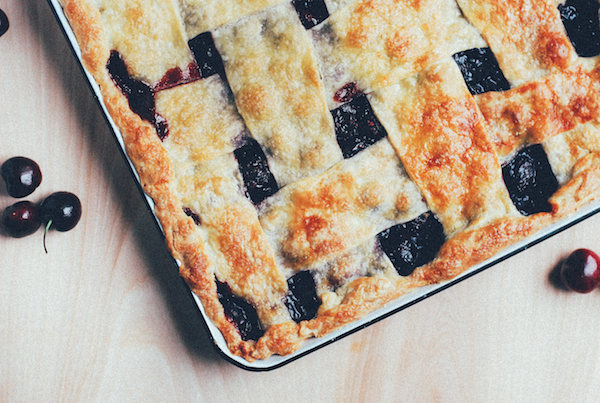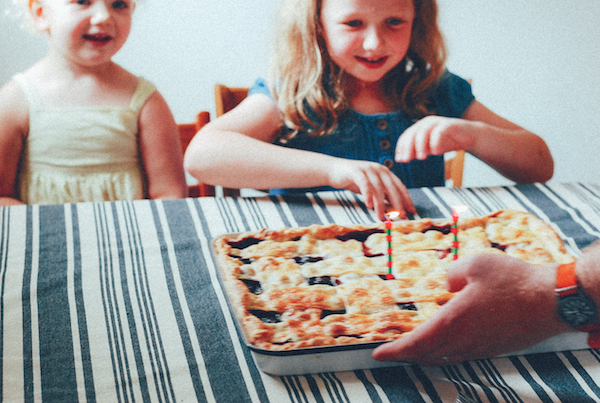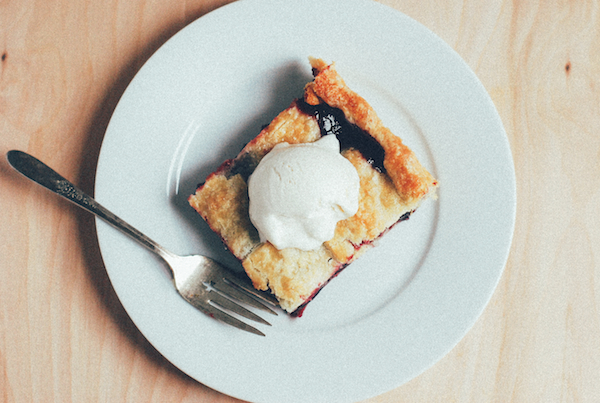 Bing Cherry Slab Pie
serves 16 to 20
for the crust
4 cups all-purpose flour
1 teaspoon sea salt
1/4 cup sugar, plus more for sprinkling
1 1/2 cups ice water
32 tablespoons cold butter (4 sticks)
1 egg white, lightly beaten
If you have a large enough bowl, you should be able to make the dough in one big batch, otherwise, divide recipe into two batches.
In a large bowl, combine the flour, sea salt, and 3 tablespoons sugar. Grate in the butter. Massage butter into the flour with fingertips until everything is well dispersed. Drizzle in the ice water, a little bit at a time. Use a silicone spatula and fingers to blend it into the flour. Gather dough into a shaggy mound, divide in two (preferably one smaller and one larger), and shape into two discs. Wrap each disc in plastic wrap. Set in fridge to chill for at least 30 minutes.
for the filling
8 cups Bing cherries, pitted
1/3 cup sugar
4 tablespoons pulverized instant tapioca (I grind it in my coffee grinder)
zest of 2 lemons
juice of half a lemon
pinch sea salt
1/4 teaspoon ground ginger
1/4 teaspoon ground cinnamon
Preheat oven to 450 degrees F. Line the bottom of a 12 x 17 x 1″ rimmed baking dish with parchment paper and butter the sides.
On a lightly floured surface, roll the smaller of the dough rounds out into a 15 x 20″ rectangle. Set into the prepared baking sheet, leaving an inch of dough overhanging on all sides. Set baking sheet in the fridge while you prepare the filling and top crust.
If you have a cherry pitter, use it. Note, though, that Bing cherries can be really big, and this pie actually broke my pitter. Half with a pitter and half without, it took me about 30 minutes to pit all the cherries.
In a large bowl, combine all of the ingredients, and set aside while you roll out the top crust.
On a lightly floured surface, roll out the top crust. To achieve a wide lattice on such a large scale, I needed 4 long strips and 5 short. Divide dough in two, roll out a long rectangle for the long strips, and roll out the second half for the short strips.
Working quickly, spoon filling into the chilled bottom crust, weave the top lattice (tutorial here), and crimp the edges. Brush the beaten egg white all over the top crust and sprinkle each strip with sugar. Slide into the oven.
Bake pie at 450 degrees F for 15 minutes. Rotate pie, turn heat down to 375 degrees F, and bake for another 50 – 60 minutes, or until the filling is bubbling and the crust is a very light golden brown.
Cool pie for at least three hours. Slice, add a scoop of vanilla ice cream, and serve.