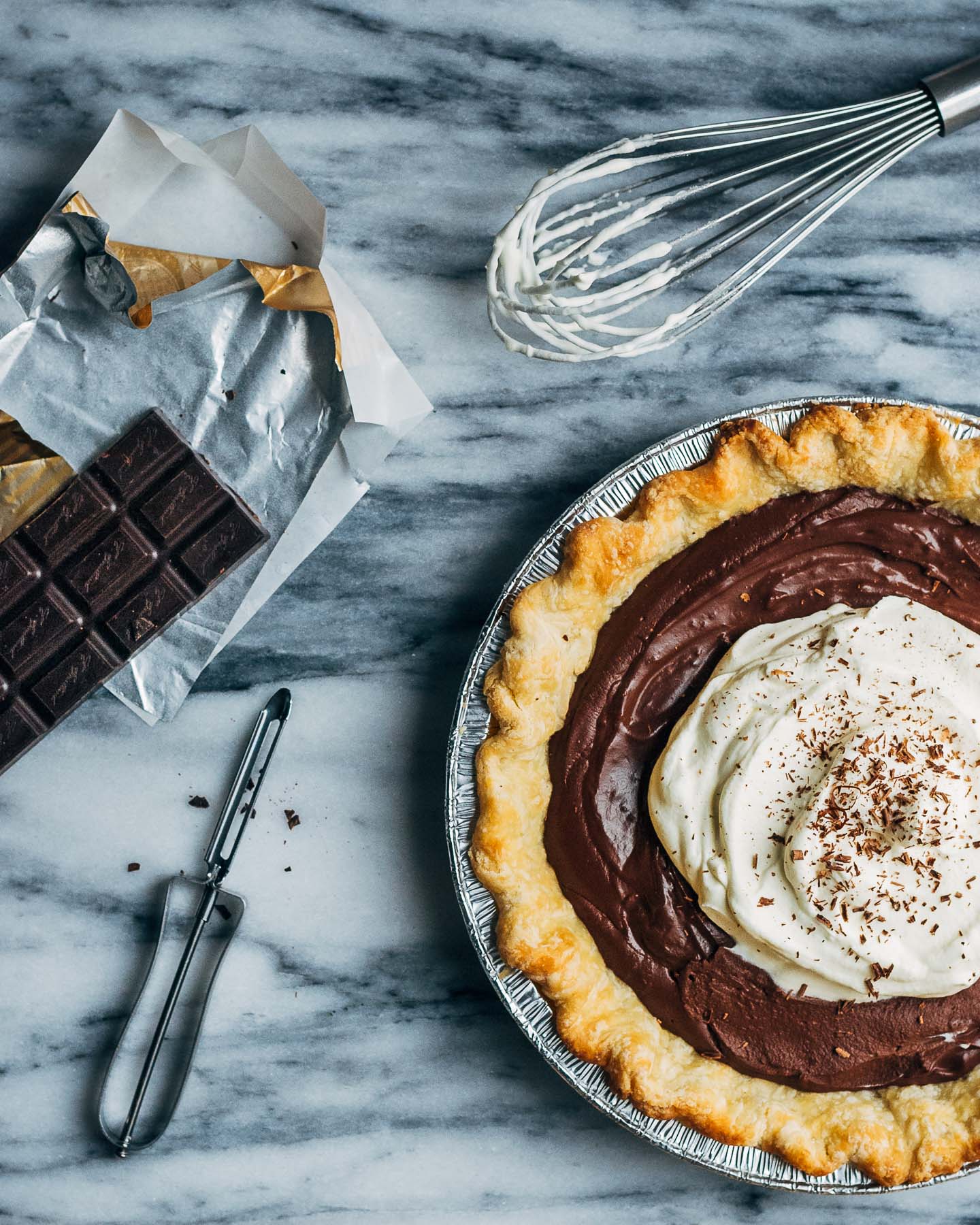 A silky, rich bittersweet chocolate pudding pie swirled with dark rum and sea salt. Jump to recipe. 
This pie started as a complicated pie. A multi-step, four-hours-to-make pie. You know, a show-off kind of pie. But then, with the crust baked and ready, I decided I didn't need to show off. So I ditched the complicated recipe and filled my crust with a silky bittersweet chocolate pudding, chilled it in the fridge overnight, and got on with the important business of eating pimento cheese and country ham sandwiches and watching The Muppet Christmas Carol with Brian and the girls.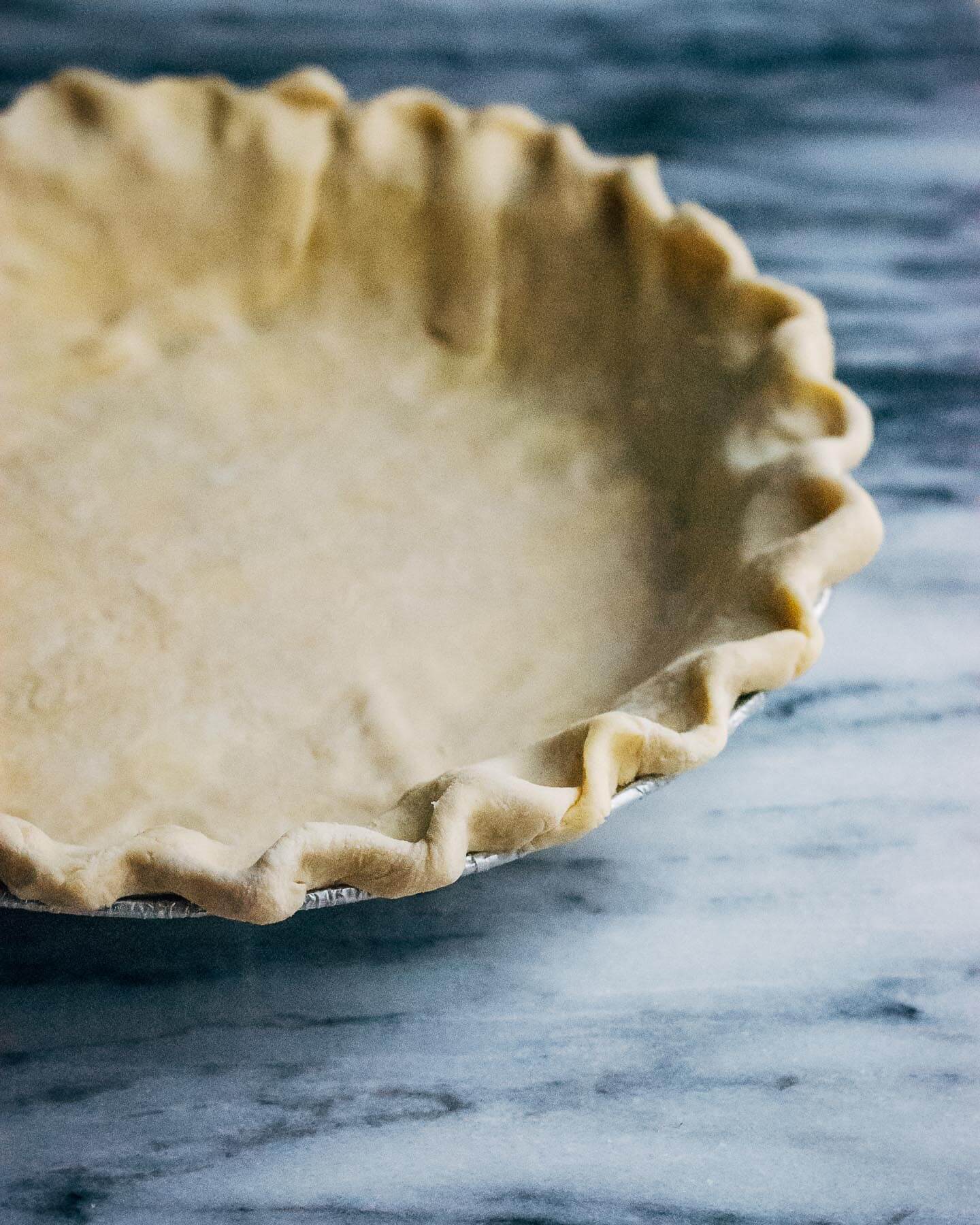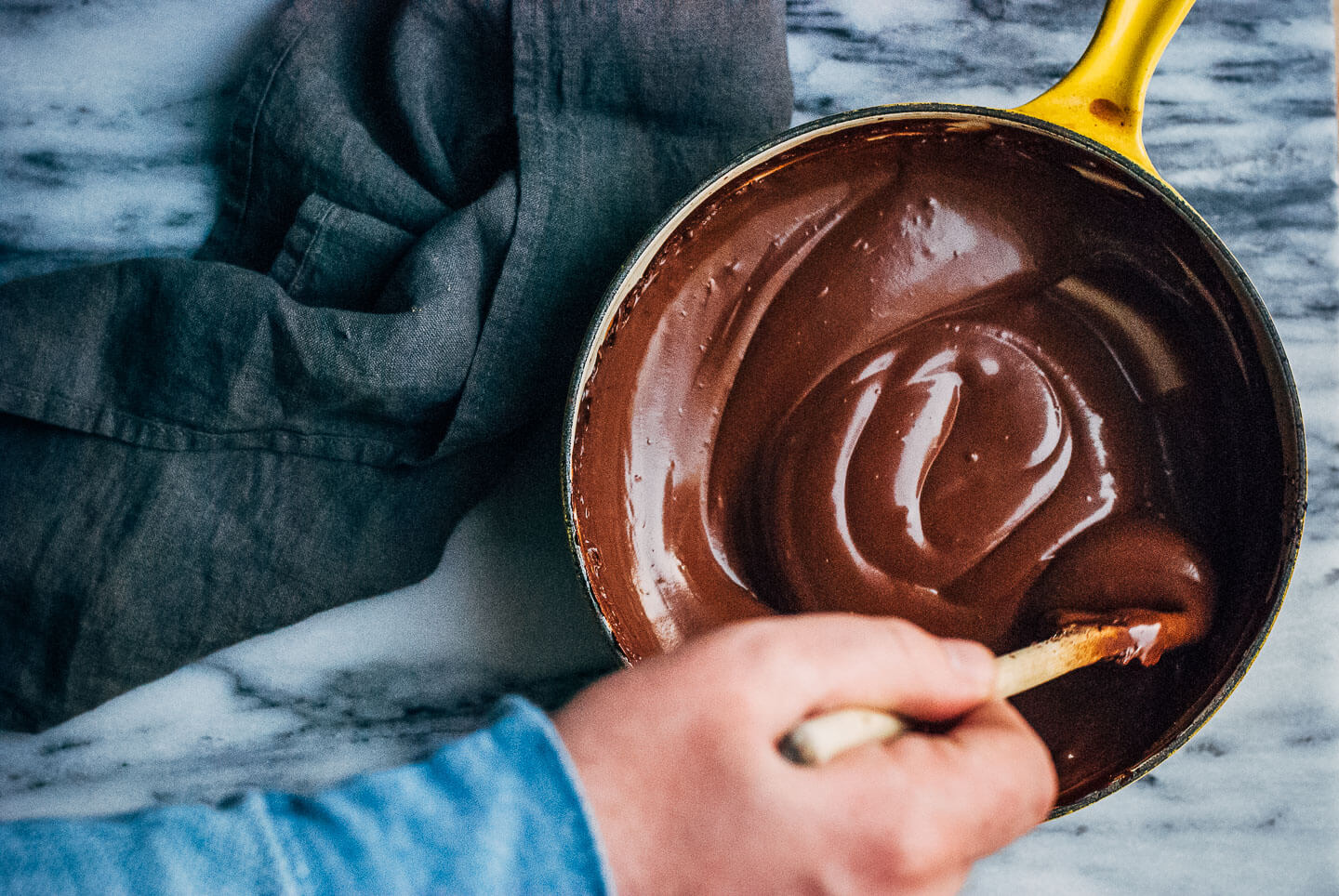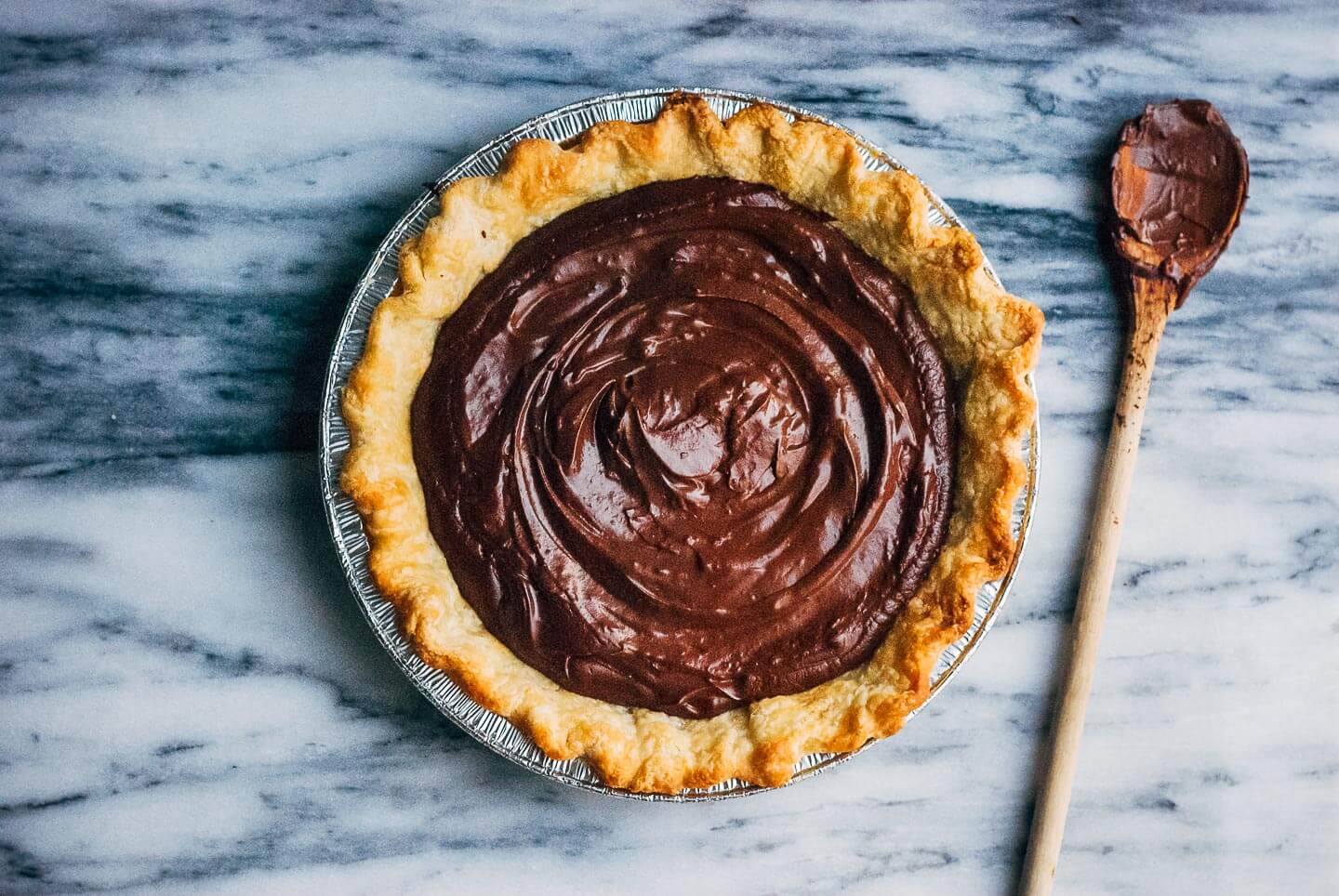 As I took pictures of the pie, my daughters gathered round, oh-ing and ah-ing at my creation. Usually, they just have to wait for the pictures to be finished before getting a taste, but this time, we're giving the pie away to a group of volunteers who'll be working over the holiday. Ashlae of Oh Ladycakes dreamed up #pieitforward as a way to thank the first responders, hospital staff, grocery clerks, and everyone else who will be working through the holiday. It's not just about gratitude, it's about the important stuff of meeting the people in your community and sharing something delicious with them. No matter who or where, food (especially pie) has the power to erase difference and bring all of us together.
Thanks to PieBox for sending me a box and ensuring my pie gets to its destination safely. And thanks to Ashlae for being awesome.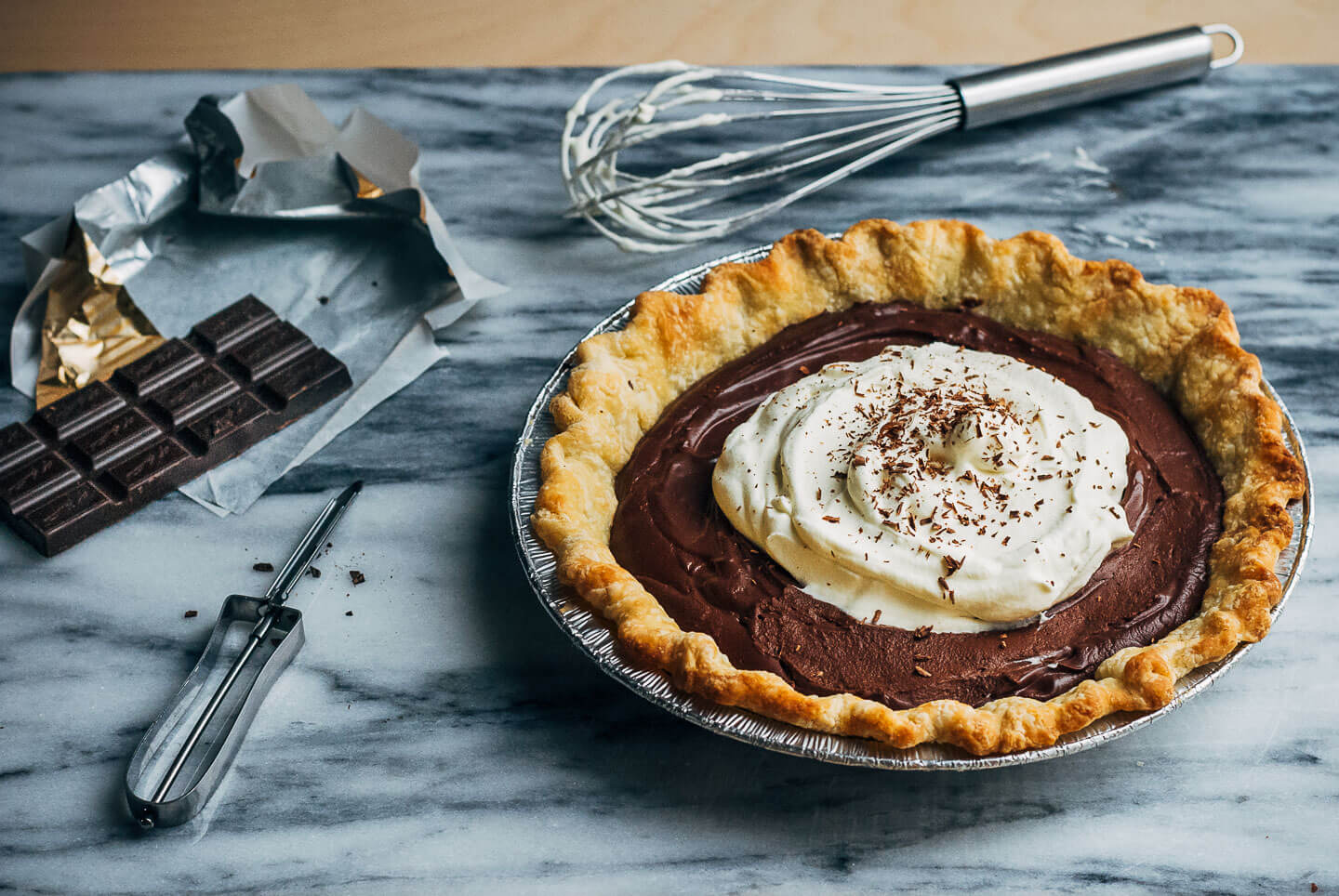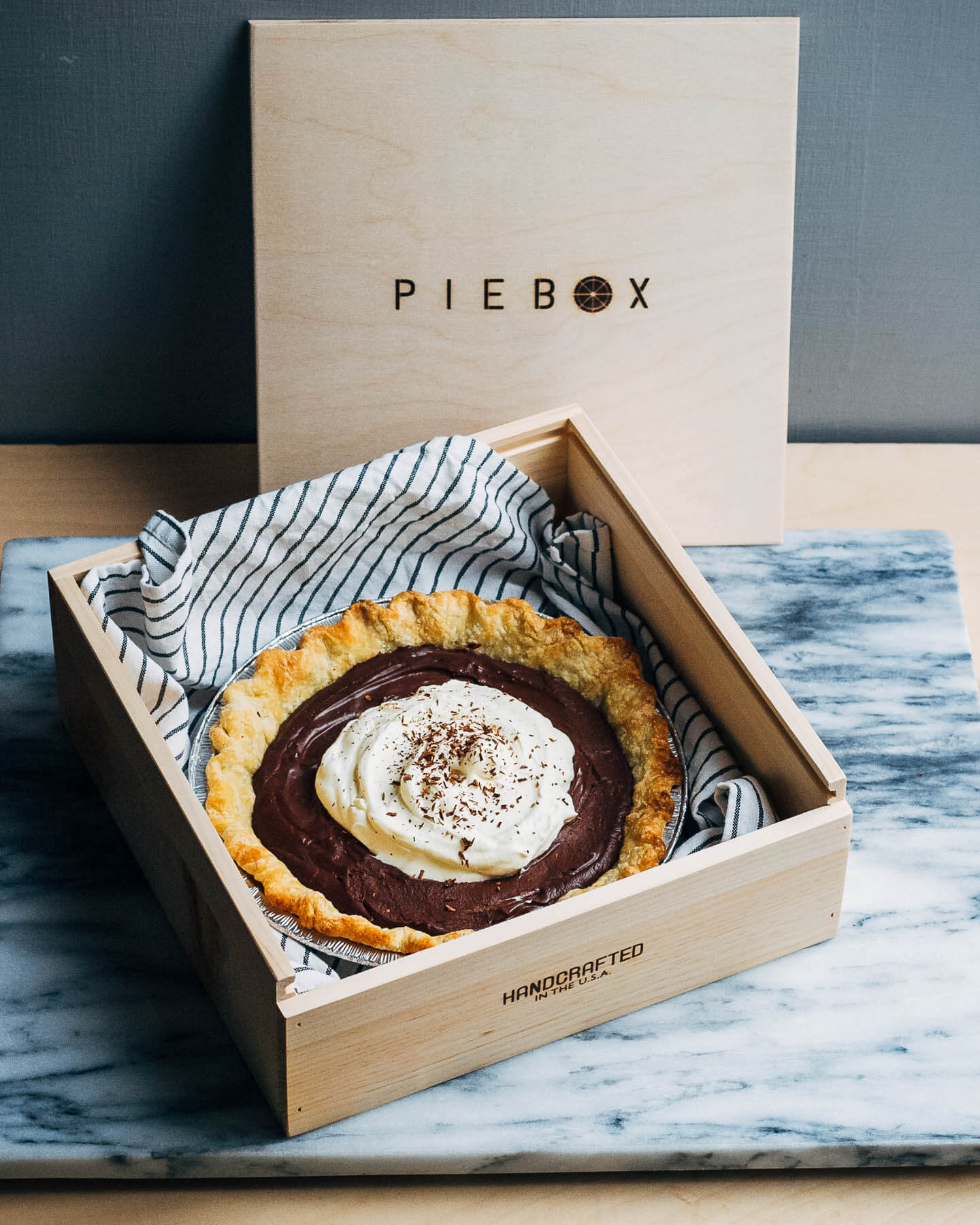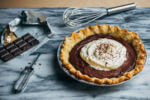 Bittersweet Chocolate Pudding Pie
Ingredients
1/3

cup

plus 2 tablespoons granulated sugar,

divided

1/3

cup

unsweetened Dutch-process cocoa powder

2

tablespoons

cornstarch

1/2

teaspoon

sea salt

1 2/3

cup

milk

3/4

cup

heavy whipping cream,

divided

4

ounces

bittersweet chocolate

(at least 60 percent, preferably 70), chopped plus a few shavings for garnish

2

tablespoons

dark rum
Instructions
Prepare pre-baked pie shell dough (recipe here.) Bake pie shell and set aside to cool.

Whisk to combine 1/3 cup sugar, cocoa powder, cornstarch, and sea salt in a heavy-bottomed saucepan and set over medium heat. Whisk in 1/3 cup of the milk to form a thick paste. Slowly drizzle in remaining milk, followed by 1/4 cup heavy cream. Cook, stirring constantly, until mixture thickens considerably and starts to steam, 5 - 7 minutes. Add chopped chocolate; stir until smooth. Stir in rum.

Spoon hot filling into pie shell. Let pie cool at room temperature for an hour, then cover with plastic wrap and chill at least 4 hours but preferably overnight.

In a large bowl, use a whisk to whip 1/2 cup cream. When cream is pillowy but not peaking, add 2 tablespoons sugar, and continue whisking to soft peaks. Spoon onto center of pie and garnish with reserved chocolate shavings.