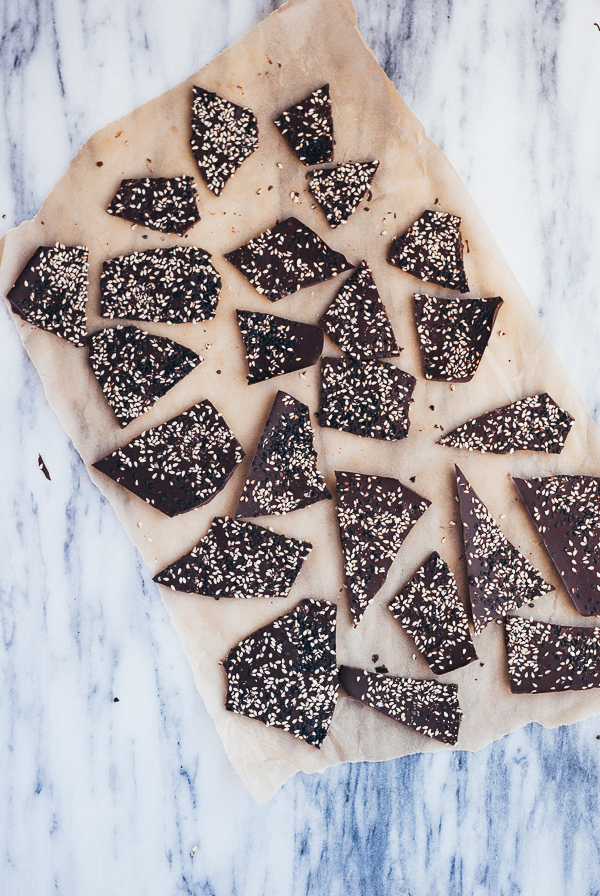 An easy homemade black and white sesame chocolate bark recipe with a hint of smoked sea salt and freshly ground black pepper. Jump to recipe.
Peanuts were first. I'm not clear on exactly how it was discovered, but as long as I can remember I've been allergic. I was also allergic to tree nuts and avoided them, mostly. There was that one time on a plane when I ate that white chocolate almond-studded ice cream number. It was a cross country flight, I was alone, and a kid, so I ate the thing (though I did my best to pick out the almonds). Things turned out fine, but even then I knew I'd made a bad decision.
At 13, I became a vegetarian. With that, came the realization that I was allergic to lots of things besides nuts. My fifth time eating tofu was cause for a red light running rush to the ER; I arrived at the hospital in full-blown anaphylaxis. There were other missteps as I learned to navigate life with severe allergies. Thinking I could eat at Thai restaurants (another urgent hospital visit), being in the same room as cooking lentils (Who knew?), and countless times abroad or at home realizing I'd eaten something I shouldn't have, crushing up the Benadryl, drinking lots of water, and hoping for the best.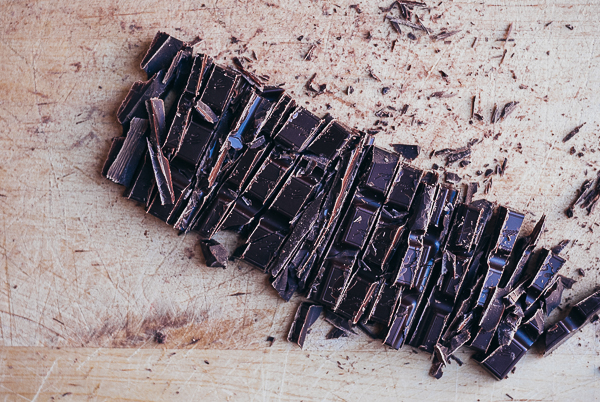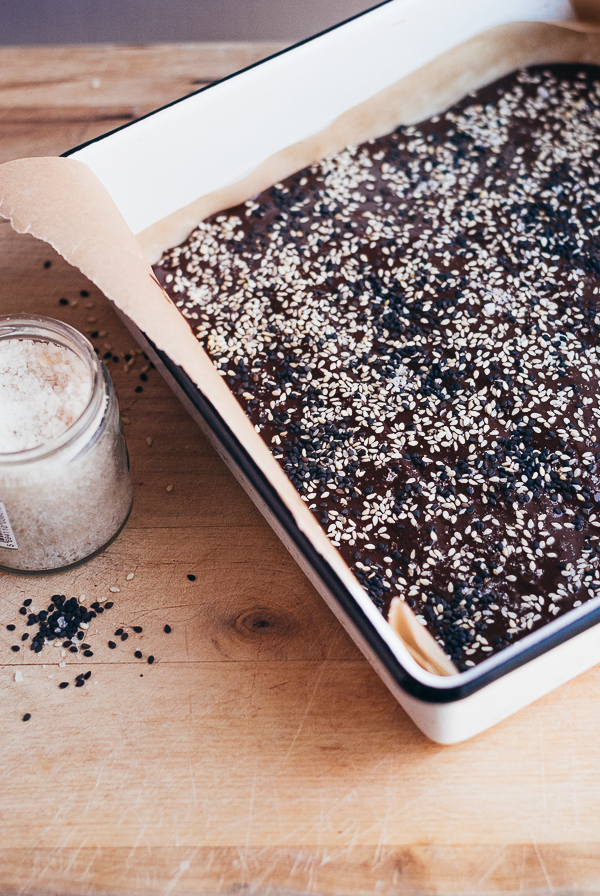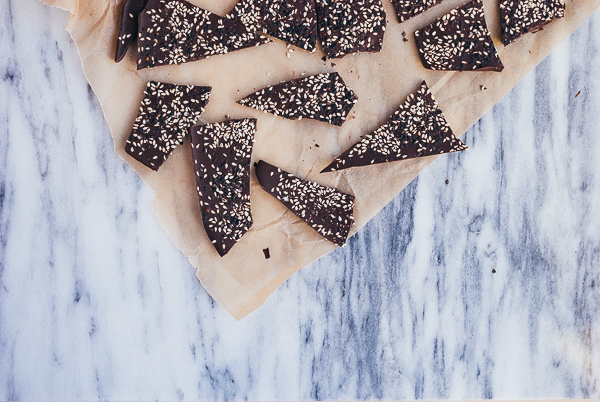 I continued to be a vegetarian for a whopping thirteen years, but finally I realized that living on dairy was not great and actually, I really needed some protein. For now, my list of food allergies includes all legumes (with the blessed exception of pinto and navy beans) and all nuts (sadly including pine nuts, which were safe for me for a long time), and just to be completist about it, blue cheese, eggplant, and rhubarb, though those are "only" hive reactions.
My allergies have come up in passing before, but I don't think I've ever really gotten in to it. I share them now with the hopes that you won't use this knowledge to try and kill me, but also to maybe explain why we make the food we do. As a kid, I was often the only person anyone had even heard of with food allergies and of course that's now not the case. I don't make allergies a focus on the blog because mine are fairly cut and dry. I can eat most things and avoid the things I can't. The one area where my allergies are the worst is with travel. There are entire continents I'm terrified of visiting and I've been forced to pass up some amazing opportunities because of them (I'm looking at you, China). Also, if you invite me over for dinner, we're going to have to talk.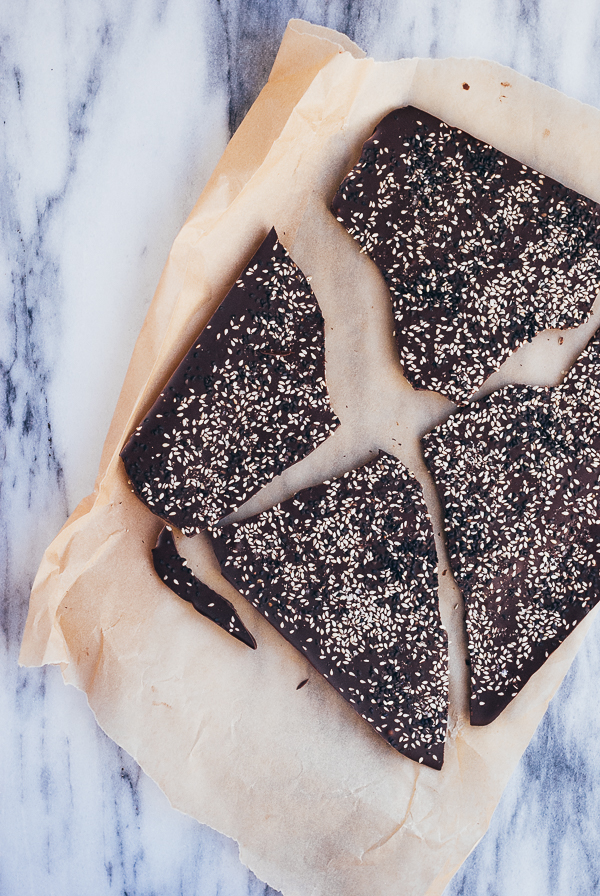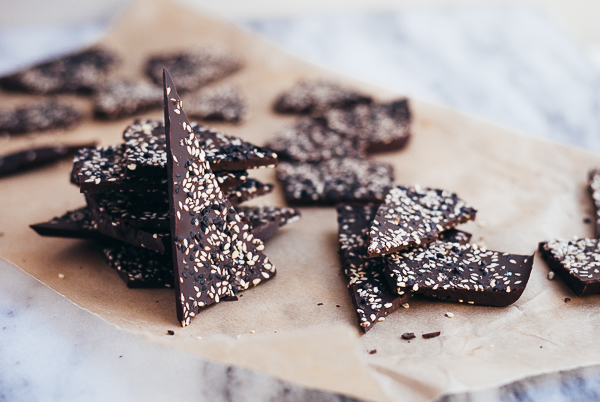 At least there are seeds aplenty. Sunflower seeds and pepitas are constants in my pantry, though recently, I've had sesame seeds on my mind. There's something addictive about their distinctive flavor and it carries over beautifully into this bark. I tried a few iterations, even one with tahini (inspired by these brownies Nicole made), but in the end settled on this version with toasted black and white sesame seeds, birch smoked sea salt (so worth the splurge), black pepper, and just a hint of zest.
A note on chocolate. Standing in the baking aisle of Whole Foods these days is a kind of moral roulette. In fact all of our consumer decisions are fraught with moral implications. Where chocolate's concerned, I do my best to buy the best product I can afford, and always make sure it's Fair Trade or Rainforest Alliance Certified. Even if single source isn't in your budget, slave-free chocolate should be. Guittard is a brand I've come to enjoy recently – it's affordable and Fair Trade, and that's what I used here.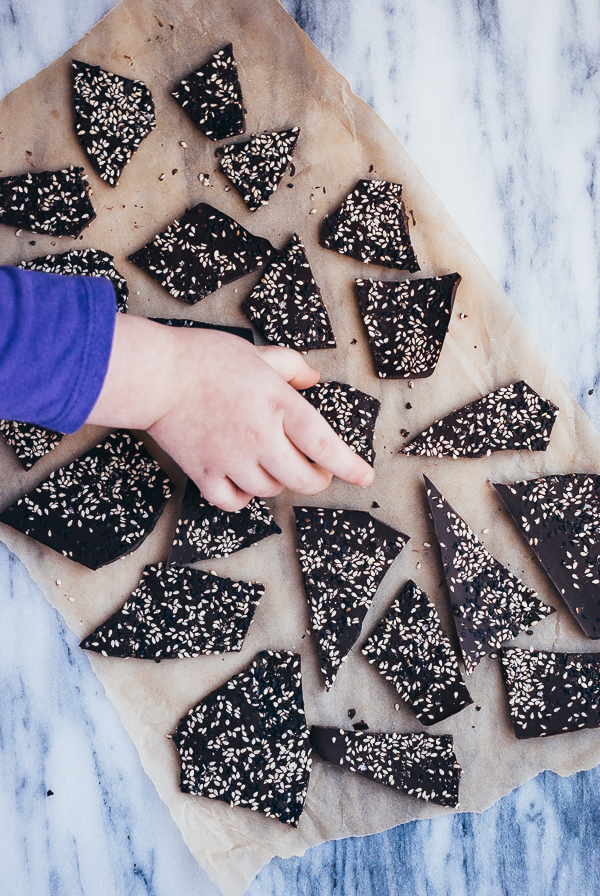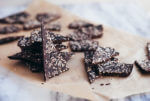 Black and White Sesame Chocolate Bark
An easy homemade black and white sesame chocolate bark recipe with a hint of smoked sea salt and freshly ground black pepper.
Ingredients
1

tablespoon

black sesame seeds

1

tablespoon

white sesame seeds

8

ounces

bittersweet chocolate

(70 percent cacao)

1/2

teaspoon

orange zest

sea salt

black pepper
Instructions
Line an 8-inch square dish with parchment paper or foil.

Set a medium sauté pan over medium heat. Add the sesame seeds. Shaking pan gently, toast seeds just until they darken a shade and become fragrant, 2 – 3 minutes. Set seeds aside to cool.

Chop up the chocolate, reserving 2 ounces. Set out a double boiler.

Next you'll want to temper the chocolate. This is best done with a chocolate thermometer, but I used a digital one and things turned out fine. Tempered chocolate stores better, breaks nicely, and is slower to melt in your hand. For detailed instructions, check out

this tutorial from David Lebovitz

or

this thermometer-free one from The Kitchn

. (Like all things having to do with sugar, tempering chocolate just takes a bit of practice. Try not to be daunted.)

Stir orange zest into the tempered chocolate.

Spread a layer of toasted sesame seeds on the bottom of the prepared dish. Sprinkle with a pinch each sea salt and pepper. Pour tempered chocolate over seeds. Top warm chocolate with remaining seeds and another pinch each of sea salt and pepper.

Set dish in the fridge to set for 3 hours, then break into pieces and serve. Bark keeps best in the fridge, but wrapped in parchment in airtight container, it should keep well for about a week.