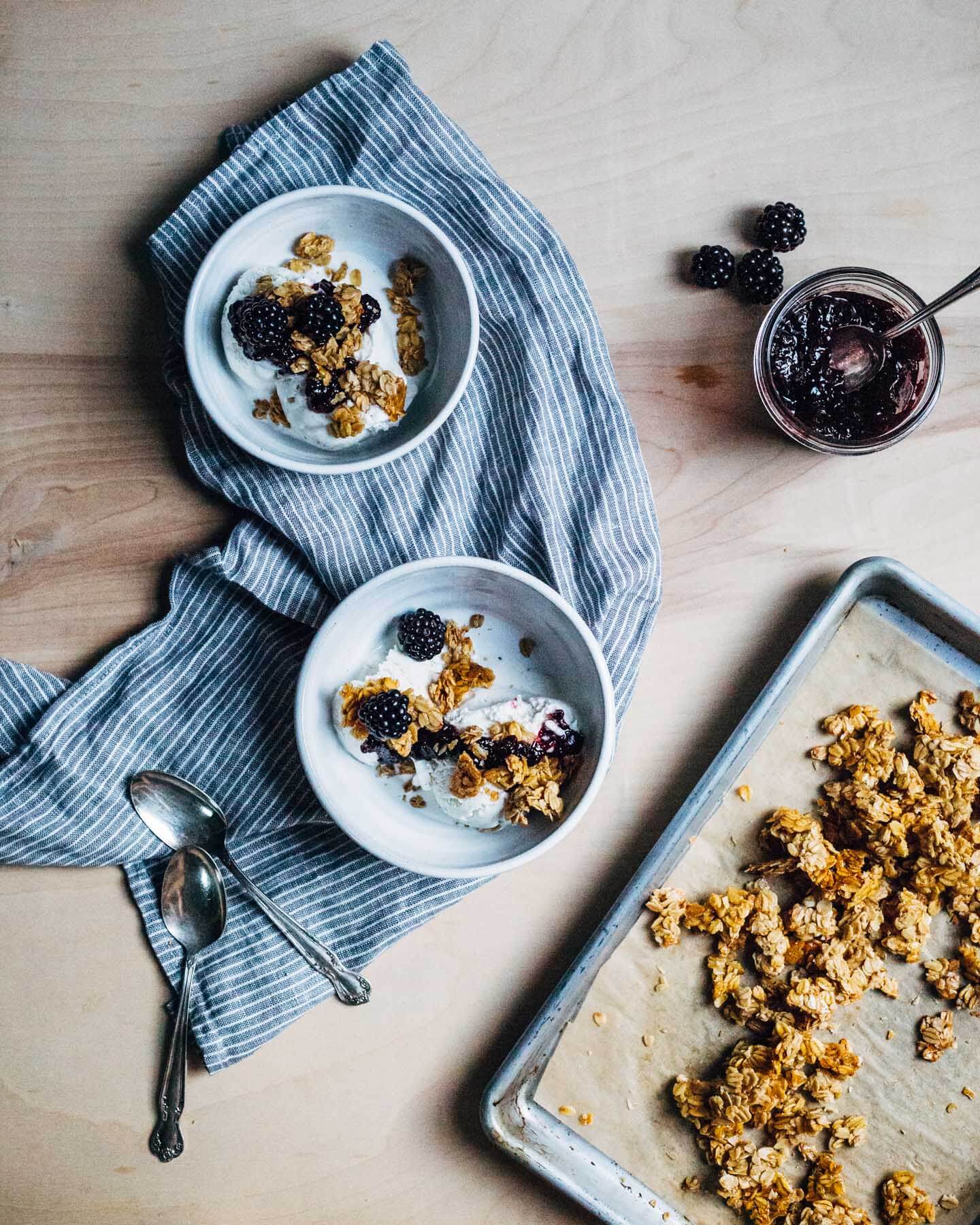 Easy ice cream sundaes topped with with simple, blackberry jam (made without pectin) and oat clusters. Jump to recipe.
I learned to make jam a few years back at a class at The Brooklyn Kitchen taught by Kelly Geary. That day, she made a thick and syrupy, crazy lemony blueberry jam with no pectin. My early experiments didn't turn out as well, though, so I started using pectin. This year, something changed. I wanted to perfect a simple small-batch jam-making technique I could use to quickly preserve summer berries (which always seems to be on the verge of expiring) without pectin or anything special on hand.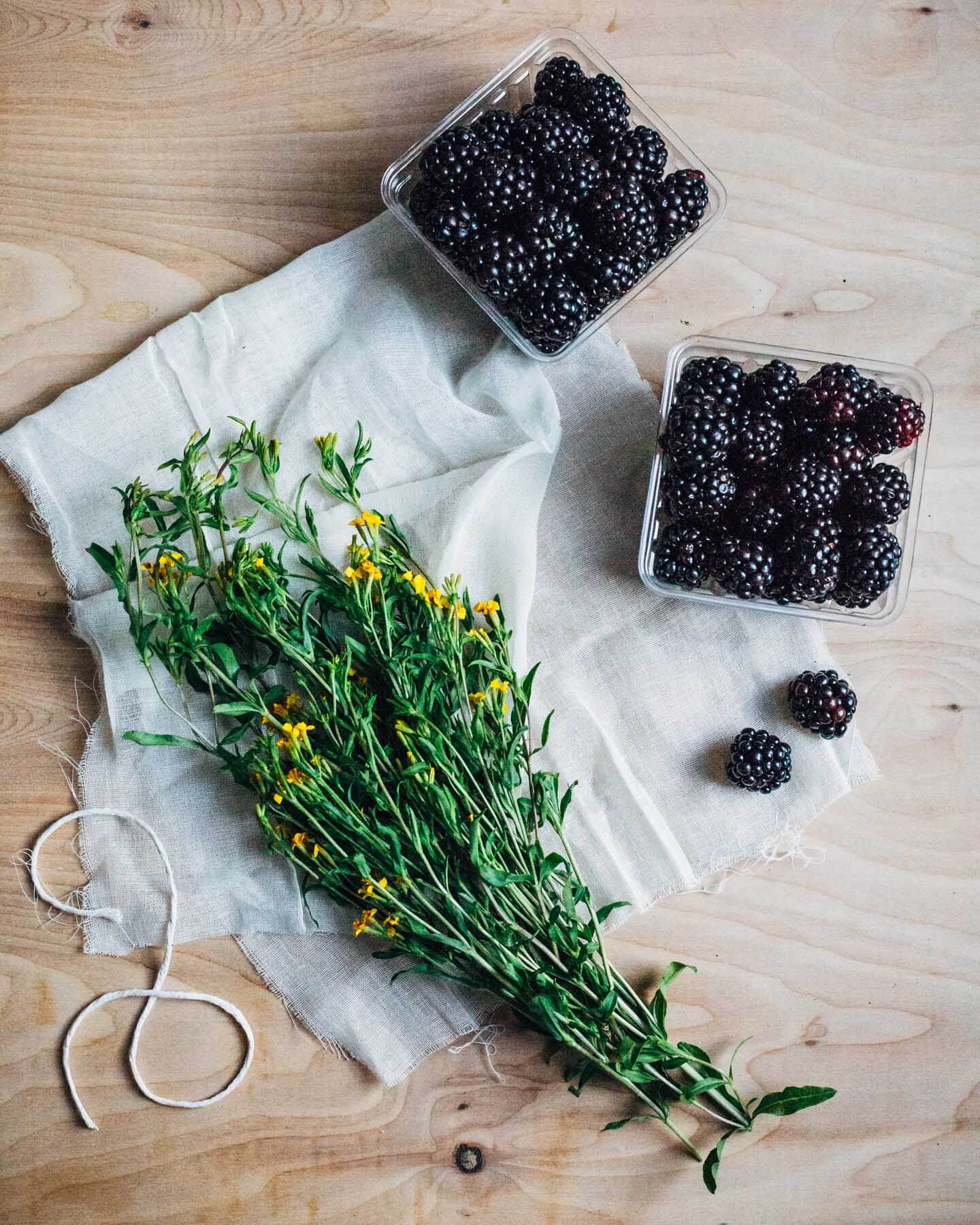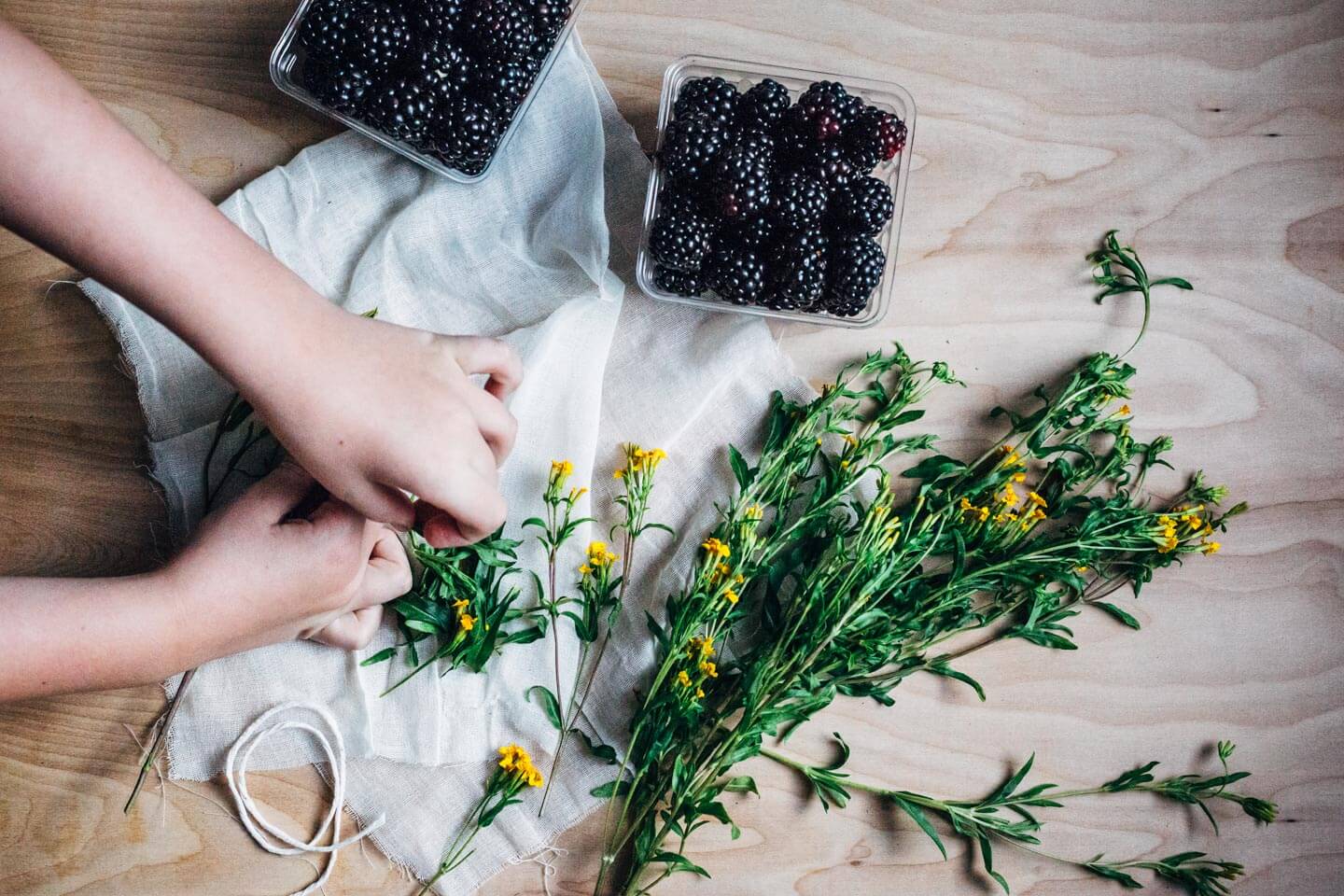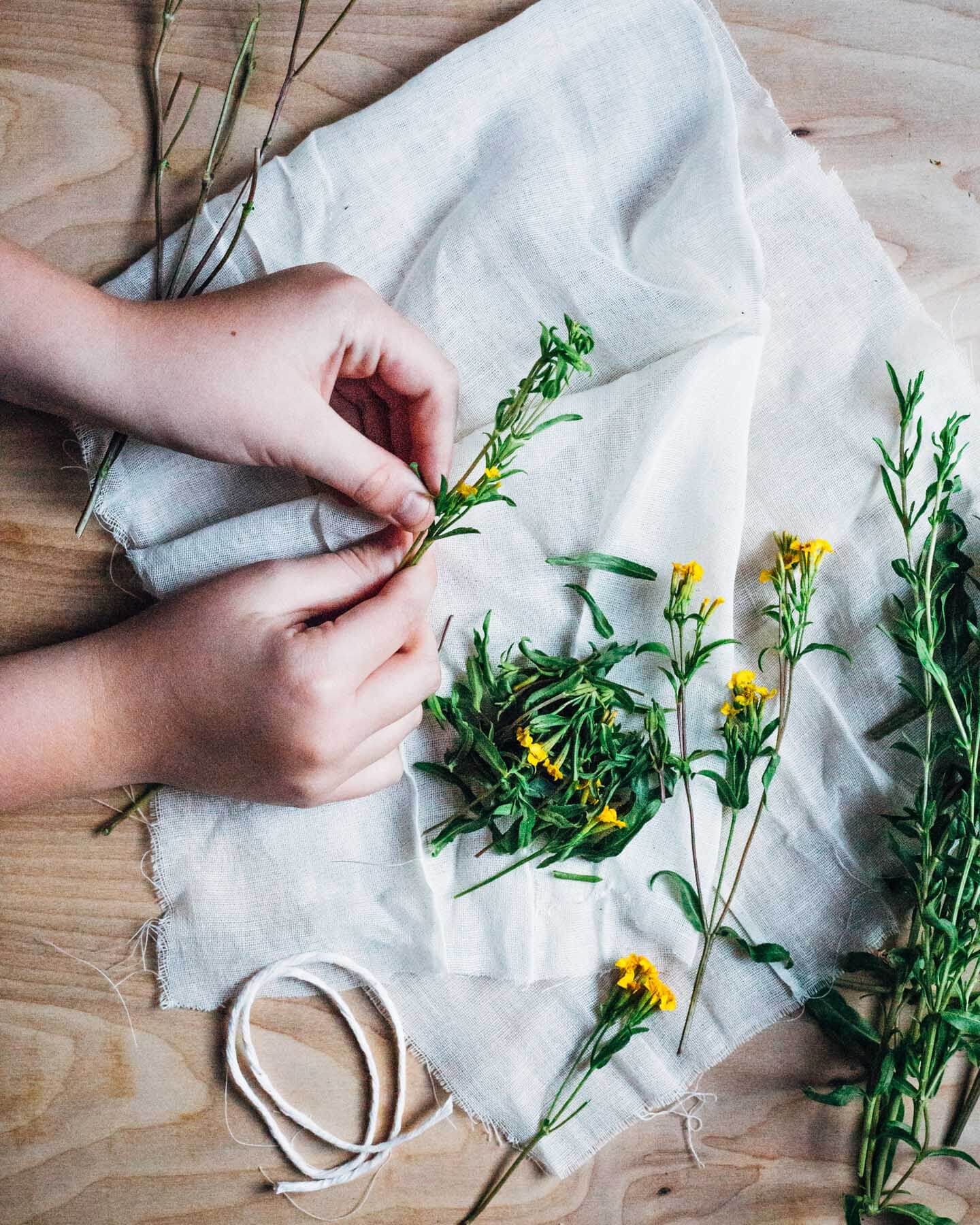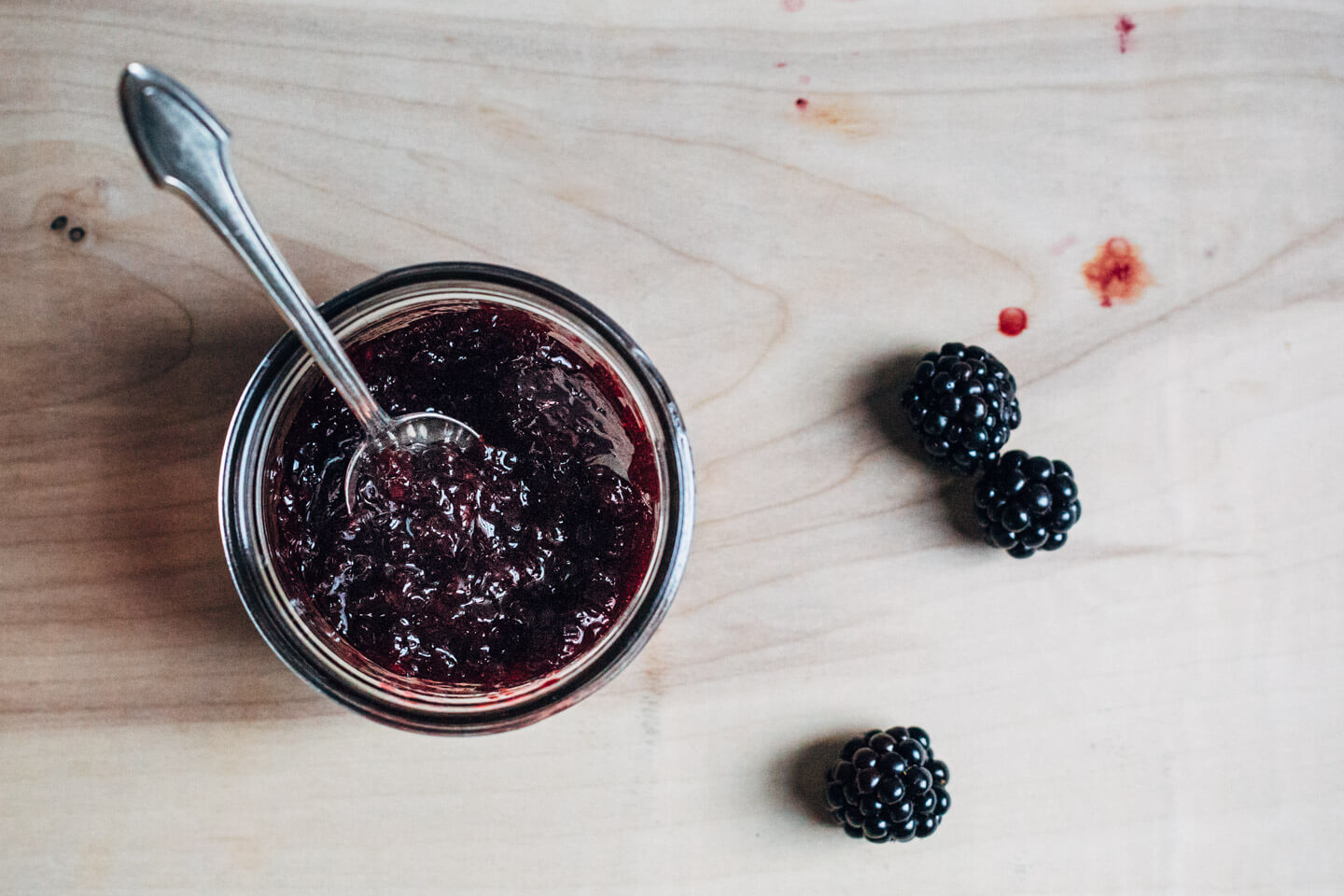 The only essential ingredients for this jam are blackberries, sugar, and lemon. I added a bit of Mexican mint marigold (Tagetes lucida), too. I like quietly herbed fruit jams, because I want to cram maximum summer flavor into each little jar. My Mexican mint marigold came from the pick-your-own herb garden hosted by my CSA. I've also grown it successfully in past years. I can't ever remember finding it in the store, so ask your friends and neighbors, or try thyme, rosemary, tarragon, or basil instead.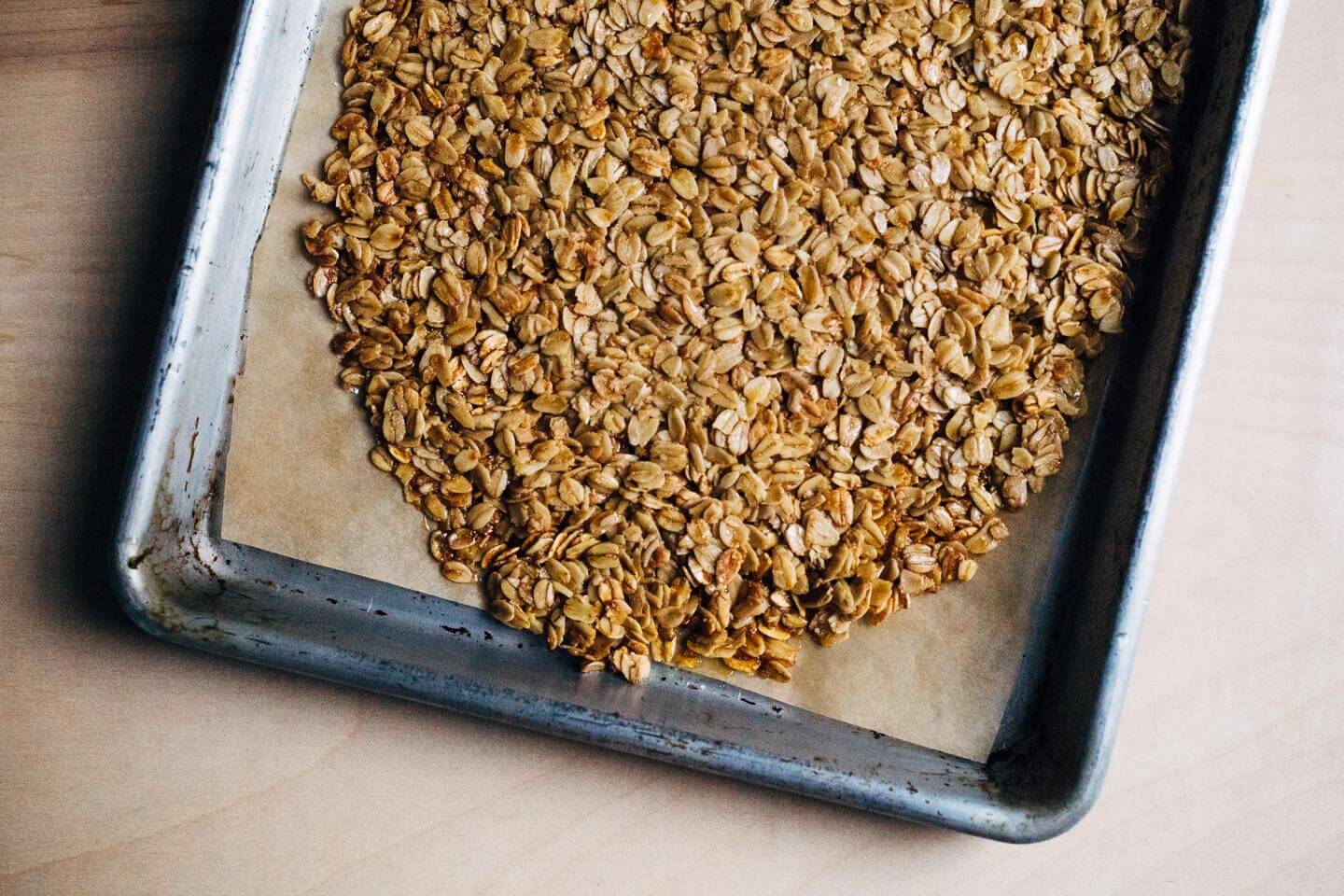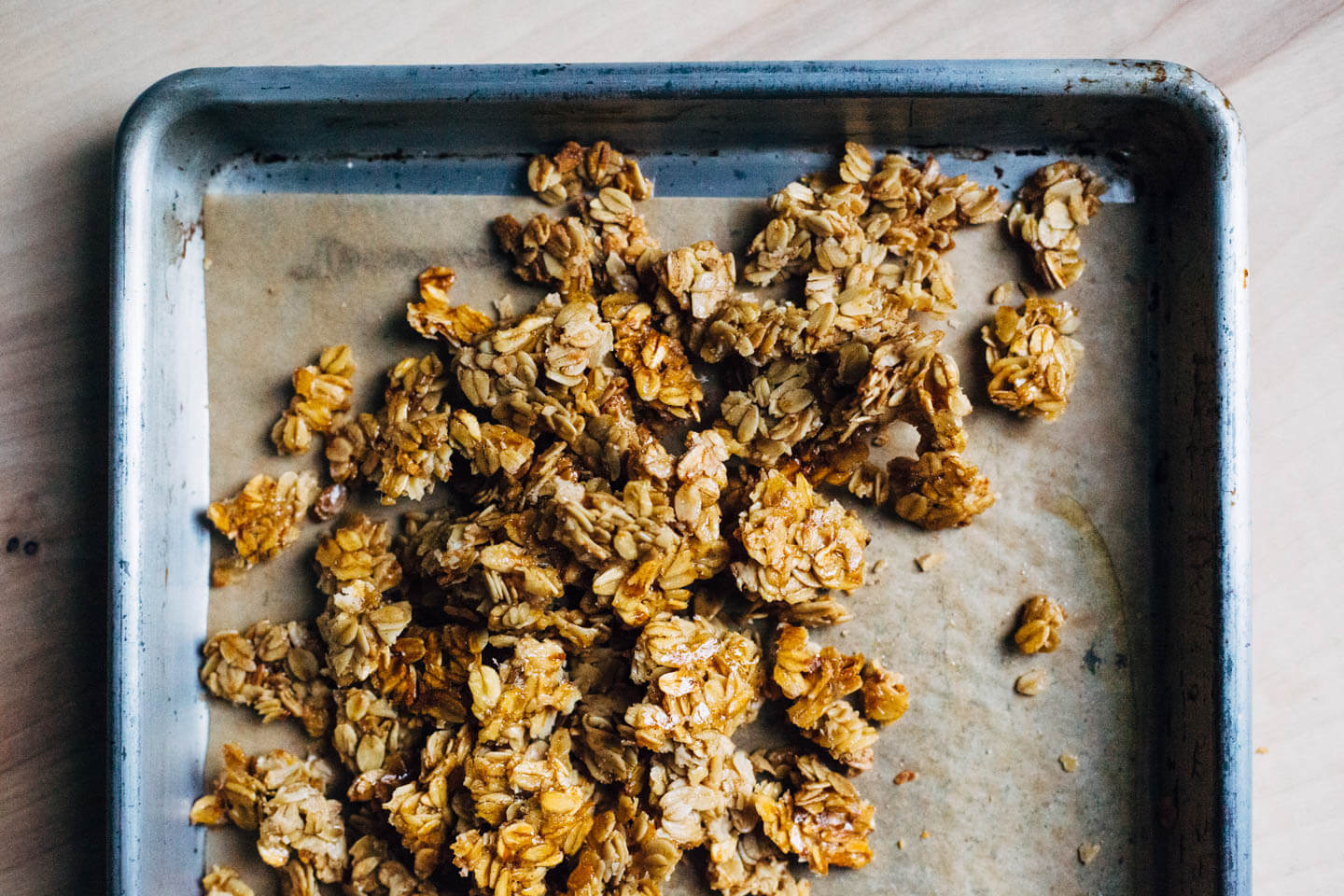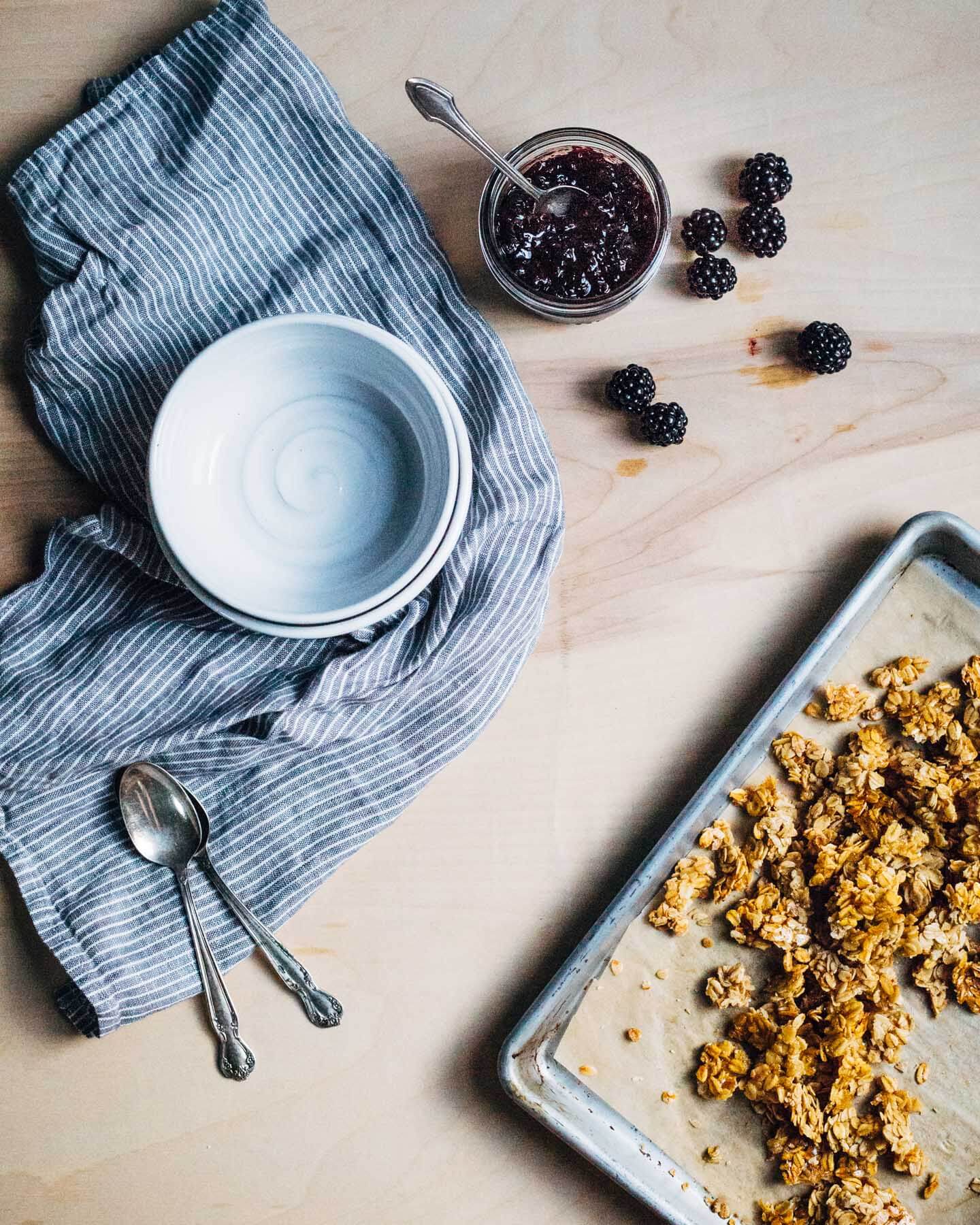 The sundaes came about because I didn't feel like styling another piece of boring toast, and ice cream tastes good. So I made a batch of super simple oat clusters (which double as granola or yogurt toppings), scooped some ice cream, and made a creamy, crunchy, bright berry mess.
Try it for yourself.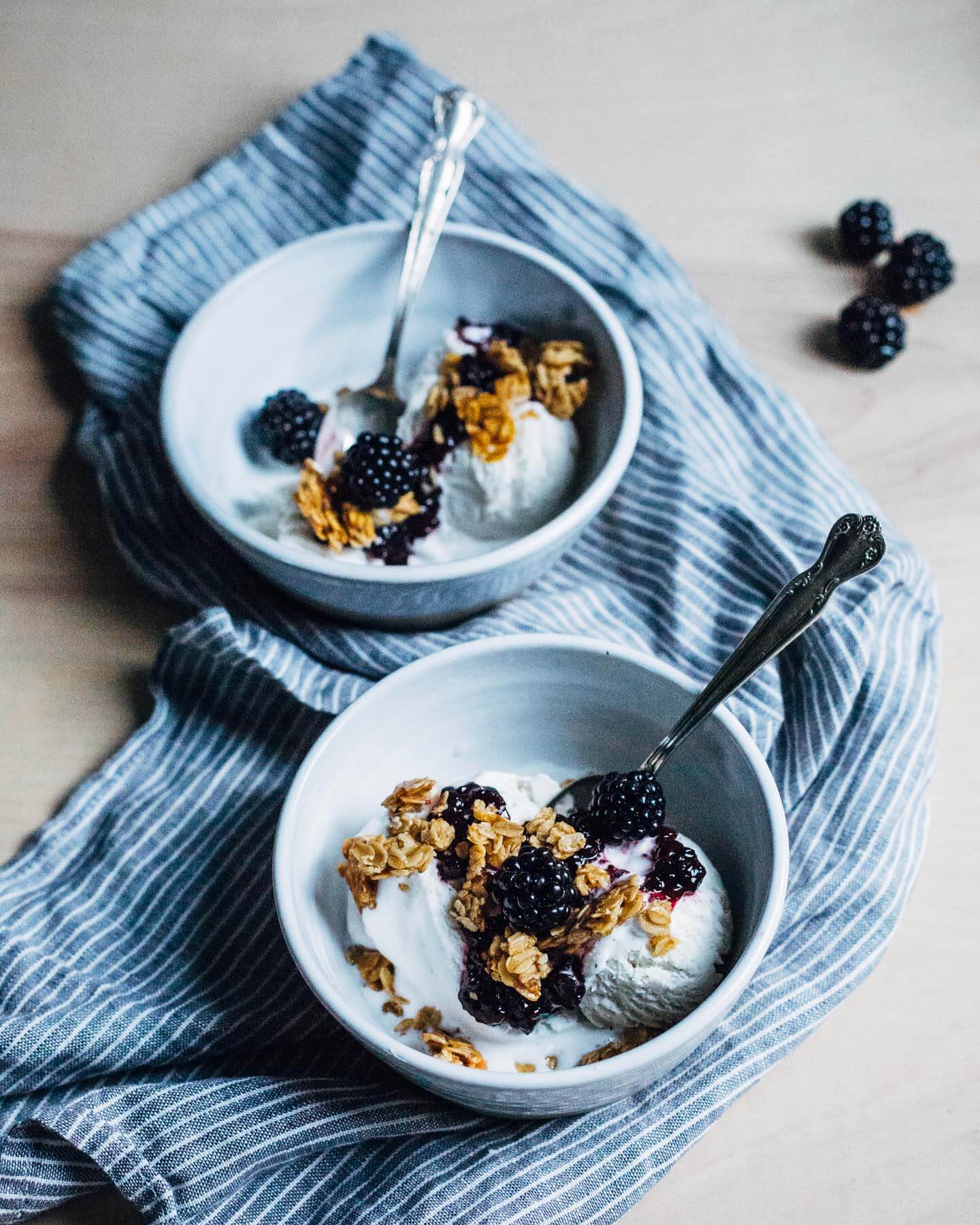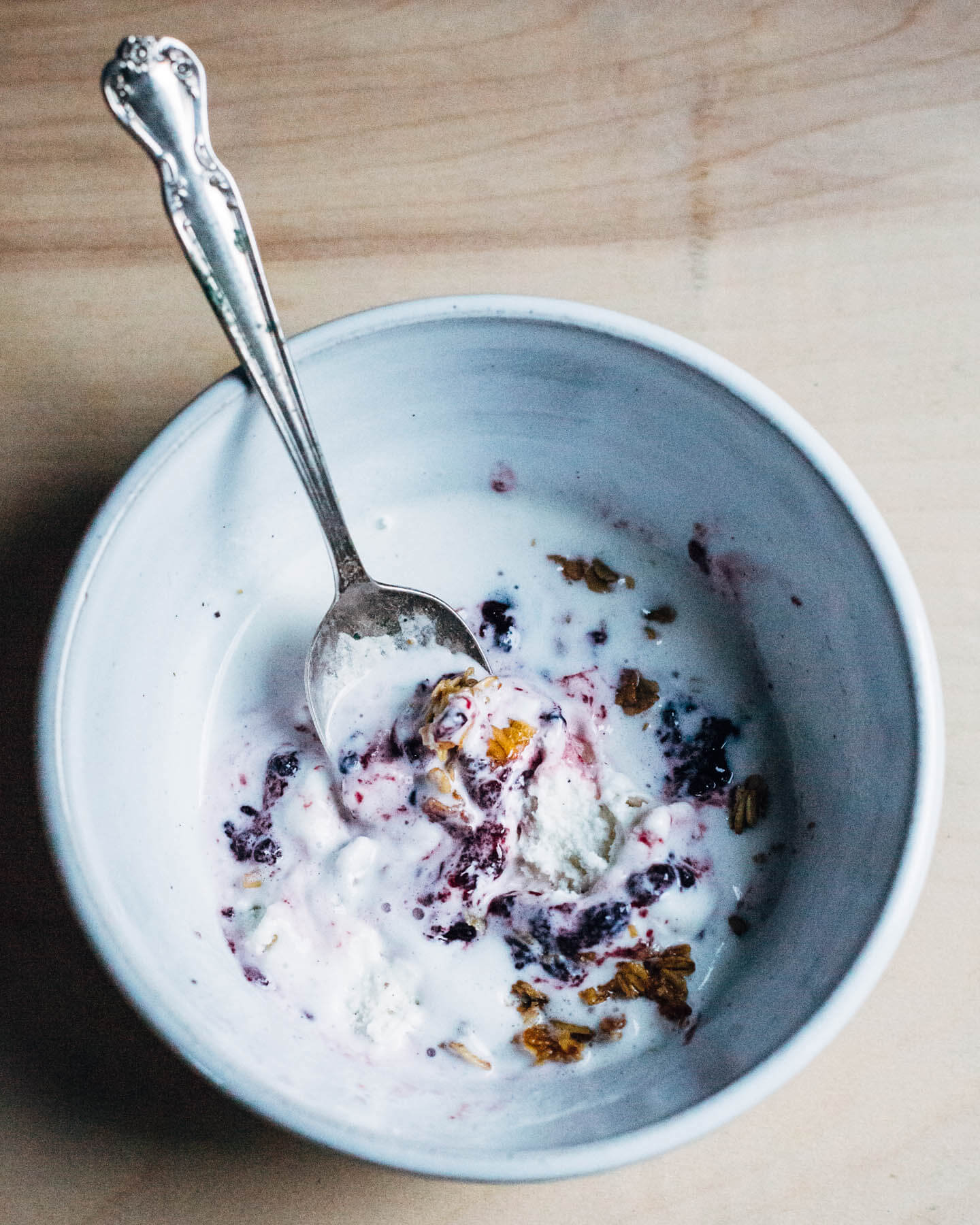 A few notes on the recipe: this jam recipe has seeds. I like the little clumps of fruit in this jam and don't mind the seeds one bit. If you're new to canning, do a little reading first. The Ball Canning site has all the basics. The Kitchn has a good guide to gauging jam set.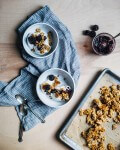 Blackberry Jam and Oat Cluster Sundaes
Easy ice cream sundaes topped with with simple, no-pectin blackberry jam and oat clusters.
Ingredients
For the Oat Clusters
1

cup

old fashioned rolled oats

1/4

cup

honey

2

tablespoons

olive oil

1/2

teaspoon

ground cinnamon

1/2

teaspoon

sea salt
For the Sundaes

1

pint

vanilla ice cream

1/2

cup

blackberry jam

(recipe below)

4

blackberries
Instructions
Working ahead of time, preheat oven to 300 degrees F. Line a small baking sheet with parchment.

In a small mixing bowl, stir to combine oats, honey, olive oil, cinnamon, and sea salt. Spoon onto prepared baking sheet, and press into a flat oval. Bake 20 - 25 minutes, or until oats are fragrant and slightly golden brown.

Set on a wire rack and cool completely – 2 hours or more. Once oats have cooled completely, break up clusters with your hands. Leftover oats will keep well in a sealed container for a week.

Set out dessert bowls. Add 2 scoops ice cream to each and top with 2 tablespoons blackberry jam and a handful of clusters. Top each with a fresh blackberry.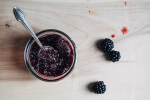 Herbal Blackberry Jam (without Pectin)
A simple no-pectin blackberry jam recipe infused with lemony Mexican mint marigold.
Makes
:
4
(1/2-pints) jars
Ingredients
2

pounds

(about 4 cups) blackberries

2 1/2 - 3

cups

sugar

zest of 1 lemon plus 2 tablespoons juice

2

tablespoons

Mexican mint marigold leaves (or herb of your choice)
Instructions
Set 2 or 3 large spoons in the freezer.

Bring a large pot of water to a boil and sterilize jams jars.

Pick over, wash, and pat dry blackberries. Use the back of a wooden spoon to mash the fruit – it should be lumpy, not smooth.

Wrap verbena leaves in cheese cloth and tie with twine.

In a large, wide, non-reactive pot (a Dutch oven is perfect), stir to combine mashed blackberries, sugar, and lemon zest and juice. Tie up Mexican mint marigold leaves in a cheese cloth and immerse it in the jam. Bring mixture just to a boil, then turn heat down to medium or just hot enough that jam bubbles gently. Cook, stirring frequently, 15 - 20 minutes. Look for the jam bubbles to thicken and change sound, and for drips to thicken.

Check jam thickness by spooning a bit onto chilled spoon and pushing with fingertip. I found this jam was set when it wrinkled just a bit – it firms up considerably once cool.

Discard herbs in the cheesecloth.

Ladle jam into sterilized jars leaving a 1/4-inch head space and wipe rims. Seal jars, and then process in a hot water bath for 10 minutes. Gently set on counter and wait for lids to seal. If, after 24 hours, the lids haven't sealed, set jar in the fridge and eat right away.