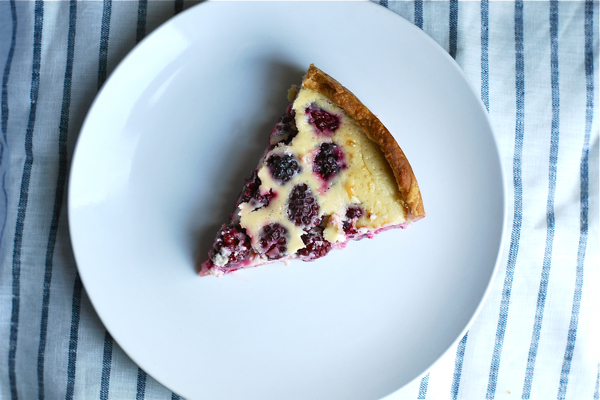 New York in June always catches me off guard (though it really shouldn't, seeing as there's a song about it and all). Further south, June is already sweltering, with temperatures into the 90's and humidity at full tilt. So I always begin the month prepared for the worst. But this year we've had endless bright days, towering fluffy clouds, cool breezes, clear, gorgeous light, and at least three rainbows. It's hard to be stressed out when the weather is so completely glorious.
Amid the backdrop of dreamy weather and picturesque clouds, things have been percolating. A few weeks ago, the brilliant Sarah Bryden-Brown took a huge gamble and asked me to cook for a small dinner party she was hosting. I'd never cooked on that scale before, but had always wanted to try, so I said yes. Over the next few weeks, an easygoing yet sumptuous Moroccan feast came together (see the menu here), and the party ended up being a big success. I had a fantastic time preparing for the meal, and was thrilled to share actual food with people I didn't know. Here I share my ideas, recipes, and images of food, but there's a special thrill in cooking for strangers (on that note, stay tuned–we're hatching a big idea).
After a meal of so many rich and complex flavors, I was looking for a light dessert that was simple and sweet, and this blackberry lime cheesecake tart struck just the right chord. It's creamy and tangy, but not at all dense or heavy. Juicy blackberries and hints of lime contrast with the creamy tang of the filling. It's a simple dessert that's quietly amazing, with bonus points for being so very easy.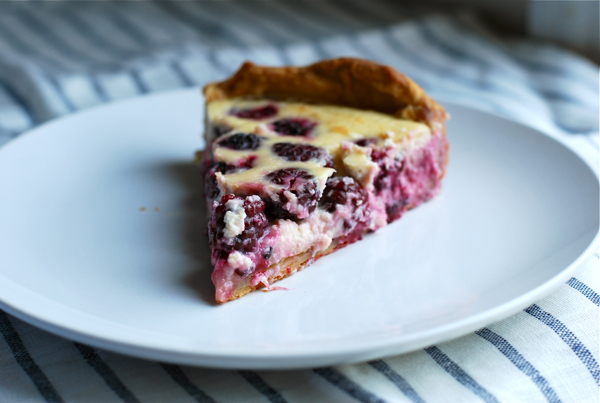 Blackberry Lime Cheesecake Tart
for the crust
1 cup plus one tablespoon unbleached all-purpose flour
1/2 teaspoon salt
1 tablespoon sugar
8 tablespoons unsalted butter
1/4 cup ice water
Preheat oven to 400 degrees. Grease a 10″ tart or spring form cake pan and set aside.
In the bowl of a food processor, combine the flour, salt, and sugar. Cut up the butter into chunks, and pulse into the flour mixture until the butter is dispersed and the mixture is crumbly. Drizzle in the water and pulse several times, just until the dough begins to hold together. Turn it out onto a lightly floured surface, gather into a disc, wrap with plastic and chill for 30 minutes. (You can cheat here if you want to and just stick it in the freezer for a bit, but thoroughly chilled dough is much easier to work with.)
On a lightly floured surface, roll the dough into a 12″ round, and press into the tart or cake pan. I have the best results when I fold the dough under on the sides, and flute it over the edge of the pan a bit–this usually prevents the crust from shrinking down too much. Prick the crust all over–even on the sides–with a fork, line the center with foil, and add pie weights or a few cups dried beans or rice.
Place tart shell on a rimmed baking sheet (to catch any butter drips) and bake for 15 minutes, remove the foil, and bake for another 5, or until the crust is a very light golden brown. Set aside while you prepare the filling.
for the filling (adapted from Yammie's Noshery)
1 egg, room temperature
6 ounces cream cheese, room temperature
1/3 cup whole milk yogurt
1/2 cup sugar, divided
1/2 teaspoon vanilla
pinch sea salt
3 1/2 cups blackberries, rinsed
zest of 1 lime
3 tablespoons corn starch
Preheat the oven to 350 degrees.
In a medium bowl, lightly beat the egg, and then mix in the cream cheese and yogurt, and stir until well-combined. Fold in 1/4 cup of the sugar and the vanilla.
Toss the berries with the remaining 1/4 cup sugar, lime zest, and cornstarch.
Pour the cream cheese mixture into the prepared crust. Scatter the berry mixture evenly  on top of the cream cheese.
Place tart in the oven and bake for 55 minutes, or until the filling no longer jiggles in the center, and has begun to crack a bit. Cool for a hour or more before serving, and keep any leftovers in the refrigerator.