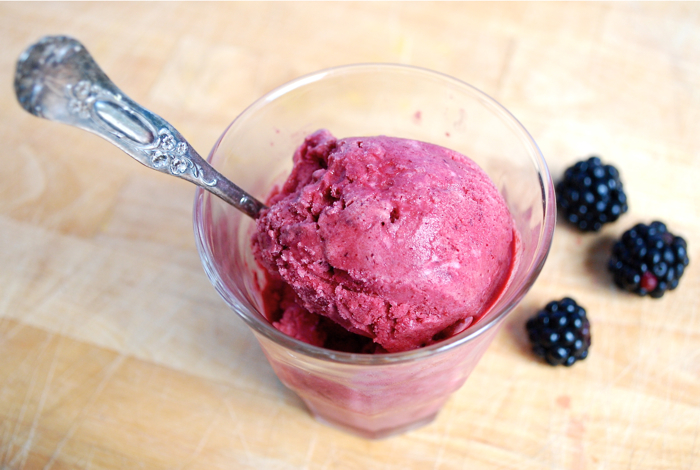 Last week a quart of slightly overripe blackberries arrived in our CSA and rapid action was needed. After a bit of deliberation, I decided on a sherbet based on a grapefruit version we enjoyed last winter. The sourness of the citrus was balanced wonderfully by the creamy sweetness of the dairy, and I thought this approach would similarly balance the tang of the blackberries. We ended up with an intensely flavored sherbet with pitch-perfect blackberry flavor, and hints of creaminess. An added bonus is that you get all of the blackberry flavor and none of the seeds. Chalk it up to yet another perfect summer dessert. 
My recipe is pretty off-the-cuff. Once I had pureed and seeded the blackberry juice, I adjusted the sugar as needed. I also was a bit sparing in my use of cream, as I didn't want to overwhelm or bog down the berries. This versatile sherbet recipe is infinitely adaptable, and I'm looking forward to making sherbet out of every nearly expired berry or stone fruit I can get my hands on for the rest of the summer.
Blackberry Sherbet
4 cups fresh blackberries
1/3 – 1/2 cup sugar
2 tablespoons fresh lemon juice
pinch of salt
2/3 cup heavy cream
Puree the blackberries. Pour puree into a sieve and strain out the seeds. This will take a while, just keep pushing the mixture around with a spoon and pushing down on the mixture to extract the juice–yields roughly 1 3/4 cup blackberry juice. Add the sugar, salt, and lemon juice, and pour into your ice cream maker. Process according to your ice cream maker's instructions, until the mixture is relatively firm. Meanwhile, beat the cream to stiff peaks. Fold the whipped cream into the processed blackberry mixture. Spoon into a freezer-proof container and freeze until sherbet is set, preferably overnight.