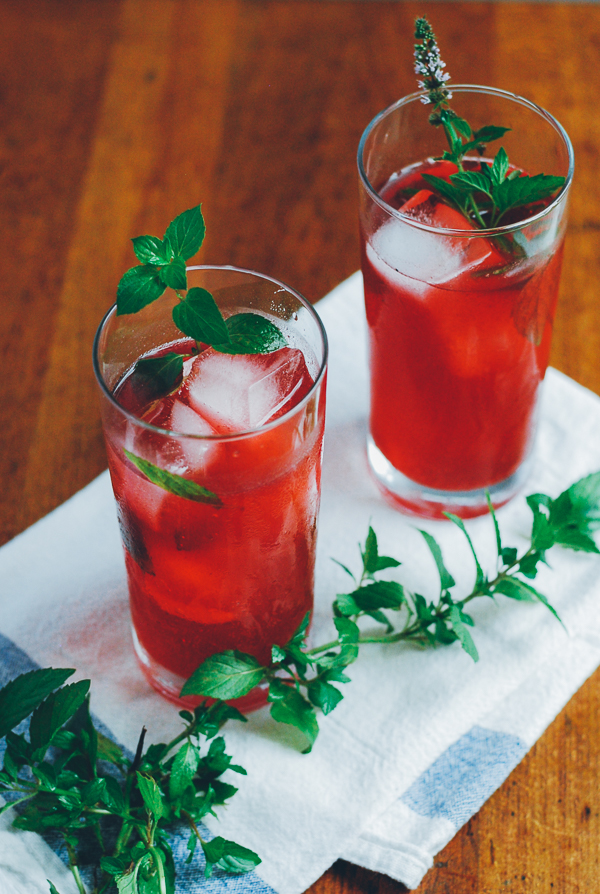 As the calendar ticked over to the unofficial start of fall and our pool closed up for the season, something unexpected and entirely unwelcome happened – summer started. Suddenly it was hot and sticky. The cicadas which had been quiet returned with full voices. Summer storms cropped up. As someone who loves wool, overheats easily, and has hair with serious frizz potential, I take this late-onset summer very personally.
On the other hand, there are a few things I'll miss about summer. As we get the first winter squash in our CSA share, I'm still clinging to all the summer ingredients poised to disappear at any moment. Among them, blackberries. A funny thing about living in Virginia, is that you can tell when the late season berry crop is in because suddenly all the bird poop (and there's a lot, especially, it seems, on our white car) turns purple. Mostly these are the wild berries, like wineberries and choke cherries, but intrepid gardeners and the occasional creekside yard are currently enjoying the second blackberry harvest.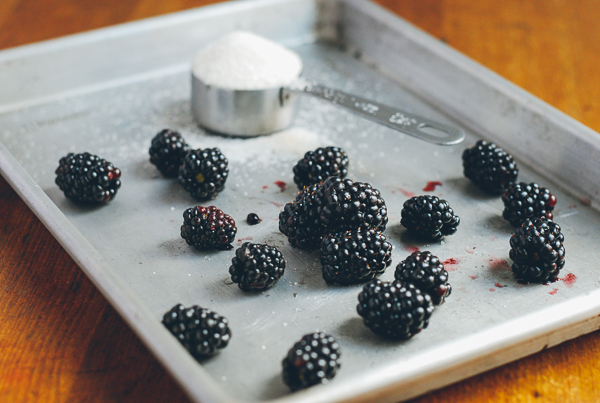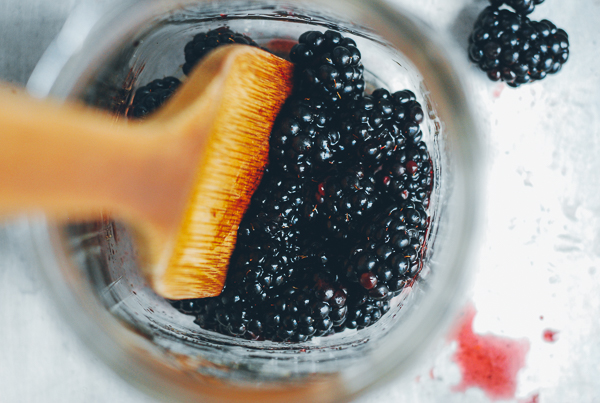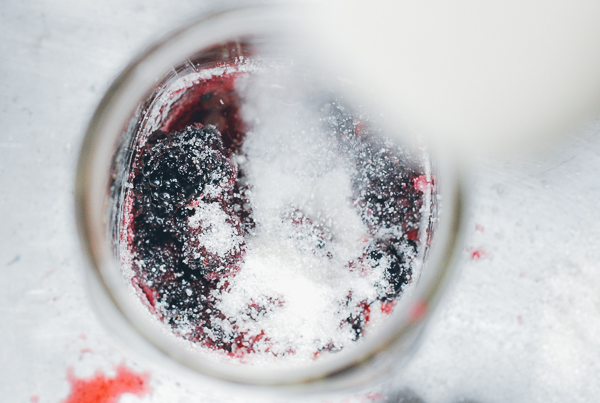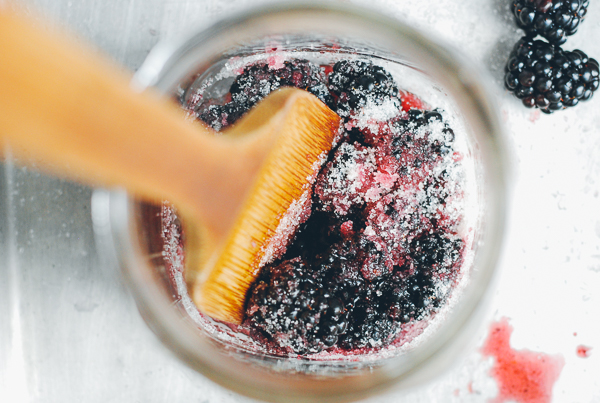 In typical form, I scooped up far more blackberries than we could readily eat, and so, just as the berries were on the brink, a quick shrub became a necessity (clearly, it's debatable as to whether good cocktails are a true necessity, but in this heat, my vote is definitely).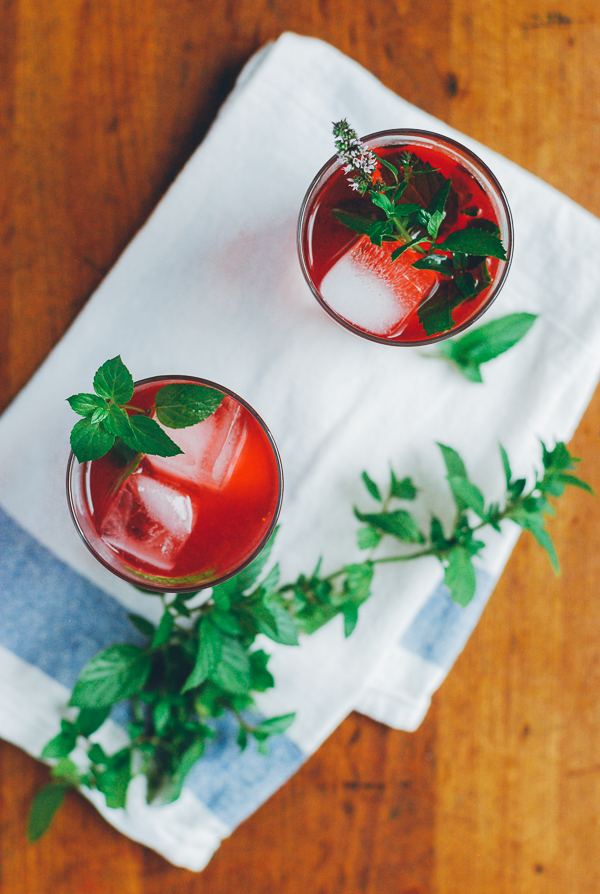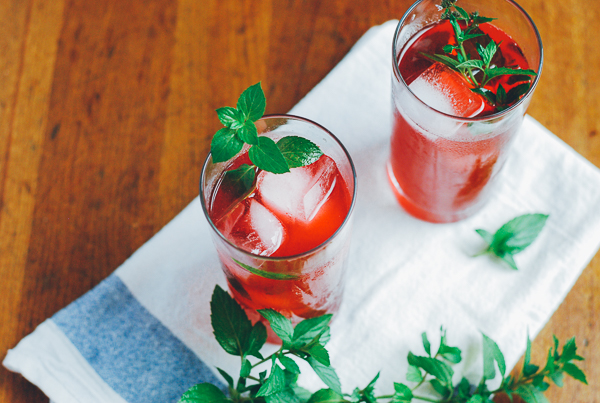 Over the past couple of years, shrubs have become a darling of the blog and cocktail world. I owe my introduction to Brian from A Thought for Food at last year's Big Summer Potluck, though since then I've come across a nearly overwhelming number of great, shrub-based cocktails. There's also this Shrub cookbook by the talented Michael Dietsch, which is definitely going to have a place on my kitchen shelf once it's released in early October. If you're new to the shrub, it's basically a cocktail syrup made with fresh fruit, sugar, and vinegar. Shrub lends a pleasant tangy sweetness to drinks, and happily covers the sweet, fruity, and bright notes in one fell swoop. You'll need to add the booze and a little fizz, but that's not much considering the complex flavors going on in a good shrub cocktail.
Along those lines, this blackberry shrub is simple – just fresh mint, Tito's vodka, blackberry shrub, and seltzer. A perfectly refreshing cocktail to enjoy as we ride out this sneak attack of summer weather.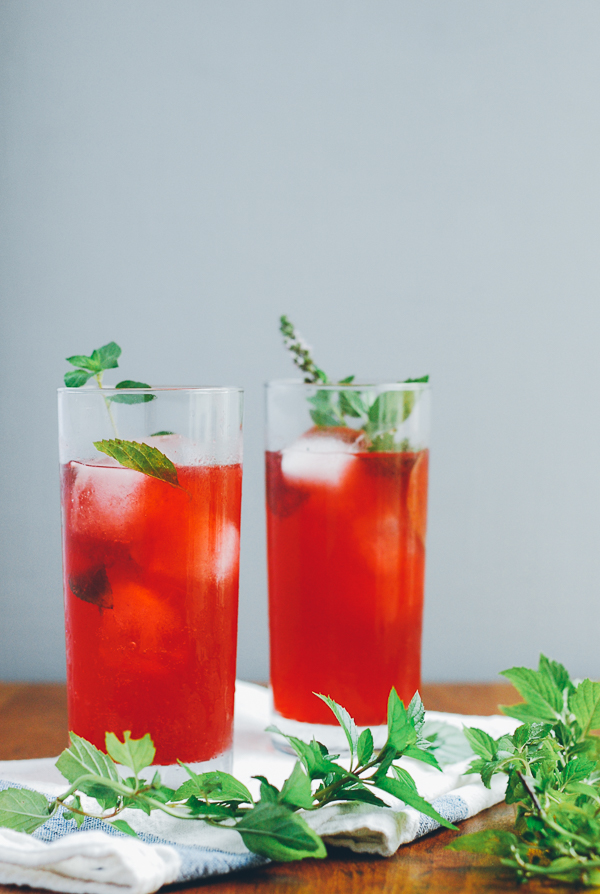 For more late season shrub action, check out this peach shrub from the Brooklyn Supper archives.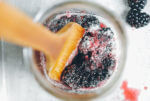 Blackberry Shrub Recipe
Turn ripe berries into a tangy blackberry shrub with this simple recipe.
Ingredients
4

cups

blackberries

(2 pints fruit)

2

cups

sugar

2

cups

apple cider vinegar
Instructions
In a large 2-quart (or bigger) jar or other vessel with a tight-fitting lid, combine berries and sugar. Use a wooden spoon to mash berries well. Set in fridge for 2 days, checking and swirling fruit, until sugar has dissolved.

After 2 days and once sugar has dissolved, pour in vinegar, shake and swirl everything together, and set in the fridge another 5 – 10 days. Check mixture each day, and give everything a good stir. As you approach the five day mark, start to taste the mixture – once the vinegar and sweetness have melded and mellowed to your liking, push mixture through a mesh strainer and discard the berries. Pour strained syrup into a clean bottle.


Store in the fridge for up to three weeks.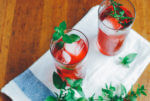 Blackberry Shrub Collins with Mint
Mix up a fantastic shrub cocktail with this recipe for a blackberry shrub Collins with fresh mint.
Ingredients
2

ounces

vodka

2

ounces

blackberry shrub

4

ounces

sparkling water

2

large leaves mint

, plus more for garnish
Instructions
Fill a Collins glass with ice. Crush 2 large mint leaves into the side of the glass and drop to the bottom. Pour in the shrub and vodka, top off with sparkling water, stir gently, and garnish with a mint sprig.