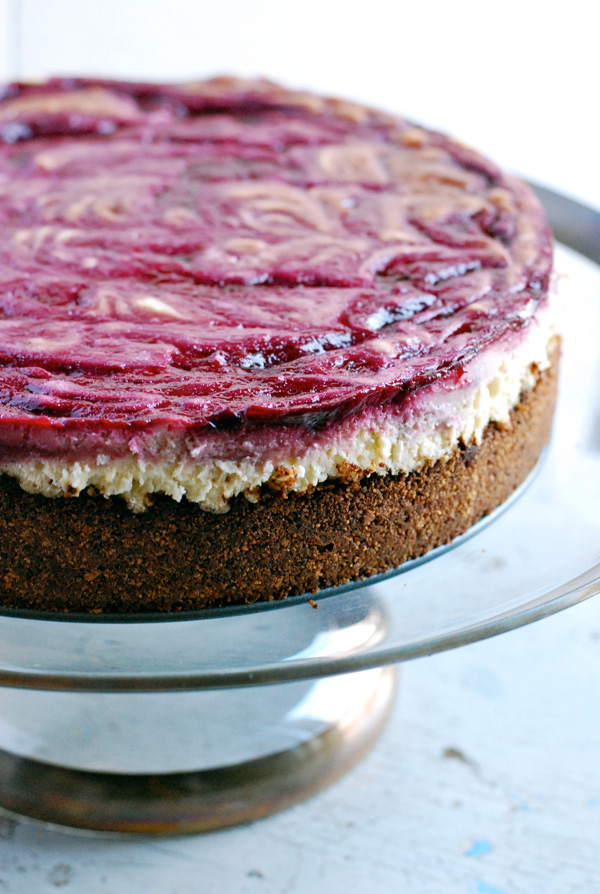 I spent Christmas Eve building a gingerbread house with my oldest daughter and it was an absolute joy. I made this gingerbread recipe, drew up my own plans, and went for it. Then, with the help of two containers of very cheap grocery store frosting and lots of candy, we constructed a pretty charming little cabin. I liked making this one with minimal planning, but already I can envision a future in competitive gingerbread house building. It fulfills my 9 year-old self's dream of being an architect, except with frosting. So very much frosting. Then, I made a cheesecake for Christmas dinner.
I'm pretty picky about cheesecake and usually avoid it because it can so easily be too sweet, rich, and caky. It's just too much for me. That's why I really love cheesecake tarts and Jello cheesecakes (let's keep that last one between us, OK?). But this cheesecake–it was awesome. I triple wrapped the springform pan in foil and baked it in a water bath. Water baths had always felt too fancy for my kind of cooking, but this being a special occasion and all, I decided to give it a try. The cheesecake was tart, sweet, and had a light, airy, and tangy filling. And a gingerbread graham crust. Few things bring joy to my heart as much as adding butter to cookies to make a crust.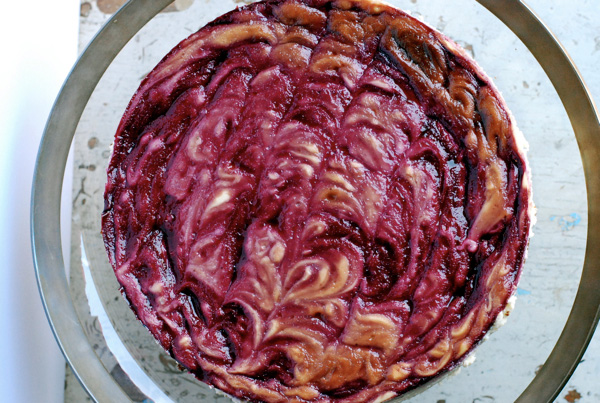 Allow me to suggest you make it (right now) and say goodbye to the year with something delicious. Happy New Year everyone! I think we all really need 2013 to be awesome, so let's make that happen. Cheers.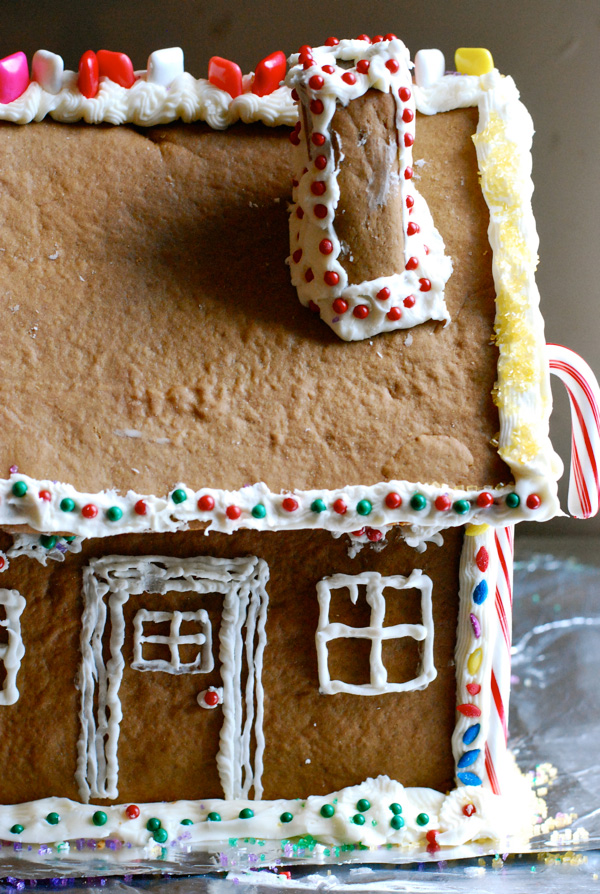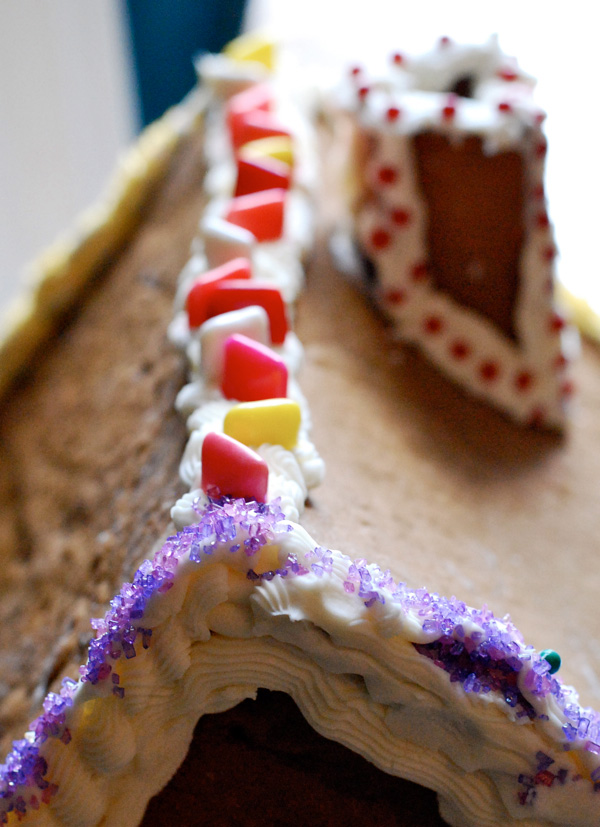 One last thing: blackberries are absolutely not in season. Maybe I had some frozen from the summer, or maybe I just got a box from Mexico. Either way, it's winter now and cheating is allowed.
Blackberry Swirl Cheesecake with Gingerbread Graham Crust (filling adapted from Martha Stewart and crust adapted from The Smitten Kitchen Cookbook by Deb Perelman)
1 cup graham cracker crumbs (about 110 grams0, from 7 rectangular graham crackers)
1 cup gingerbread or ginger snap cookie crumbs (about 130 grams), I used a slightly over-done batch of these)
2 tablespoons unsalted butter, melted
1 1/2 tablespoons plus 1 1/4 cups sugar
4 ounces blackberries
zest of 2 lemons
1/4 teaspoon fresh ground nutmeg
32 ounces cream cheese, room temperature
pinch of sea salt
1 teaspoon vanilla extract
4 eggs, room temperature
boiling water, for water bath
Preheat the oven to 350 degrees F. Cut out a circle of parchment paper, butter on both sides, and line the bottom of an 8-inch spring form pan. Tightly wrap the outside of the pan in foil (you're looking to keep the water from getting to your cheesecake). Butter the edges, and set aside.
Pulse the graham crackers and gingerbread in a food processor. This will be loud. Drizzle in the melted butter, and pulse a few more times. Spoon into the prepared pan, and use the palm of your hand or a glass to press it in place. Build the crust up a half inch or so on the sides. Bake 10 minutes; set aside while you prepare the filling.
Turn the oven down to 325 degrees F. Puree the blackberries. Push puree through a mesh sieve to remove the seeds. Stir in 1 1/2 tablespoons sugar and the zest of 1 lemon, and set seedless mixture aside.
In the bowl of a stand mixer fitted with the paddle attachment, or with a beater, whip the cream cheese on medium speed for 3 minutes. Turn mixer to low, and add 1 1/2 cups sugar, salt, zest of 1 lemon, nutmeg, and then vanilla. Add eggs one at a time, stopping to scrape the sides as needed and mixing just until combined.
Spoon mixture onto the pre-baked crust. Drizzle the blackberry mixture on top, and use a toothpick to swirl.
Set cheese cake in a roasting pan, and set on the oven rack. Carefully ladle in the boiling water so that just under half of the spring form pan is immersed. Bake for 70 – 80 minutes, or until the sides are set and the center 4 inches wobbles like jello.
Cool cheesecake completely, and then chill in the fridge for 6 hours or overnight. Once chilled, run a knife along the edge, unmold, and serve.