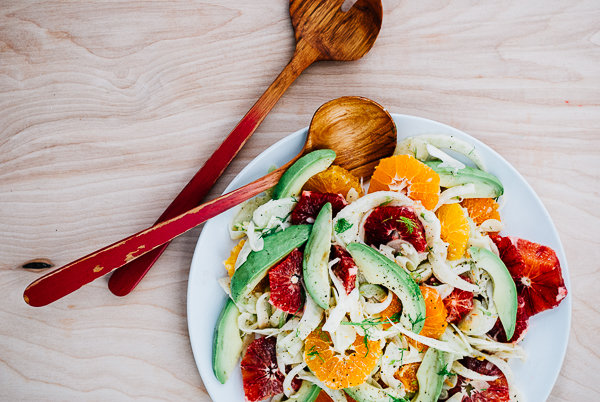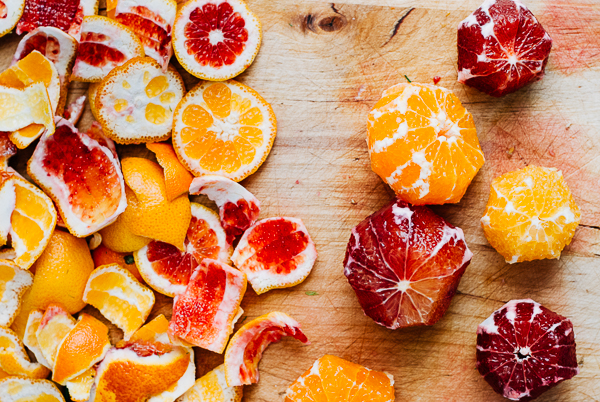 A bright and wintry shaved fennel salad with sliced blood oranges and avocado, and tossed with a creamy saffron-lemon dressing. Jump to recipe.

I needed thyme on New Year's Eve and walked out to the garden to see if my plant was hanging on. It had lost its vibrant color, but there was still lots of fresh, fragrant thyme to be had. It was a cold morning and the frost had settled into the tiny leaves to form glistening rosettes.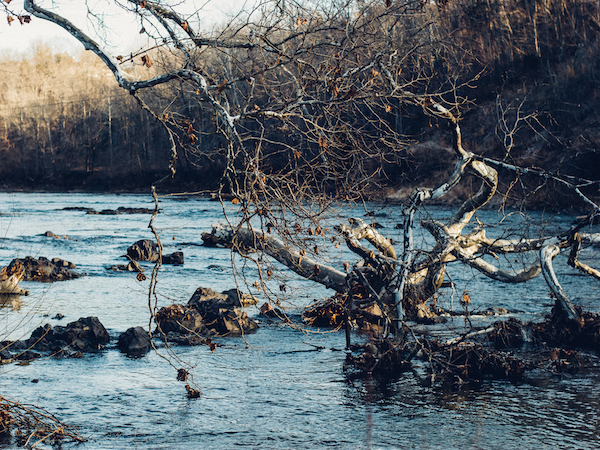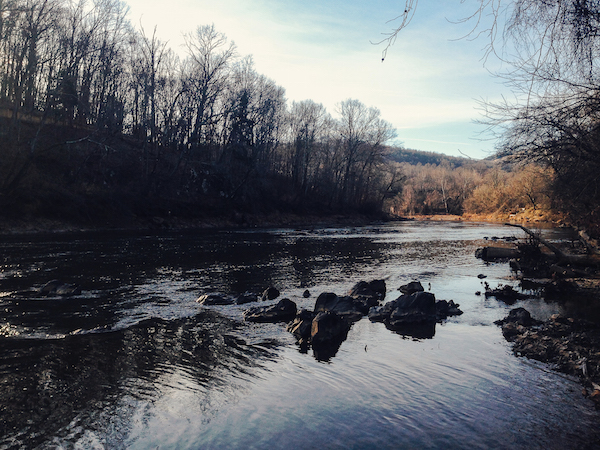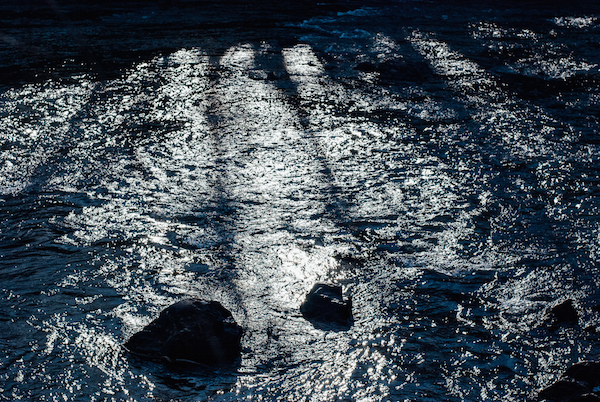 Inspired by the beauty of the frost-covered thyme, I headed to the river early the next morning to see what winter had brought to that place. I found the brush around a water spout covered with icicles and crystalline forms in the mud, but otherwise, the frost was just a pale layer over the ochres and umbers of a Virginia winter. Still, the trip was a chance to explore and get muddy. I'd like to tell you that I'd been reflective there beside the river too, but I'm still to caught up in processing the end of the year. And as the deep winter cold sets in, I know I'll have lots of time to reflect over the next few months.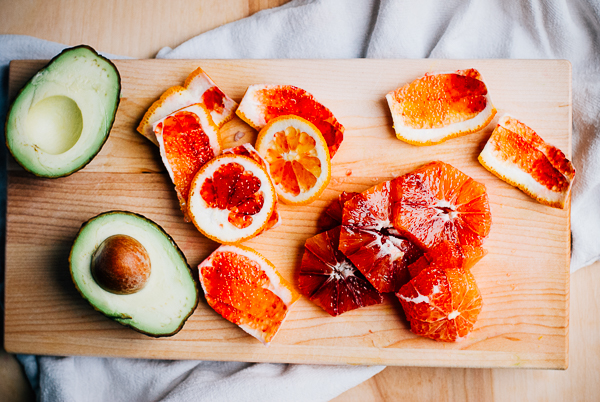 I like the quiet of January. I also like the freedom of cooking what I want. In summer, the variety of produce so dizzying that it can be tough to make time for projects. Once things have mellowed, fall and the holidays dictate the kinds of food we're making. But January is wide open, and I find the forgiving foods of winter ideally suited for long projects or experimentation.
Since beginning my Salad Days column on Food52, I've made a lot of salad dressing. Over there, I usually waver between a simple vinaigrette and something rich in dairy, so for this salad, I was ready to stray from my usuals. I broke away with a creamy saffron lemon dressing made with an egg yolk. Saffron threads, ground chili powder, and lemon meld beautifully for a faintly spicy dressing assertive enough for the fennel and creamy enough to sit with the watery citrus slices.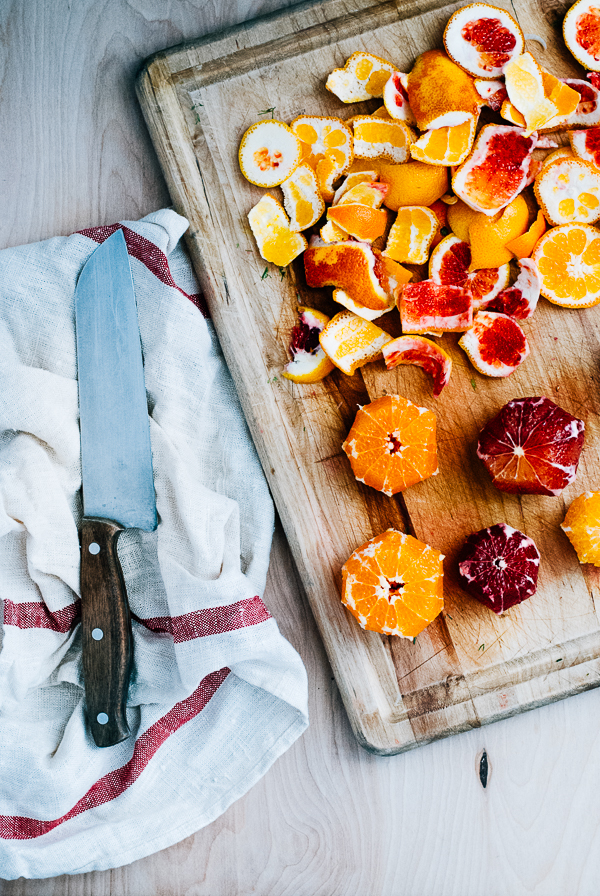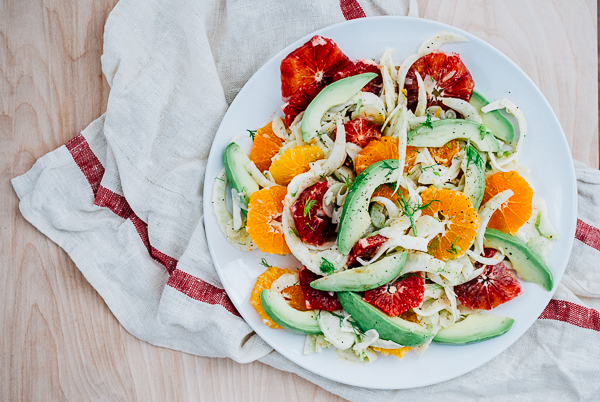 The salad also makes use of all the winter citrus just landing on grocery store shelves. I've chosen to highlight blood oranges, which will always be my favorite for their deep, nearly bitter flavor. I threw in a satsuma and tangerine for good measure. Shaved fennel is salted and dressed ahead of time, with layers of chili powder, black pepper, and orange zest. Before serving, everything is tossed together with bits of avocado tucked throughout.
The dish was a wonderful lunch, but it could also be a gorgeous side for a winter gathering or brunch party.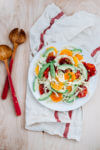 Blood Orange, Avocado, and Shaved Fennel Salad with Saffron Lemon Dressing
A bright and wintry shaved fennel salad with sliced blood oranges and avocado, and tossed with a creamy saffron-lemon dressing.
Ingredients
Dressing
2

tablespoons

plus 1/2 cup extra virgin olive oil

, divided

2

tablespoons

minced shallot

1/4

teaspoon

ground chili powder

1/4

teaspoon

red chili flakes

1/4

teaspoon

ground black pepper

pinch

saffron threads

egg yolk

1

teaspoon

lemon zest plus 3 tablespoons lemon juice

2

tablespoons

rice wine vinegar

sea salt to taste
Salad
1

fennel bulb

, cored and trimmed with green fronds reserved

2

blood oranges

2

satsumas

clementines, or tangerines, or a mix

2

avocados
Instructions
To make the dressing, heat a small saucepan over medium-low heat. Add 2 tablespoons olive oil, followed by the shallot, chili powder, red chili flakes, and black pepper. When oil is warm and shimmery, turn off the heat and add saffron threads. Swirl and let oil sit 10 - 20 minutes.

Meanwhile, place egg yolk, lemon juice, zest, and rice wine vinegar in the pitcher of a blender or a large bowl. Pulse or whisk to combine. With blender on high or whisking constantly, slowly drizzle in a tablespoon of the remaining half cup olive oil and process until mixture thickens, then slowly stream in all of the remaining oil. Spoon dressing into a small jar and refrigerate 20 minutes.

Shave fennel bulb into thin 1/16-inch thick slices, reserving 2 tablespoons chopped green fronds. Set shaved fennel in a mixing bowl and toss with 2 - 3 tablespoons dressing, sea salt, black pepper, and 1 teaspoon orange zest. Set aside.

Cut top and bottoms off of citrus; slice peel off cutting in a downward motion. Cut citrus crosswise into 1/2-inch thick round slices.

Halve and peel each avocado; cut into eighths.

In a large serving bowl, arrange shaved fennel and citrus slices. Drizzle with more dressing. Tuck avocado wedges throughout, and finish with a pinch each sea salt and pepper, and then scatter reserved fennel fronds.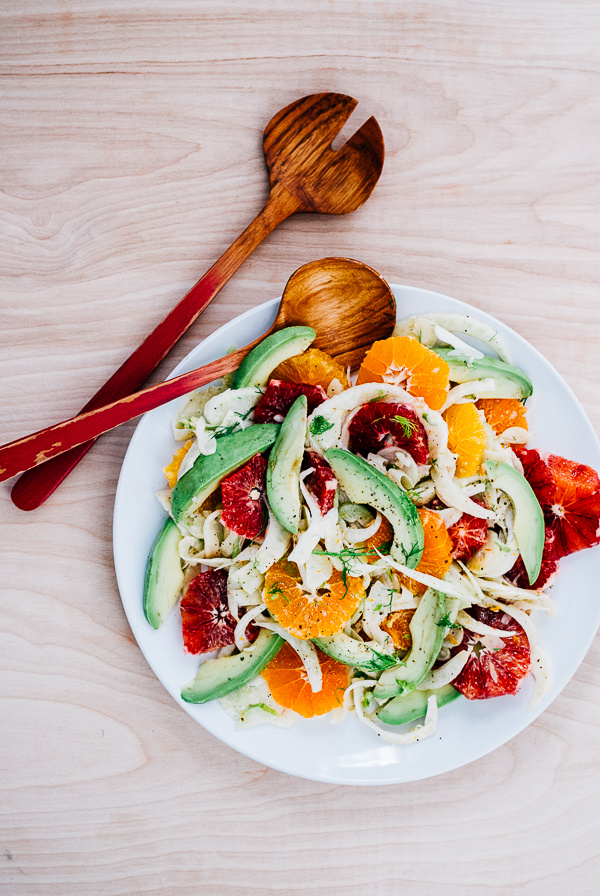 SaveSave
SaveSave