Turn fresh tomatoes into a flavorful Bloody Maria mix, and then mix up a big batch of Bloody Maria cocktails with this simple recipe!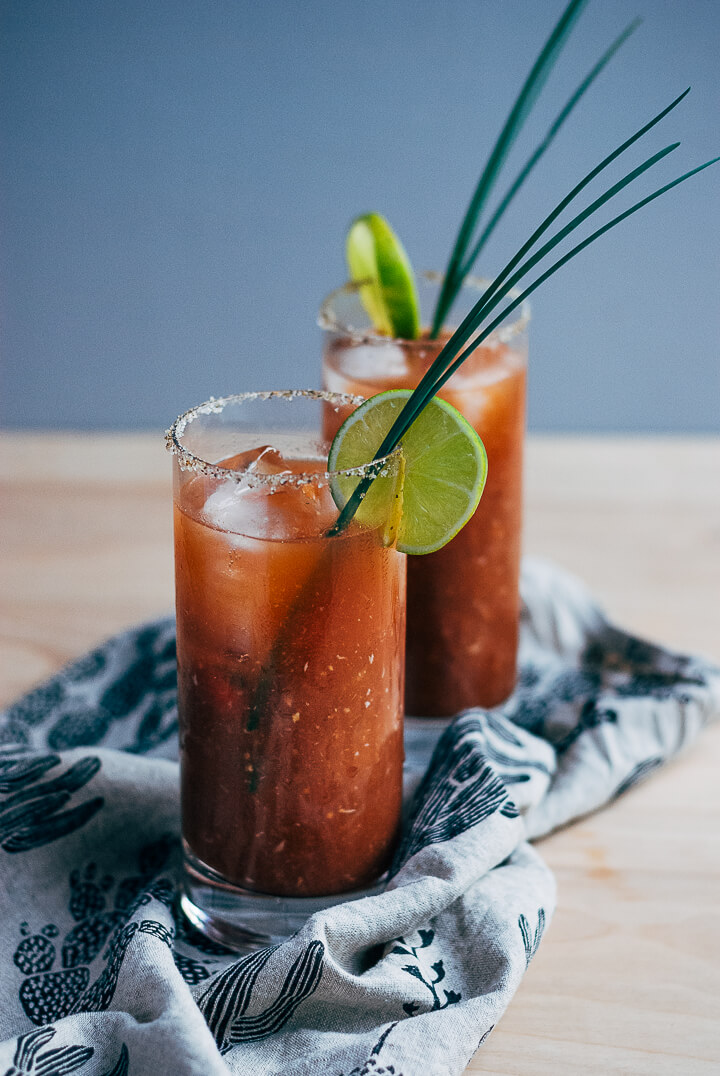 Summer obsessives hold on to the season until the equinox makes things official in late September. For others, it's the end of Labor Day weekend that signals summer's end (it falls especially late this year). I'm a weather nerd, and as such, tend to adhere to the meteorological calendar in which the seasons change with the weather – meteorological fall ticks over on September 1.
Fresh Ingredients Make It Simple
No matter how you keep score, the end of summer is just weeks away and we really ought to make the most of it, cocktail-wise especially. This fresh tomato Bloody Maria cocktail recipe takes care of the main thing that stands between me and a more regular Bloody Maria habit – a lack of tomato juice.
In this recipe, fresh tomatoes (peels and all) are blended with good things like onions, garlic, jalapeño, and parsley. After a thorough chill in the fridge, you'll want to add plenty of freshly squeezed lime, tons of horseradish, and as much Tabasco as you dare. If you'd like a full-on pitcher of Bloody Marias, go ahead and add the tequila too.
Since the main components of the cocktail are so easy to pull together, I thought I'd keep the garnishes simple as well – just a few chives and a slice of lime. Just like that – spicy summer refreshment (plus real vegetables!).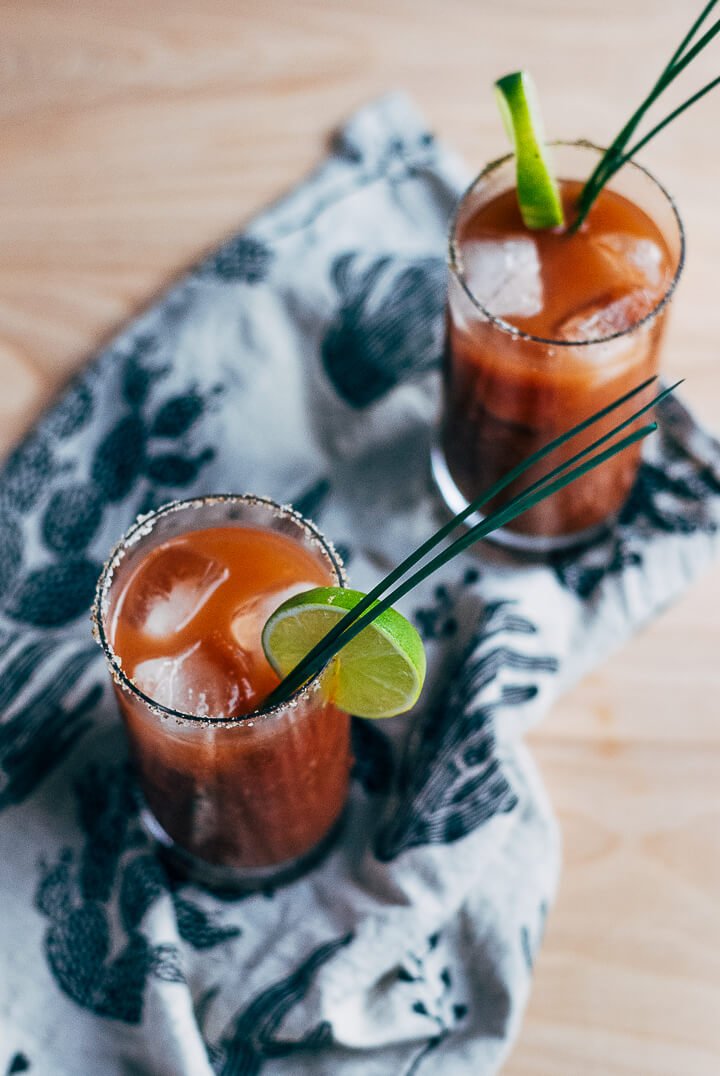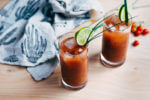 Fresh Tomato Bloody Maria Cocktails
Turn fresh tomatoes into a flavorful Bloody Maria mix, and then mix up a big batch of Bloody Maria cocktails with this simple recipe!
Ingredients
5

cups

chopped

, cored tomatoes

1/2

a red onion

, peeled and chopped

1

jalapeño

, cored, seeded, and chopped

2

cloves

garlic

, smashed, peeled, and minced

1/3

cup

chopped parsley leaves

1

teaspoon

sea salt

, divided

3/4

teaspoon

freshly ground black pepper

, divided

1/4

teaspoon

celery seed

3

tablespoons

freshly squeezed lime juice

3

tablespoons

prepared horseradish* or to taste

2 - 3

teaspoons

Tabasco sauce

, or to taste

4 - 6

ounces

tequila

Chives and sliced limes for garnish

*Horseradish can vary wildly

, so taste before adding and keep in mind that the heat often intensifies after a few hours.
Instructions
Combine tomatoes, onion, jalapeños, garlic, and parsley in the pitcher of your blender and blend until very smooth. If desired, strain mixture with a fine mesh sieve. Stir in about a 1/2 teaspoon sea salt, 1/4 teaspoon black pepper, and celery seed. Set in fridge to chill for at least an hour.

Stir in lime juice, horseradish, and Tabasco to the tomato mixture. Taste and adjust seasoning or acid levels as needed.

Mix up a 1/2 teaspoon each sea salt and black pepper on a plate. Swipe the rim of a highball or Collins glass with a lime wedge and dip in salt and pepper mixture. Carefully fill glasses with ice, pour in Bloody Maria mix, and top off with 1 - 1 1/2 ounces tequila. Give everything a quick stir. Garnish with chives and a slice of lime. Serve immediately.
#DrinktheSummer
Still thirsty? Besides these Bloody Maria cocktails, there's a whole blogger cocktail party happening right now. For more fresh, summery refreshment, check out #drinkthesummer on Instagram, and these amazing recipes from around the web. Sending out a big, giant thanks to the Drink the Summer visionaries: Sherrie and Renee! Cheers, everyone.
With Food + Love // Fresh Heirloom Bloody Marys with Old Bay and Spicy Pickles
Will Frolic for Food // The Sugar Hollow: Watermelon Gin Cocktail with Cardamom and Lime
Kale & Caramel // Sweet Coconut, Hibiscus & Lime Slushie
Hummingbird High // Thyme Lemonade
Cake Over Steak // Blackberry Bourbon Cocktail

Loves Food, Loves to Eat // Coconut Nectarine White Wine Spritzers
Dunk & Crumble // Ginger Peach Whiskey Smash
Tasty Yummies // When Figs Fly: Spiced Rum Fig Kombucha Cocktail
Feed Me Phoebe // Pimm's Cup Cocktail with Fresh Ginger, Lime and Tarragon
Earthy Feast // Strawberry, Basil and Pink Peppercorn Negroni

Ginger & Toasted Sesame // Blackberry Peach Margarita with Spicy Salt
O&O Eats // The Long Hope: a Honeydew Cucumber Gin Cocktail
my name is yeh // Nutella Egg Cream
Faring Well // Sparkling Melon Coolers with Muddled Raspberries and Mint
Beard and Bonnet // Pineapple and Cilantro Moscow Mule

The Pancake Princess // Strawberry Balsamic Shrubs
Edible Perspective // Rosé Slushies
Vegetarian 'Ventures // Sparkling Peppered Plum Blush
The Broken Bread // Blackberry, Cucumber and Mint Gin Spritzer
Tending the Table // Plum Spritzer with Ginger and Kafir Lime

Appeasing a Food Geek // Sugar Plum Margarita
She Eats // Fizzy Lime and Blackberry Shrub
holly & flora // Pimm's Cup with Blackberry and Lemon Zest Shrub
Vigor and Sage // Peachy Tomato Basil Gin and Tonic
The Pig & Quill // Raspberry Basil Gingerade Fizz

Hungry Girl por Vida // Peanut Butter and Berry Smoothie
A Brown Table // Fig and Bourbon Summer Smash
The Clever Carrot // 5 Minute White Peach Margaritas
Cookie and Kate // Watermelon White Sangria
le jus d'orange // Peach Yogurt Soju and Ginger Plum Kombucha Cocktail

Chocolate + Marrow // Raspberry Thyme Smash
The Bojon Gourmet // Basil Pluot Pimm's Cup
Snixy Kitchen // Sparkling Asian Pear and Mint Iced Tea
what's cooking good looking // Watermelon Basil Colada
i am a food blog // Thyme Gin and Tonics

Fix Feast Flair // Berry Peachy Kentucky Mules
Salt & Wind // Watermelon Aperol Spritzes