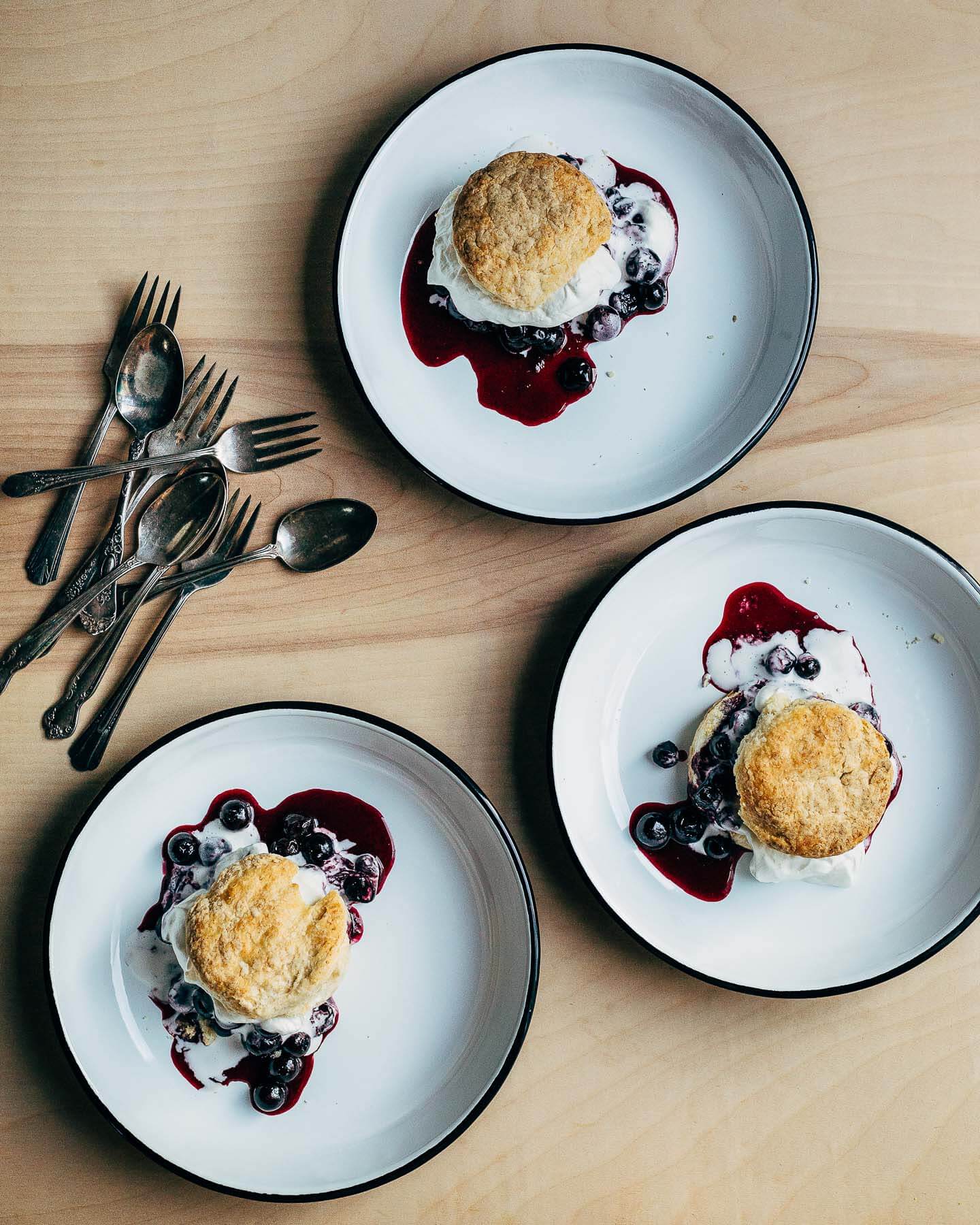 A lemon and bay-infused blueberry shortcake recipe made with tangy sourdough biscuits and pillowy whipped cream. Jump to recipe.  
I have a knack taking simple things and making them complicated. It's not always a good thing in life, but with food, it usually works out nicely.
Classic shortcake, the kind made with fresh strawberries, biscuits, and whipped cream, is wonderfully simple. But, in search of new layers of flavor and an only slightly more complicated summer dessert, I devised this blueberry shortcake. The blueberry topping contrasts the sweet intensity of cooked blueberries with lots of lemon zest (zest is back, people) and is suffused with the faintly floral herbaceousness of fresh bay leaves. It's spooned onto a warm, tangy, stretchy, generally really good biscuit, and topped with airy, lightly sweet whipped cream.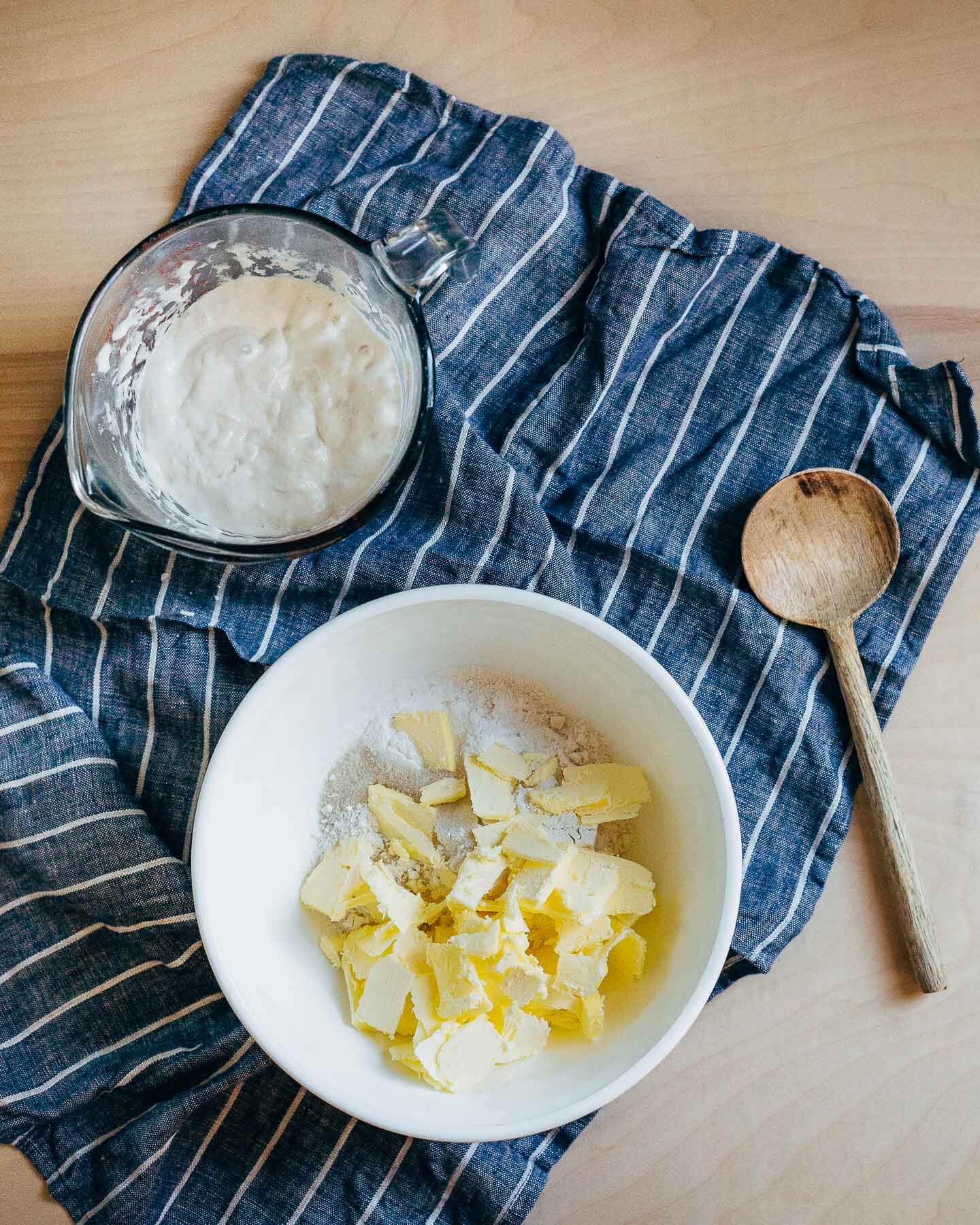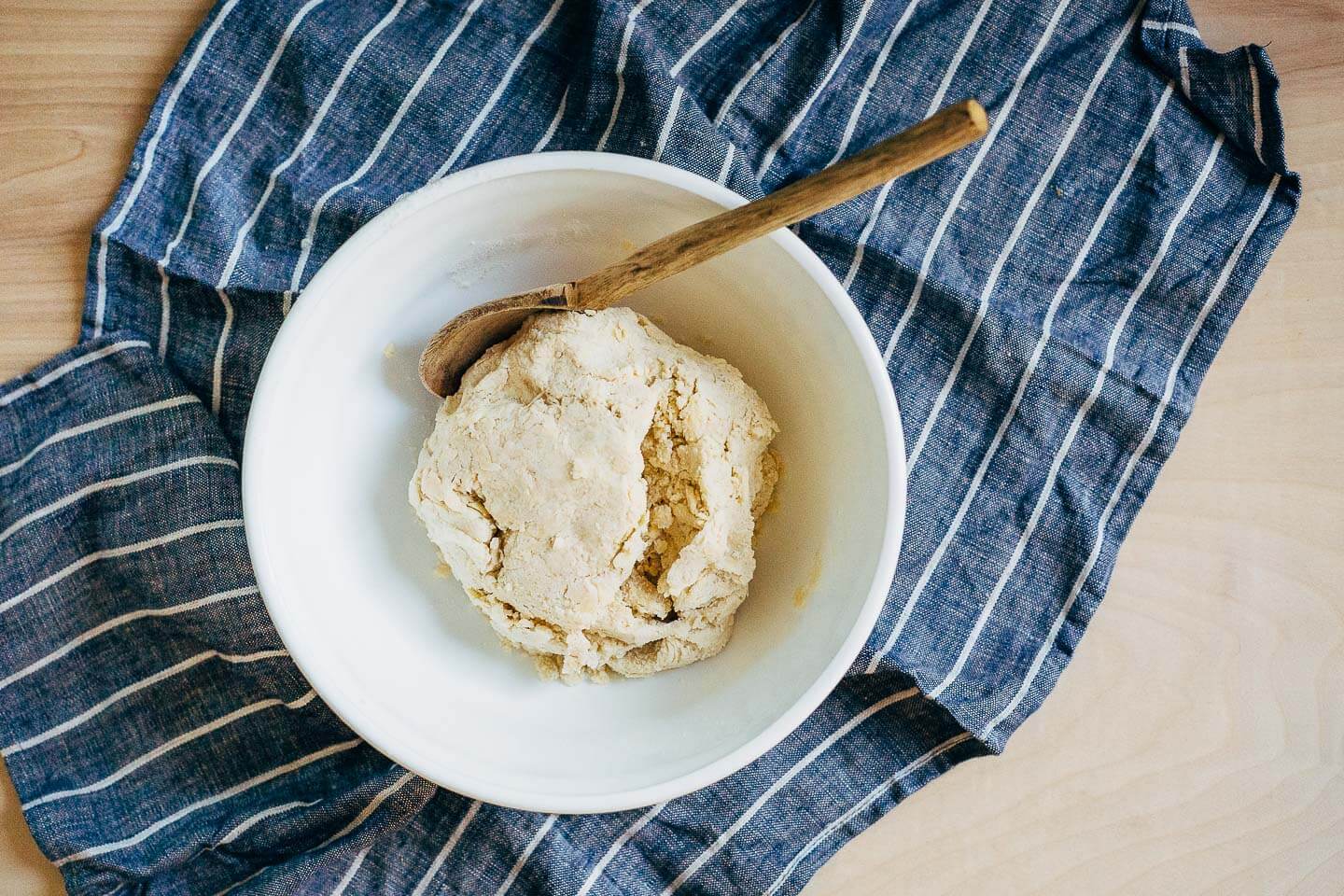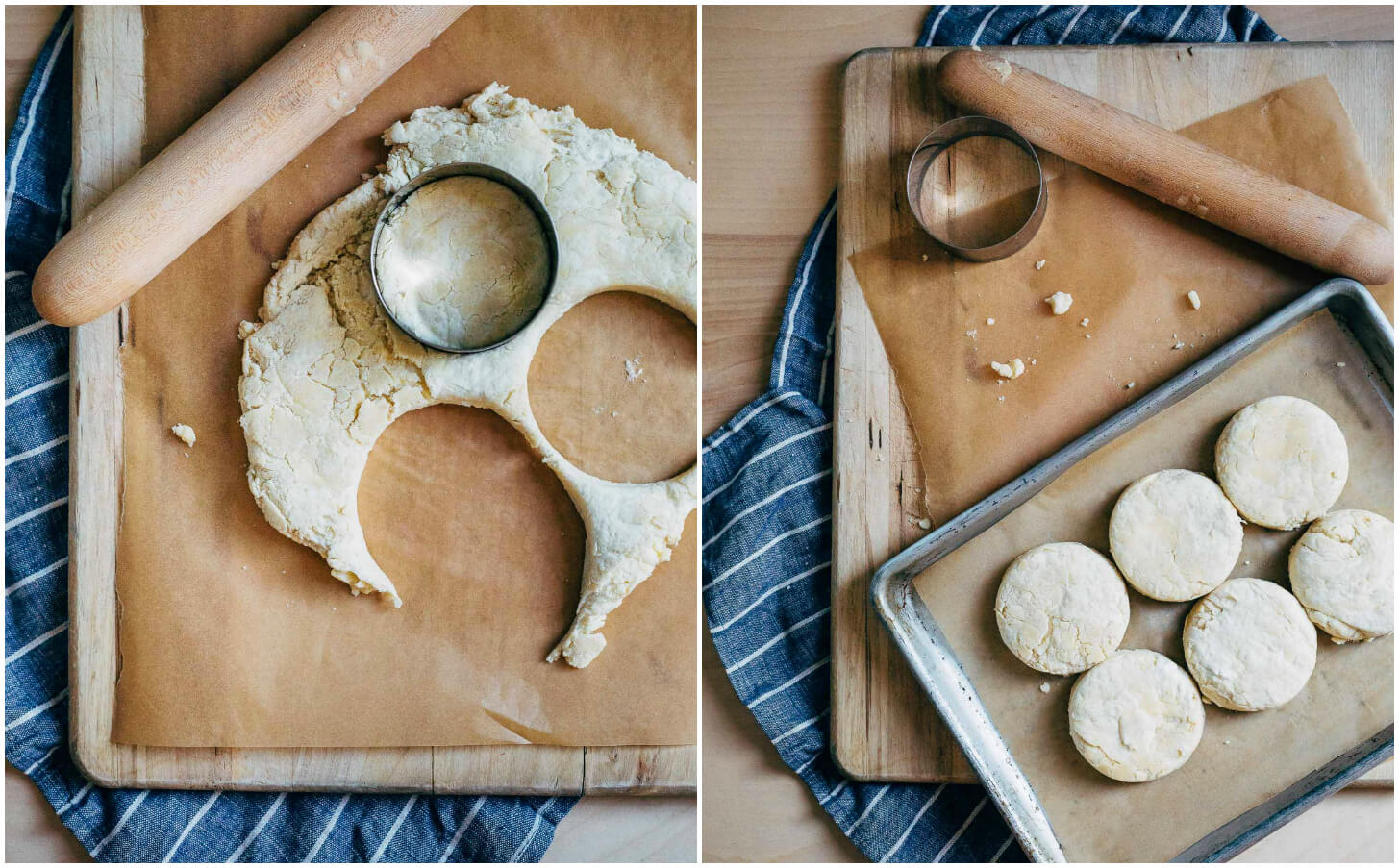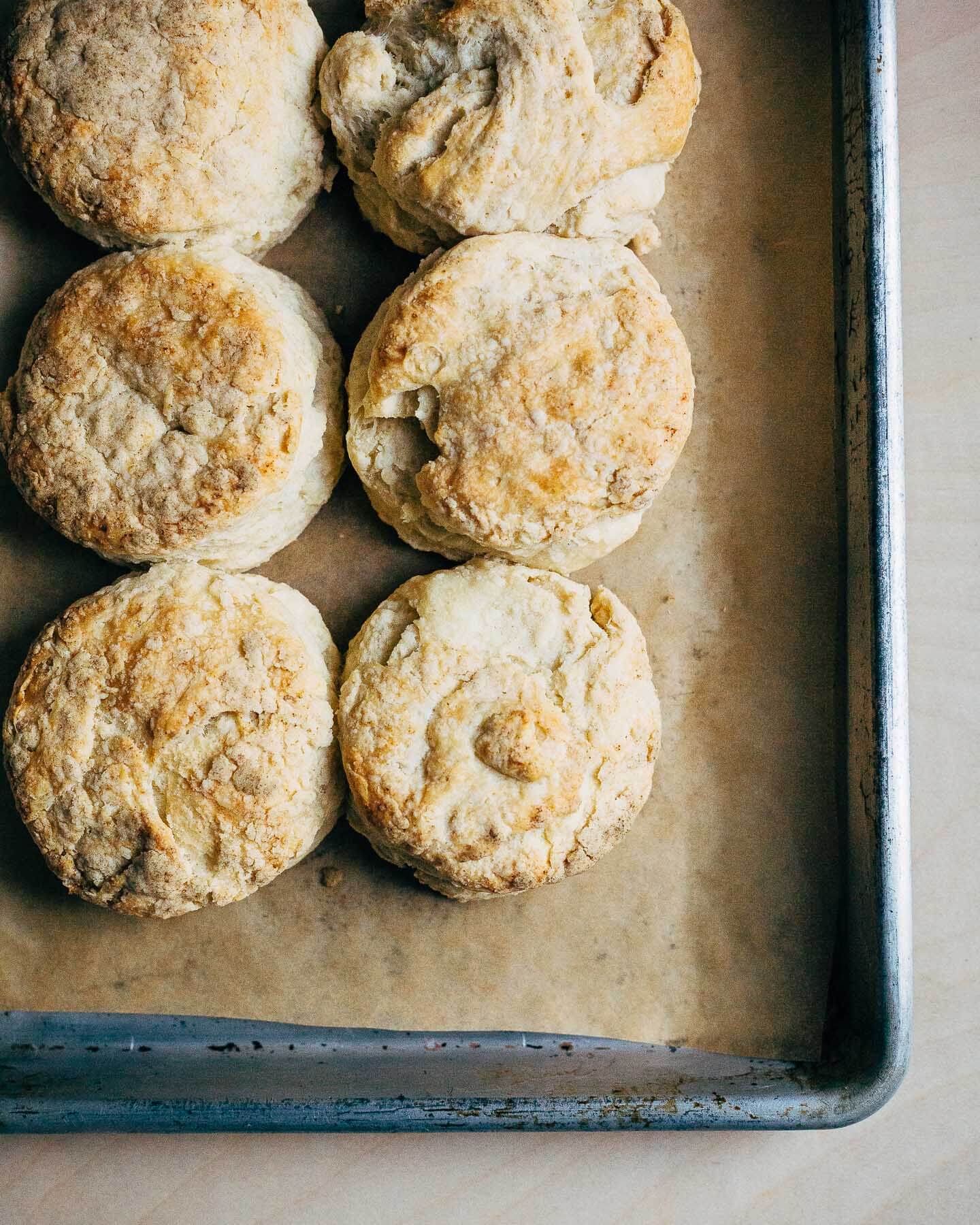 This dessert is perfectly celebratory, which is excellent because it's time to mark another year of Brooklyn Supper. Our very first post, eight years ago today, featured strawberry shortcake, so a related recipe feels right. (Especially because, unlike that first post, I'm actually sharing a recipe. I guess the food blogging form was in flux way back then?) Brian and I began BkS as a hobby, a way to chronicle the farmer's market-driven recipes we loved and do a little writing too. Along the way, I discovered a passion for food and photography, made a whole career for myself, and, most importantly, have connected with so many people in so many corners of the world doing and cooking and writing and photographing so many cool things. Thank you for reading this blog, for sharing your brilliant kitchen and cooking tips with me, and just generally being awesome. Here's to another year filled with great food.
(Because I like to keep track of these milestones, here are the posts from our first, second, there's no third– we were busy that year, fourth, fifth, sixth, and seventh anniversaries. And yes, I took those pictures and am only mildly ashamed because look how far I've come!)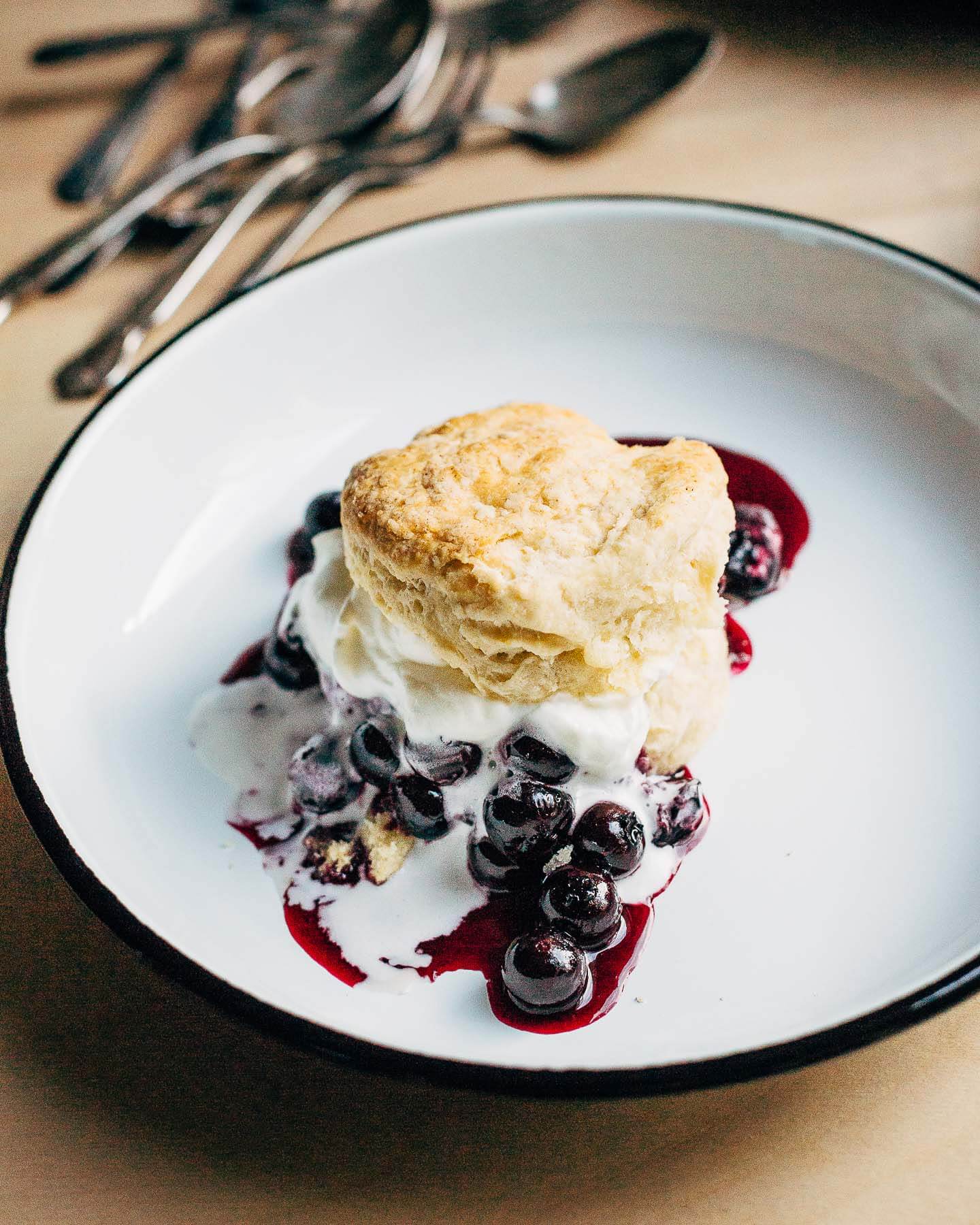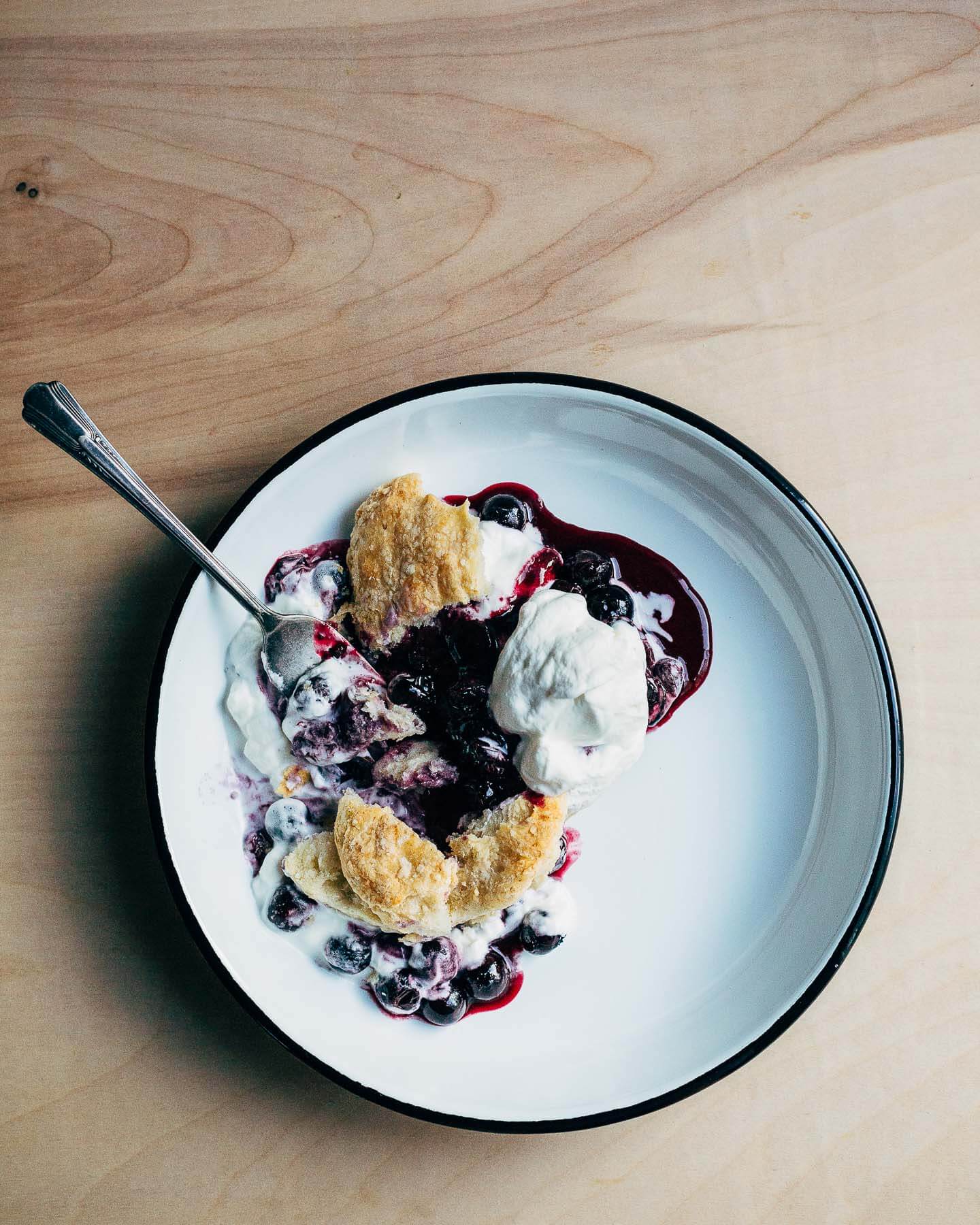 Now, about the recipe. Sourdough biscuits are intimidating only because you'll need sourdough starter to make them. I made my own a few months back using this recipe. Sourdough lends tang and elasticity to traditional breads and functions much the same in these biscuits, yielding a pillowy biscuit with a delightfully stretchy crumb. As for the blueberries, they need almost nothing to be perfect. After a couple of test runs, I opted for cooked blueberries as opposed to fresh or a mix of the two. Blueberries are powerfully sweet, and I found a mess of lemon zest added the right kind of balance. Finally, fresh bay leaves add a nice layer of complexity to the blueberries. Fresh bay leaves have a brightness I find lacking in the dried version, so they're worth seeking out. Look for them with fresh herbs at the grocery store or grab a bay laurel plant at the garden store.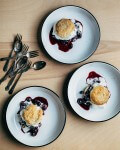 Blueberry Shortcake with Sourdough Biscuits
A lemon and bay-infused blueberry shortcake recipe made with tangy sourdough biscuits. Sourdough biscuit recipe adapted from King Arthur Flour.
Ingredients
For the Sourdough Biscuits
1

cup

unfed sourdough starter,

cold starter is fine to use here

8

tablespoons

unsalted butter,

cut into very thin slices and chilled

1

cup

unbleached all-purpose flour

2

teaspoons

baking powder

2

teaspoons

sugar

3/4

teaspoon

sea salt
For the Blueberry Topping
2

cups

blueberries

6

tablespoons

sugar

1

heaping tablespoon lemon zest plus 1 tablespoon lemon juice

(from 2 lemons)

2

fresh bay leaves

tiny pinch sea salt

For the Whipped Cream

1

cup

heavy whipping cream

1

teaspoon

sugar
Instructions
To make biscuits, preheat oven to 425 degrees F. Line a small baking sheet with parchment paper.

In a large bowl, combine flour, baking powder, sugar, and sea salt. Add butter; quickly rub into dough with fingertips. Fold in sourdough starter, turning and folding dough just until it forms a shaggy but cohesive ball. If needed add a drizzle of cold water.

Turn dough out onto a sheet of parchment or lightly floured surface and roll dough into a 1-inch thick oval. Use a 3-inch biscuit cutter to cut 6 biscuits. (You'll need to gather scraps and re-roll 1 - 2 times.) Arrange so that biscuits are touching on prepared baking sheet.

Bake 22 - 25 minutes, or until biscuits are a light golden brown and springy to the touch. Cool 20 minutes.

While biscuits bake, combine blueberries, lemon zest and juice, sugar, bay leaves, and sea salt in a non-reactive saucepan. Bring mixture to a boil, then lower heat and gently simmer 3 - 5 minutes, until mixture thickens. Turn off heat and set aside to cool. Remove bay leaves before serving.

Just before serving, whip cream to soft peaks, folding in sugar halfway through. (For small batch whipped cream, I use a whisk and a big bowl.)

To serve, split biscuits, add a big spoonful of blueberries and a dollop of whipped cream to the bottom half. Replace biscuit top. Serve immediately.