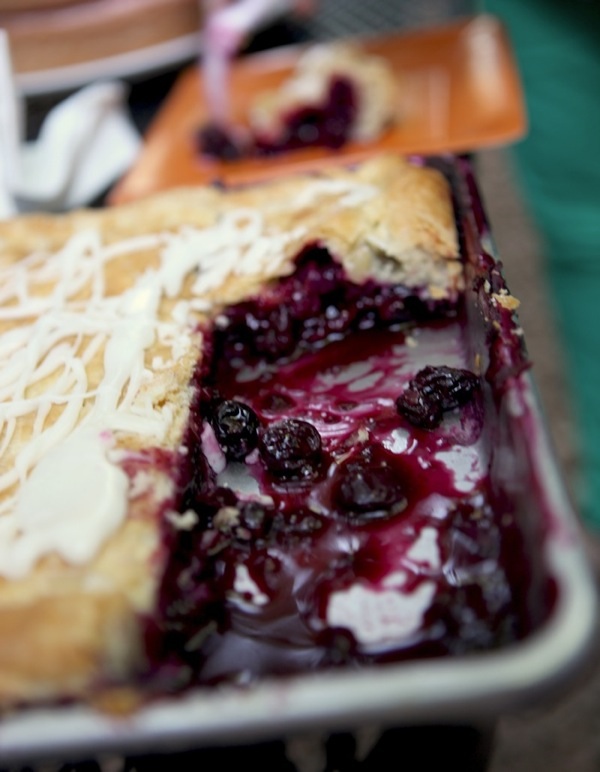 One Fourth of July long ago, I was holding a sparkler and running. Obviously, that was a bad idea, but I was five and kind of prone to bad ideas. As you might imagine, I tripped, fell on my face, and extinguished the sparkler with my torso. I was left with a sparkler-shaped scar on my lower abdomen, and not an ounce of remorse over the event. But, of my many nerdy pastimes, fire safety still looms large. That said, this Fourth––weather, humidity, and local laws permitting––I hope you will don some safety glasses, and set off some serious fireworks. It's what George Washington would want you to do. Just please don't run with anything actually aflame, OK?
And in case fireworks alone aren't exciting enough, maybe make this blueberry slab pie. A slab pie isn't like pie exactly. Instead, it hovers somewhere between true pie and pastry. And then there's the whole slab thing. It's a slab––of pie. One with lots of flaky dough, a thinner layer of blueberry filling (that's not sticky sweet or in any way gloppy), and just for good measure, it's topped with a lime-infused sugar glaze. You may have noticed, I have a thing for lime.
For our recipe, head over to Babble Food. We're posting there daily, so drop in and say hello. And just in case you're looking for a little more Brooklyn Supper, we're also on Twitter, Facebook, and even Instagram. Keep in touch, and remember, safety first.
Image courtesy of the lovely and brilliant Vanessa Silverton-Peel