From the Van Leeuwen Artisan Ice Cream cookbook, a recipe for rich, tangy blueberry swirl sour cream ice cream. Jump to recipe.
My first job in New York was in Washington Heights, almost at the top of Manhattan and about an hour by train from my place in Williamsburg, Brooklyn. That long commute made for a tough morning routine. No time to brew a pot and check the news before I hopped on the subway. So I had to settle for a burnt cup of "coffee" from a food cart, a habit that I reluctantly continued later when I worked in the Flatiron District. Then, one day, right there on 6th and 22nd, the Van Leeuwen ice cream truck appeared. My immediate concern wasn't ice cream, it was coffee, which they also sold and it was good! Not burnt, freshly brewed espresso with quality cream. I was in love.
On weekends, Brian and I would head to the Van Leeuwen ice cream shop in Greenpoint with the kids. Their ice cream is indisputably amazing. Now that we're in Charlottesville, we have great ice cream too, but I continue to pine for Van Leeuwen and their special mix of great dairy and creative flavors (not to mention espresso drinks).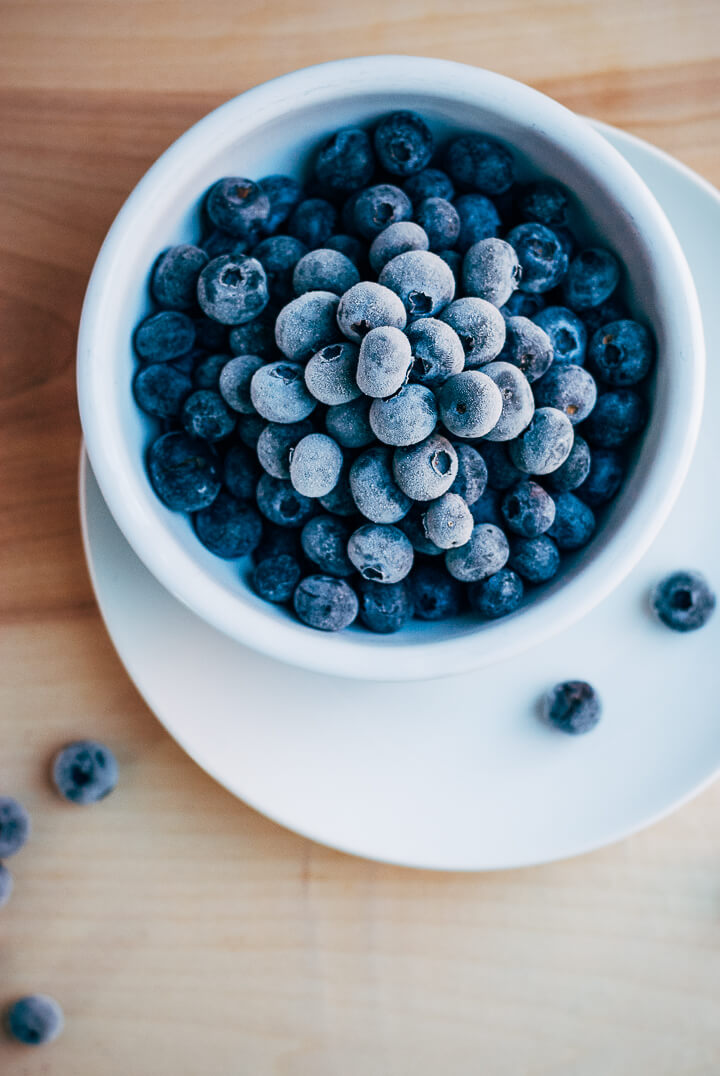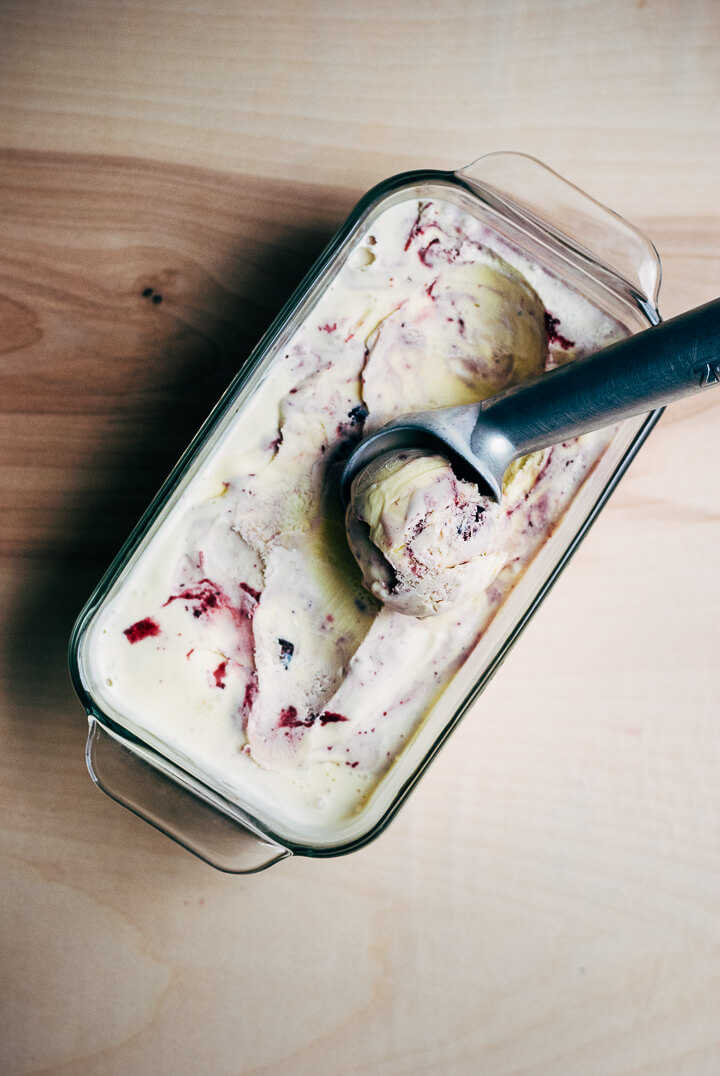 So a few weeks back, when an email popped into my inbox asking if I'd like a review copy of their new cookbook, Van Leeuwen Artisan Ice Cream, I knew that yes, I definitely wanted a copy. I like to experiment with ice cream and I'm no slouch, but getting some tips from Van Leeuwen would be fantastic. And it didn't disappoint. The book offers lots of useful advice for both experienced and novice ice cream makers, as well as an enticing array of flavors from spicy chocolate to chamomile-honey to lime, ginger, and lemongrass sorbet.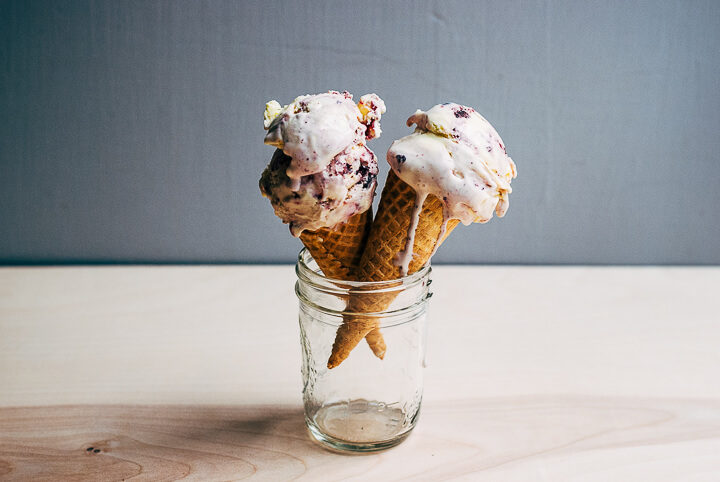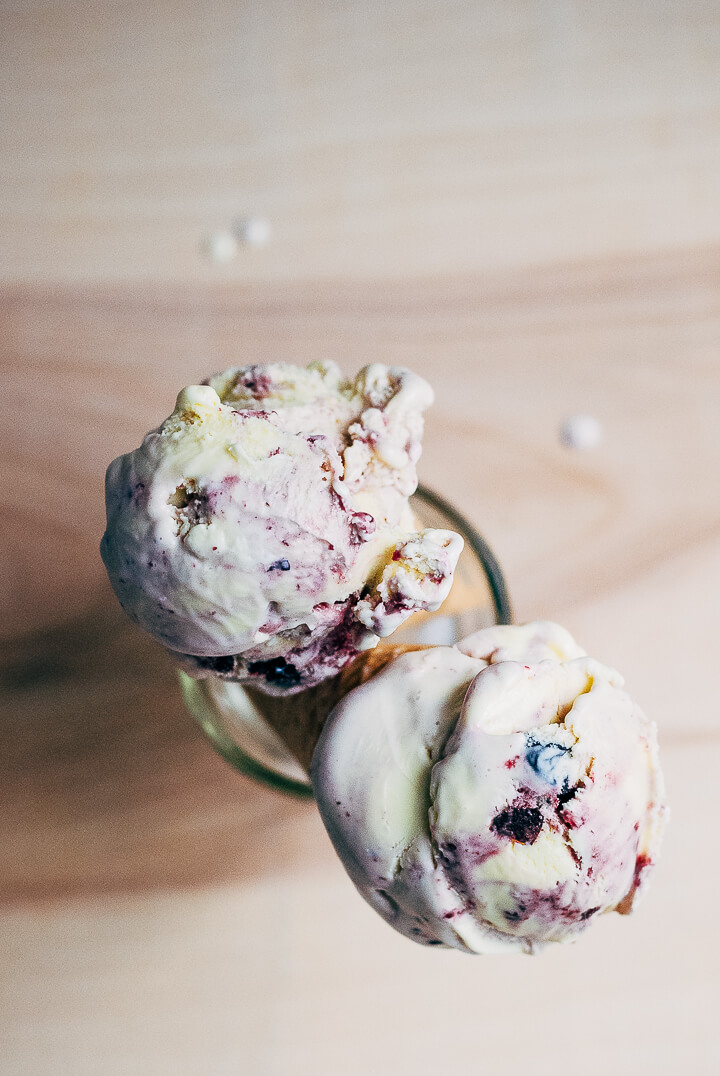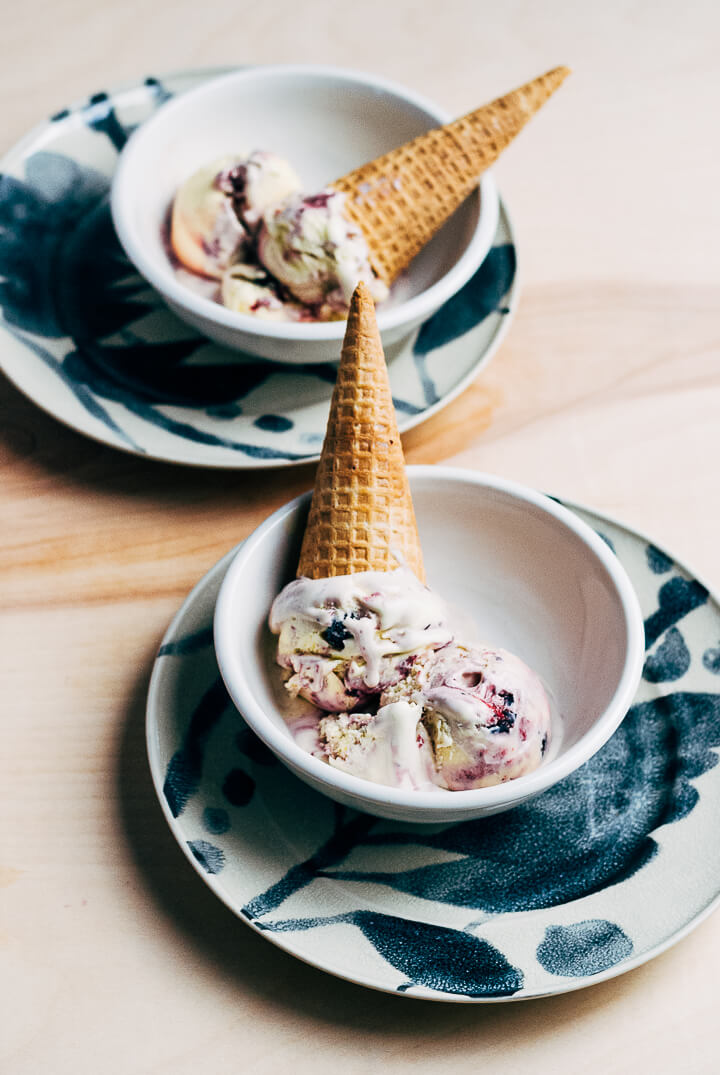 Since it's summer and blueberries are perfect right now, I opted to make and share their recipe for blueberry swirl sour cream ice cream. It's rich, wonderfully tangy, and not too sweet with a saturated stripe of fresh blueberry compote. Besides a melding of perfectly rich and creamy ice cream flavors, Van Leeuwen Artisan Ice Cream has lots of sound advice based on the science of freezing points and creating a great emulsion. In reading, I learned that chilling the custard overnight really is optimal, since it not only delivers a well-chilled base, but allows for chemical reactions between the sugar and custard the makes for a smoother, less melty ice cream.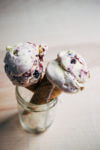 Blueberry Swirl Sour Cream Ice Cream
From the Van Leeuwen Artisan Ice Cream cookbook, a recipe for rich, tangy blueberry swirl sour cream ice cream.
Ingredients
For the Blueberry Compote
1/2

cup

fresh or frozen blueberries

2

tablespoons

sugar

1

teaspoon

freshly squeezed lemon juice
For the Sour Cream Ice Cream
1 1/2

cups

heavy cream

2

tablespoons

whole milk

1/2

cup

plus 2 tablespoons sugar

1/4

teaspoon

sea salt

8

egg yolks

(I used 6)

1 1/2

cups

sour cream
Instructions
To make the blueberry compote, combine the blueberries, sugar, and lemon juice in a small saucepan over medium heat. Bring up to a gentle simmer. Cook, stirring occasionally, for 5 - 7 minutes, or until blueberries have burst and mixture has thickened. Spoon into a small jar, cool, cover, and set in the fridge to chill.

For the sour cream ice cream, combine the heavy cream, milk, 1/2 cup sugar, and sea salt in a wide, heavy bottomed sauce pan (enamel-coated cast iron is perfect) set over medium heat. Cook, stirring frequently, until small bubbles form along the edge of the pan and the mixture just starts to steam.

Meanwhile, in a medium mixing bowl, whisk the egg yolks with the remaining 2 tablespoons sugar. Whisking constantly, add a splash of the hot cream mixture to the yolks. Continue adding a ladleful at a time to the yolk mixture, whisking all the while. Once egg mixture is warm, whisk into the the cream mixture. Stirring constantly, cook custard over medium heat. When mixture just starts to steam, turn heat to low, and continue stirring. Cook until custard thickens enough to coat the back of a wooden spoon, about 7 minutes.

If desired, strain custard with a mesh strainer. Next, fold in the sour cream. Blend for a minute with an immersion blender to emulsify the ice cream. Pour mixture into a stainless steel bowl and set over an ice bath for 10 minutes, stirring frequently. Pour custard into a container (I use canning jars), seal, and set in the fridge to chill overnight.

Process ice cream according to your ice cream maker's instructions. Spoon in the blueberry compote, stirring minimally. Spoon ice cream into a freezer-proof container, cover, and freeze for at least 4 hours.

Ice cream will keep in the freezer for 7 days.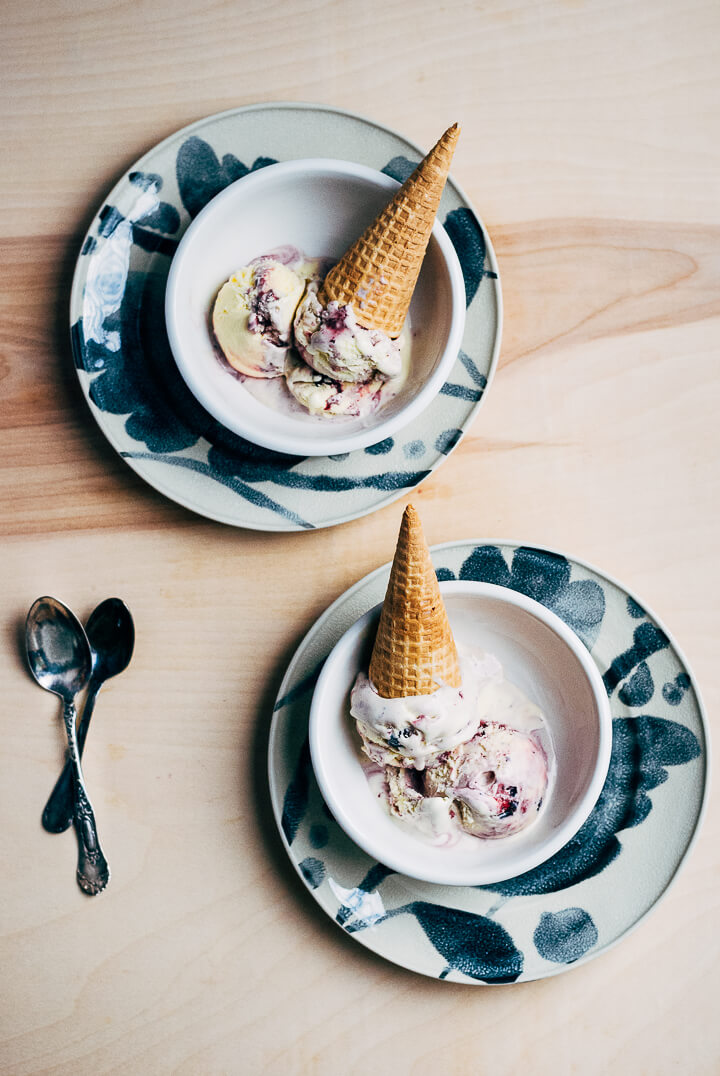 Disclosure: A copy of Van Leeuwen Artisan Ice Cream was given to me by the publisher. As always, all opinions are my own.
SaveSave