Oh, hello. Things have been pretty quiet around here, and I'd like to blame it on the spring, but the truth is I just needed some time. Brian and I have been taking a step back and finding the direction we want to head. With a lot of things really (that sounds somehow ominous and I don't mean it that way at all–things are great, we just want to approach the blog more mindfully). And with our baby almost 10 months old (Can you believe it? Remember when this happened?) crawling and pulling up, and eating literally anything she can get her tiny mitts on, what little free time we had has dwindled.
Nonetheless, I made you some ice cream. Bourbon ice cream. I really like whiskey and bourbon and rye, but thanks to said baby, and her nursing habit, I've been laying off the hard stuff. Since 2010 actually. So when our good friend (and excellent gift-giver) Lily gave us a bottle of Noah's Mill handmade barrel-aged Kentucky bourbon for Christmas, it hit me where it hurt. But I made a plan. Bourbon ice cream would be mine. Eventually. And a couple weeks ago I finally got around to making some.
There are a lot of recipes out there, and some call for mere tablespoons of bourbon. But you should know by now that I'm not messing around. If I'm going to make bourbon ice cream, it's going to be boozy as hell. I'm not making this for a tea party. So when I found this recipe from Doletto Confections adapted from the ice cream god himself, David Lebovitz, I knew I'd found the recipe. What we have here is a rich, creamy ice cream that has a pronounced woodsy, smoky bourbon flavor–good enough to make you think that bourbon and cream should have gotten together a long time ago.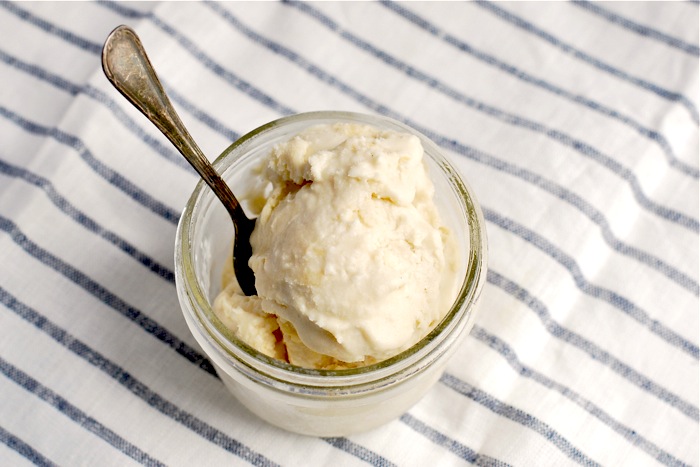 Owing to the booziness, this ice cream is very melty, and so it should be chilled thoroughly before churning, cured for a while, and served maybe even in chilled bowls.

Bourbon Ice Cream (adapted from Dolcetto Confections by way of David Lebovitz)
1 1/2 cups whole milk
2 cups heavy whipping cream
1/4 cup sugar
6 egg yolks
1/2 teaspoon sea salt
2 tablespoons vanilla extract
1/2 cup bourbon
Combine the cream, milk, sugar, and salt in a large saucepan and cook, stirring frequently, over medium heat. Put the yolks in a heat-proof bowl and whisk lightly. When the cream mixture is starting to steam and tiny bubbles have formed along the edge, whisk a cup or so, ¼ cup at a time, into the yolks. The idea here is the raise the temperature of the eggs so they won't curdle when added to cream. Once the eggs are tempered, slowly whisk them into the cream mixture. Stirring constantly, cook over low heat roughly 5 minutes, or until the cream mixture has thickened enough to coat the back of a wooden spoon. Turn off heat and stir in the bourbon and vanilla extract.
Pour into a large bowl, cover, and chill in your refrigerator for a long time–5 hours or more is optimal. (For the best, slightly faster, chill, place the bowl of custard over a bowl of ice water.) Then process according to your ice-cream maker's instructions, noting that the ice cream could be quite runny even after 20 – 30 minutes of churning. Spoon ice cream out of ice cream maker and freeze for as long as you can, preferably overnight for a well-cured scoop.