A two hour stint in a low oven makes for meltingly tender braised cabbage wedges; these are cooked with spring onions and a hint of lemon.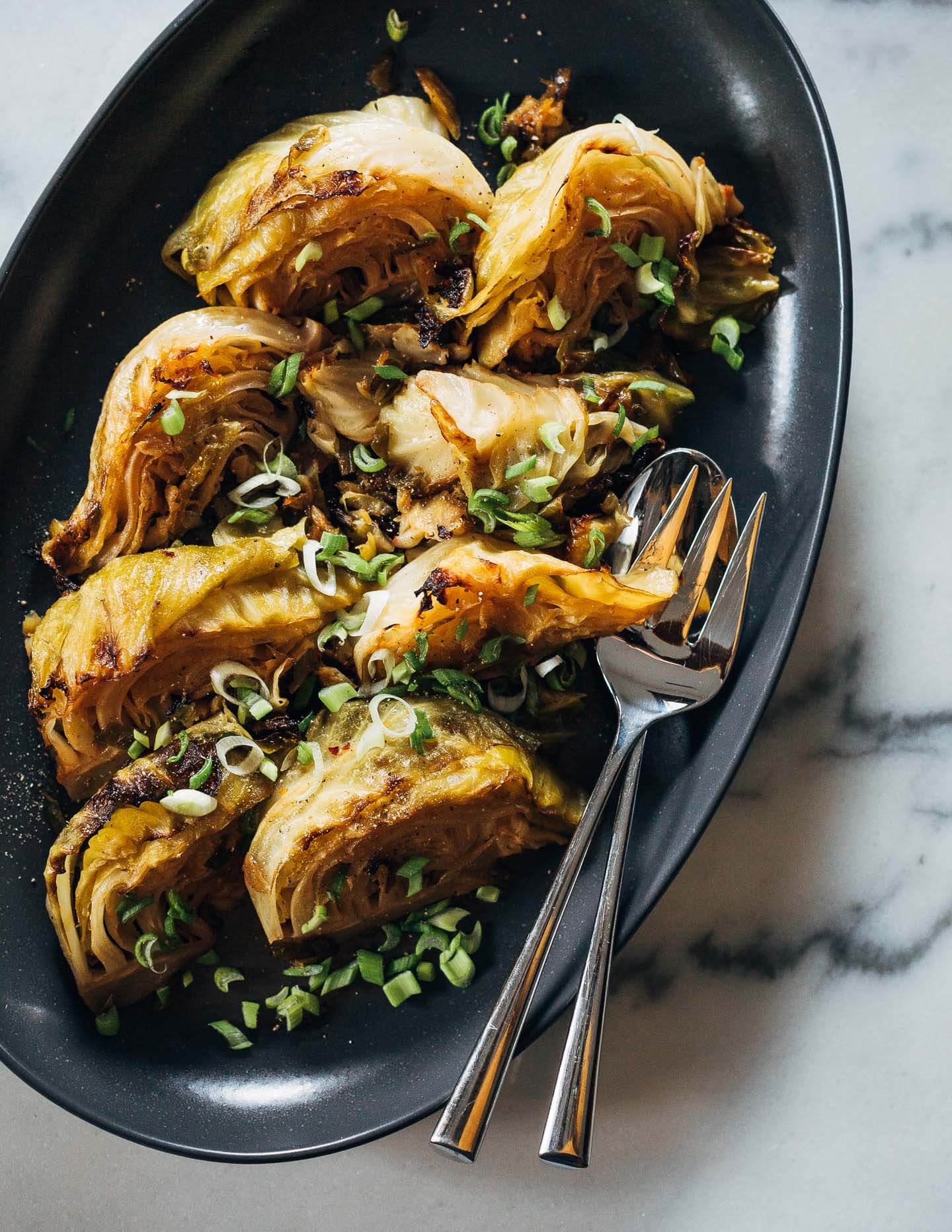 Jump to Recipe

Today's post is about simple pleasures, and the techniques and ingredients that match the moment. It turns cabbage – the hardiest and most reliable of cold season vegetables – into something meltingly delicious with a little bit of tooth. Purple- and green-hued spring onions are tucked all around the cabbage wedges and are rendered supple and fragrant in the braise. Spring onions also top the finished dish for crunch and a pop of vibrant green color.
Oven-Braising: Nearly Effortless
The cooking itself is another simple pleasure. You just need a warm oven (perfect for these still-chilly early spring days) and some time – about two and a quarter hours. Once you've prepped the cabbage and arranged it in a baking dish, the only hands-on moments are a simple flip of the cabbage wedges one hour in and removing the foil at the end to let things crisp up at the end.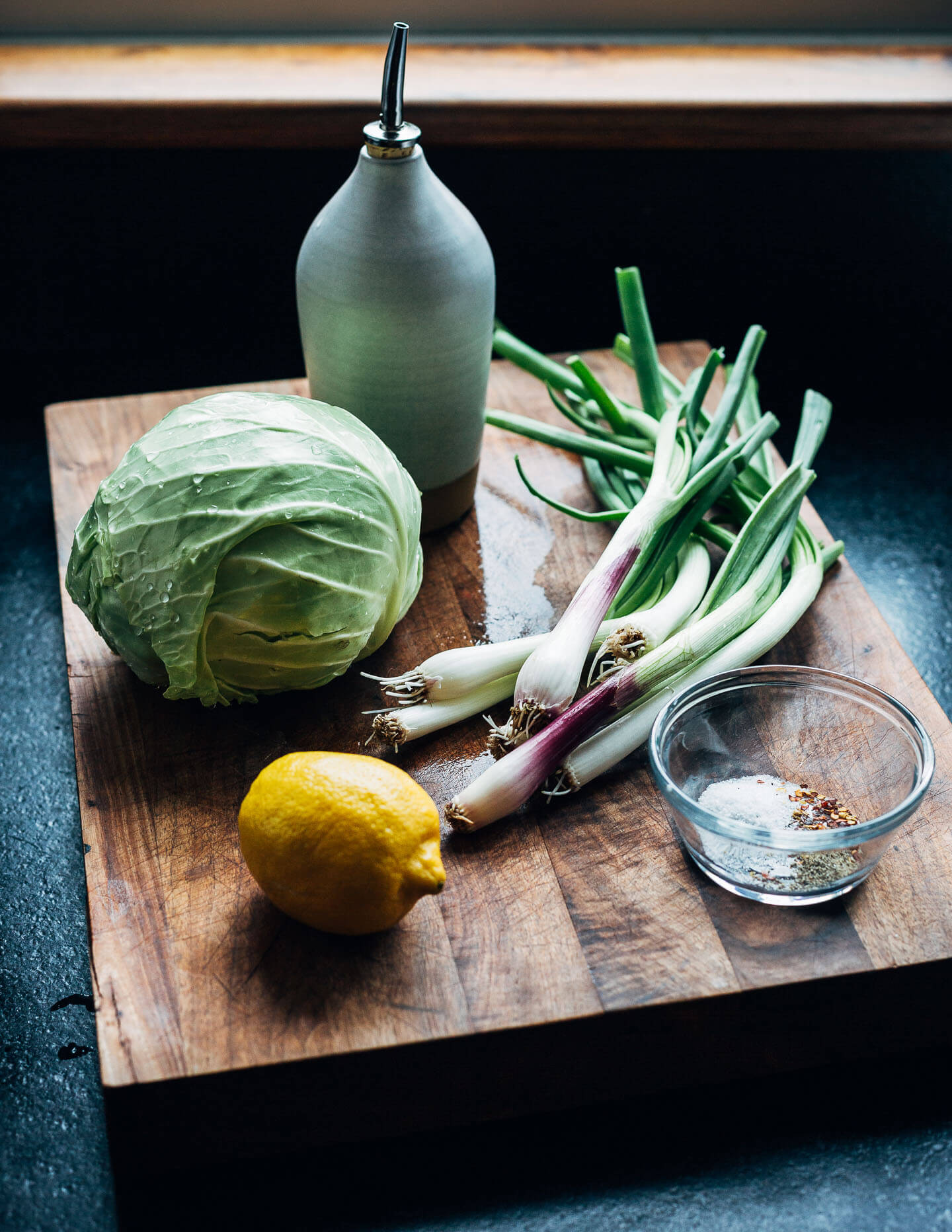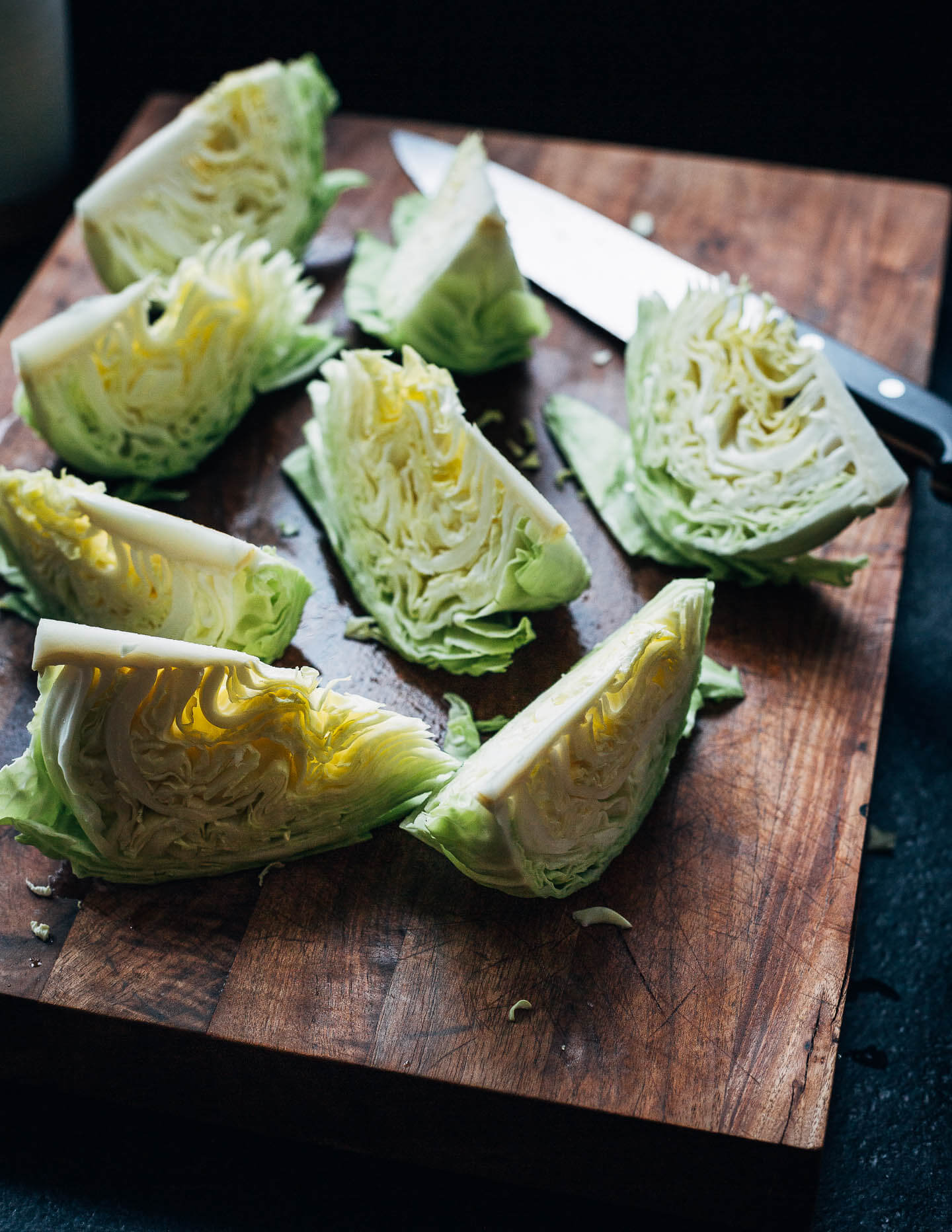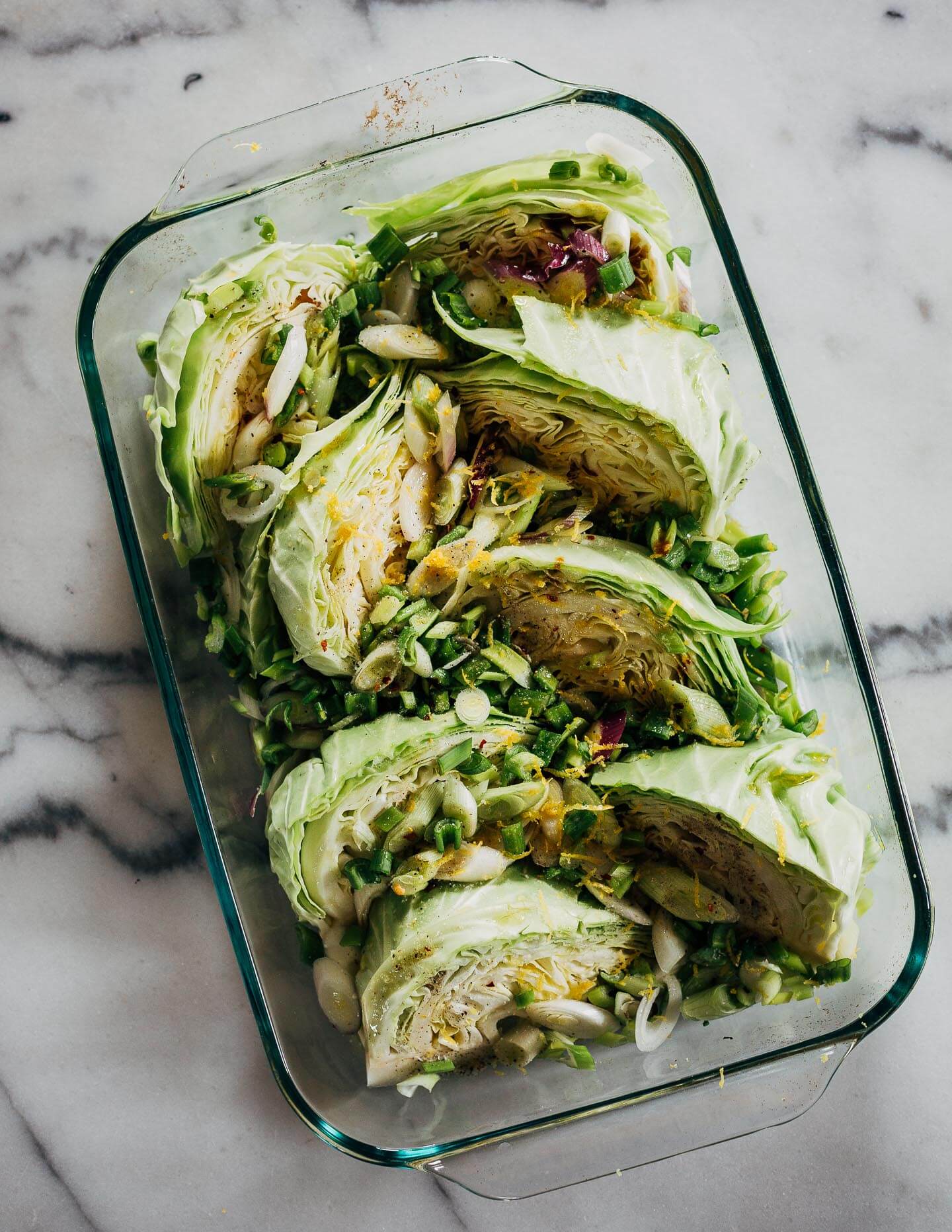 Indeed, the hardest part of making this braised cabbage is being patient while the cabbage wedges take their time getting all tender in the oven, absorbing the flavorful mixture of broth, olive oil, cider vinegar, lemon zest, and spring onions all the while. Once the braising is done, the cabbage goes back into a hotter oven to coax crispy edges and caramelization.
The finished dish is easygoing – we've served it alongside bratwurst and roasted potatoes and just as an everyday side. Braised cabbage is also extremely forgiving – you can cook it ahead and gently reheat or cover it and keep it warm in the oven.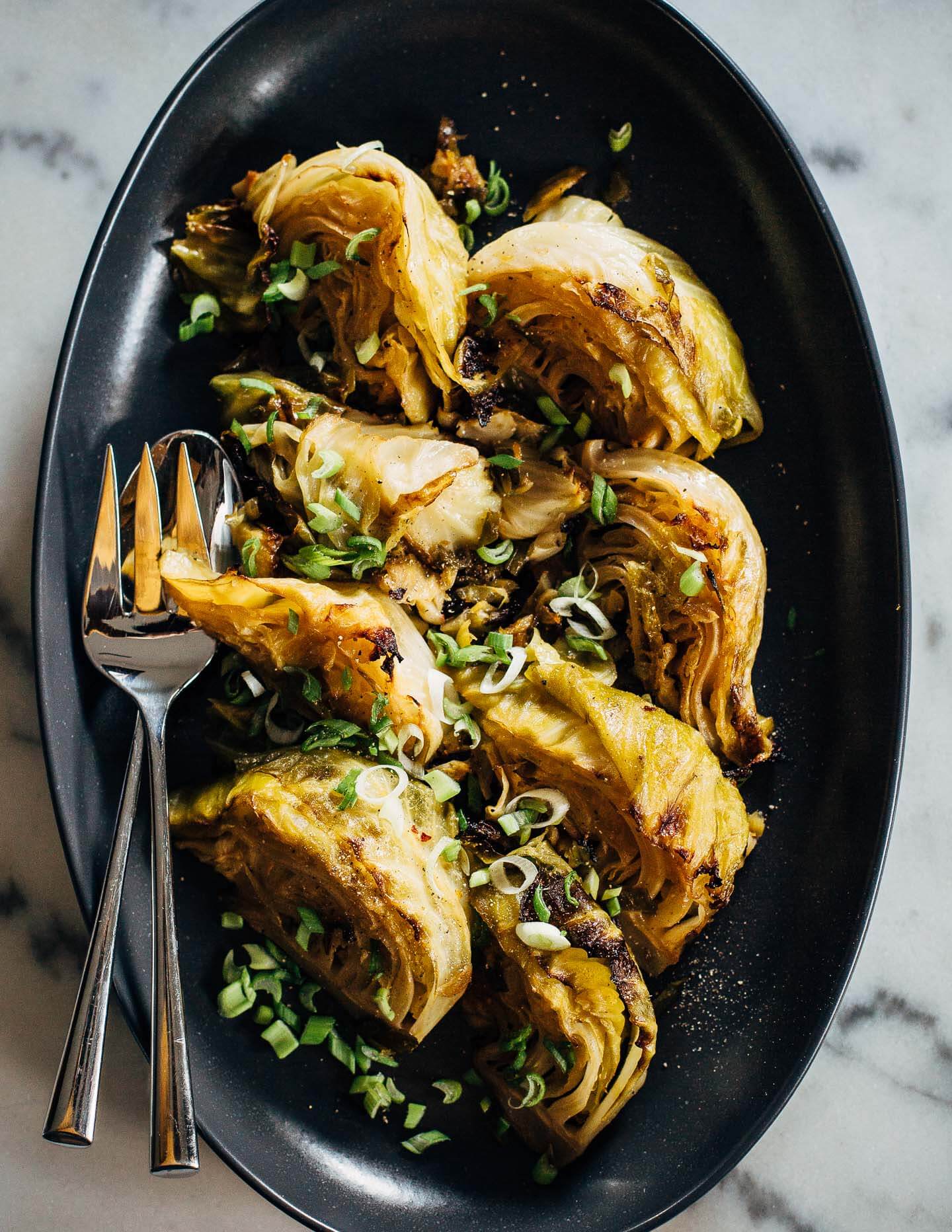 This recipe is very slightly adapted from this recipe in Taste by Scott Hocker, which was itself adapted from All About Braising by the wonderful food writer Molly Stevens. The original recipe calls for the addition of carrots and you can add those for a touch of sweetness if you like.
In the testing process, I've really fallen in love with this technique, and am hoping to try the same approach with leeks and hakurei turnips as the season progresses. And finally, my recipe as written is vegan, but omnivores can swap in a robust chicken stock for the vegetable broth, if desired. And if you're up for it, consider finishing with shaved parmesan or crumbled bacon.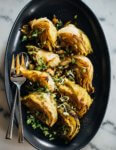 Braised Cabbage with Spring Onions
A two hour stint in a low oven makes for meltingly tender braised cabbage wedges cooked with spring onions and a hint of lemon. Recipe adapted from Scott Hocker for Taste and Molly Stevens' All About Braising.
Ingredients
1

head green cabbage,

with core trimmed but intact, cut into eighths

4 - 6

small to medium spring onions,

root end trimmed and thinly sliced (reserve ¼ cup of green tips for garnish)

Zest of 1 lemon

¼

cup

vegetable or chicken broth

2

tablespoons

apple cider vinegar

¼

cup

extra virgin olive oil

½

teaspoon

fine sea salt,

plus more to taste

½

teaspoon

freshly ground black pepper

¼

teaspoon

red pepper flakes
Instructions
Preheat oven to 325 degrees.

Arrange cabbage wedges in a 9 x 13-inch baking dish (ideally, not overlapping too much). Tuck spring onions all around. Grate zest over top. Pour in broth and vinegar, drizzle all over with olive oil, and sprinkle with spices. Cover tightly with foil and bake for 1 hour.

At the hour mark, carefully flip the wedges (they may fall apart or collapse), and add a couple tablespoons water as needed. Return to oven and cook one hour longer, or until cabbage is very tender.

Turn heat up to 400, uncover the cabbage, and roast 15 minutes, or until the edges have crisped and the cabbage is a deep golden hue.

To serve, top with flaky sea salt and reserved spring onion greens.