A simple spring recipe for braised chicken legs with Hakurei turnips and radishes.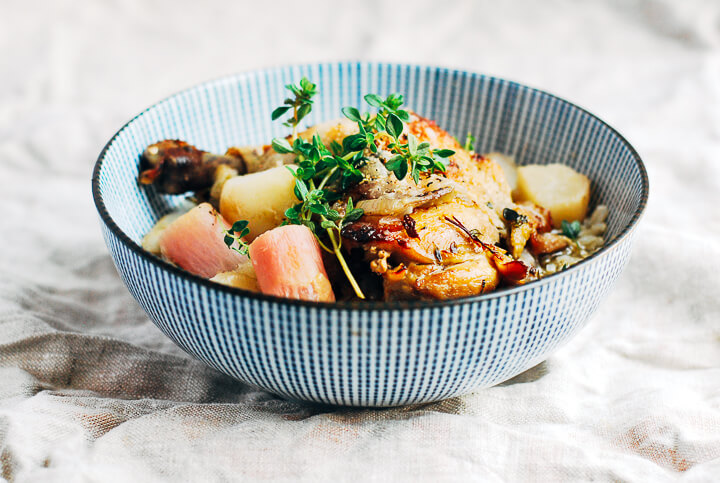 Way back when, my New Year's resolution was to do less. Actually to say no – to work, to great opportunities, to plans. But yeah, I haven't. I've said yes, yes, yes, and it's been pretty great. Except when it isn't. Like now. With the baby officially cruising, and since she's a tall little thing, our house has looming piles all above the 24-inch mark. After an awesome catering opportunity (more on that to come), our kitchen is still in shambles, with boxes of dishes on the floor, and a backlog of glasses next to the sink. At least, thanks to the eating (and smearing and throwing) habits of said baby, four square feet of the kitchen floor is very clean, and I'm sweeping three times a day.
But I don't want to sweep, or clean, or organize, or do dishes. I want to daydream. Cook. Write. Make jam. Take pictures. Paint sticks, sing songs, and play in the sprinkler. And you know, I will. Someday. For now, let's start with an easy recipe for moist and flavorful braised chicken. There, at least that was easy.
Roast chicken is a pretty big deal around here, but having the oven at 400 degrees for an hour isn't always pleasant. So the other day we decided to go with a braise. It was also a great way to use up some of the turnips and radishes we received in our very first CSA share of the year. I'd always thought that radishes should be eaten raw, but braising mellows the bite, and gives them an intense depth of flavor. Potatoes pale in comparison. The chicken was moist and tender, and the flavors of the braise were nicely infused in the meat. We had some lemon thyme on hand, and that added a tangy grassyness that made this an absolutely perfect late spring dinner.
Note that we made this with chicken legs, but I think any cut would do well. Just keep an eye that breasts don't dry out. And, in the interest of full disclosure, I popped the chicken leg pictured in the broiler for a few minutes so it would be an appetizing shade of brown – braising can make even well-browned skin look pale.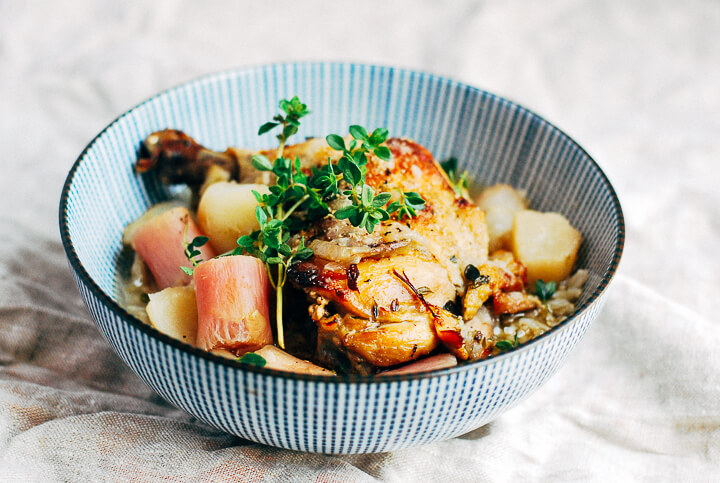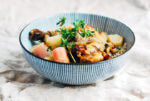 Braised Chicken with Turnips and Radishes
A simple spring recipe for braised chicken legs with Hakurei turnips and radishes.
Keyword:
braised chicken legs
Ingredients
1

teaspoon

olive oil

sea salt

4

whole skin on, bone-in chicken legs,

we used a cut that included the thigh and the drumstick all in one piece, but a mix of thighs and drums is fine too

1

onion,

diced

3

cloves

garlic,

smashed and peeled

1

small bunch Hakurei turnips,

washed, trimmed, and quartered

1

small bunch radishes,

washed, trimmed, and chopped into 2-inch segments

3

cups

vegetable or chicken broth

1/2

teaspoon

fresh ground white pepper

8

sprigs lemon thyme,

or plain thyme is fine

Cooked rice or other grain,

for serving
Instructions
Sprinkle chicken legs all over with sea salt.

In a large dutch oven or a wide, heavy bottomed skillet, heat olive oil over medium-high heat. Add chicken legs and cook until they are nicely browned on each side, about 4 minutes a side. When cooking with the skin side down, move the chicken around a bit to prevent sticking. Remove the chicken to a bowl, and pour off all but 2 tablespoons of the fat.

In the same dutch oven, sauté the onion in the chicken fat over medium heat until translucent and lightly browned. Toss in the garlic, turnips, and radishes, and saute for a couple minutes. Place the chicken skin side up on top of the vegetables, and slowly pour in the stock; add pepper and 4 sprigs thyme. Set the lid askew over the pot, and turn heat to low. Simmer 30 - 40 minutes, or until the chicken is cooked through. Taste broth and vegetables, and add salt as needed. Owing to the moist conditions, the chicken may retain a little of its pinkness, though if the flesh is opaque and the juices clear, it's ready to go. Double check with an instant read thermometer that the chicken has reached 165 degrees F.

Once chicken is cooked through and tender, you can serve as-is or pop it under the broiler for a few minutes to crisp up the skin and give things some color. To do this, place the chicken legs on a rimmed, heatproof baking sheet and set under the broiler for 3 - 4 minutes, or until skin is golden brown.

Serve vegetables and chicken over rice with several ladlefuls of the braising liquid. Garnish with remaining sprigs of thyme.