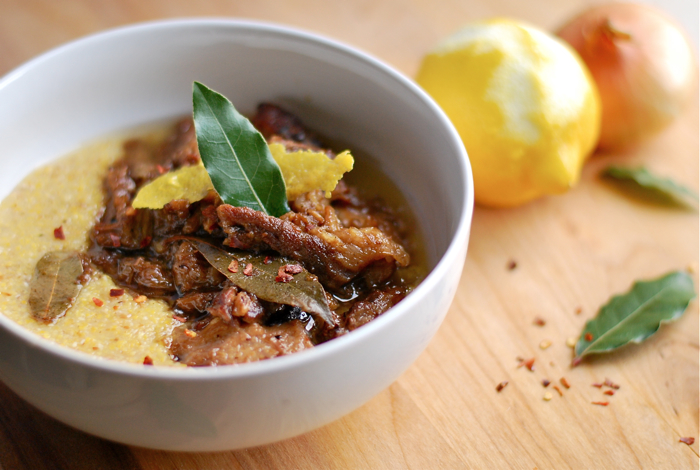 At the butcher, I felt a little embarrassed that I'd never heard of country-style ribs, given that I come from what is arguably "the country." And even if you're not willing to concede my particular home-census-tract is rural enough, it is, at a minimum, part of a country. Also, I really like ribs. So how had I not heard of country-style ribs?
As it turns out, country-style ribs aren't actually ribs or from the country. Rather, like most good things in this world they were first devised as a marketing ploy, in this case by a butcher in Chicago. Calling them "country-style ribs," was just a way to sell the undesirable rib-end of the pork loin, but don't let this cut's iffy pedigree dissuade you. Even it looks a little funny and fatty (the reason it needed a little marketing help), it's really a rich and flavorful cut that's usually pretty cheap to boot.
Although country-style ribs are generally roasted or grilled, we found them to be an excellent cut for braising. Cippolini onions lend a hint of sweetness, and bay leaf (my newest obsession) packs a big punch of flavor. The lemon zest, which eventually disintegrates into a buttery, melt-in-your-mouth morsel, lends acidity. Overall, it's a very well-balanced braise, and exactly what you want to dig into on a chilly January night.
A note on the recipe: country-style ribs are a pretty fatty cut –– consider either trimming a bit of fat before you start the braise, or, for the most flavor, cool the braise in your fridge for a few hours and skim the fat off the top. We had it –– fat and all –– the night of, and it was rich and wonderful, but for lunch the next day I skimmed the fat.
Braised Country-Style Ribs with Cippolini and Bay
2 country ribs (roughly 1 lb.)
1 teaspoon olive oil
5 large cippollini onions, chopped
4 cups rich chicken broth (use homemade if you have it)
1 cup white wine
4 bay leaves
4 3″ strips lemon zest
1/2 teaspoon red pepper flakes
1 teaspoon sea salt
In a large dutch oven, heat the olive oil over medium-high heat. Add the ribs and sear on each side until they are a rich golden brown. Remove the ribs, pour off all but 2 tablespoons fat, and cook the cippolini onions until slightly limp and the edges are brown. Place the ribs back into the pot, and add all of the remaining ingredients. Bring to a boil, and then partially cover and turn heat to low. Flip the ribs every hour or so, and simmer until they're impossibly tender, at least 4 hours. Add more liquid if needed, and check acidity, spice, and salt levels as you go.
Remove the ribs from the braising liquid, pull the meat off the bone, trim the fat, and return to the braising liquid. Bring liquid back up to a quick boil, and turn off the heat. Ladle over the grain of your choice–we went with polenta. Be sure to give each bowl a strip of zest, and serve.