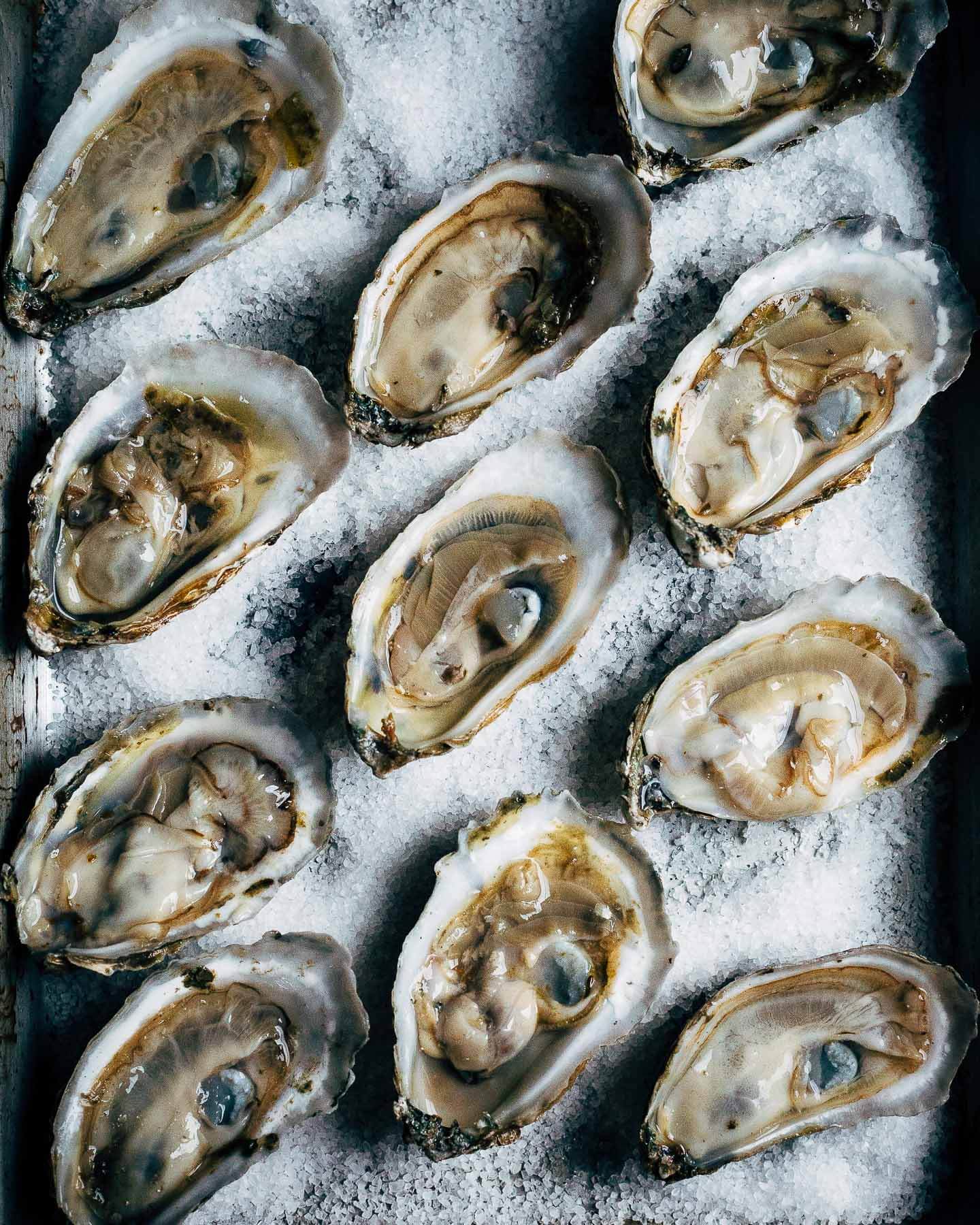 A recipe for broiled oysters with ramp butter that celebrates the flavors of spring. This post is in partnership with Sub-Zero. Thanks for supporting the companies we believe in. Jump to recipe. 
Spring eating begins slowly in Virginia – a stray radish, a small bunch of greens – and then the ramps arrive. But even in season, ramps can be tough to come by. They're wild, harvested by hand, and their season is incredibly short. Just getting your hands on a few feels like a victory. Ramps have an enchanting je ne sais quoi that sets them apart from other alliums (and makes people freak out a little). Like wild chives, there's an earthiness to their pungency. They're flavorful and mellow and really, really taste like spring.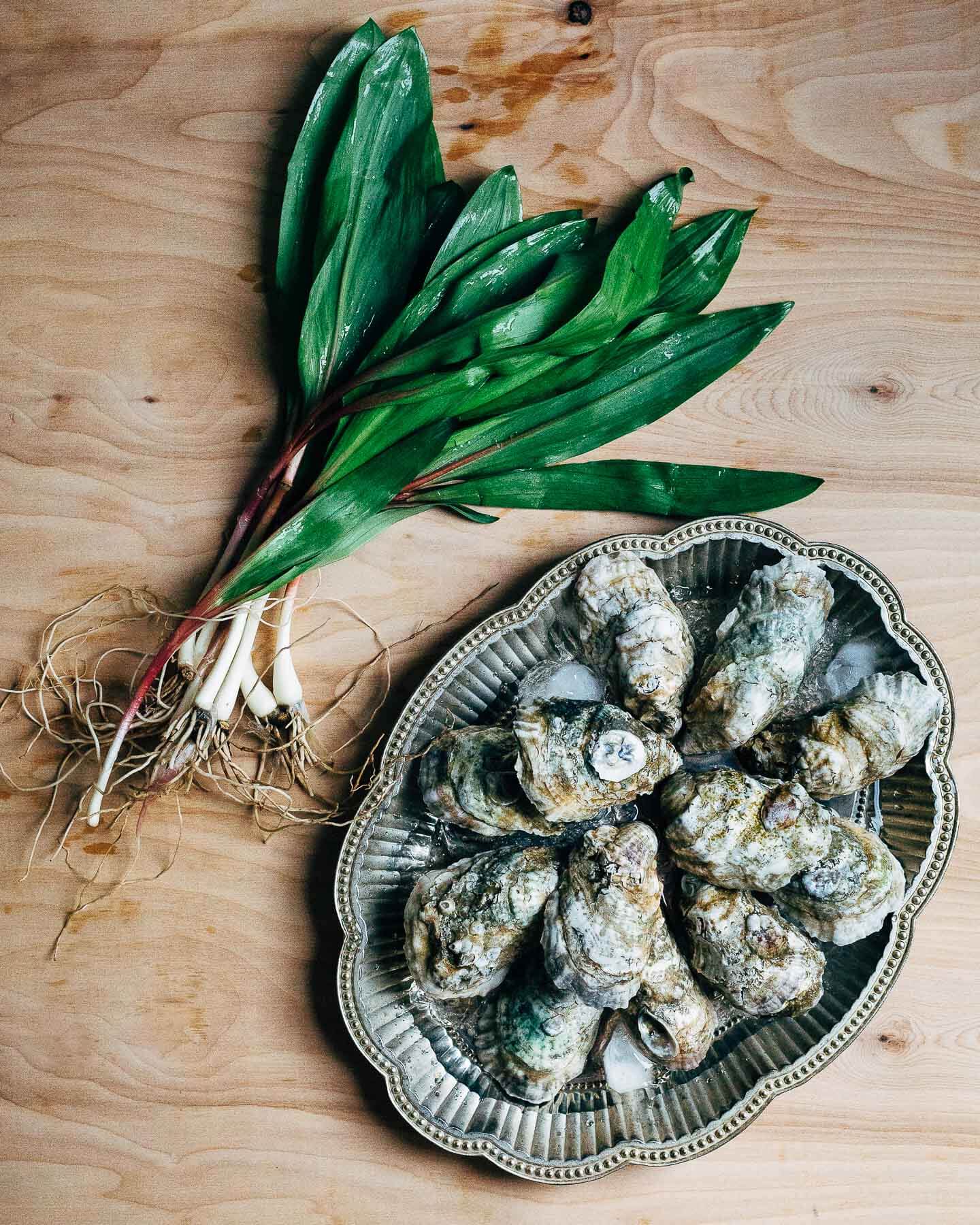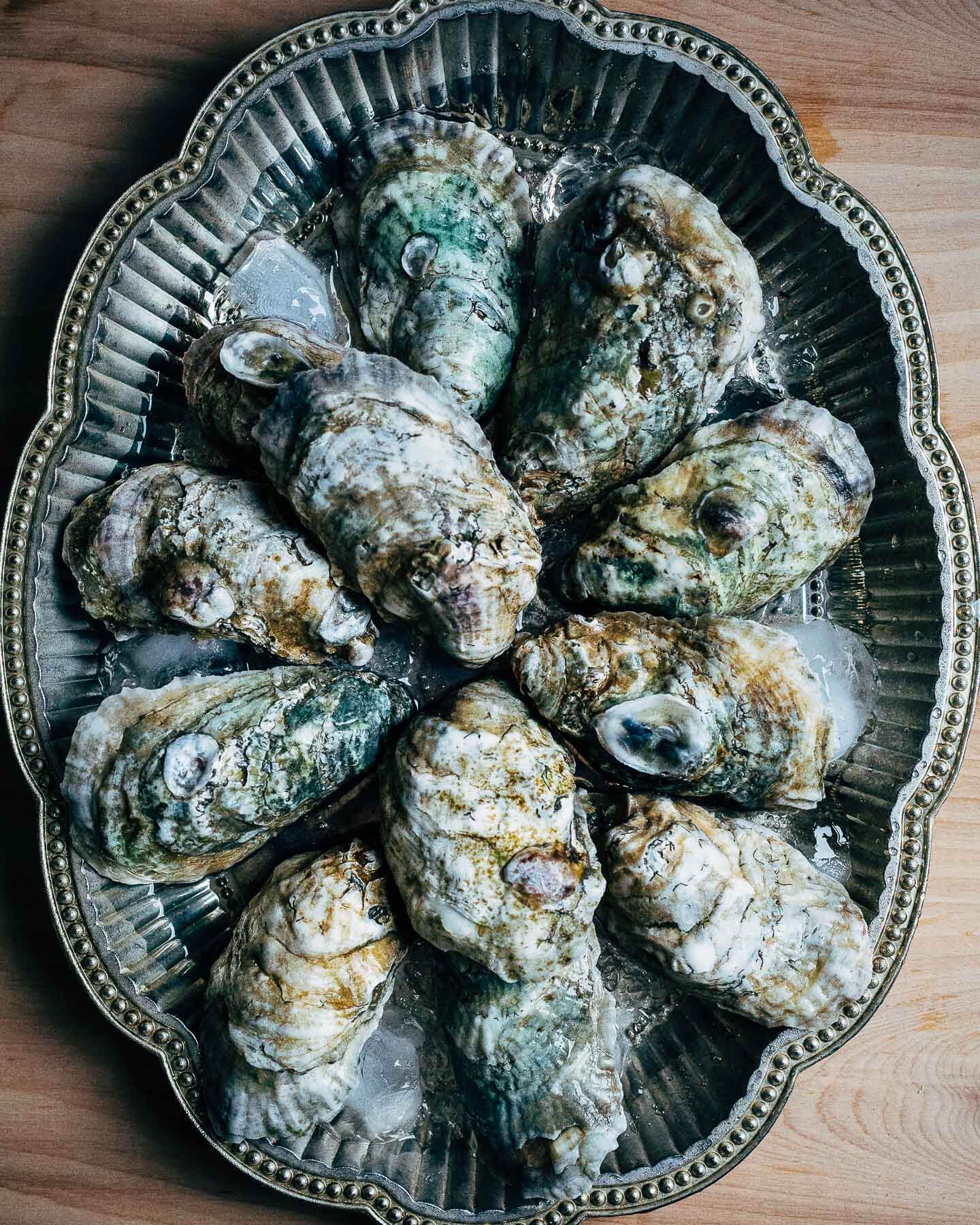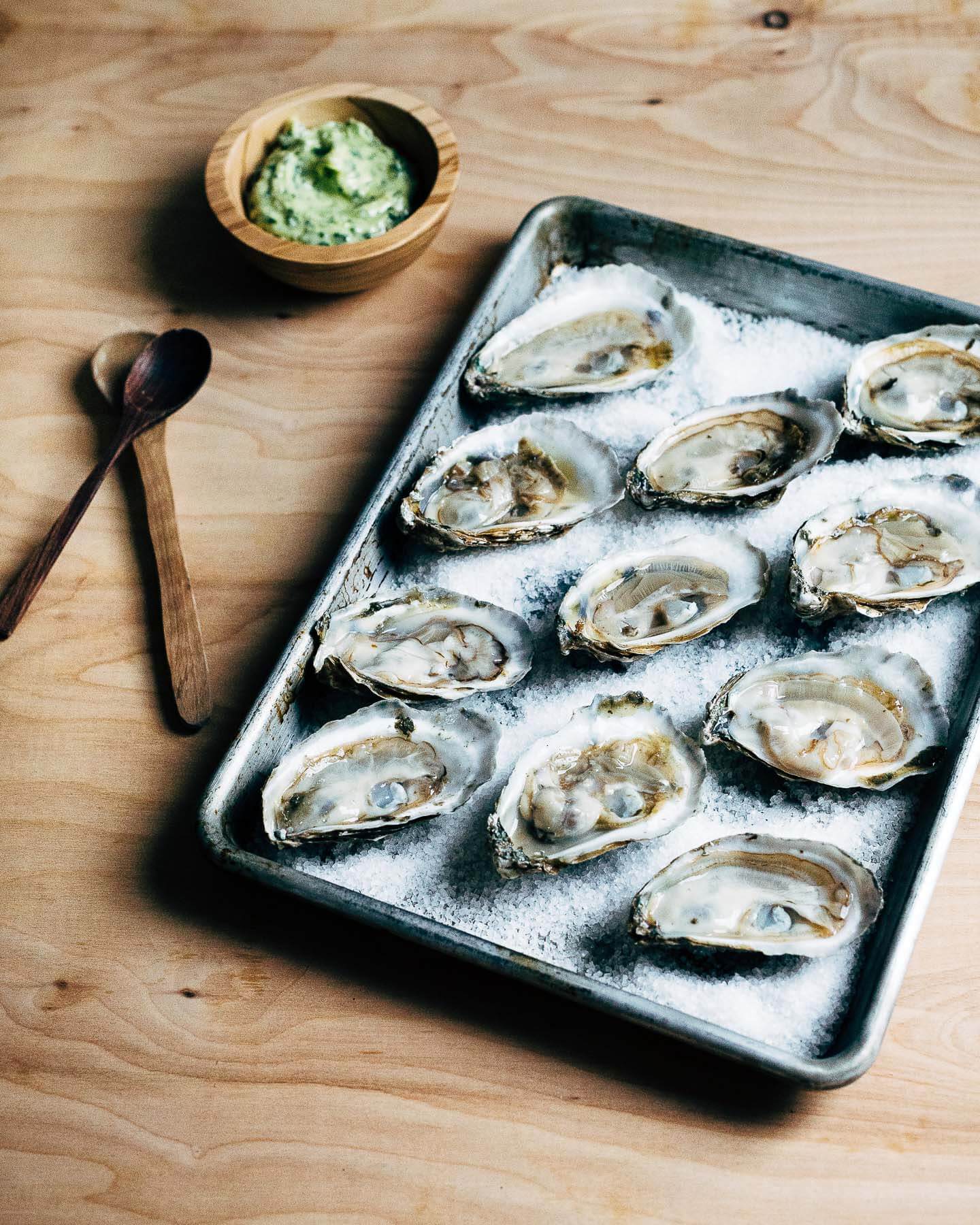 It seemed fitting to pair my ramps with another local delicacy – Rappahannock River oysters, cultured oysters from the confluence of the Rappahannock River and the Chesapeake Bay. Brian and I love Rappahannock oysters and were interested to learn a little more about the company that harvests them. Nearly a decade ago, the native Chesapeake oyster was on the brink of extinction. Along with other aquaculturists, cousins Ryan and Travis Croxton, began to rehabilitate the Chesapeake oyster, reintroducing a choice food to Virginia and beyond, while also revitalizing the Chesapeake Bay itself.
The Croxtons are one of the food industry notables featured in the new Fresh Food Matters initiative, where our partner Sub-Zero interviews and brings to life the journeys of people who care about food, and talks about its importance to not only health, but the environment, economy, and society. From soul food scholar Adrian Miller to beekeeper and educator Tanya Phillips, Fresh Food Matters is full of inspiration. Along with food luminaries, Fresh Food Matters features delicious seasonal recipes, and smart food storage tips to help you eat fresh, delicious food any time of the year.
Does fresh food matter to you? Share a photo, video, or text about why fresh food matters using #FreshFoodMatters on Facebook, Twitter, or Instagram, and Sub-Zero will donate $5 to Katie's Krops, an organization that operates over 100 youth-run gardens across the US and donates thousands of pounds of garden-fresh foods through food pantries, soup kitchens, and direct gifts to those in need.
Back in my own kitchen, I brought my own kind of inspiration to bear. Since the ingredients – ramps and native Virginia oysters – were challenging enough to come by, I figured now that I had them, I ought to keep things simple. While Brian shucked oysters (not easy, but definitely easier with practice), I cooked the ramps in butter for a fragrant, deeply green ramp butter. I then strained the oyster liquor, reduced it on the stove, and swirled it in to my butter. I placed a dollop of butter on each of the oysters and slid them into the oven. Ten minutes later, we had a sublime springtime feast.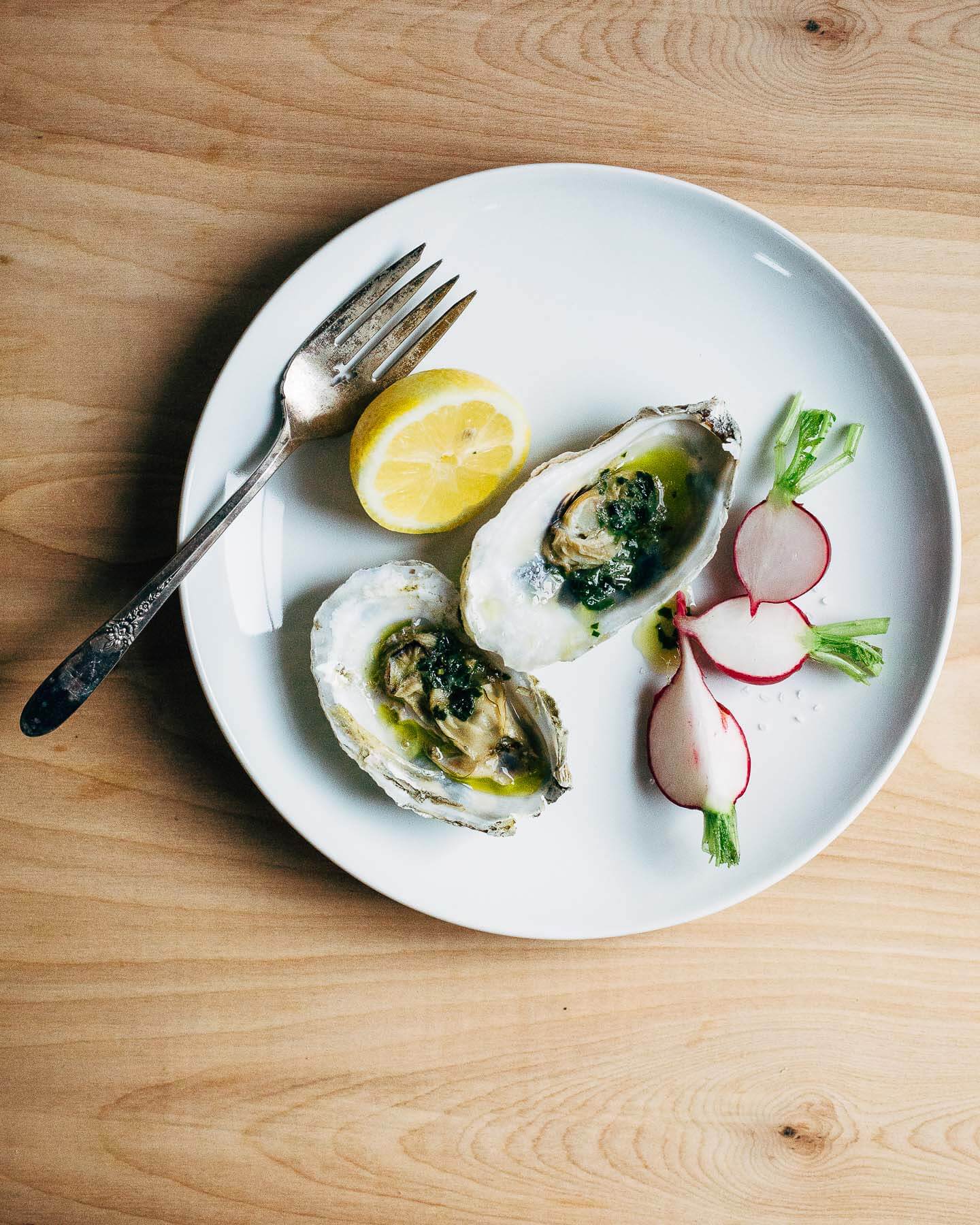 Oysters are best shucked with an oyster knife; they're simply the best, safest, and simplest way to open an oyster. With a glove or kitchen towel to protect your hand, hold oyster flat side up. Jam the oyster knife into the hinge of the shell and pry until the shell comes apart. Work your way around the shell until it separates completely. Some are harder than others but they'll almost all require some work. Wipe the knife as you go. Finally, run the clean knife under the muscle to dislodge it from the shell. If you're new to oysters, this is a good guide to shucking them and ensuring they are fresh.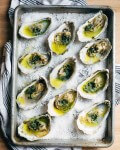 Broiled Oysters with Ramp Butter
A recipe for broiled oysters with ramp butter that celebrates the flavors of spring.
Ingredients
12

live oysters,

shucked and in the shell with any liquor reserved

6

tablespoons

unsalted butter,

room temperature

1/2

teaspoon

sea salt

4

ramps,

trimmed and minced

2

lemons

course sea salt or rock salt

1

bunch radishes,

scrubbed, greens trimmed, and halved
Instructions
Preheat oven to 500 degrees F.

Grate the zest of one lemon. Cut both lemons into large wedges and set aside.

Set a small skillet or wide saucepan over medium heat and melt 2 tablespoons butter. Swirl in sea salt and ramps. Turn heat down to medium-low to ensure ramps don't brown at all, and cook until fragrant and very soft, about 4 minutes. Remove from heat and stir in lemon zest.

Meanwhile, use a fork to whip remaining butter in a small mixing bowl. Fold in ramp and butter mixture and stir well.

Strain oyster liquor and pour into same pan used for ramps. Cook liquor over medium heat, just until it's reduced by half, 1 - 2 minutes. Stir into ramp butter.

Fill a rimmed baking sheet just large enough to accommodate all of the oysters with course sea salt or rock salt. Carefully arrange the oysters taking care not to spill liquor. Add a 1/2 teaspoon ramp butter to each, carefully slide into the oven, and cook until oysters are bubbling and fragrant but not at all burned, 8 - 10 minutes.

Serve oysters with lemon wedges, sea salt, ramp butter, and halved radishes. Leftover ramp butter can be covered and refrigerated for up to 5 days.
Disclosure: This post is sponsored by Sub-Zero. We appreciate the brands that make Brooklyn Supper possible