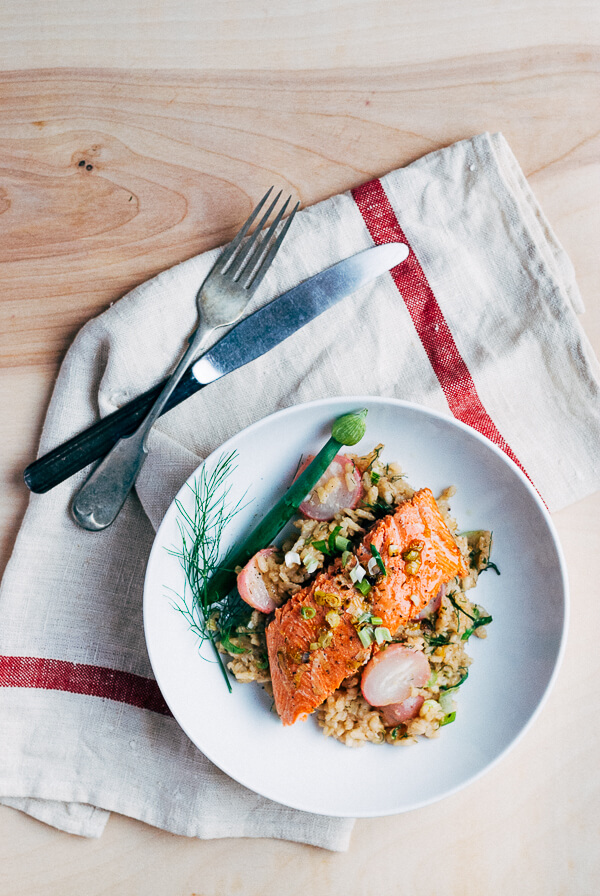 A spring-inspired recipe featuring a broiled salmon fillet with lemon butter and a fennel and radish risotto. Jump to recipe.

I've never been one for New Year's resolutions. If I have any, they are either very specific – put up that shelf in the office – or too central to who I am – like, stop being annoying at parties (a lifelong dream I'm pretty sure I'll just never fulfill). It's not a super productive strategy for change. But in the spring it all gets real. The newness, the actual rebirth of life, is inspiring stuff. Against the backdrop of vibrant blooms and newly green trees, I do my best introspection.
Lately, that introspection has tended toward self doubt. Sometimes it feels like the whole point of the internet is to convince us all that we are absolutely, positively doing it wrong. And when you add parenthood into the mix, there is no question – I'm definitely doing it wrong. Falling into this category is everything from bringing up a weighty subject I'm not sure my seven year old was ready to know about (TMI is kind of my thing. See above: annoying at parties.) to repeatedly losing my temper on a recent vacation.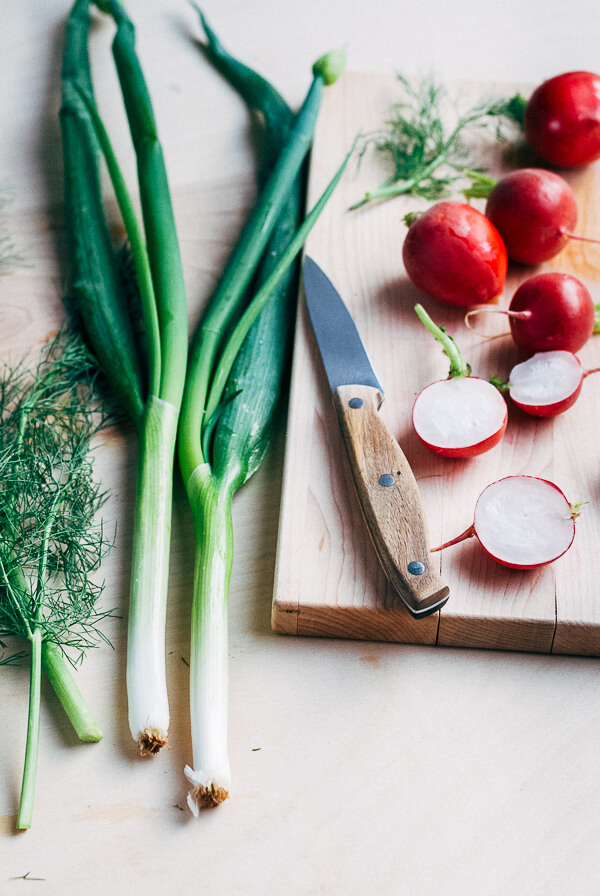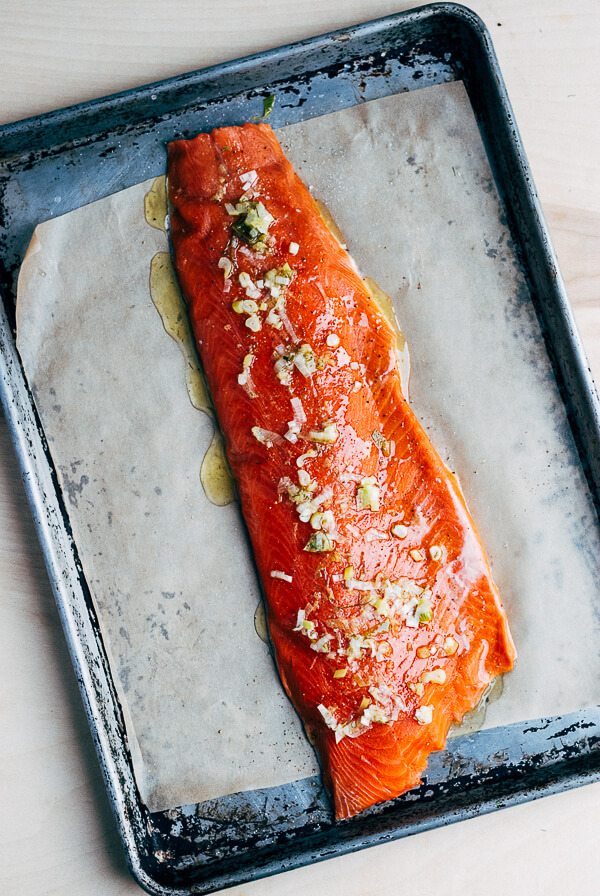 I always strive to embrace making mistakes and learning from them. It's how we get better. But it's hard to overlook the perfection served a million different ways online. One of the things that keeps me going, though, is you. Because I'm pretty sure you're not perfect either. And I want you to feel good about it. So I'm here with my tiny blip of imperfection and doubt, in a sea of assured flawlessness. There are a few voices that also resonate with me, expressing the realness of their own worlds, how they make hard decisions, or just a refreshing willingness to embrace the unknown – Melissa of The Fauxmartha and Erin Loechner come to mind. Who else do you turn to for real life on the internet? Let's make a list.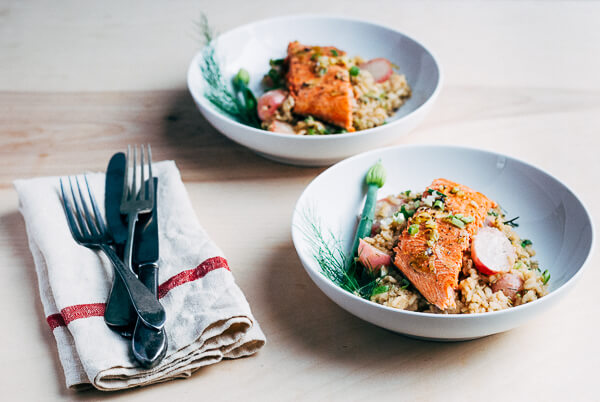 Last week, Brian and I made this broiled salmon with a spring vegetable risotto. And it fits well with the theme of embracing mistakes. You may have noticed that the word broiled doesn't sync well with salmon placed on parchment. You're right. Because parchment? It's flammable. We were out of foil and really, crazy tired. Mistakes were made. Luckily, we pulled the salmon just before the paper ignited. Line your pan with foil, people. Disaster averted, this recipe pairs a simply prepared salmon fillet, with a bright, buttery risotto dotted with spring's earliest treasures: green onions, pearl onions, radishes, and fennel. Lemon, butter, and lots of green bits abound. Good, simple food for heady times.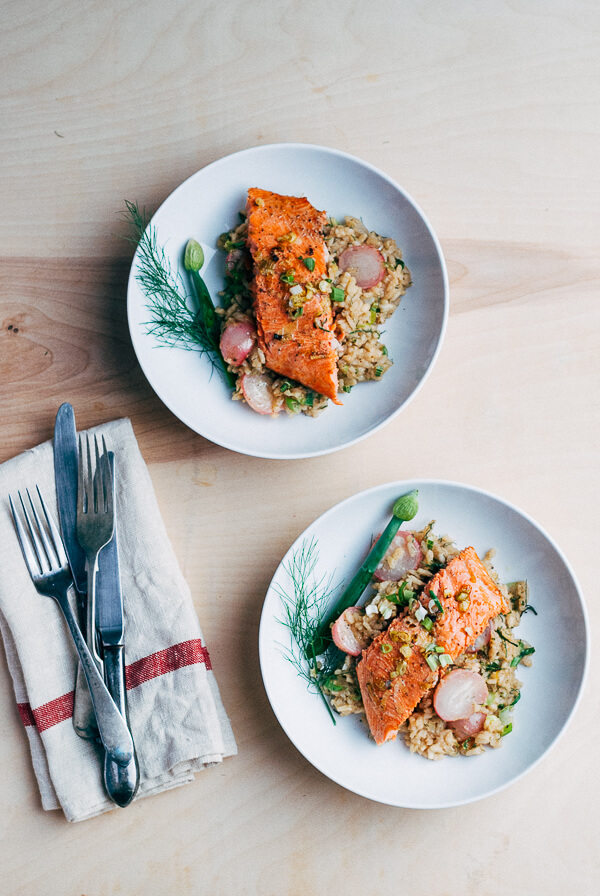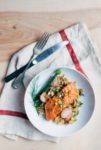 Broiled Salmon with Fennel and Radish Risotto
A spring-inspired recipe featuring a broiled salmon fillet with lemon butter and a fennel and radish risotto.
Ingredients
For the Risotto
3

tablespoons

unsalted butter

, divided

1

cup

halved white pearl onions

1

large bulb fennel with greens

1 1/2

cups

white Arborio rice

1/2

cup

white wine

sea salt

ground black pepper

1

quart

low-sodium chicken broth

1

cup

water

, or more as needed

1

bunch radishes

, trimmed and halved or quartered

1/2

cup

grated Parmesan

2

green onions

, sliced thin

1

tablespoon

freshly squeezed lemon juice
For the Salmon
2

tablespoons

butter

zest of 1 lemon plus 1 tablespoon lemon juice

2

tablespoons

minced green onions

, plus several flowers and stalks for garnish

1/4

teaspoon

sea salt

1/4

teaspoon

freshly ground black pepper

1

large salmon fillet

(2 - 2 1/2 pounds, about 1-inch thick), pin bones removed

lemon wedges for serving

green onions with their flowers and fennel fronds for garnish
Instructions
For the Risotto
Cut fennel bulb into thin slices. Mince 1/2 cup fennel greens and reserve. Reserve several fronds for garnish.

Heat a wide, heavy bottomed saucepan over medium heat. Melt 2 tablespoons butter and add onions. Cook until onions are translucent and supple, 7 minutes. Add fennel bulb slices, and, stirring often, sauté 5 minutes. Add rice, and cook 4 - 5 minutes more, stirring often to make sure rice does not brown.

Meanwhile, bring broth and water to a boil. Toss halved radishes into hot broth. Off heat and set aside. After 5 minutes, use a slotted spoon to remove radishes from broth and set aside.

Pour white wine over rice and vegetable mixture. Stirring often, cook until all of the wine is absorbed. Add 1 - 2 cups broth – enough to just cover rice. Adjust heat so mixture bubbles vigorously. Stir occasionally. Add a generous pinch or two each sea salt and pepper. As broth cooks down, continue adding broth in 1/2 - 1 cup increments and stirring occasionally.

Toward the end of cook time (25 - 30 minutes total), keep a close eye for rice sticking to the bottom of the pan or burning. Lower heat as needed. Taste rice for doneness, and add sea salt and pepper to taste. The last of the broth should be added very slowly – add enough that rice is nicely cooked, but not enough that risotto becomes soupy.

When rice is tender, with just a bit of bite at the center, remove from heat. Fold in remaining tablespoon butter, blanched radishes, Parmesan, green onions, reserved minced fennel fronds, and lemon juice. Add sea salt to taste.


For the Salmon
Set broiler to high. Line a rimmed baking sheet with foil.

In a small saucepan, melt butter and stir in lemon zest and juice, green onions, sea salt, and pepper.

Brush salmon fillet with half of the lemon butter. Slide under broiler and cook 5 - 8 minutes. (Our fillet cooked through in 8 minutes, thicker fillets might take longer.) Salmon is ready when the flesh is just opaque and flakes nicely. Remove salmon from hot baking sheet immediately, drizzle with remaining butter, slice with a sharp knife, and serve nestled atop a pile of hot risotto with a lemon wedge and green onion and fennel garnishes.
SaveSave
SaveSave