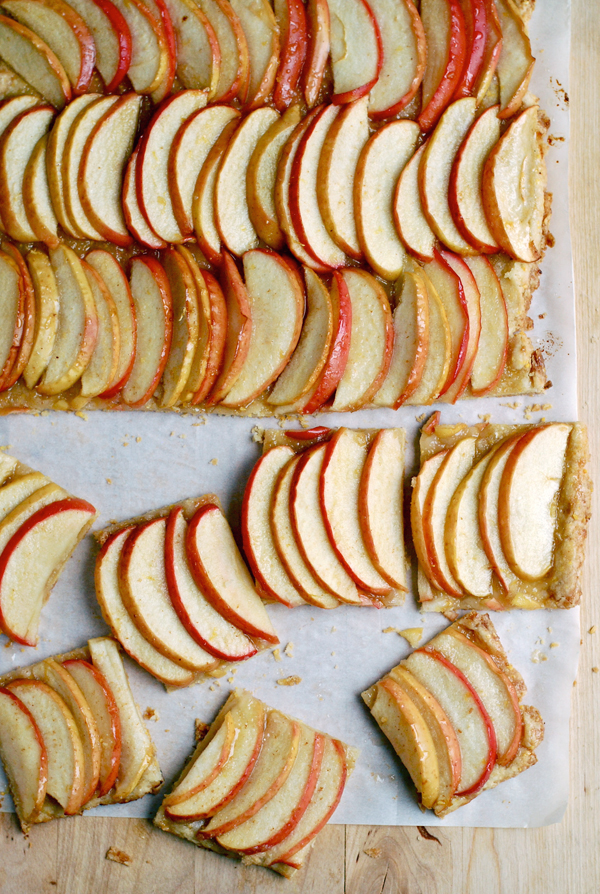 We're in the midst of a quiet weekend, and on this lazy Saturday, a simple, lemony apple tart felt right. This one has a rustic cornmeal-flecked crust and apples tossed with brown butter and lemon zest.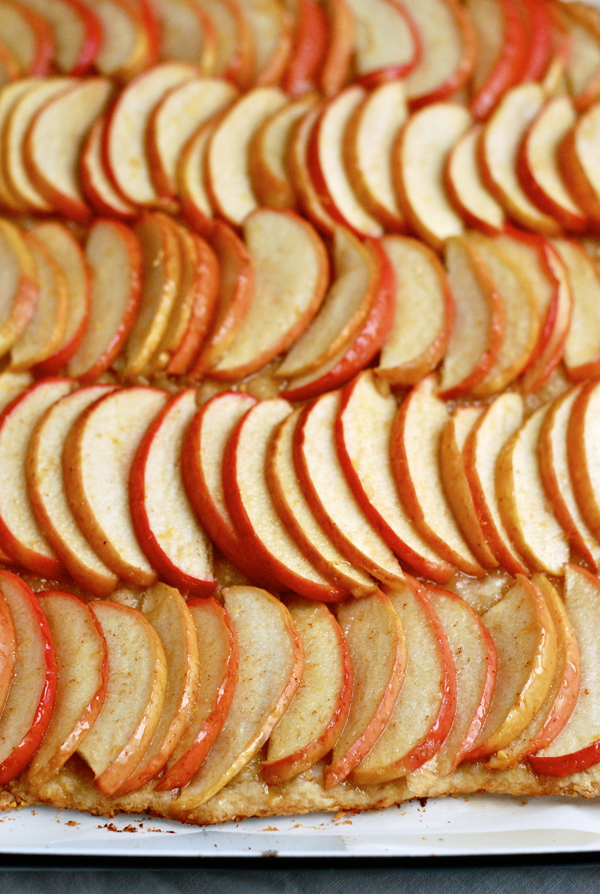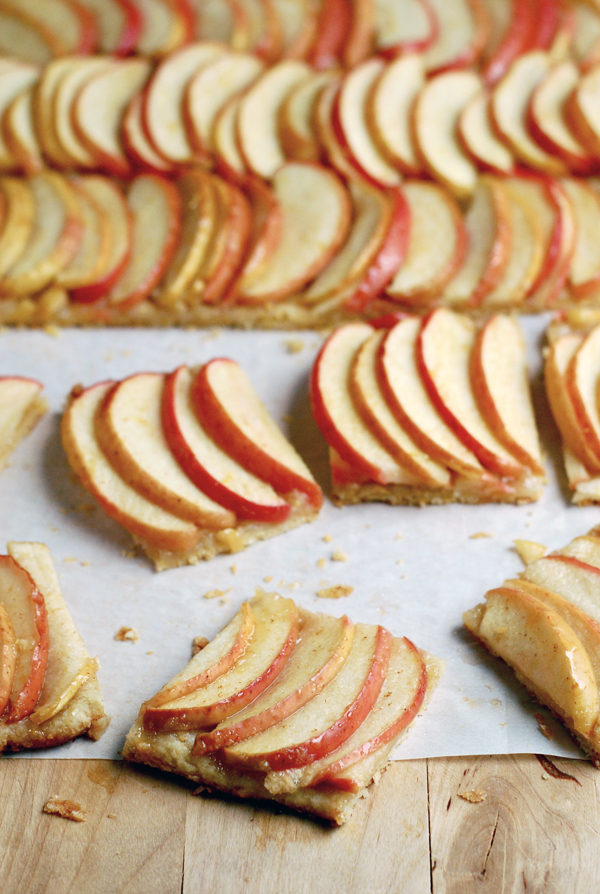 (And by the way, I've been slacking a bit on my weekend links, but have every intention of having time to actually read things in the week ahead.)
Brown Butter Apple Tart with Cornmeal Crust
serves 16
This recipe was my first attempt at this technique for the dough. I usually am pretty dedicated to my food processor technique, but found this simple approach made for a nice crust. Owing to the cornmeal, things aren't totally flaky, but the rustic crust is toothsome and buttery.
for the dough
1 1/4 cups all-purpose flour
1/4 cup cornmeal, fine or medium grind
1 tablespoon plus 1 teaspoon granulated sugar
1/4 teaspoon sea salt
8 tablespoons butter
3 – 4 tablespoons ice water
for the filling
3 – 4 large, crisp apples, cored and cut into 1/4 inch slices
2 tablespoons butter, browned
1/4 cup sugar
zest of 1 lemon
1/4 teaspoon sea salt
1/4 teaspoon freshly grated nutmeg
for the glaze
1/4 cup freshly squeeze lemon juice
1/4 cup sugar
pinch sea salt
Set out the butter to soften while you gather your ingredients.
In a small bowl, combine the flour, cornmeal, sugar, and sea salt. Turn out onto a clean work surface and gather mixture into a circle. Slice the butter, and place all over the flour mixture. Using the base of your palm, push the butter into the flour and then flip back up with the pastry blade. Repeat until the butter is well incorporated. Next make a well in the center and drizzle in the water, turning dough to incorporate. Continue slowly adding water until the dough mostly holds together. Form dough into a disc, cover with plastic, and refrigerate for 30 minutes or longer.
Preheat oven to 400 degrees F.
Prepare the filling by tossing the apple slices with the brown butter, sugar, lemon zest, sea salt, and nutmeg. Set aside.
Cut out a parchment rectangle that will fit on a rimmed baking sheet. Dust the parchment rectangle with flour and roll the dough out on it. Form a rough 10 x 14 inch rectangle. Lift parchment and carefully set on the baking sheet. Layer the apples onto the dough so that they overlap slightly, alternating directions.
Bake for 25 – 30 minutes, or until the apples are tender and the edges have browned ever so slightly. As the end of cook time approaches, keep a close eye on the dough to ensure it isn't burning.
Meanwhile, make the glaze by heating the lemon juice, sugar, and sea salt over medium heat. As soon as sugar dissolves, off the heat and set aside.
Once tart is out of the oven, brush on glaze and set aside to cool for 20 minutes or so.