A simple leek and turnip soup for chilly nights. Made with leeks and turnips sautéed in brown butter, this is a peppery, beautifully balanced five-ingredient soup.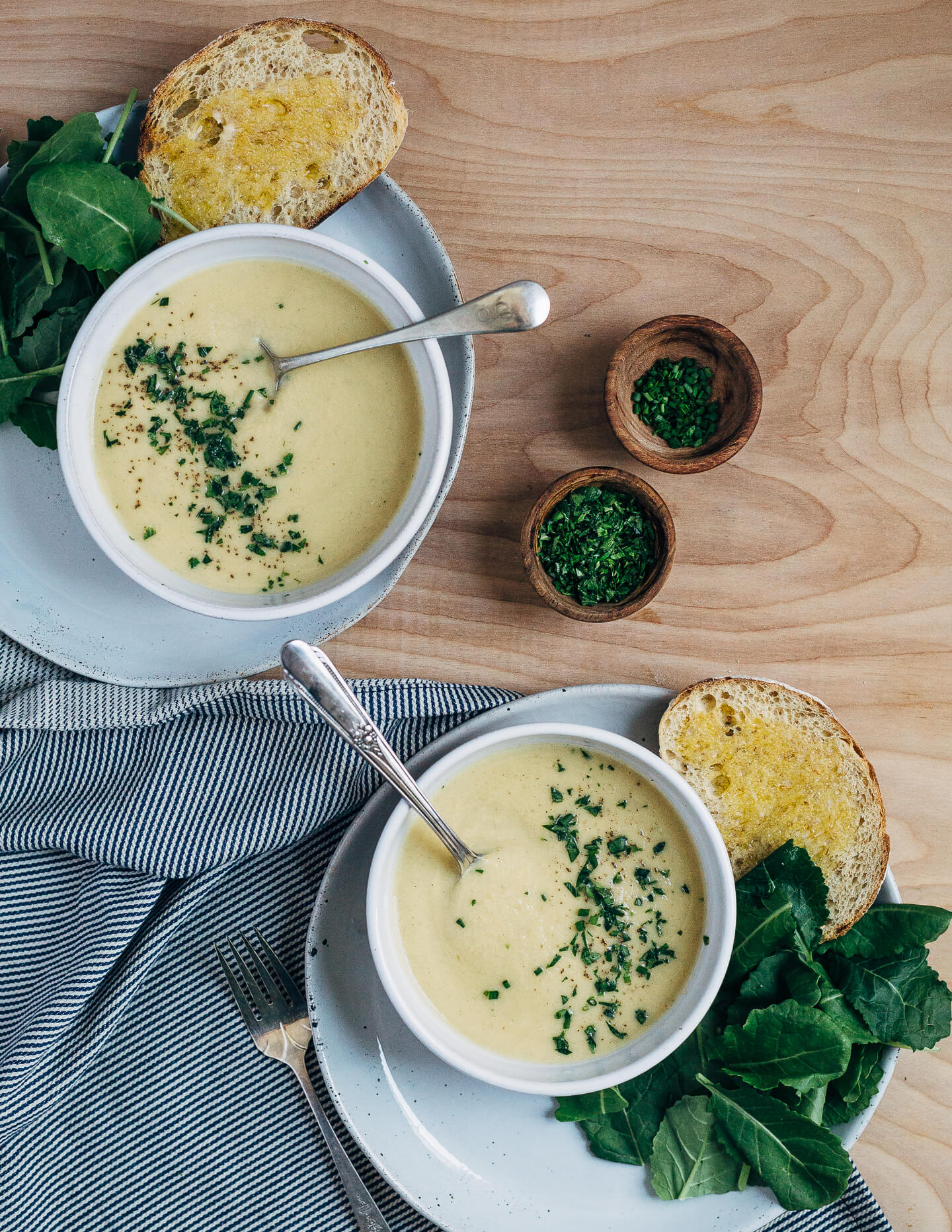 As we careen toward the holidays and winter generally, I'm preoccupied with the idea of warmth. Figuratively, this means enjoying gatherings of family and friends, and making the most of time spent with those I love. Literally speaking, my house is chilly until the afternoon sun tips into the front windows. Until then, I make do with mugs of tea and wool socks. Sometimes, though, these measures aren't enough. So I make a pot of soup.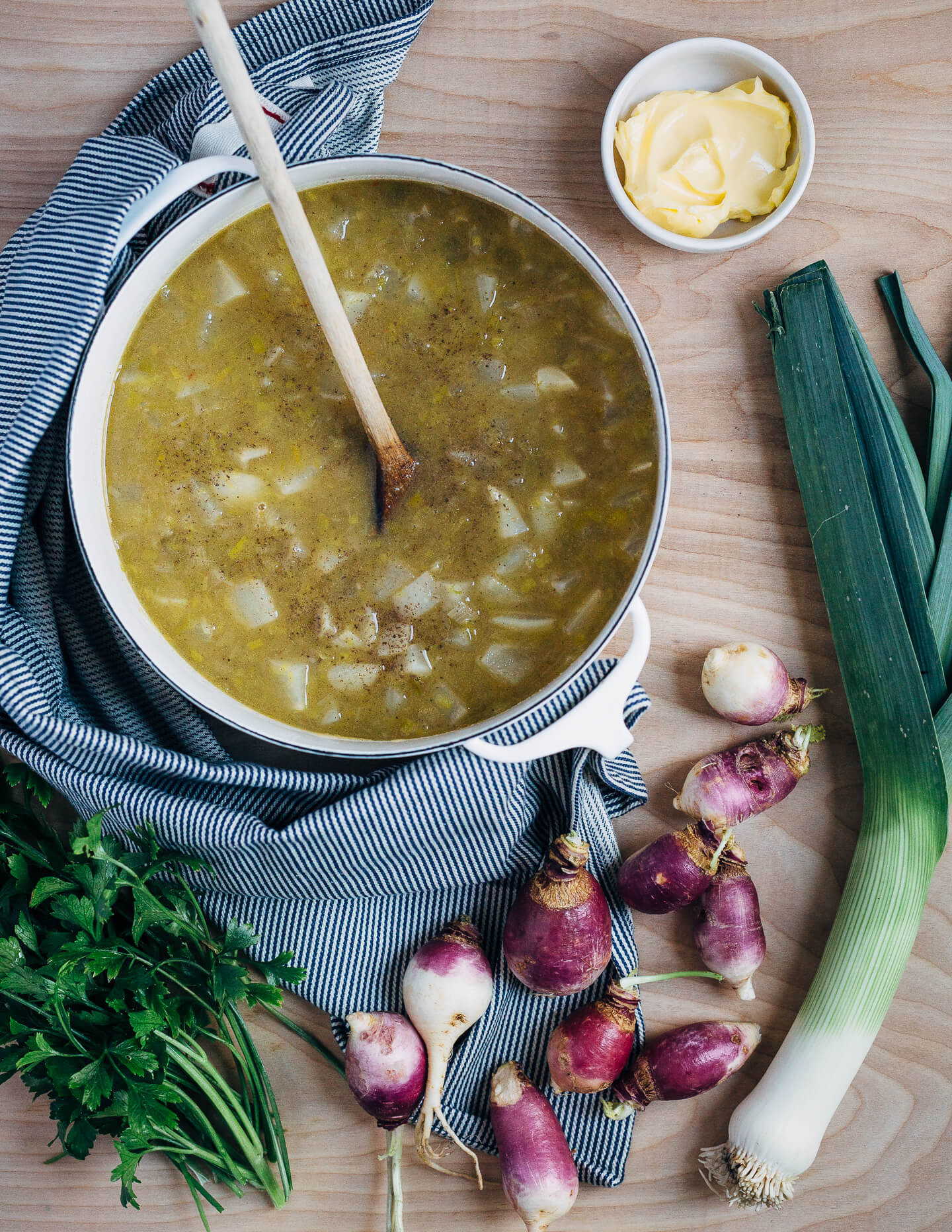 Equally warming and sating, soup is my preferred work-at-home lunch. On busy days, it can be as simple as adding garlic and greens to some broth, but on days when I find time, I like to make something a bit more involved.
This brown butter leek and turnip soup is one I've been dreaming of for months and only recently found the time to bring it to life. I doubt there are many out there who look forward to turnip season, but they're reliable and cheap, so it's worth getting to know them even if they're not your first choice. Cooked in this soup, the turnips take on the smoky richness of leeks and brown butter, while retaining a peppery finish. This soup balances the richness of brown butter with earthy vegetables beautifully.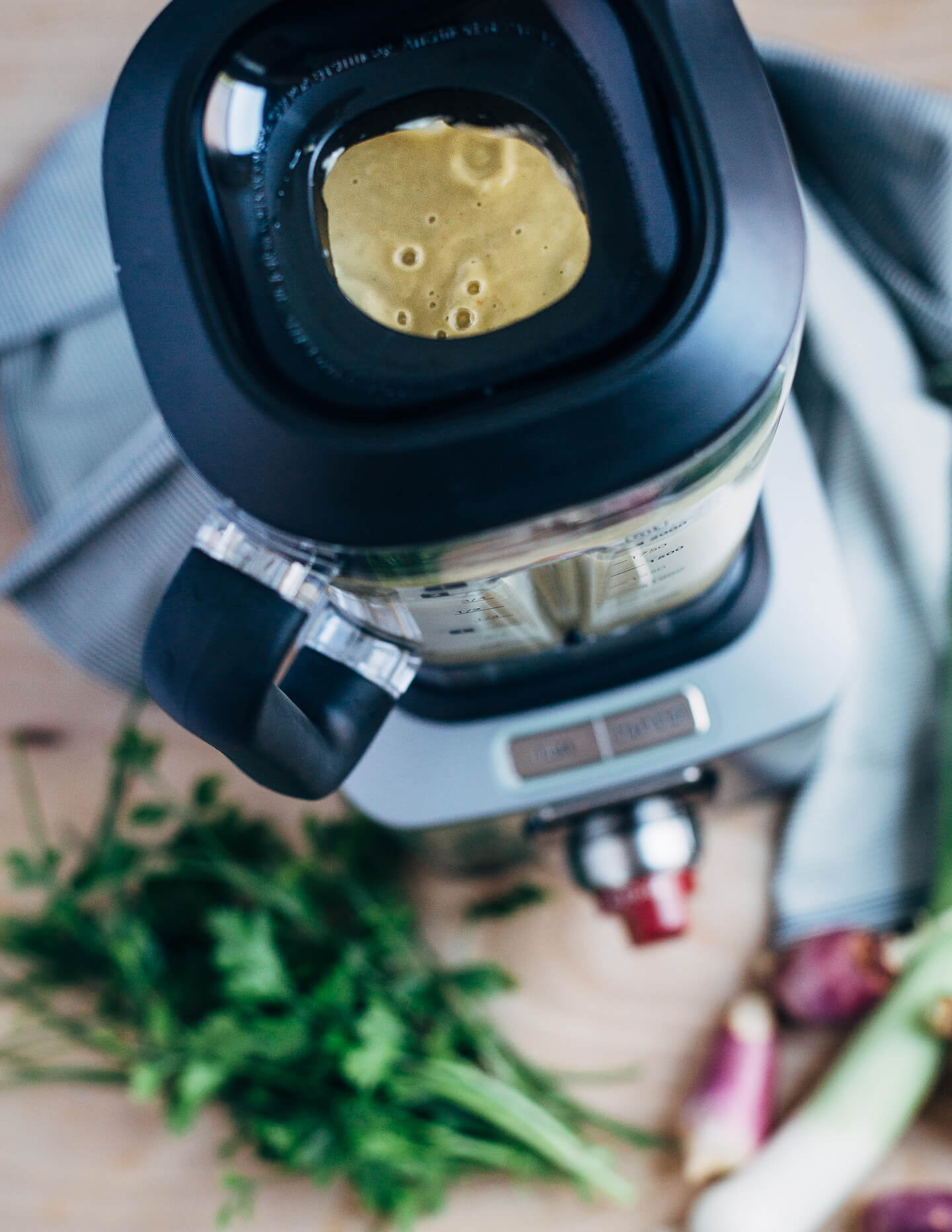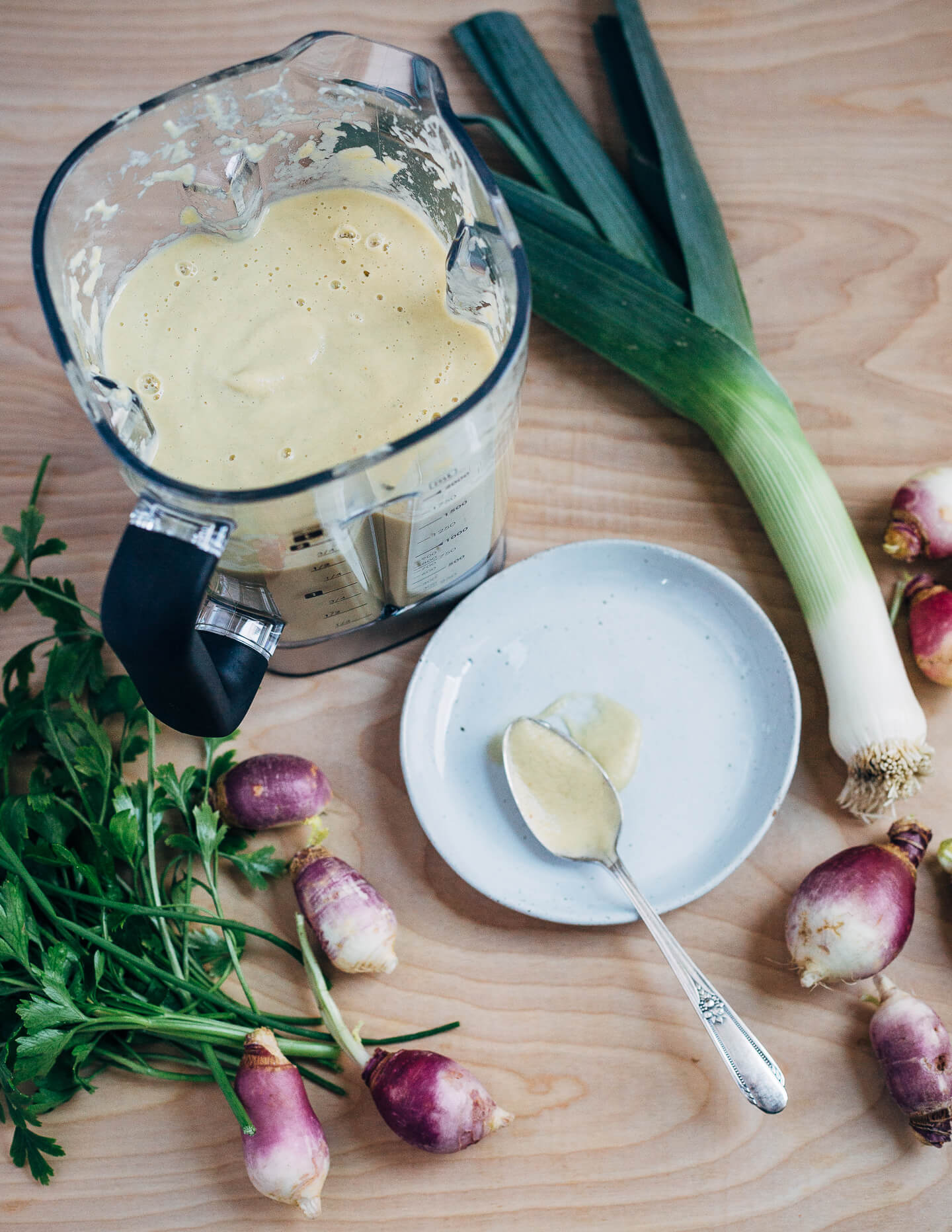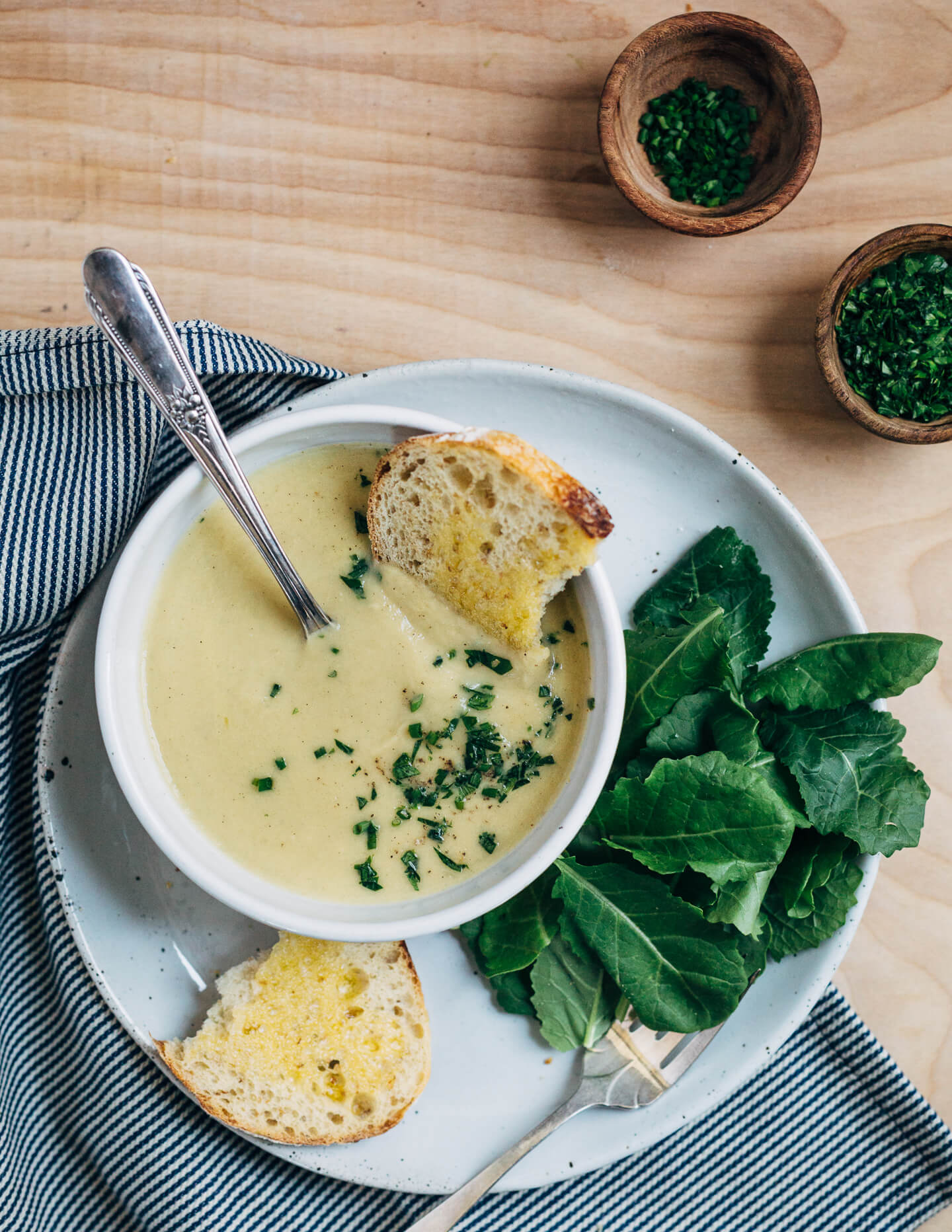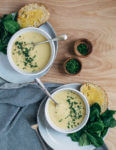 Brown Butter Leek and Turnip Soup
A play on a classic potato leek soup, this soup subs peppery, earthy turnips for potatoes. Brown butter lends a depth to this turnip soup, while supple leeks, red pepper flakes, and fresh ground pepper lend balance.
Ingredients
6

tablespoons

unsalted butter

2

medium leeks

1/2

teaspoon

sea salt

1/2

teaspoon

fresh ground pepper

1/2

teaspoon

red pepper flakes

5

cups

chopped turnips,

from 3 medium turnips, peeled

1

quart

chicken or vegetable broth

1

tablespoon

minced parsley

(optional)

1

tablespoon

minced chives

(optional)
Instructions
Melt butter in a large stock pot or Dutch over medium heat. Stirring frequently, cook butter to deep golden brown hue with brown flecks that settle to the bottom, 7 - 10 minutes. Keep a close eye after the 5-minute mark, as butter can go from golden to burnt in the blink of an eye; edge heat lower if butter is browning too quickly.

Meanwhile, chop the light green and white parts of the leeks (discard the dark green tops). If they appear sandy, rinse chopped leeks in a colander and tap to dry. Add leeks, sea salt, pepper, and red pepper flakes to brown butter. Cook until leeks are translucent and melt into the butter, about 10 minutes. Fold in turnips and cook 10 minutes more, or until turnips have softened and have golden edges. Pour in broth and bring soup to a boil. Lower heat and simmer until turnips are quite tender, about 20 minutes.

Working carefully, puree soup in batches. Reheat pureed soup over medium-low hear, stirring often. As soup reheats, taste and add sea salt and black pepper to taste.

Ladle into bowls and garnish with minced parsley and chives.
SaveSave
SaveSave
SaveSave
SaveSave