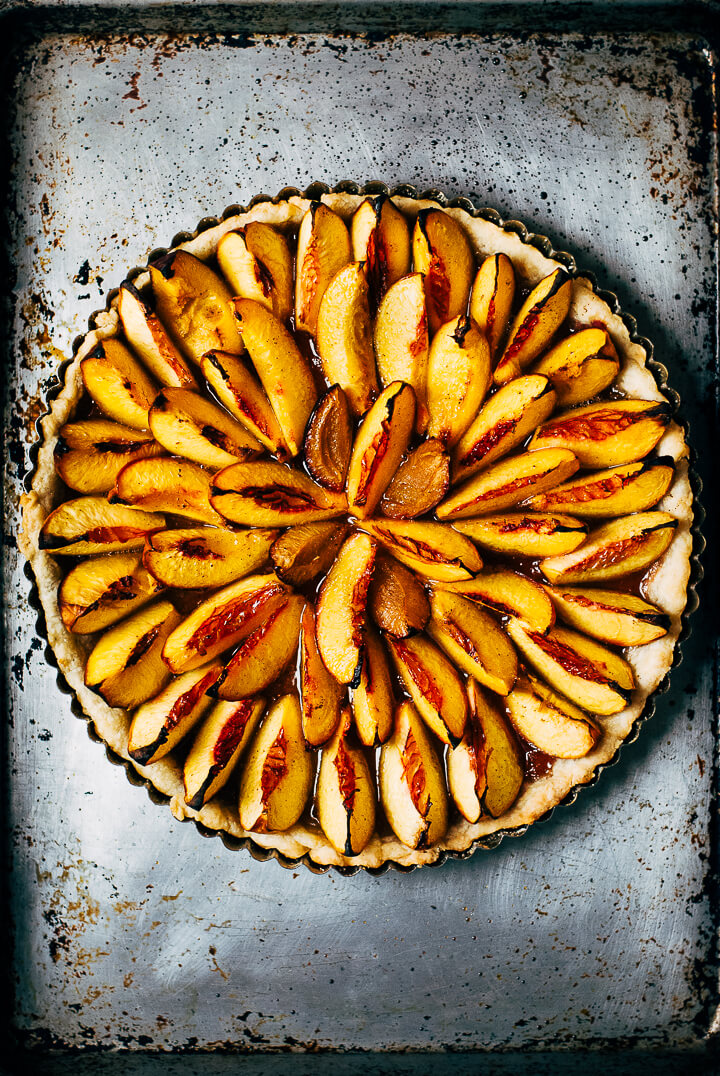 A lightly sweet, nutty brown butter nectarine tart recipe that's perfect for the last days of summer. Jump to recipe.
I like to make tarts this time of year.
In the early days of this blog, I made tarts all the time. (Really.) Then, my tart thing dropped off – maybe because pie is more showy and the internet really likes showy things. But for a recent dinner party (I'll have more details on that tomorrow!), I needed something as simple as it was delicious. Time to break out the tart pan.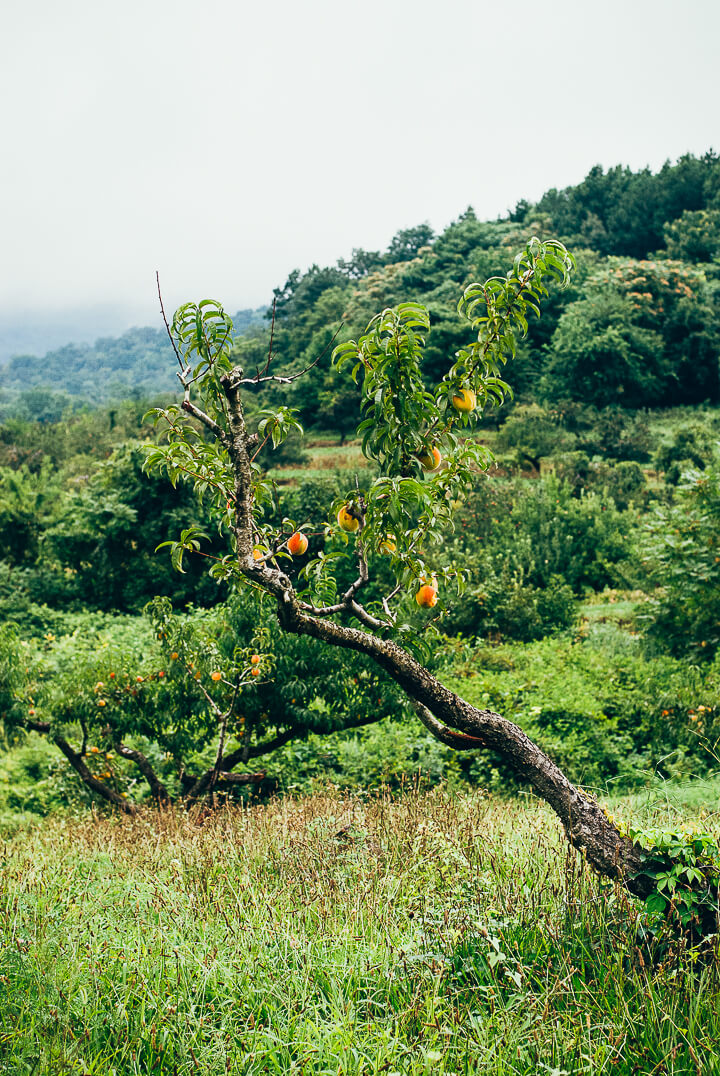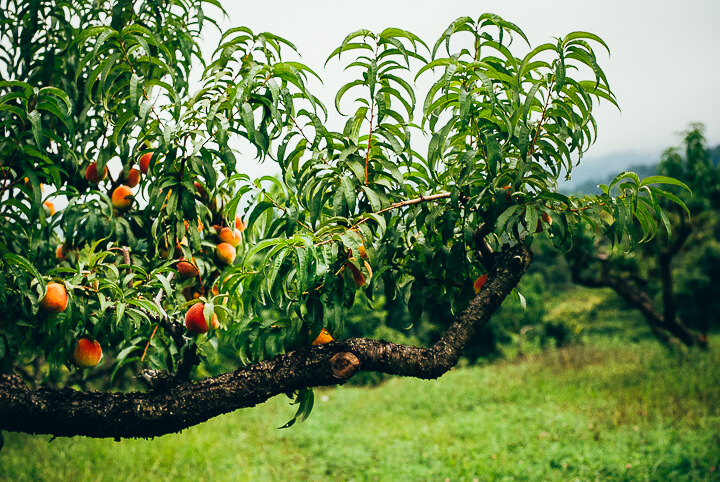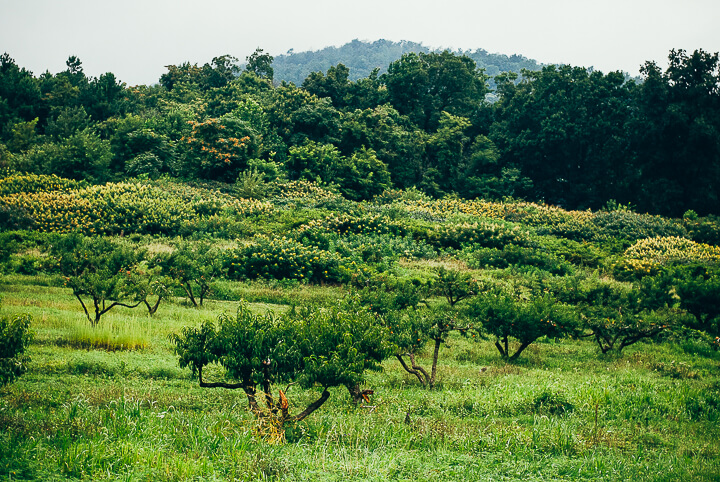 The combination of stone fruit and a flaky crust is undeniably good. I'm not going to bash other fruits, but I will say that stone fruit is perfect for the openness of tarts. Stone fruits hold their shape beautifully while the flavor concentrates, getting all delicious and jammy. In this case, I went with yellow nectarines. I like my peaches and nectarines yellow – they're buttery and bright – and am rather suspicious of sweeter white varieties. If you feel differently, I'm sure we can come to an understanding.
I'd planned to make a bit of cardamom honey to complement my nectarine tart, but in the end, I liked it just as is was – simple, lemony, and lightly sweet. That's how I remember it anyway – this thing was gone in minutes.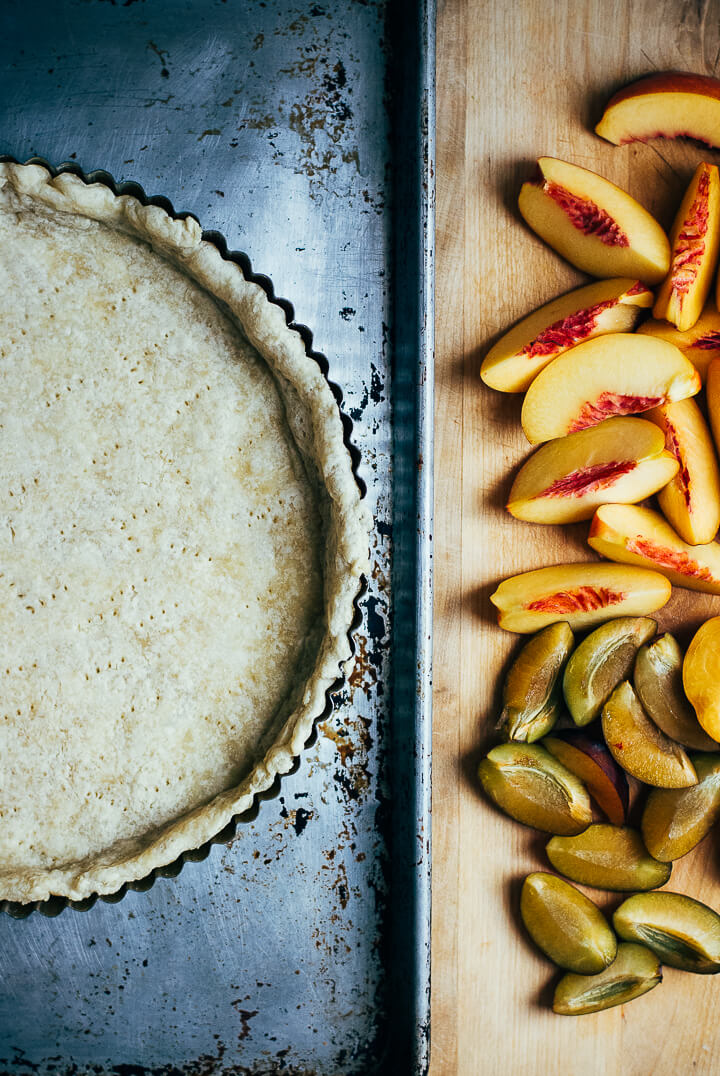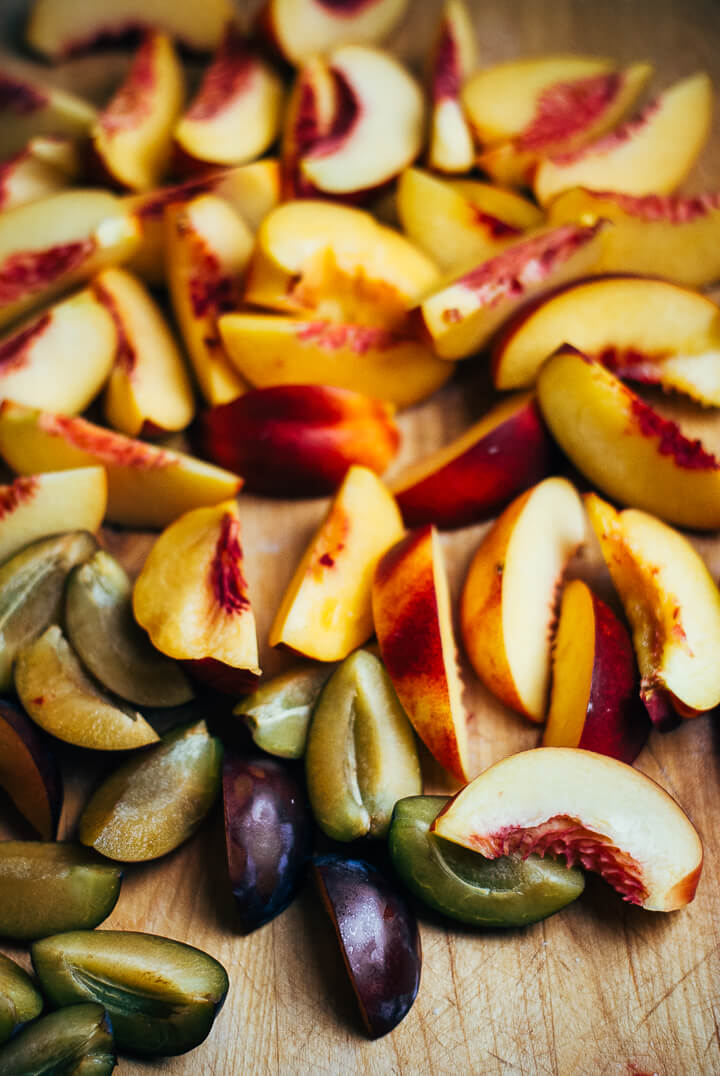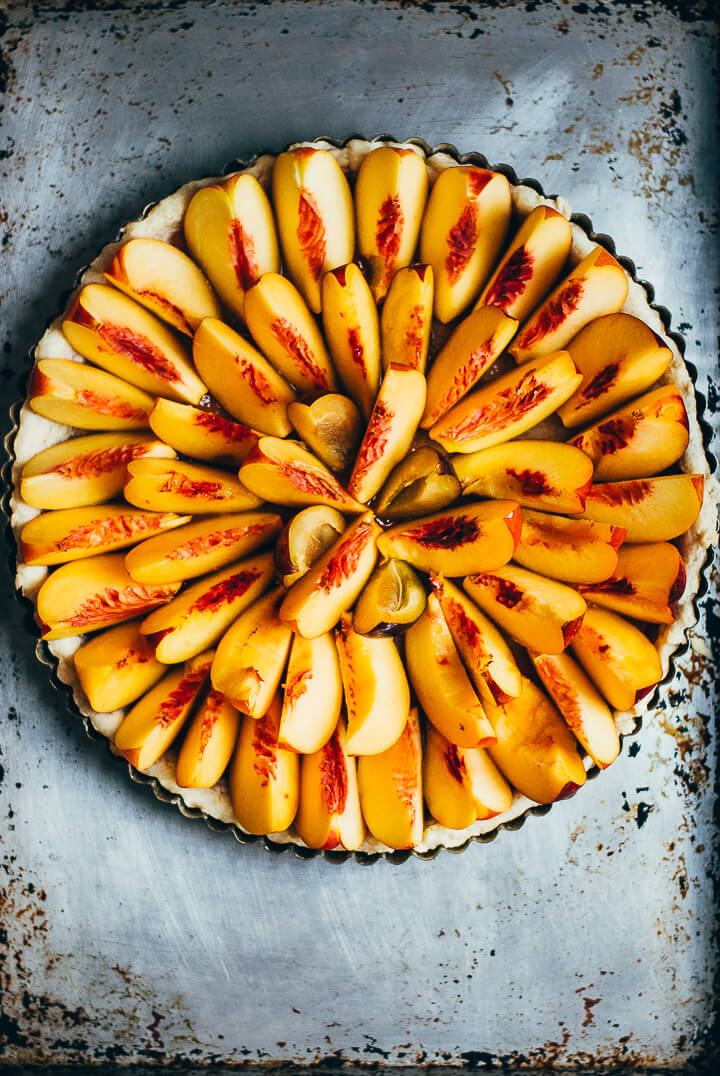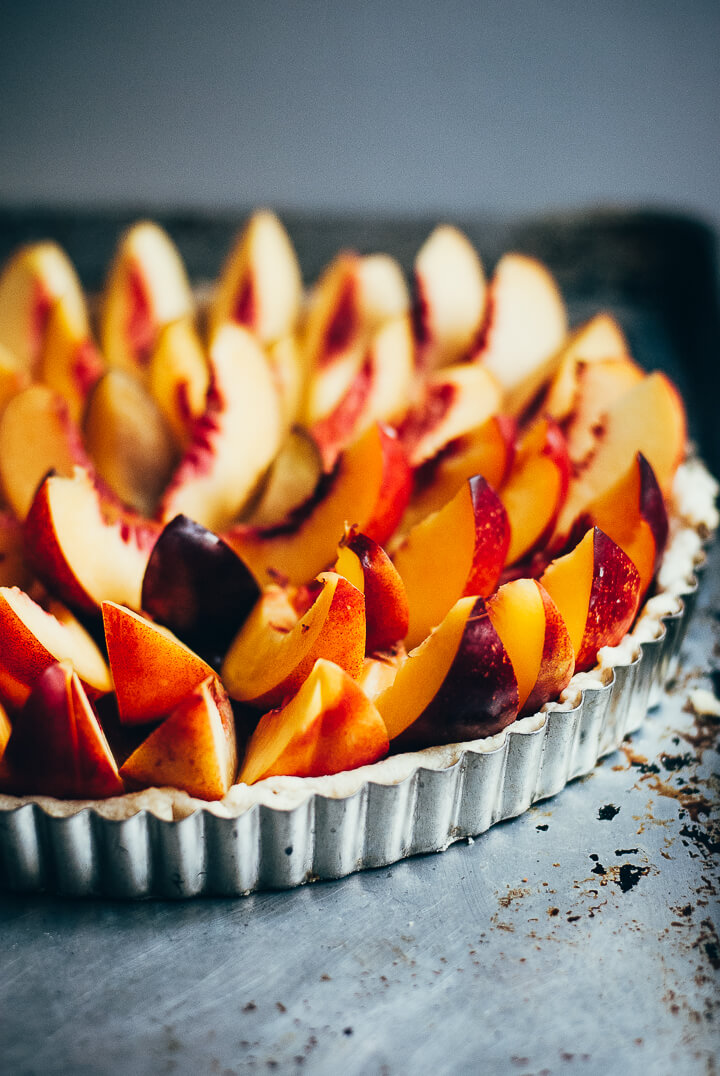 In making this nectarine tart, I used a jar of nectarine rosemary jam I'd made earlier in the summer. I picked up the nectarines out at Henley's Orchard on the western edge of the county, tucked right up against the Blue Ridge Mountains. I'd been meaning to share the recipe, but just didn't get around to it in all the summer busy-ness. The homemade jam added another layer of concentrated nectarine flavor, and made this simple dessert feel special. You probably don't have your own homemade nectarine jam on hand (though, if you're local, hit me up!), so instead try peach or apricot; try to pick a high quality jam with lots of fruit and just a few ingredients.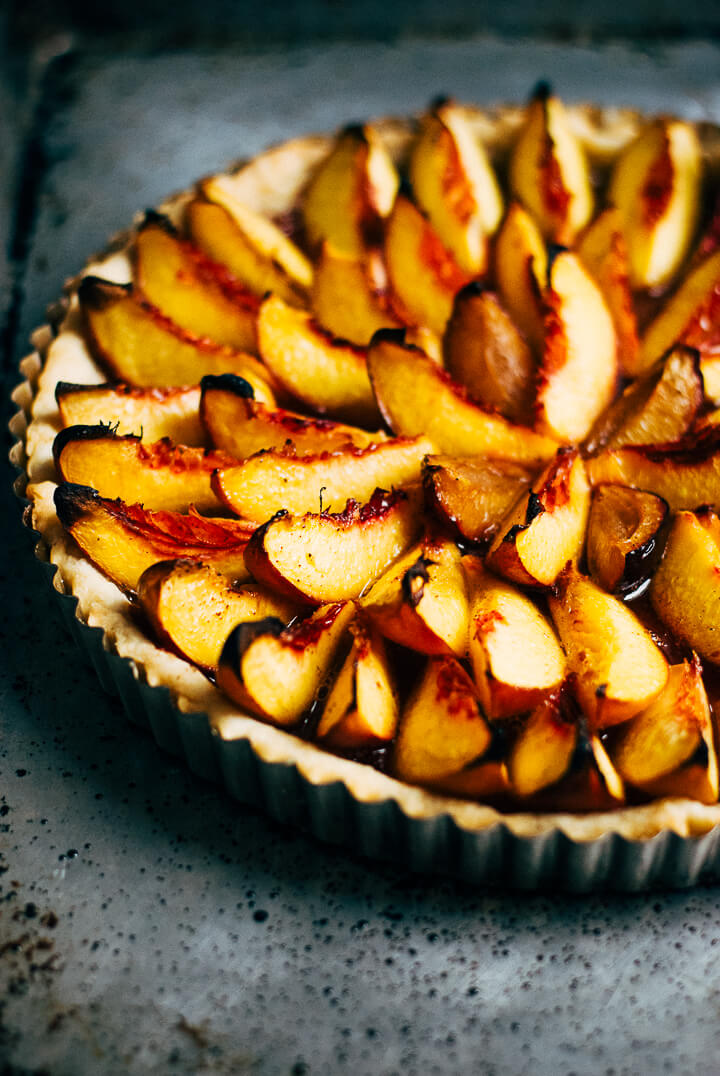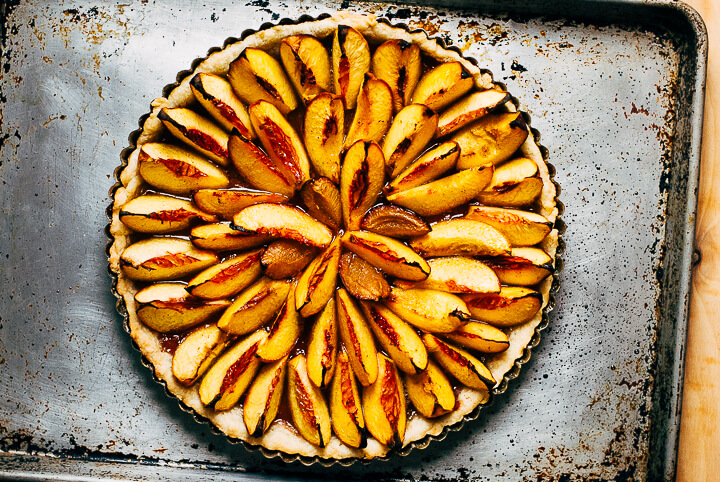 Finally, right there in the center, you may notice a single plum. Honestly, I ran out of nectarines. But I did like the small contrasting pop of flavor they lent. If you'd like to include a plum too, go with 6 nectarines and a plum. Otherwise, you'll need 7 nectarines.
My recipe calls for brown butter – this is a nice discussion of brown butter basics.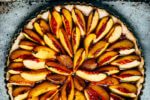 Brown Butter Nectarine Tart
A lightly sweet, nutty brown butter nectarine tart recipe that's perfect for the last days of summer.
Ingredients
For the Tart Crust
1 1/4

cups

unbleached all-purpose flour

1

tablespoon

turbinado sugar

1/2

teaspoon

sea salt

8

tablespoons

butter

, cold

5 - 6

tablespoons

ice water
For the Tart Filling
6 - 7

yellow nectarines

, cut into generous 3/4-inch slices

1

small Stanley plum

(optional), quartered

6

tablespoons

nectarine

(or other stone fruit) jam

3

tablespoons

butter

, browned

pinch sea salt

2

tablespoons

turbinado sugar
Instructions
In a medium-sized mixing bowl, use a fork to combine the flour, sugar, and sea salt. Grate in the butter, and then rub into flour mixture with fingertips. Fold in just enough water so mixture holds together. Turn out onto a lightly floured surface, gather into a disc, and wrap tightly with plastic. Set in the fridge and chill for 30 minutes or longer.

Preheat oven to 375 degrees F. Liberally butter the bottom and sides of a 9-inch tart pan. 

On a lightly floured surface, roll out chilled dough into a 14-inch circle. Fold into quarters, transfer to the prepared tart pan, and unfold. Press into place, cut off all but a 2-inch overhang; fold overhanging dough into the sides of the tart, pressing to incorporate. Poke crust all over with the tines of a fork. Set crust on a rimmed baking sheet. To blind bake, line crust with foil and add pie weights, dried beans, or rice.

Bake crust with weights for 12 minutes. Carefully remove pie weights and foil lining, and then bake for another 5 - 7 minutes, until shell is a light golden brown. remove tart from oven and turn heat up to 400 degrees.

Meanwhile, make the brown butter. Add a pinch of sea salt.

Spoon jam into the bottom of the tart. Starting with the outer edge, arrange fruit slices on a diagonal, pit side facing the center, so that the fruit overhangs the edge by an inch or so. Continue tucking and arranging fruit, working your way toward the center. Brush fruit with brown butter, then sprinkle with sugar.

Set pan back on the rimmed baking sheet. Bake for 30 minutes. Rotate tart pan, turn heat down to 350, and bake for another 15 minutes, or until the edges of the fruit have just browned and the filling is bubbling.