A recipe for kid-made make-ahead brown sugar and cinnamon french toast that's perfect for special occasions or every day celebrations.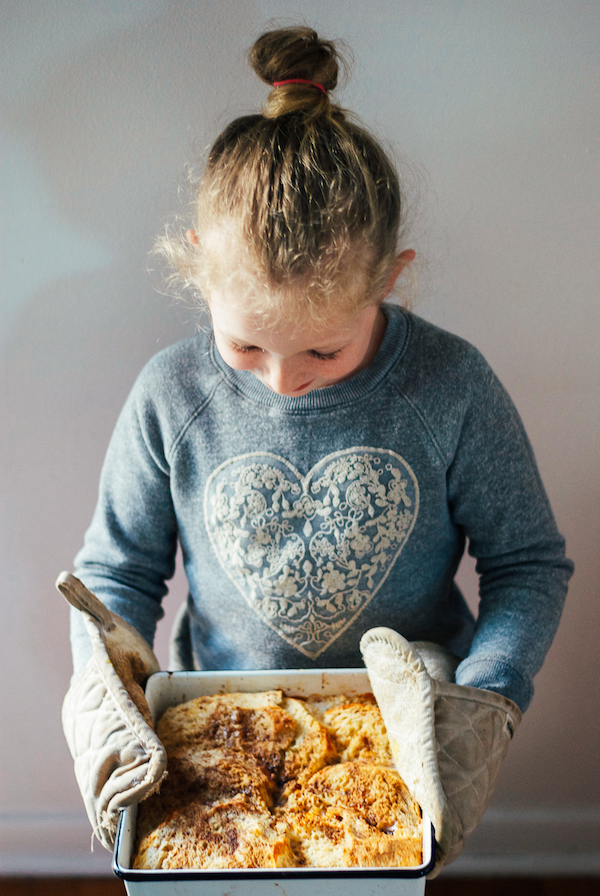 It's Christmas Eve. As I sit here, sipping a cup of coffee in preparation for my final shopping trip (um, it turns out I probably shouldn't have procrastinated quite so much), I'm planning the lunch we're hosting later today. On the menu, a selection of all the most festive libations from eggnog to cider to Prosecco to hot chocolate (peppermint schnapps included), Edwards country ham, buttermilk biscuits, and a green salad. Please try not to be concerned that I actually just listed four cocktails and only three edibles. Moderation, we're into it.
I hope you've landed wherever you're going this holiday. May your mug be full of something warming and wonderful, and may all the best, most beautiful things about the season shine through.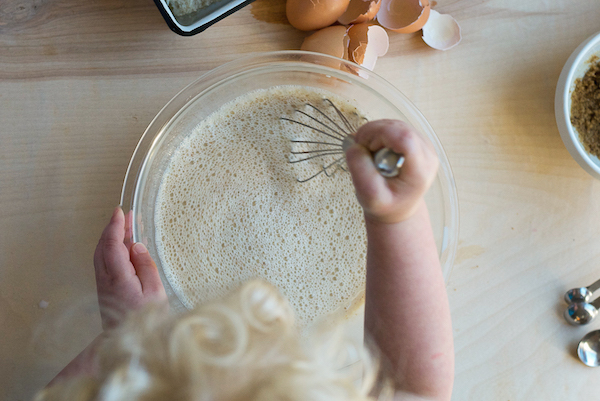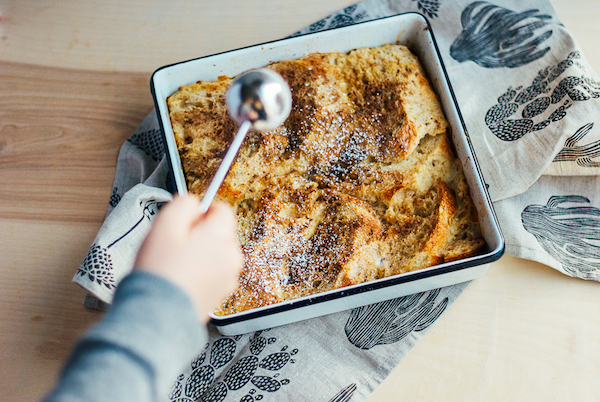 I'd be remiss if I didn't urge toward a more perfect Christmas morning breakfast. It's brown sugar and cinnamon baked French toast, in case you didn't know. You can make it up the night before, then pop it in the oven in the morning (easy!). This recipe was made by my daughter, and as such, features an extravagant layer of powdered sugar. Which is exactly how it should be for Christmas.
Let's end with a plea for just one thing this Christmas. Cheers, friends.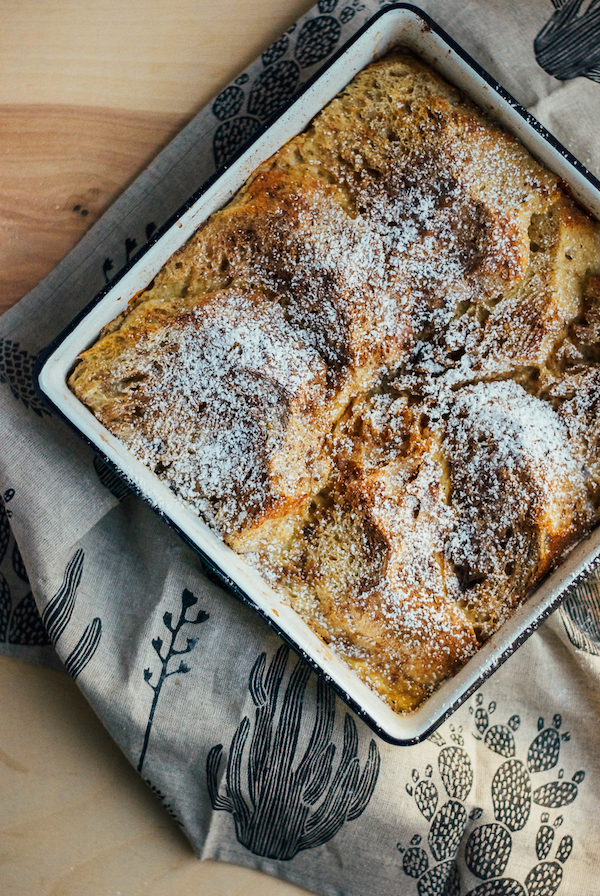 Tips for Making Baked French Toast with Kids
This brown sugar and cinnamon baked french toast was a collaboration between me and my daughters. When cooking with kids, there are a few important things to keep in mind:
Knife skills: children mostly don't have 'em, so when trimming crusts or generally cutting, keep a close eye on thumb placement, stability, and cutting motion. And be sure to use the right knife for the job; here, a serrated bread knife is best.
Cracking eggs is a skill that takes time. Since this recipe is basically bread soaked in milky sweet scrambled eggs, it's a great one to learn on.
Be warned: when it comes to powdered sugar sprinkling, kids are maximalists. Your french toast may be completely white by the time they're done, but they'll have an excellent time doing it.
Much of the secret to cooking well lies in confidence and practice, so create low-stress opportunities for your child to explore and learn.
Cinnamon and Brown Sugar Baked French Toast
A recipe for kid-made make-ahead brown sugar and cinnamon french toast that's perfect for special occasions or every day celebrations. 
Keyword:
cinnamon french toast
Ingredients
Butter for greasing pan

1

medium loaf stale bread

(pick up a plain bakery loaf with a doughy, dense interior or use challah)

4

eggs

3

heaping tablespoons brown sugar

1

teaspoon

ground cinnamon,

plus more for topping

Pinch

sea salt

2

cups

whole milk,

plus 1/4 cup as needed

1

teaspoon

vanilla extract

Confectioners' sugar for dusting

(optional)
Instructions
Preheat oven to 350 degrees. Grease a 9 x 9-inch baking dish and set aside.

If using a crusty loaf, cut off crusts and discard. Cut loaf into 1/2-inch thick slices. Arrange slices in the buttered baking dish so that each slice is at a slight angle. Use scraps to fill in the corners.

Crack eggs into a large bowl and whisk in brown sugar, cinnamon, and sea salt. Slowly drizzle in milk, whisking all the while. Finally, add the vanilla extract.

Pour mixture over the bread slices. Use a slotted spatula to gently press bread down into the eggy mixture. Add up to 1/4 cup more milk if the bread soaks up all of the liquid. (If making ahead, cover French toast and set in fridge. In the morning set dish out while oven preheats and bake as below.)

Bake french toast for 45 minutes or until the bread is set and the top is a light golden brown.

Cool 10 minutes. Dust with confectioners' sugar and cinnamon, if desired, and serve.