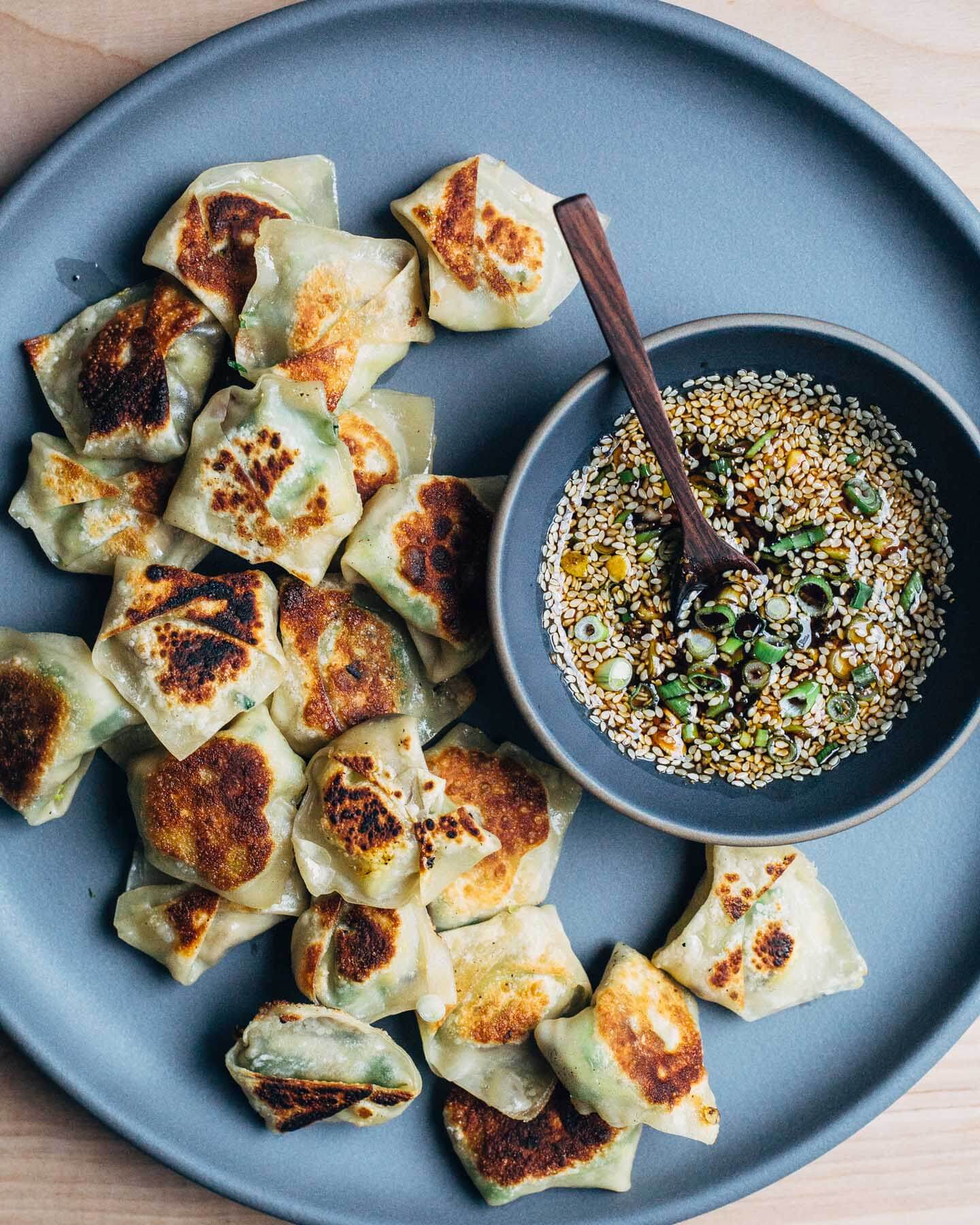 A recipe for gingered Brussels sprout and shiitake pot stickers with an irresistible maple soy dipping sauce and a closer look at the gorgeousness that is The First Mess Cookbook by Laura Wright. Jump to the recipe!
A couple weeks back, on a rare crisis-free day, Brian and I fed the kids, sent them to bed, and had friends over for pot stickers, snacks, and wine. We tore into good bread, smeared it with tapenade, and dunked pot stickers in an accompanying sauce. After a challenging few weeks, it was a lovely respite – the kind of recharging moment that fills you with oxygen and lets you feel like yourself. I loved the company and the wine, but the food played an essential role, too. The pot stickers – filled with gingery Brussels sprouts and shiitake mushrooms served with a quietly addictive soy, maple, and green onion dipping sauce – were perfect in this wonderfully unfancy, honest way.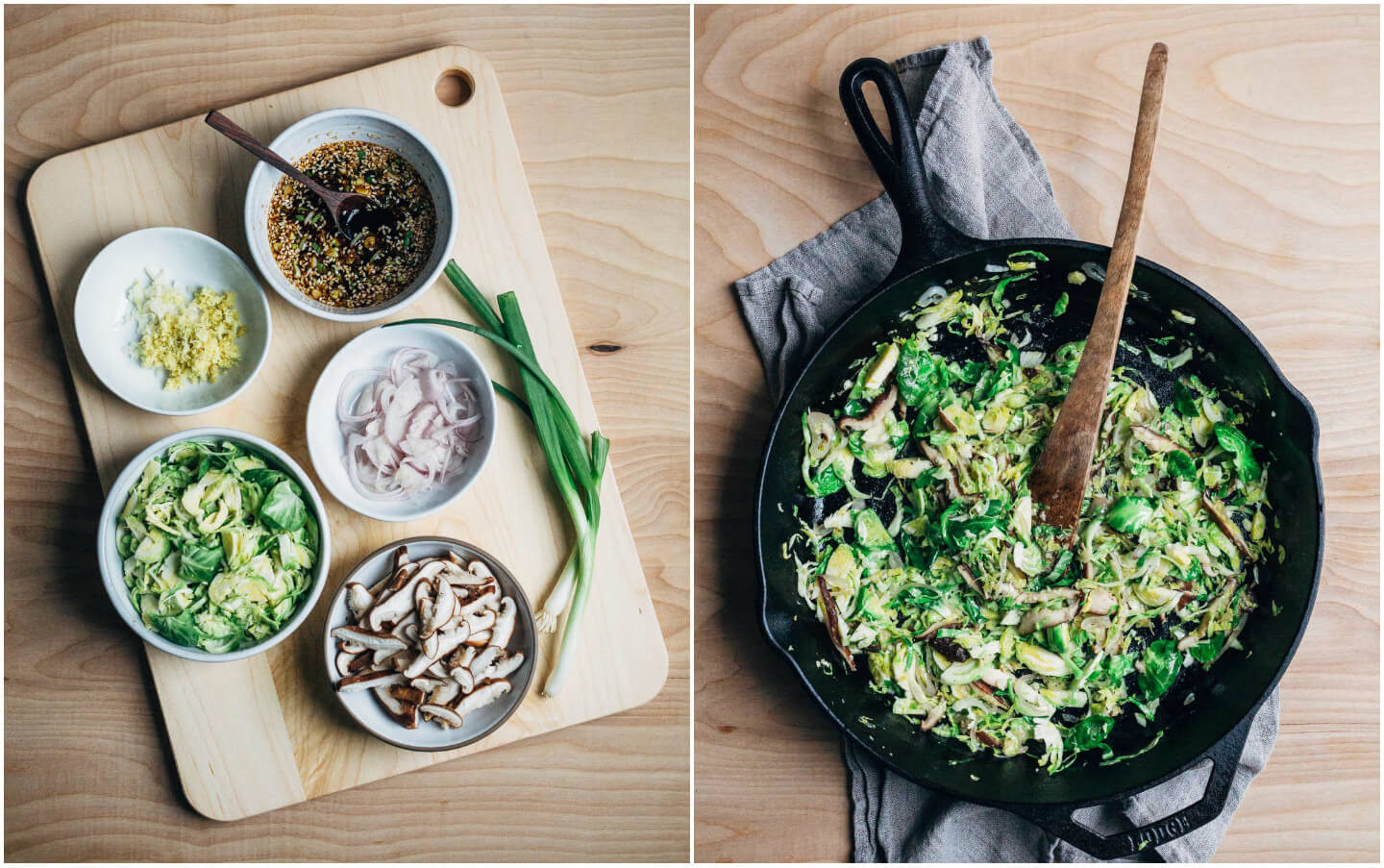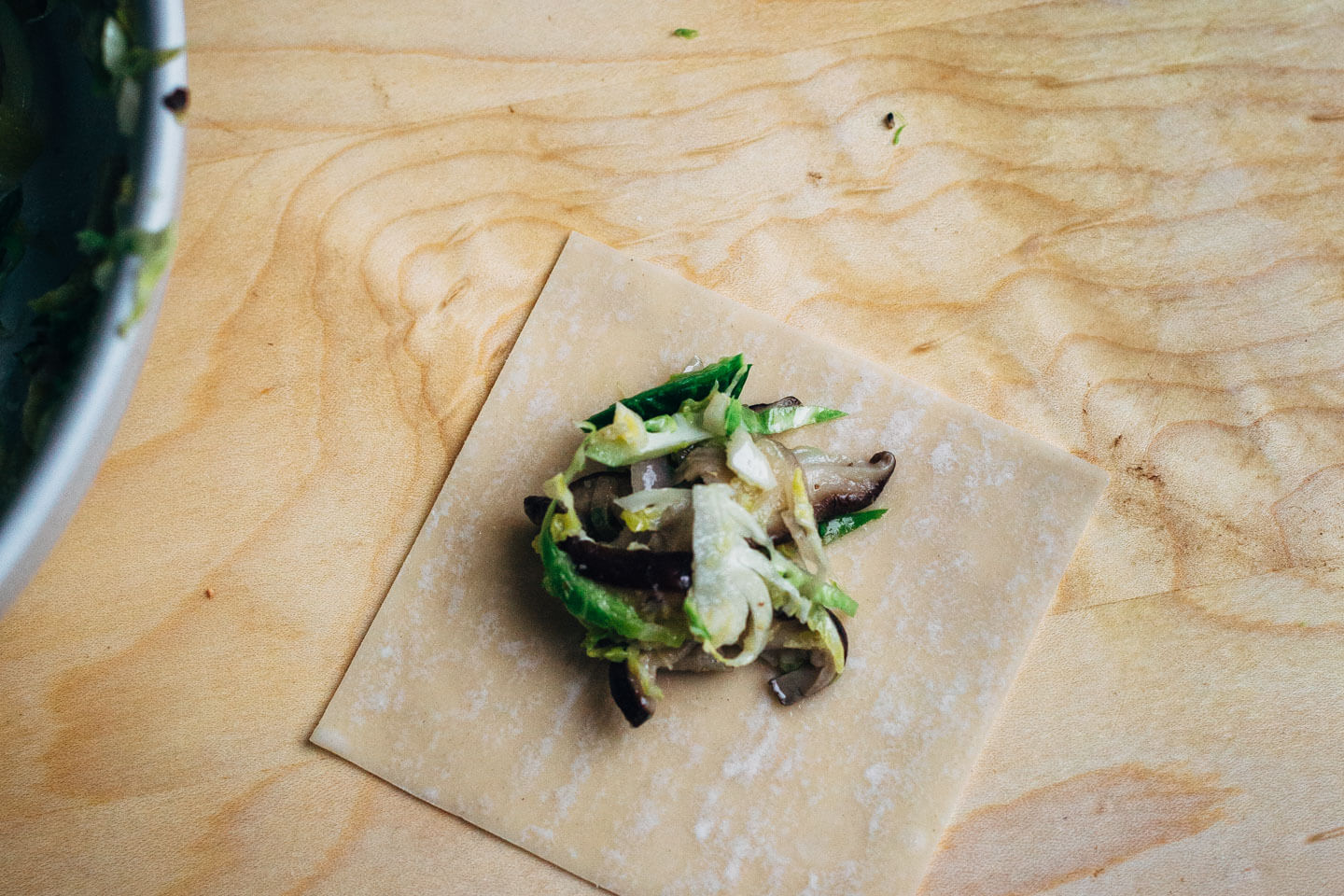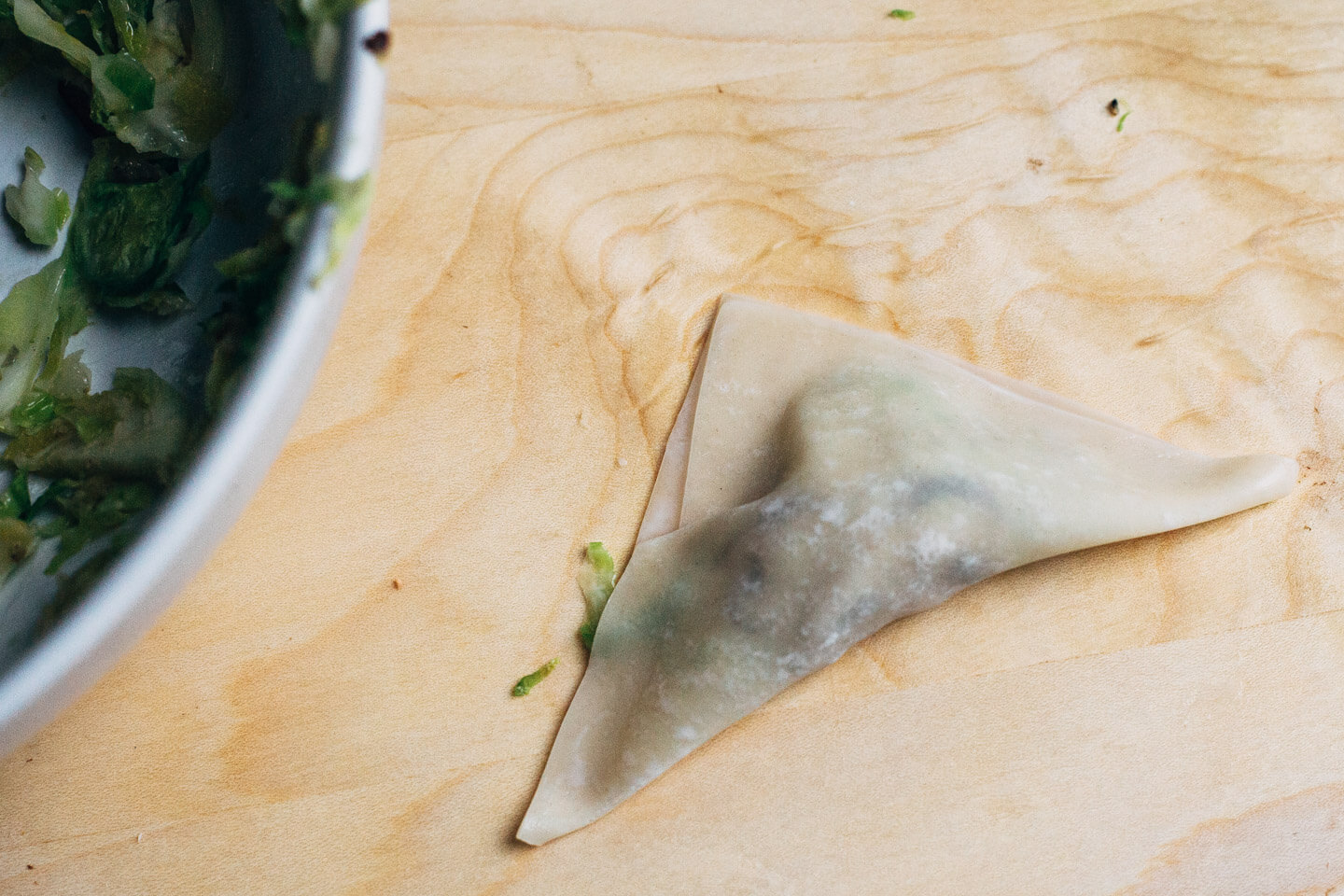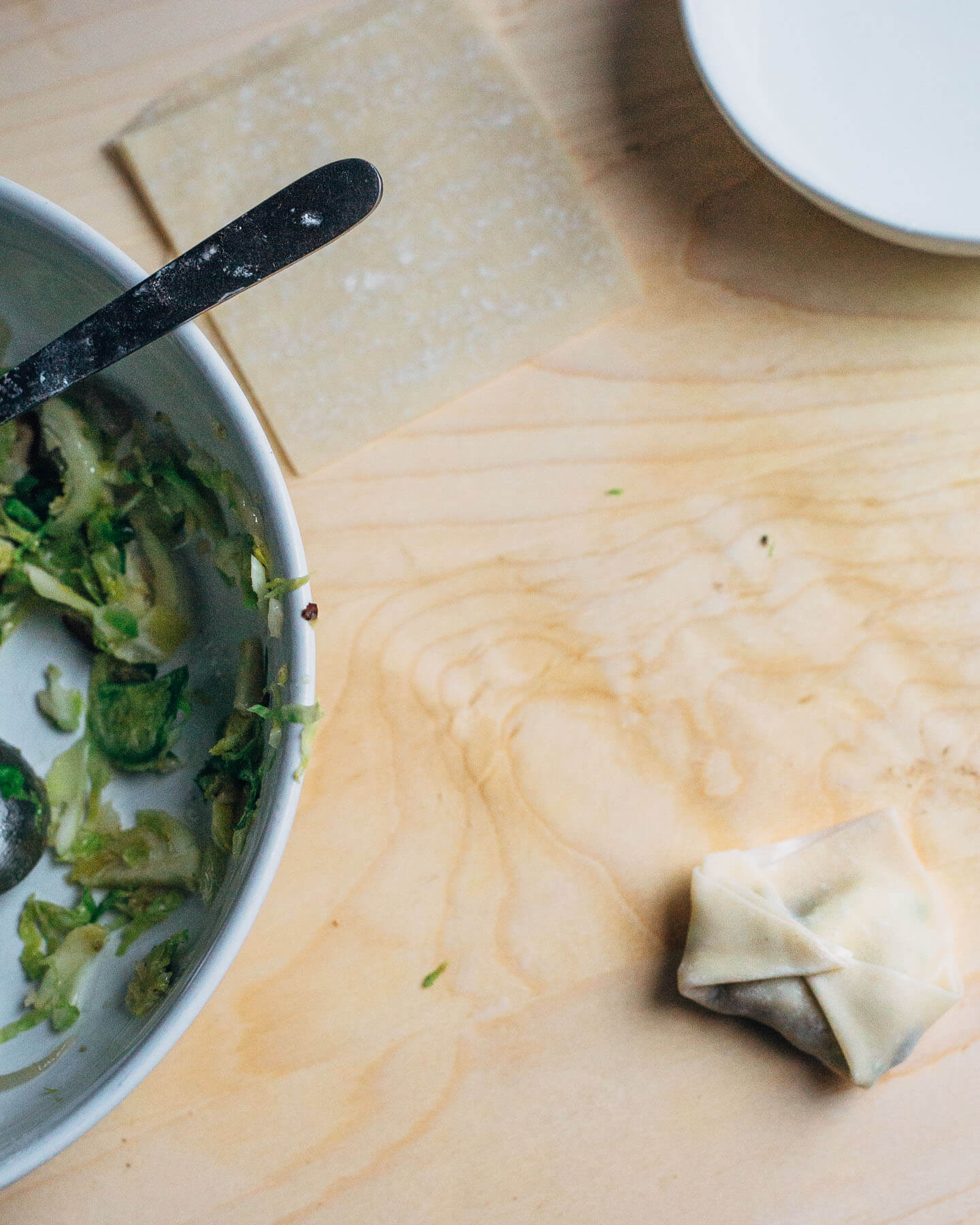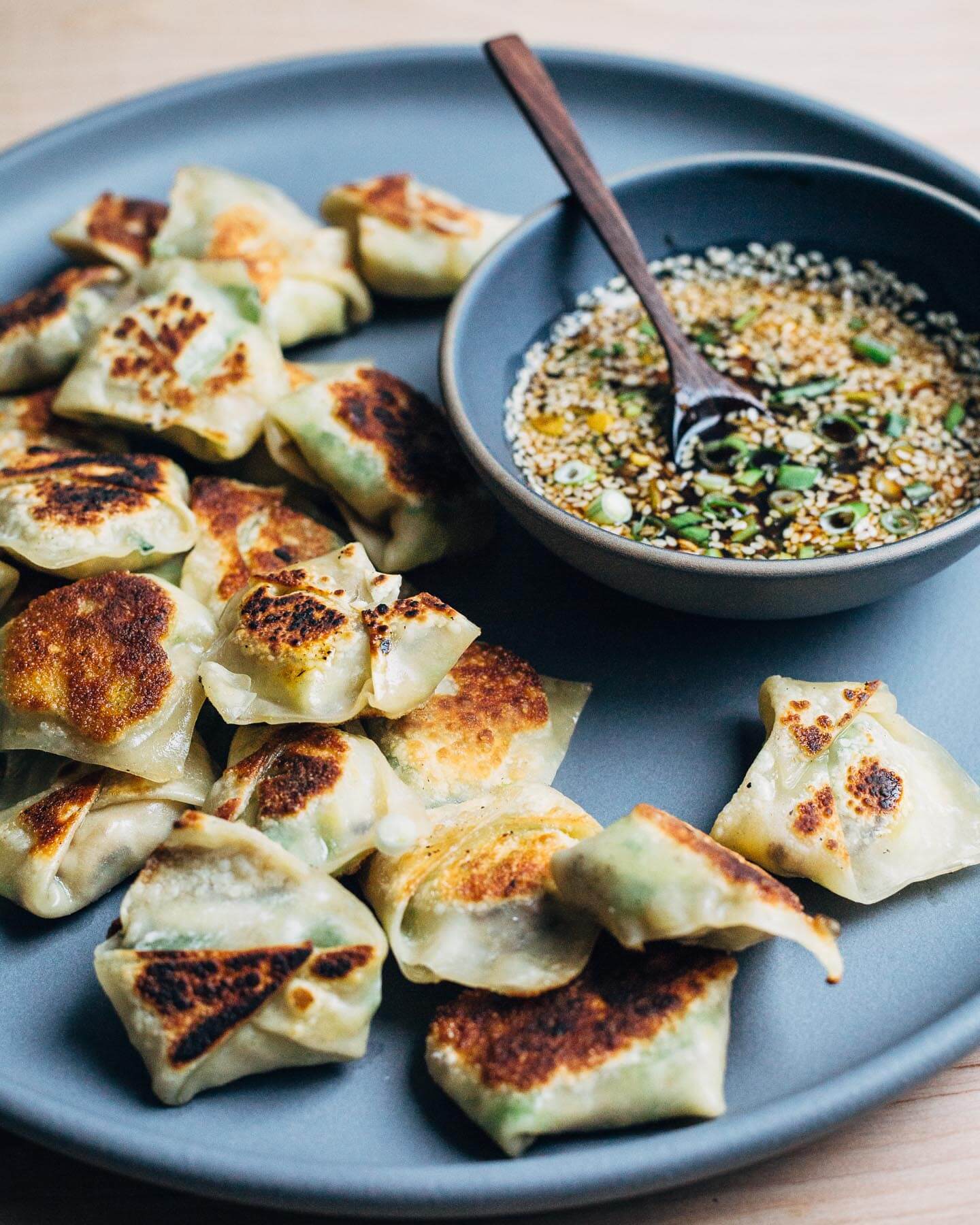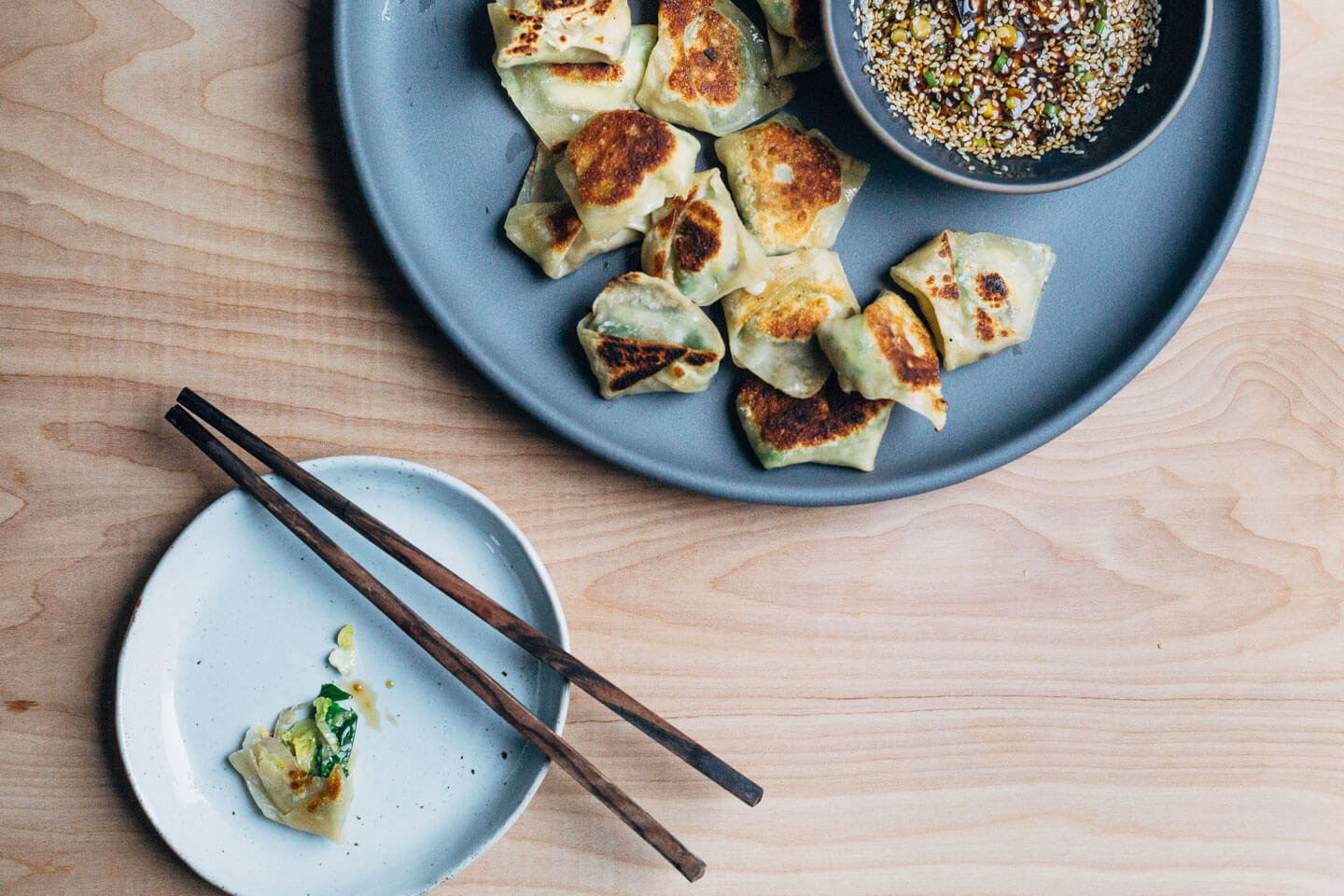 The pot sticker recipe comes from my friend Laura's The First Mess Cookbook, which is filled with just this kind of simple, good food. I'm actually understating things here – because her book is more than simple and good, it's restrained and vibrant, elegant and approachable. Quite seriously, it's one of the most beautiful, thoughtful cookbooks I've ever held. All the recipes in the book are vegan, but they come free of halos or paeans to clean eating. The focus is on honoring – and elevating – the ingredients through approachable techniques and succinct flavor pairings. Please don't make fun of me if I tell you that I literally got misty flipping through the pages. Laura's book is exceptionally, almost indescribably, soulful.
If your interest is piqued, and I really hope it is, I have good news. I'm giving away a copy! To enter to win a copy of The First Mess Cookbook, leave a comment below sharing a time that food added something more to a moment. It could be a flavor that popped, a memorable meal, or a scent that transported you. I love hearing your food stories, so I hope you'll share them below. Giveaway open to residents of the US and Canada.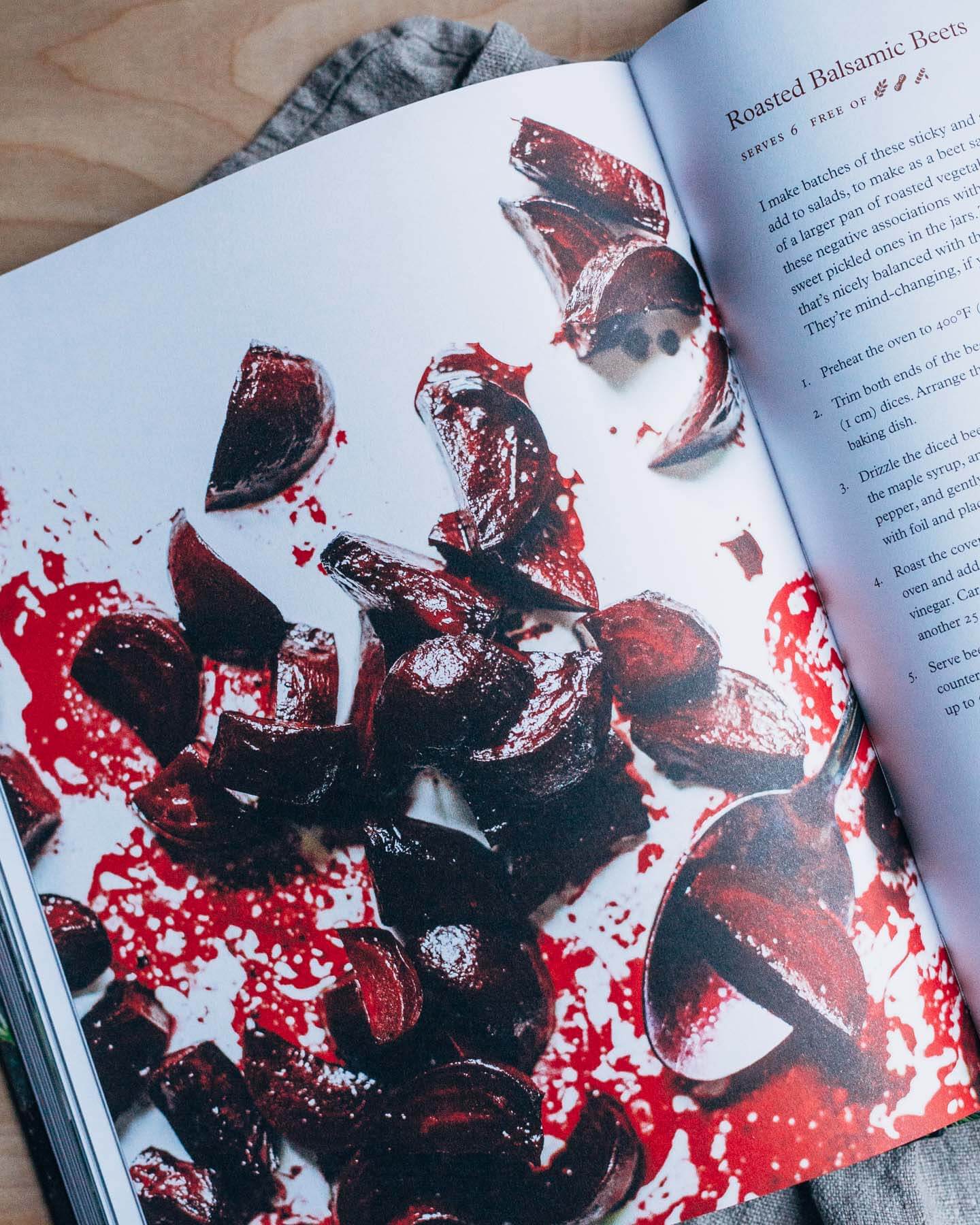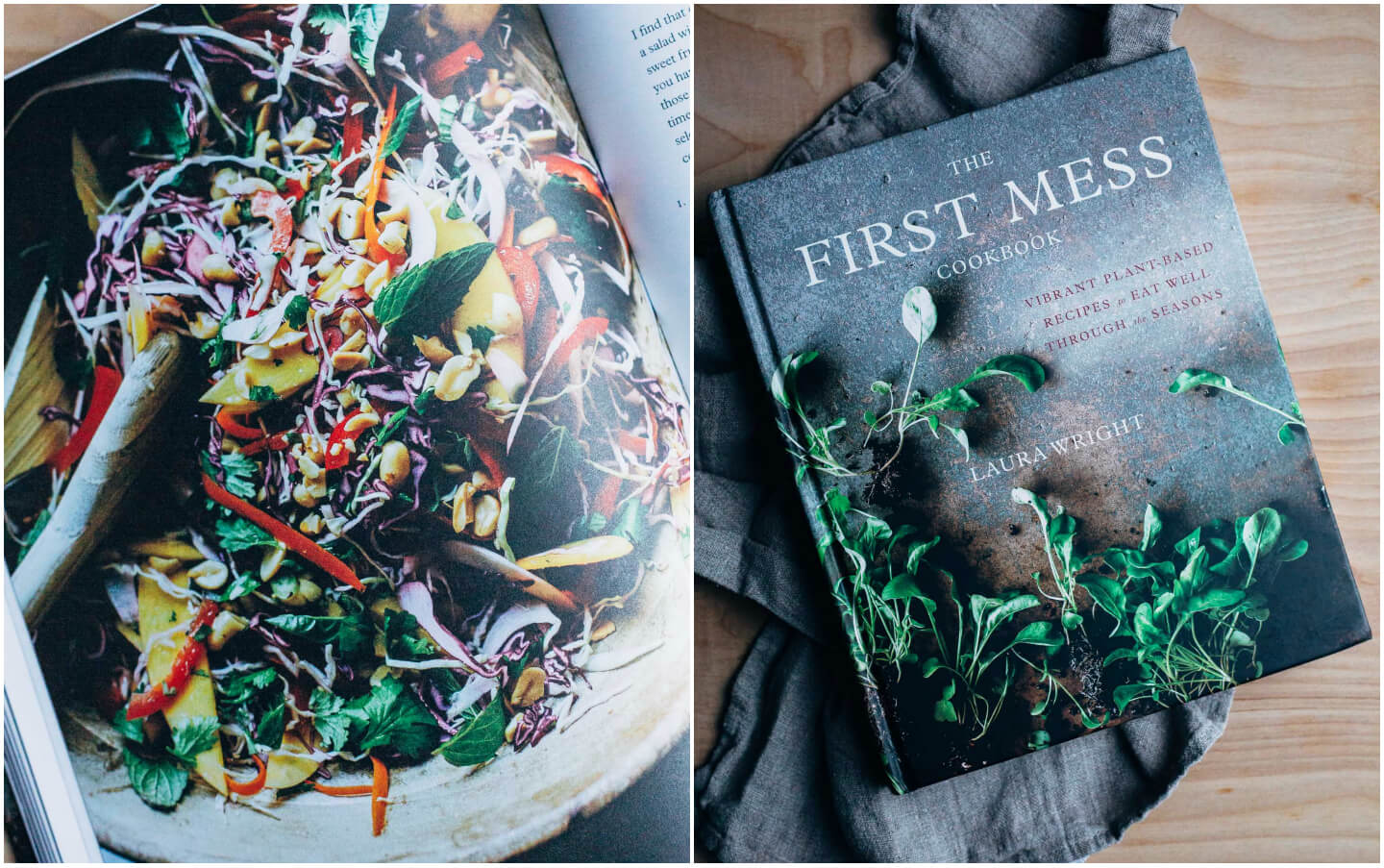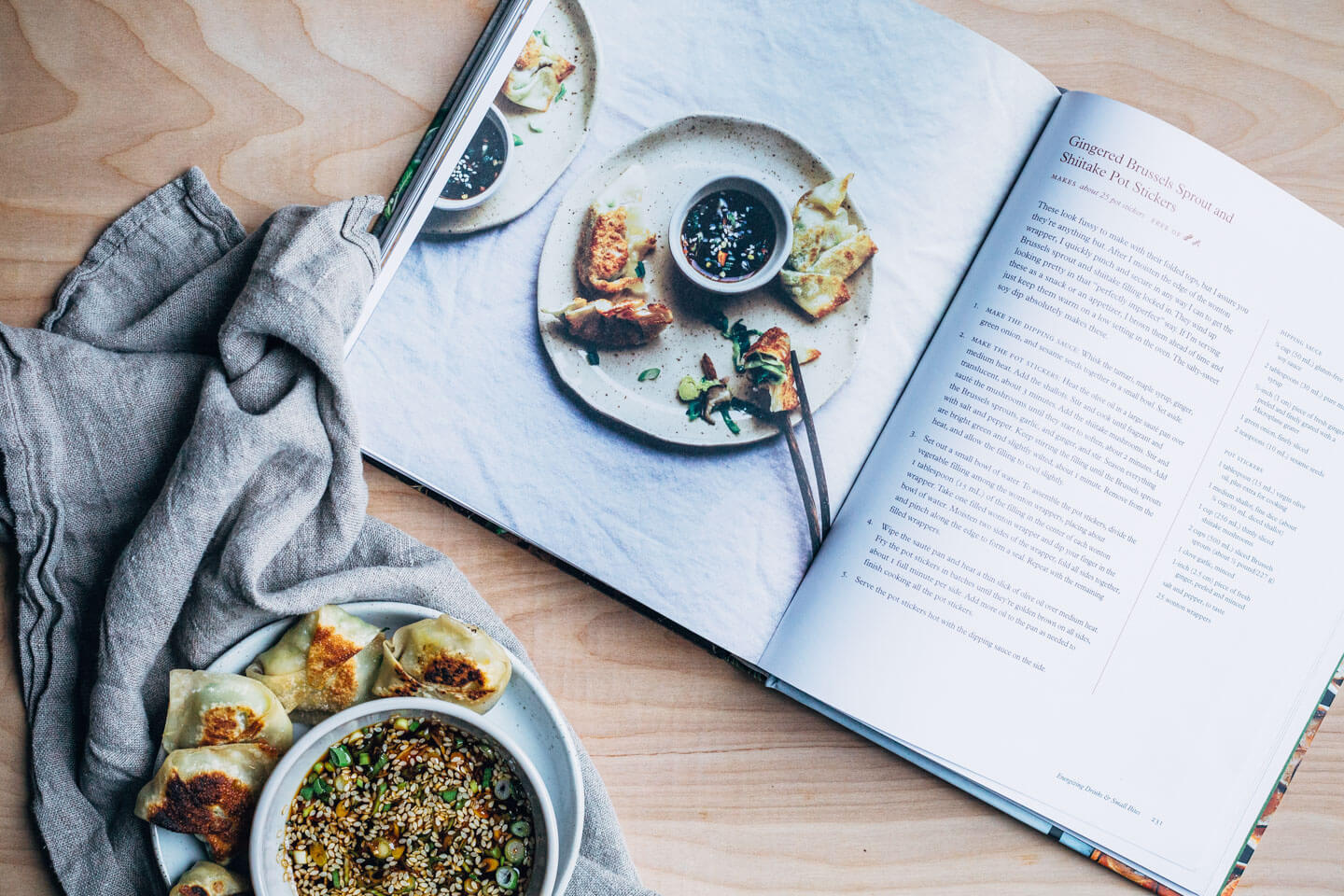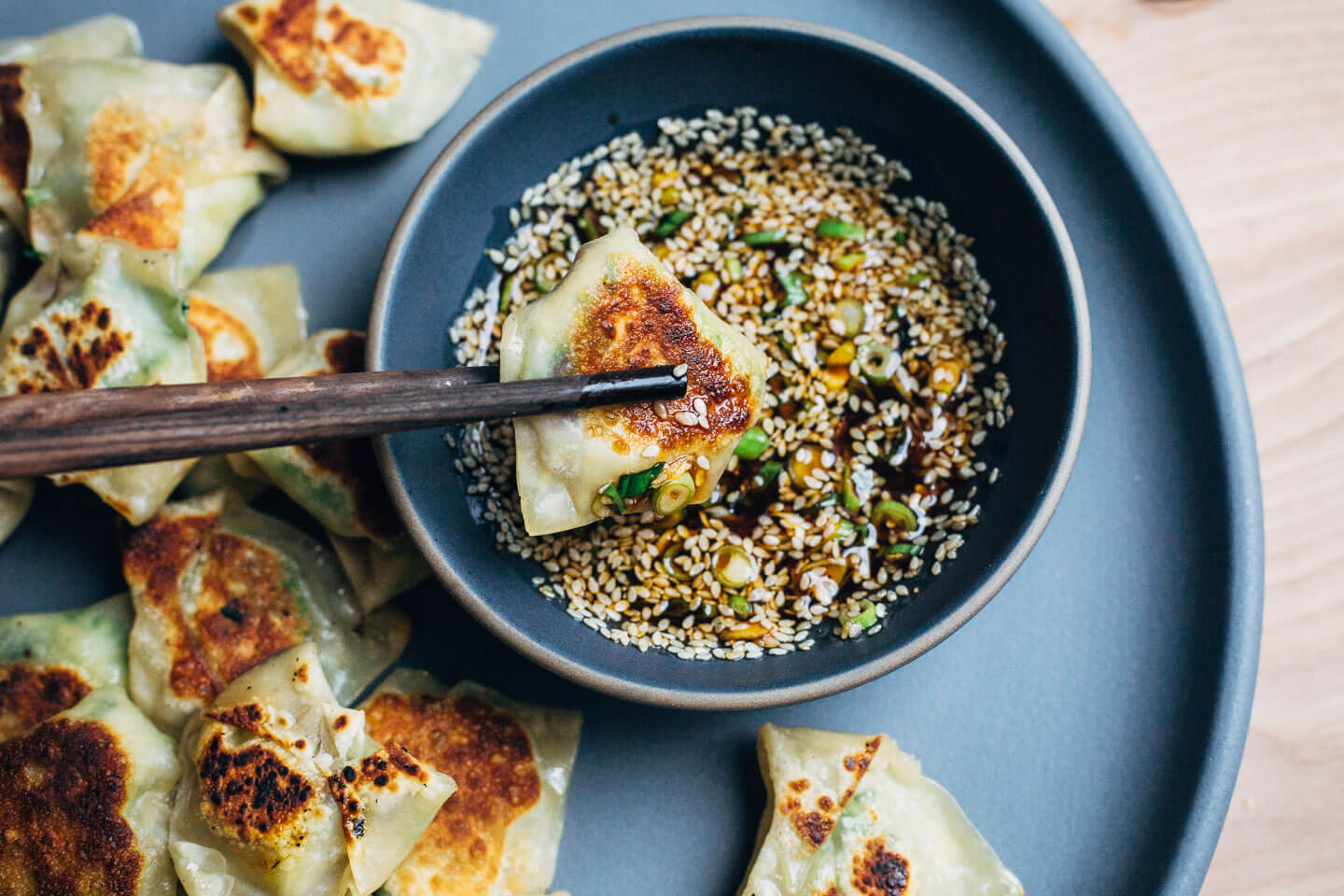 I love Laura's recipes and photography, but I also love her voice. Below, find the recipe just as it is in The First Mess Cookbook.
Print Recipe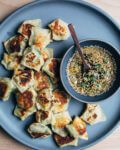 Gingered Brussels Sprout and Shiitake Pot Stickers from The First Mess Cookbook
These look fussy to make with their folded tops, but I assure you they're anything but. After I moisten the edge of the wonton wrapper, I quickly pinch and secure in any way I can to get the Brussels sprout and shiitake filling locked in. They wind up looking pretty in that "perfectly imperfect" way. If I'm serving these as a snack or an appetizer, I brown them ahead of time and just keep them warm on a low setting in the oven. The salty-sweet soy dip absolutely makes these.

Ingredients
Dipping Sauce
¼

cup

gluten-free tamari soy sauce

(50 mL)

2

tablespoons

pure maple syrup

(30 mL)

½-inch

piece of fresh ginger

(1 cm), peeled and finely grated with a Microplane grater

1

green onion

finely sliced

2

teaspoons

sesame seeds

(10 mL)
Pot Stickers
1

tablespoon

virgin olive oil

(15 mL), plus extra for cooking

1

medium shallot

(about ¼ cup/50 mL diced shallot, fine dice)

1

cup

thinly sliced shiitake mushrooms

(250 mL)

2

cups

sliced Brussels sprouts

(500 mL), about ½ pound/227 g

1

clove

garlic

minced

1-

inch

piece of fresh ginger

(2.5 cm), peeled and minced

salt and pepper

to taste

25

wonton wrappers
Instructions
Make the dipping sauce: Whisk the tamari, maple syrup, ginger, green onion, and sesame seeds together in a small bowl. Set aside.

Make the potstickers: Heat the olive oil in a large sauté pan over medium heat. Add the shallots. Stir and cook until fragrant and translucent, about 3 minutes. Add the shiitake mushrooms. Stir and sauté the mushrooms until they start to soften, about 2 minutes. Add the Brussels sprouts, garlic, and ginger, and stir. Season everything with salt and pepper. Keep stirring the filling until the Brussels sprouts are bright green and slightly wilted, about 1 minute. Remove from the heat, and allow the filling to cool slightly.

Set out a small bowl of water. To assemble the pot stickers, divide the vegetable filling among the wonton wrappers, placing about 1 tablespoon (15 mL) of the filling in the center of each wonton wrapper. Take one filled wonton wrapper and dip your finger in the bowl of water. Moisten two sides of the wrapper, fold all sides together, and pinch along the edge to form a seal. Repeat with the remaining filled wrappers.

Wipe the sauté pan and heat a thin slick of olive oil over medium heat. Fry the pot stickers in batches until they're golden brown on all sides, about 1 full minute per side. Add more oil to the pan as needed to finish cooking all the pot stickers.

Serve the pot stickers hot with the dipping sauce on the side.
Disclosure: A copy of The First Mess Cookbook was provided to me by the publisher, but all the gushing and love for this stunning book are entirely my own.