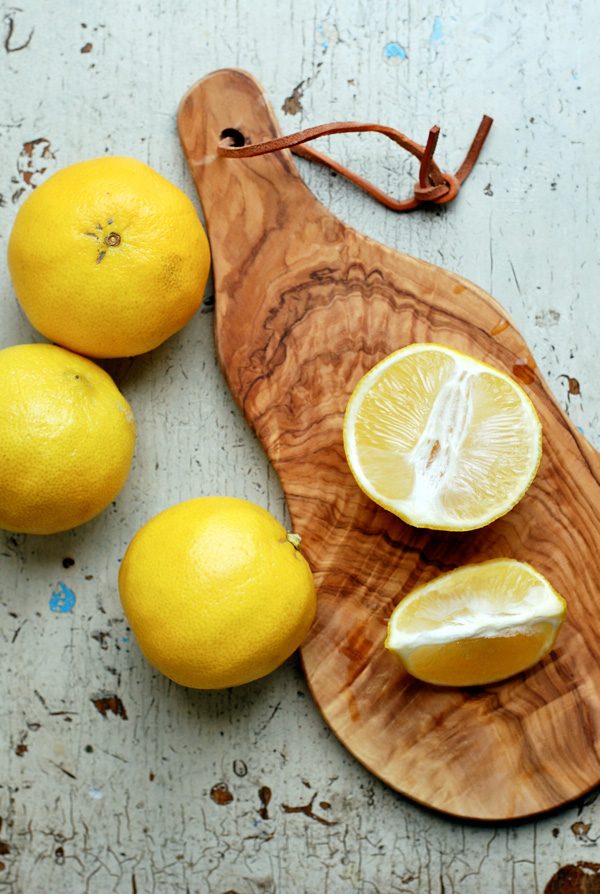 As I stumbled through the produce section of our neighborhood grocery store on a recent frigid morning, I was hunting, however groggily, for something special. And then, there they were, sweet limes.

Now, I can't say too much about how I thought they'd taste, but I deduced that they'd be sweet and taste like limes. After carefully zesting one, and then cutting out a segment, it was clear that sweet limes were something pretty special. Sweet yes, but lime? Not at all. One of the mildest citrus fruits I've had, these sweet limes were almost entirely without acid, and their sweetness was intense–almost honeyed. A contemplative bite for sure; and it was kind of wonderful thing, to mull over the flavors of a citrus segment in the quiet of the afternoon.
I proceeded to juice one, and created a simple vinaigrette with horseradish and sea salt, and then segmented and deseeded the rest of the sweet limes. Next up, I sautéed several handfuls of sliced Brussels sprouts, washed some spinach, and sliced an avocado. And there it was–the perfect home for the quietly honeyed limes. Savory Brussels sprouts lent a touch of bitterness, and each ingredient blended beautifully into this creamy, crunchy, bitter and sweet winter salad.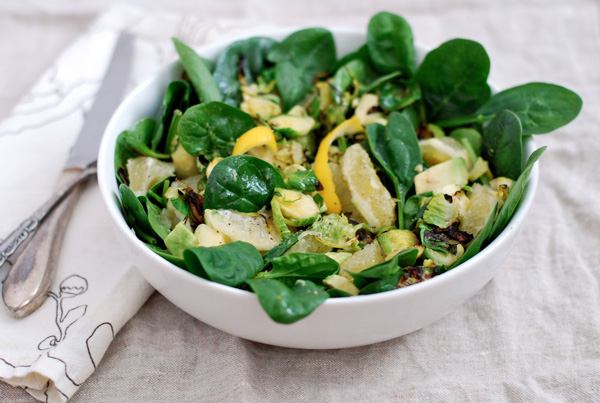 Brussels Sprout, Sweet Lime & Avocado Salad
for the sweet lime horseradish vinaigrette
1/4 cup olive oil
3 tablespoons fresh squeezed sweet lime juice
1 teaspoon apple cider vinegar
zest from 1 sweet lime
2 tablespoons prepared horseradish (I use Gold's)
1/4 teaspoon sea salt
Whisk the sweet lime juice and apple cider vinegar into the olive oil, and then slowly whisk in the remaining ingredients. Set aside while you prepare the salad.
for the salad
1 pound spinach, washed and dried
2 cups Brussels sprouts, stems trimmed and sliced thin
2 – 3 sweet limes, peeled, deseeded, and segmented
2 avocados, peeled and chopped
1 teaspoon olive oil
1/2 teaspoon sea salt
Place the spinach in a large salad bowl, and coat leave with about 2 tablespoons of dressing. Set aside.
Slice the sprouts and sprinkle with 1/2 teaspoon sea salt. Heat a medium-sized skillet over high heat. Add the olive oil to the skillet and then the sprouts. Sauté for 5 minutes, turning once or twice. Off the heat, and leave the spouts in the pan while you assemble the rest of the salad.
Tuck the lime segments and avocado slices into the spinach, and drizzle with more dressing. Add the sprouts, top with another slug of dressing, toss gently, finish with a pinch of sea salt and a grind of pepper, and serve.