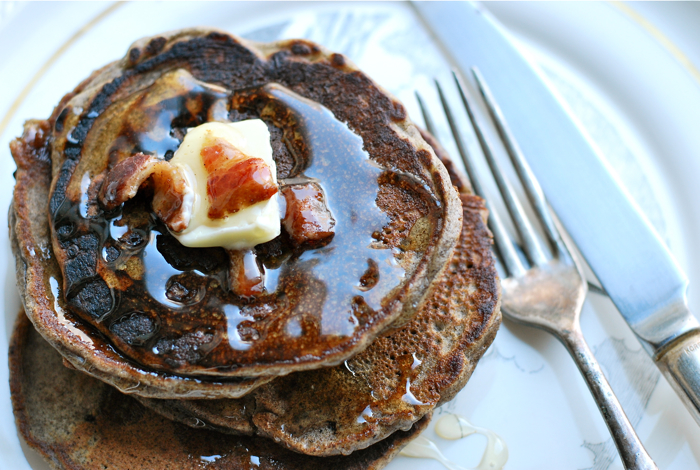 Bacon and buckwheat were an unlikely combination, but we were out of butter, and had some bacon, not to mention a few tablespoons of bacon grease I'd saved. Brian was the first to get behind the idea, and with just a little convincing I decided to give it a try. Turns out bacon and buckwheat should have teamed up long ago. The pancakes were surprisingly supple, light, balanced, and divinely sweet and savory–officially my new favorite breakfast.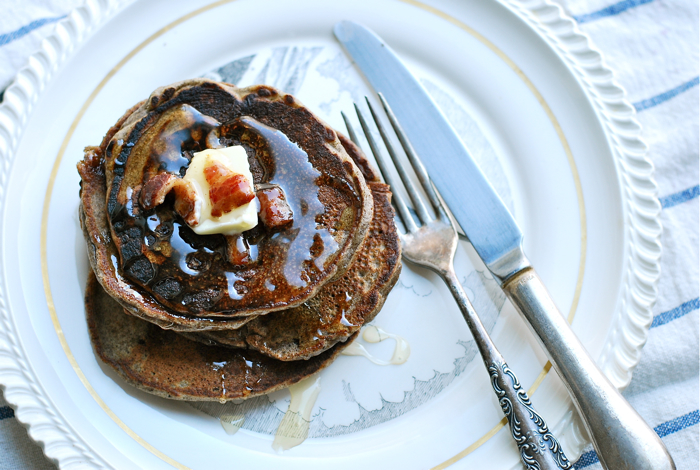 Buckwheat Pancakes with Brown Sugar and Bacon
1 1/4 cup all-purpose flour
1 cup buckwheat flour
1/4 cup brown sugar
1 1/2 teaspoons baking soda
1 teaspoon salt
1/4 cup bacon grease
2 eggs
2 1/2 cups buttermilk, or a mixture of 1 1/4 cup yogurt and 1 1/4 cup milk
3 strips bacon, cooked and diced
Cook the bacon until crisp and set aside. Once cool, dice.
Preheat your skillet or griddle over medium to medium-high heat.
In a large bowl, combine the all-purpose flour, buckwheat, sugar, baking soda, and salt.
In a small bowl, whisk the eggs into the bacon grease, and then add the buttermilk. Fold into the dry ingredients and stir. Fold in the bacon.
Grease the skillet with bacon grease, oil, or butter. Spoon in the pancake batter, and cook each side for 3 – 4 minutes, or until the pancakes are golden brown.
Keep cooked pancakes in a warm oven until ready to serve.
Serve with a drizzle of maple syrup.