A delicious buttermilk apple cake recipe studded with tender apples and topped with sugar and nutmeg.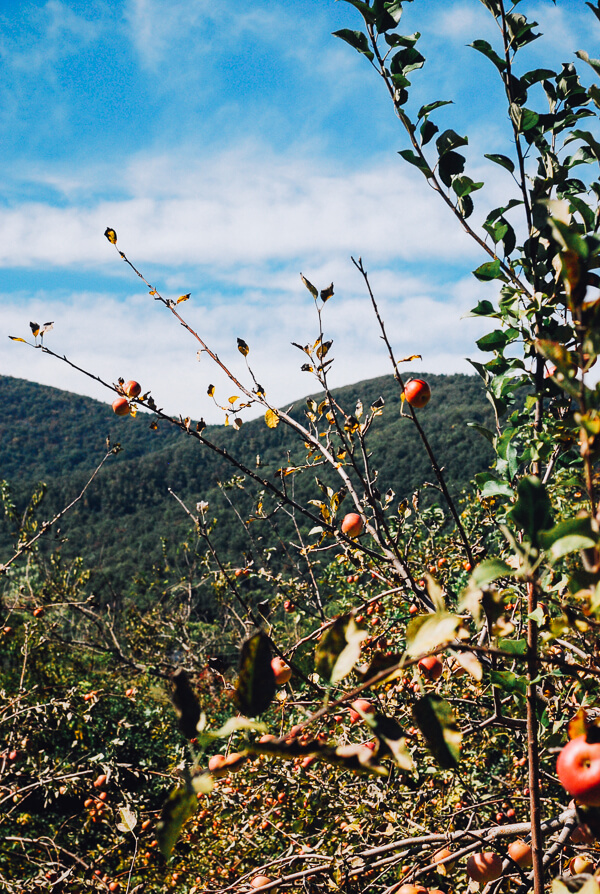 On Family Dynamics
Our family of four relies heavily on a delicate balance of personalities. Brian, whether by nature or force of will, is stoic and patient almost all of the time. I strive for the same, but most days just holding it together feels like an accomplishment. If there's one thing you don't have a lot of as a parent of two, it's space, both personal and mental, and I need a lot of it. I thought, now that our littlest one is in school five days a week, I'd have plenty of time to recharge and conquer the world, but it seems the more space I have, the more I need. Making up for lost time, no doubt. We had thought our girls each took after one of us – the oldest being sensitive and prone to the same types of high highs and low lows that her mother experiences. Until recently, our youngest seemed to have inherited her father's quiet introspection and mellow exterior. I say until recently because just a couple weeks after she turned three, something changed. All of a sudden, there were tantrums, as well the intense desires and a stubbornness that you might expect from any other toddler turned preschooler. We just really didn't think it would happen to us.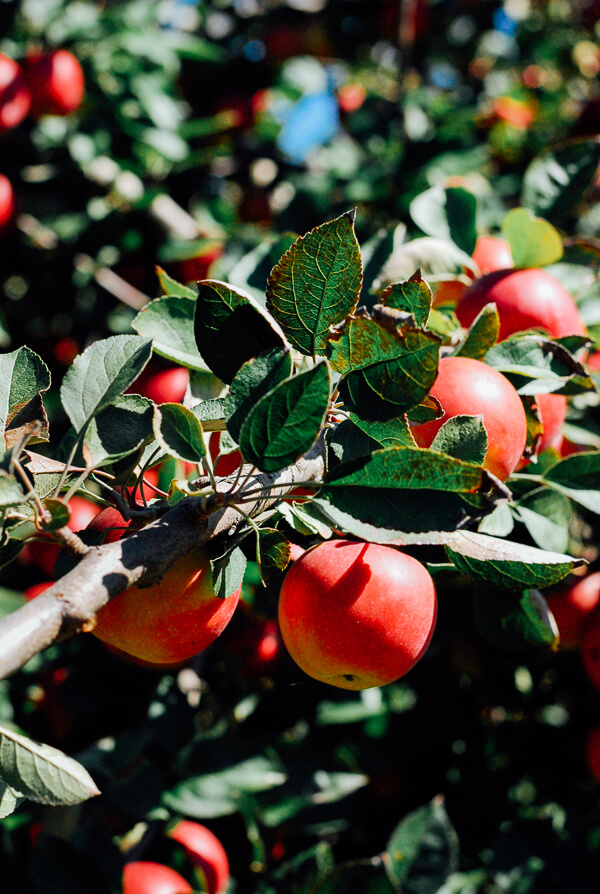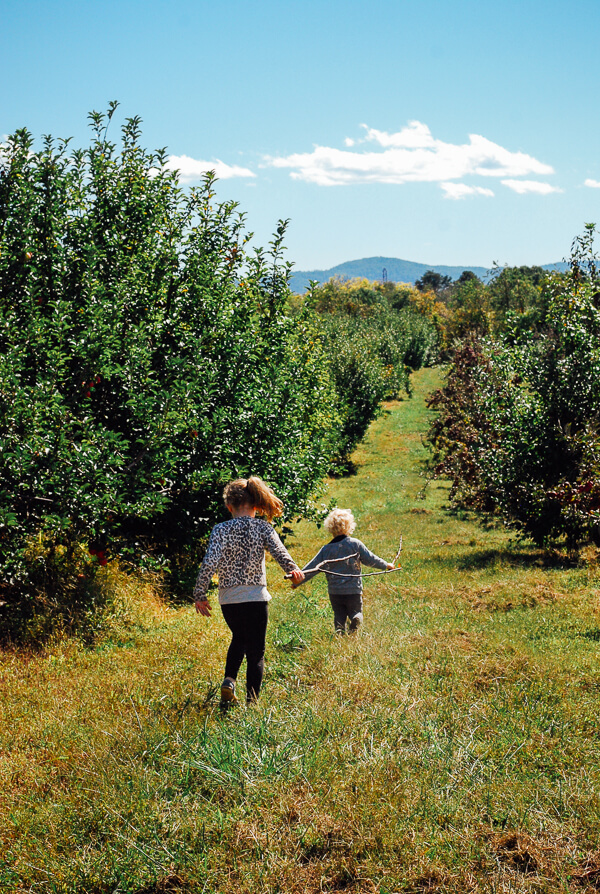 The shift has thrown off our familial personality balance, forcing me to suck it up and pretend to be competent when I'd rather just wallow in bed or wander off in the woods.
Apple Picking
A few weeks back, we went apple picking. When you pack up the car and drive far from home with the idea of doing something fun, the kids know. They know you've got skin in the game, and that this is their chance to throw fits and be awful, and that you probably won't turn the car around and they'll even have an apple cider donut by the end of the day. Our ride turned into one of those events and it sucked.
But I wanted my autumnal experience, beasts in the backseat or no, and so we trudged on. After everything I said in this post, you may or may not be surprised to learn that I'm actually fanatical about where my family goes to pick apples, and seeking out a low spray or organic orchard is important (because, you know, I don't want my kids frolicking in a pesticide-laced meadow). So we headed toward the mountains for Henley's Orchard, a low-spray family farm in operation since the 1930s. We pulled into a roadside stand to speak with the proprietor, a kind man with a gentle Virginia accent. We selected two pecks and got directions to the orchard. (You heard that right – we drove to the orchard and then drove back to the stand afterwards to pay for the apples.) Our oldest was bordering on monstrous by this point, and I bailed and went wandering among the apple trees using photography as my excuse. I meandered through the trees and eventually I got the shots I wanted, while Brian restored the girls with a quick picnic in the way-back of the station wagon. And in the end, we even got a little autumn idyll, even if just for a few moments.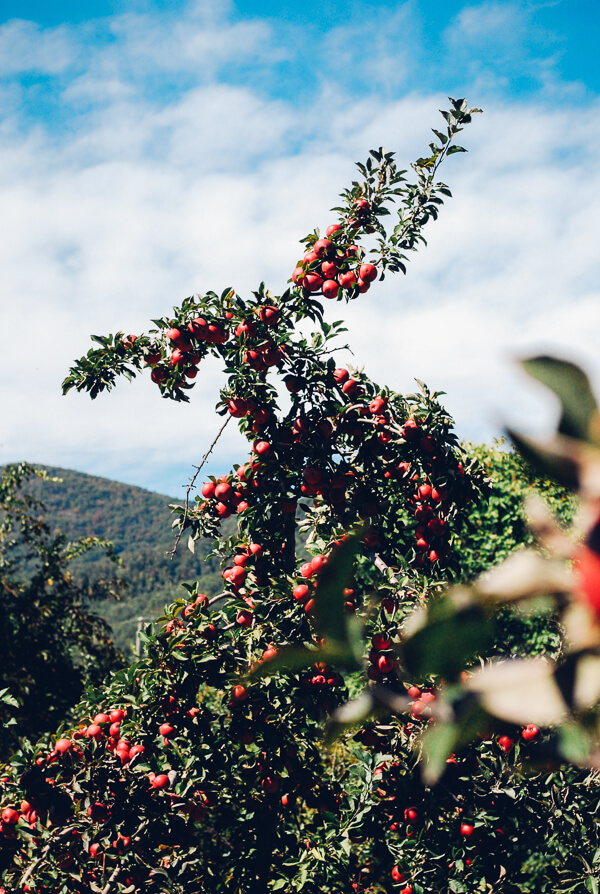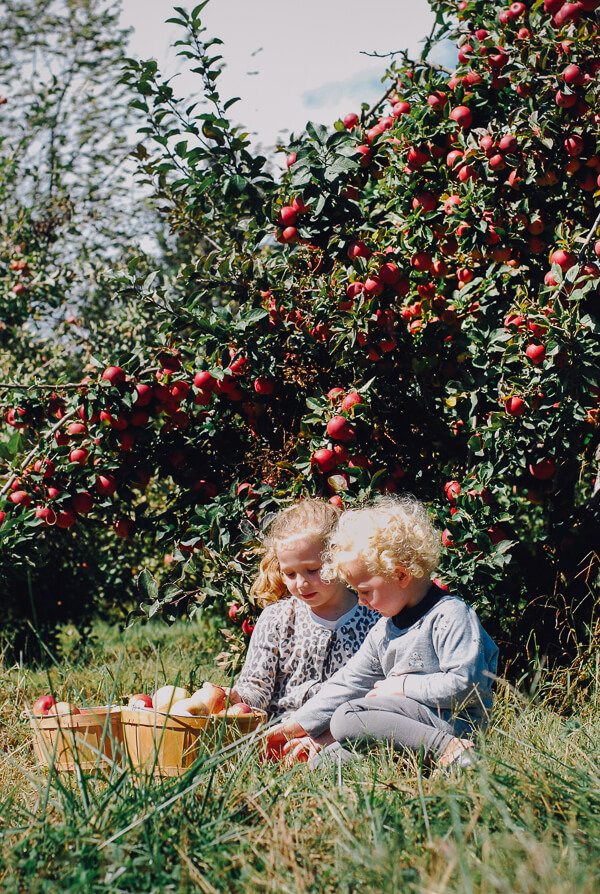 What to Do with Your Apple Orchard Haul
Two pecks, it turns out, is a lot of apples. Slowly, we've been making our way through a mix of small but flavorful Winesaps and bright Honeycrisps. We've put up more than a few pints of roasted apple butter and I'm still planning on a traditional apple pie, but this buttermilk apple cake has proven to be the perfect way to enjoy our haul.
I found the recipe on Leite's Culinaria, which features a trove of fantastic, meticulously tested recipes. Even better, the recipe was authored by none other than the Canal House Cooking team, Melissa and Christopher. With all their accolades, I had always thought Canal House was fancy – too fancy for a home cook like me. But at this year's Big Harvest Potluck, I had the chance to meet them and learn more about their special brand of simple, well-crafted food and spare, beautiful imagery. They were kind enough to host a workshop on conveying a personal vision with photographs, and this picture of a Honeycrisp apple was part of our assignment. And so it feels full circle and right to be sharing my take on their buttermilk apple cake recipe here today.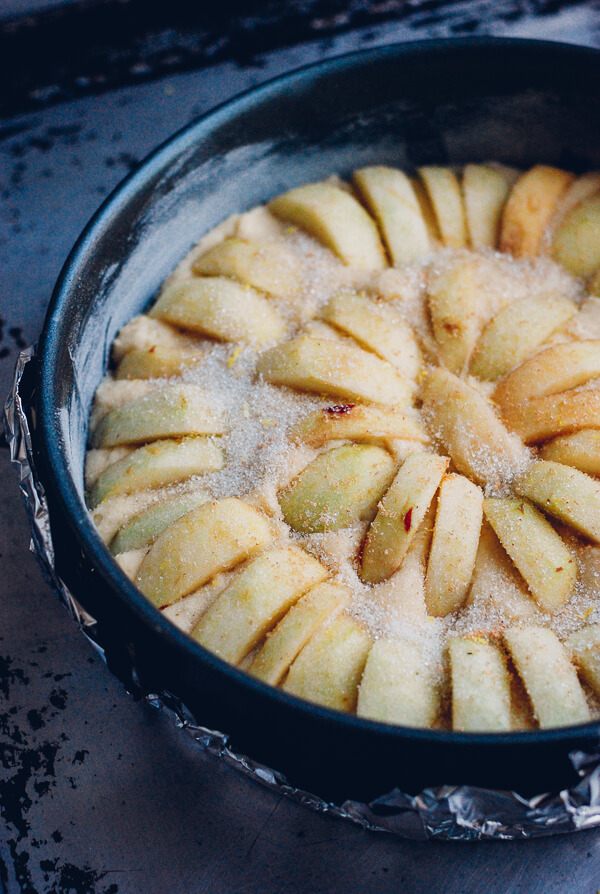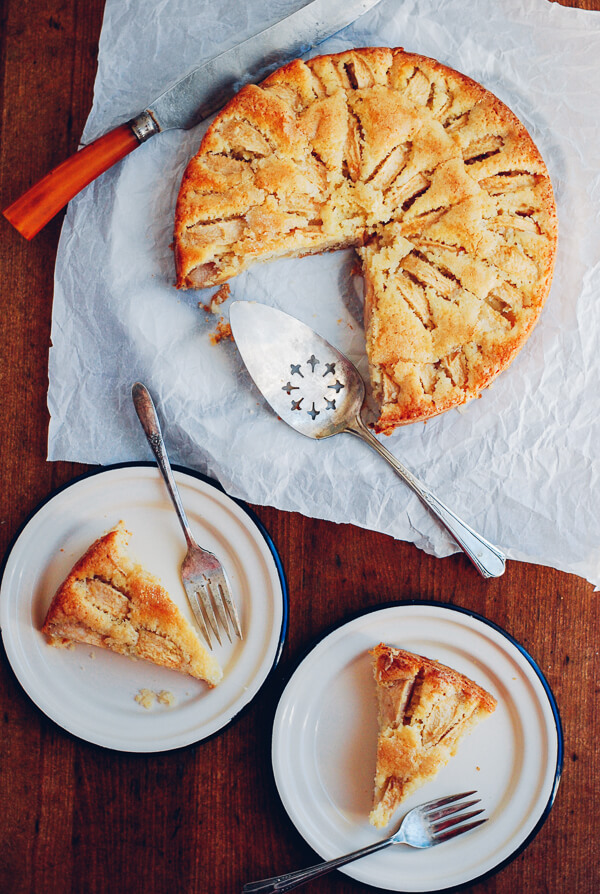 Buttermilk Apple Cake
This pretty buttermilk apple cake has a moist crumb studded with generous hunks of apple that finish with the perfect amount of bite. It's piled high with lemon zest and for extra tangy punch I went with a good slog of buttermilk. These bright notes suffuse the cake beautifully, making for a showpiece that's also really down home and good. Though I'd steer clear of muddying spices like cinnamon, a few grates of fresh nutmeg lend appropriately autumnal vibes.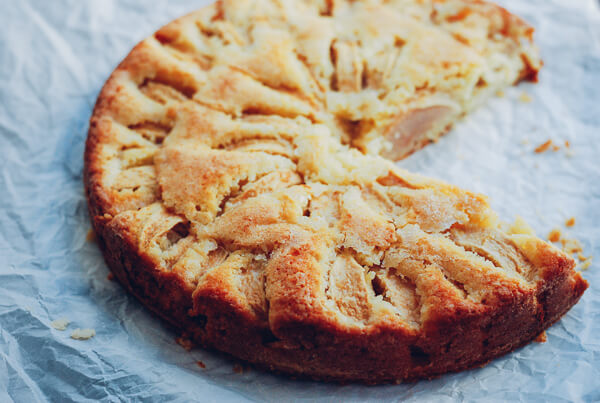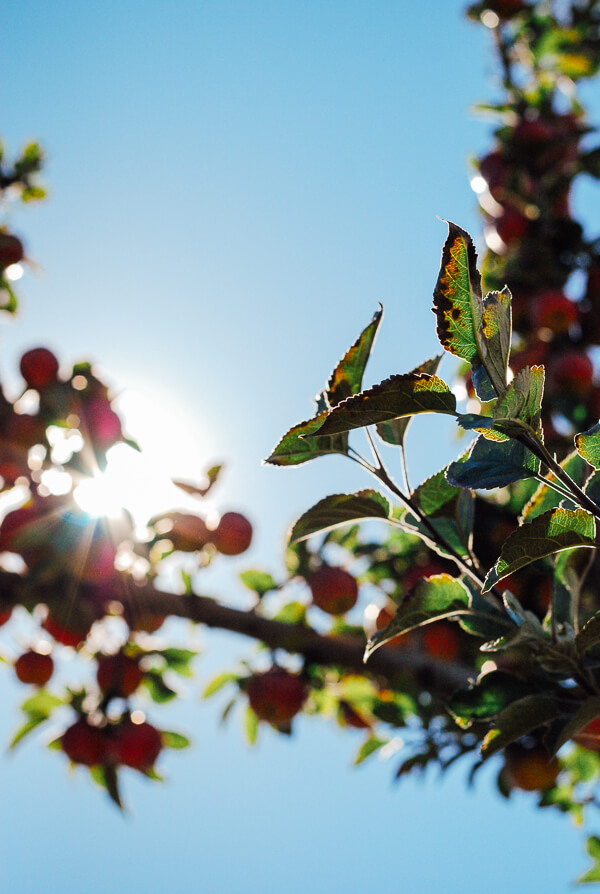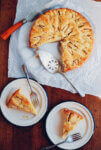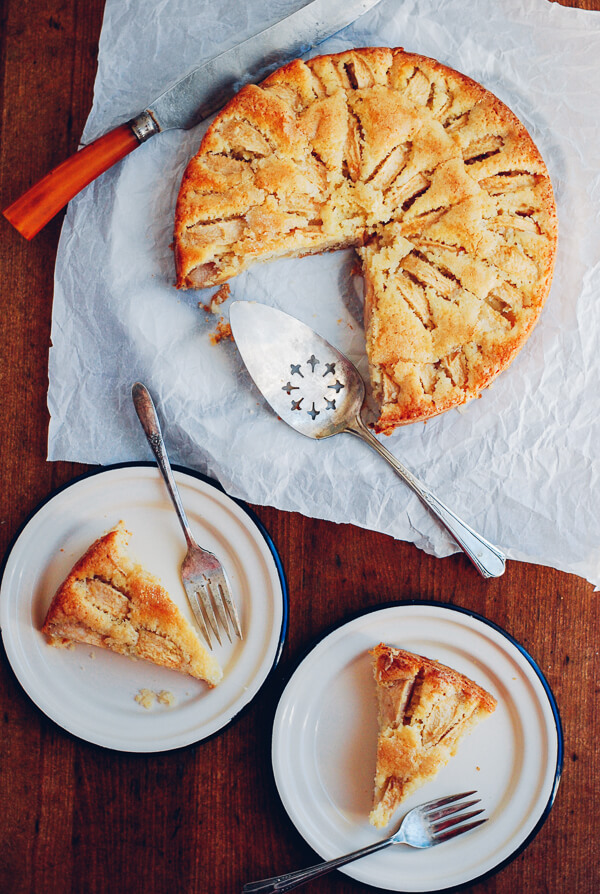 Buttermilk Apple Cake
Ingredients
6

tablespoons

unsalted butter

, room temperature

3/4

cup

turbinado sugar

, plus 2 tablespoons for topping

1

egg

, room temperature

1

teaspoon

vanilla extract

1 1/2

cups

all-purpose flour

2

teaspoons

baking powder

1/4

teaspoon

sea salt

1/4

teaspoon

freshly grated nutmeg

, plus more for topping

1/2

cup

buttermilk

grated zest of 2 large lemons

4

small Winesap apples

, peeled, cored, and cut into 1/2-inch thick slices
Instructions
Preheat oven to 350 degrees F. Liberally grease and flour a 9-inch springform cake pan.

Using a stand mixer fitted with the paddle attachment or hand held beaters, beat butter on medium speed until light and airy. Add 3/4 cup sugar, and continue beating until everything is pale and fluffy. Stop mixer as needed to scrape down sides. Switch mixer back on, and add the egg, followed by the vanilla.

Meanwhile, in a medium bowl, use a fork to combine flour, baking powder, sea salt, and nutmeg.

Switch mixer to low and add half the flour mixture, followed by all the buttermilk, and then the second half of the flour mixture. Add zest and mix on low just until combined.

Spoon batter into prepared pan. Arrange apple slices in a circle along the outer edge of the pan, so that slices are set straight down onto batter. Create a star pattern inside the circle, and add one final slice at the very center. Sprinkle top with 2 tablespoons sugar and several grates of nutmeg.

Place on a rimmed baking sheet and slide into oven. Bake for 50 - 60 minutes, or until the top is a light golden brown and a toothpick inserted in the center comes out with just a few crumbs attached.

Set cake aside to cool for a few minutes, then remove the springform side and allow to cool completely.
SaveSave