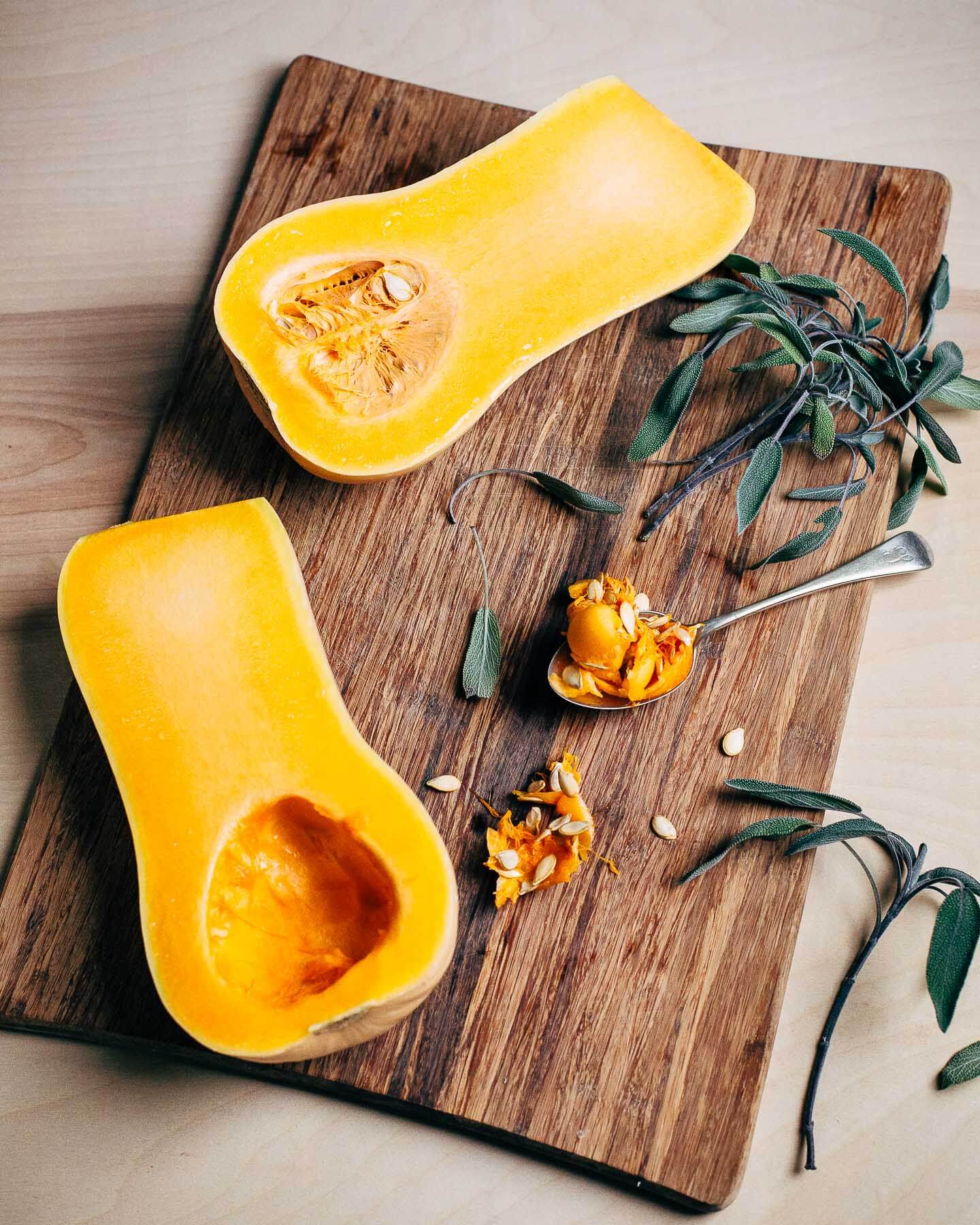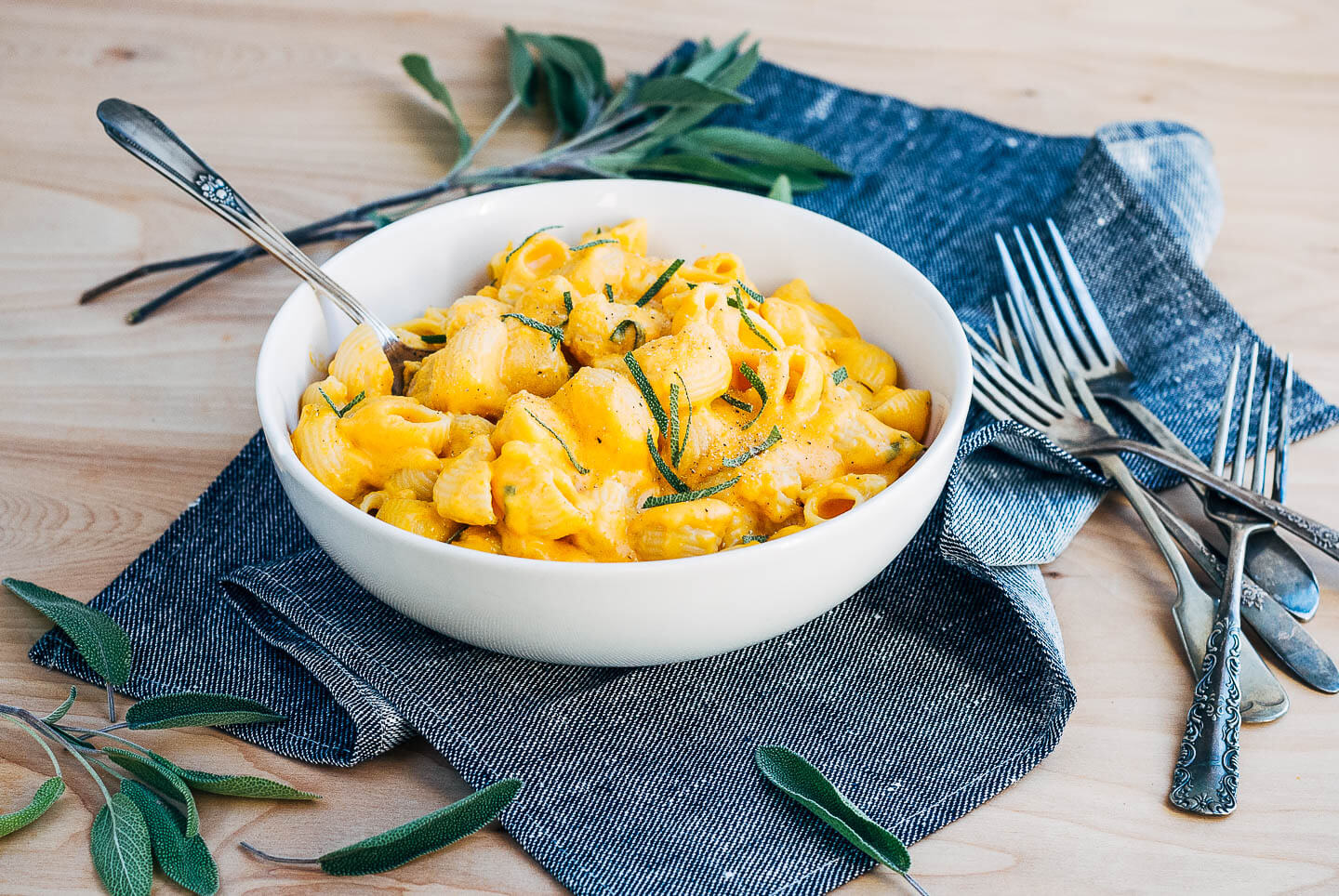 This creamy stovetop butternut squash and beer mac and cheese contrasts the sweetness of butternut squash with the pleasant bite of IPA beer. Jump to recipe. 
Swirls of ice speckled my windshield this morning. It was hard to leave the house, but I bundled up my littlest and drove her to school. As we crunched over the frozen earth, breathing in the crisp air tinged with the comforting smell of wood smoke, I conceded that frosty days have their charms. But I still prefer to enjoy those charms from inside my cozy kitchen, preferably with the coffee I make as soon as I'm home. But today, the bitter cold has me dreaming of mac and cheese. If ever there were mac and cheese weather, it's now.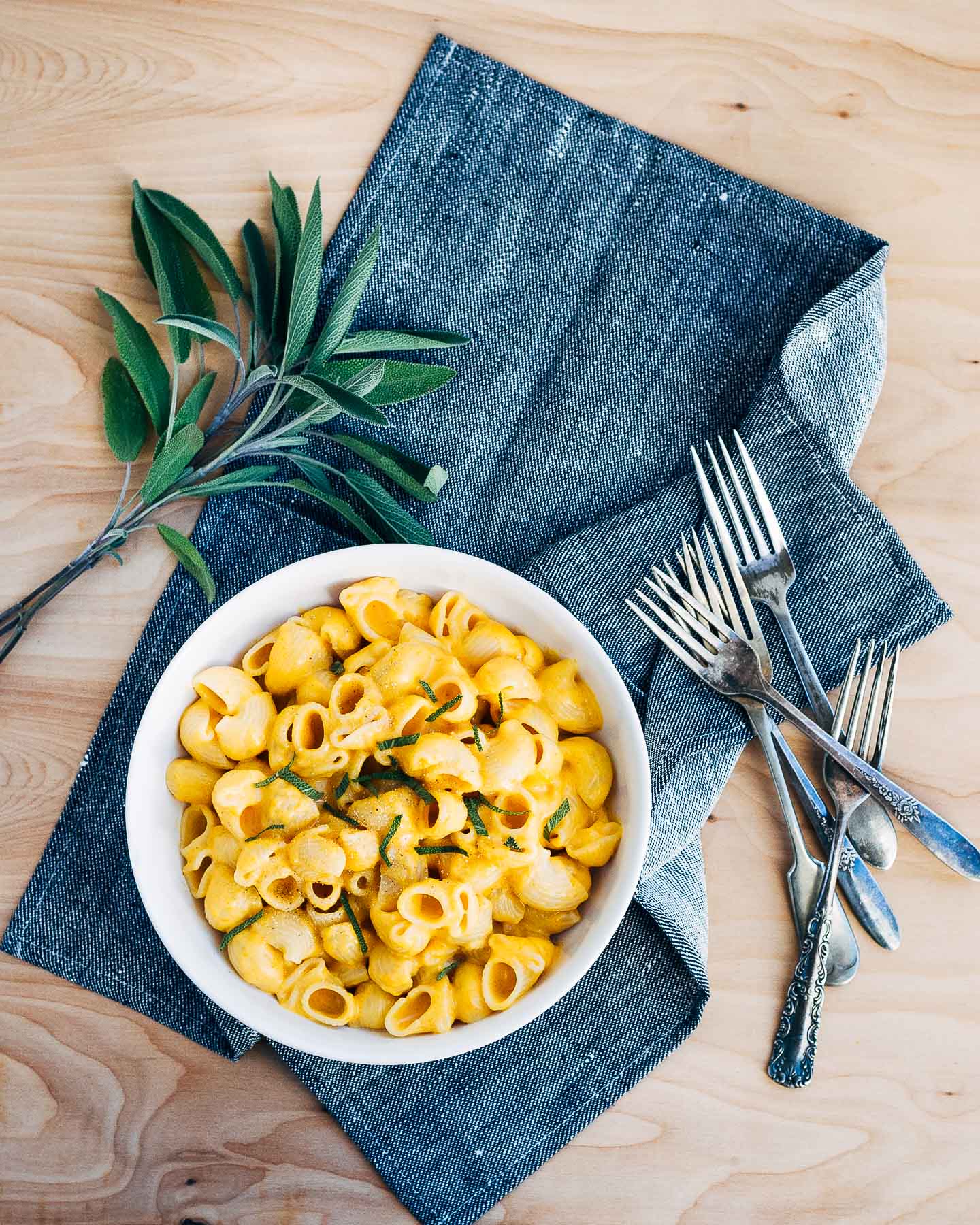 I've got a new favorite mac and cheese recipe. It's a stovetop mac made with sharp Wisconsin cheddar, and swirled with roasted butternut squash puree and a generous pour of IPA beer. It's topped with fresh sage and lots of flavorful white pepper. The flavor is complex and wonderful – the sweetness of the squash balanced beautifully by the tang of cheddar and the IPA's bite.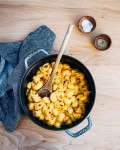 Butternut Squash and Beer Mac and Cheese
This creamy stovetop cheddar mac and cheese contrasts the sweetness of butternut squash with the pleasant bite of IPA beer.
Ingredients
1

butternut squash

small or medium

2

tablespoons

olive oil

1

pound

conchiglie pasta

2

tablespoons

unsalted butter

2

tablespoons

flour

Sea salt to taste

white pepper

freshly ground to taste

3/4

cup

half and half

2

cups

8 ounces Wisconsin sharp cheddar cheese, shredded

1/2

cup

4 ounces beer, IPA or Pilsner

2

sage leaves

freshly sliced in thin strips
Instructions
Heat oven to 400°F.

Quarter and seed squash; Brush squash pieces with olive oil and place cut side down on rimmed baking sheet.

Pour 1/4 cup water over baking sheet and cover tightly with foil.

Roast 40 - 45 minutes or until squash is tender and mashes easily with a fork. Scoop mashed squash out of its skin and set aside.

Bring large pot of salted water to boil. Cook pasta to al dente. Drain and set aside.

Melt butter in large saucepan over medium heat. Whisk in flour, adding pinch of sea salt and pinch of pepper. Reduce heat to medium-low. Whisk in half and half, 1 tablespoon at a time.

Stir until mixture has thickened; whisk in beer and cheddar until smooth and creamy. Fold in 1 cup mashed squash.

Mix in reserved pasta and adjust salt to taste. Finish with a few sage strips and pinch of freshly ground white pepper.
SaveSave
SaveSave
SaveSave
SaveSave