Created in partnership with Emmi USA, this autumnal butternut squash gratin is made with a mix of Emmi Emmentaler and Gruyere cheeses, fresh thyme, and bay leaves. This hearty gratin is perfect as part of a cozy fall supper or as a Thanksgiving side.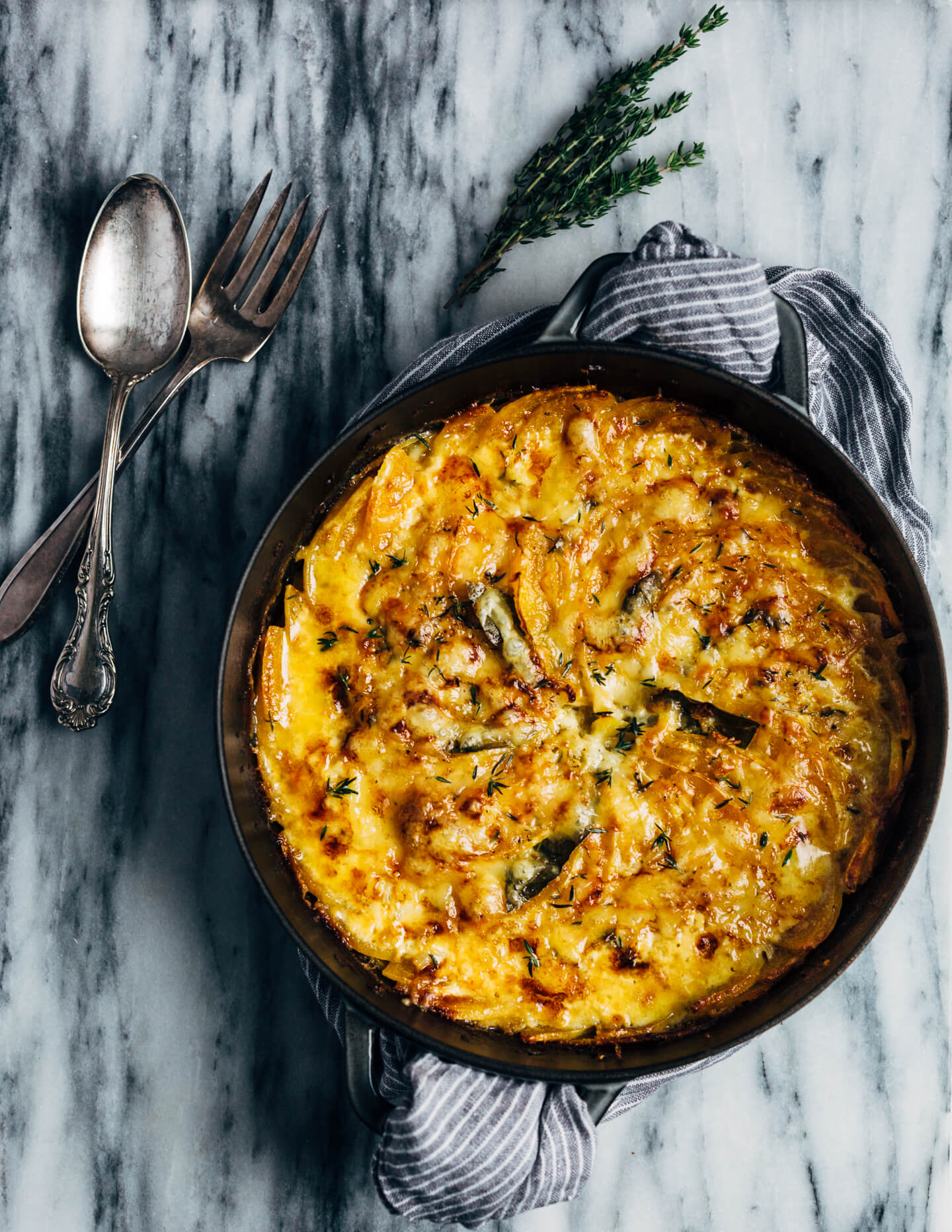 This butternut squash gratin took a while to perfect. Early into testing, I was dead set on introducing as much complexity as I could. Caramelized onions! Sautéed squash! Three different cooking methods! I think I was tired of the endless summer heat, so I tried to conjure fall on my stovetop.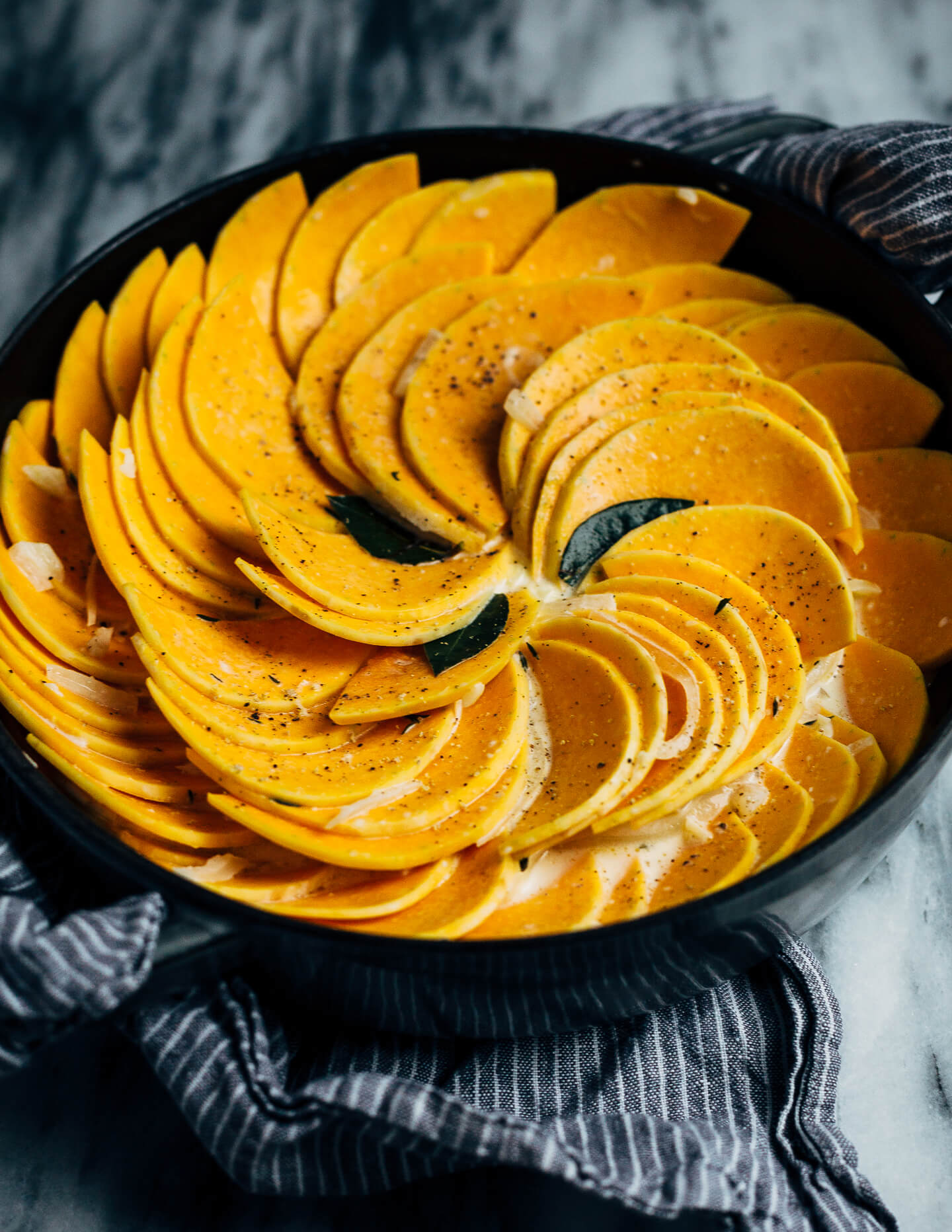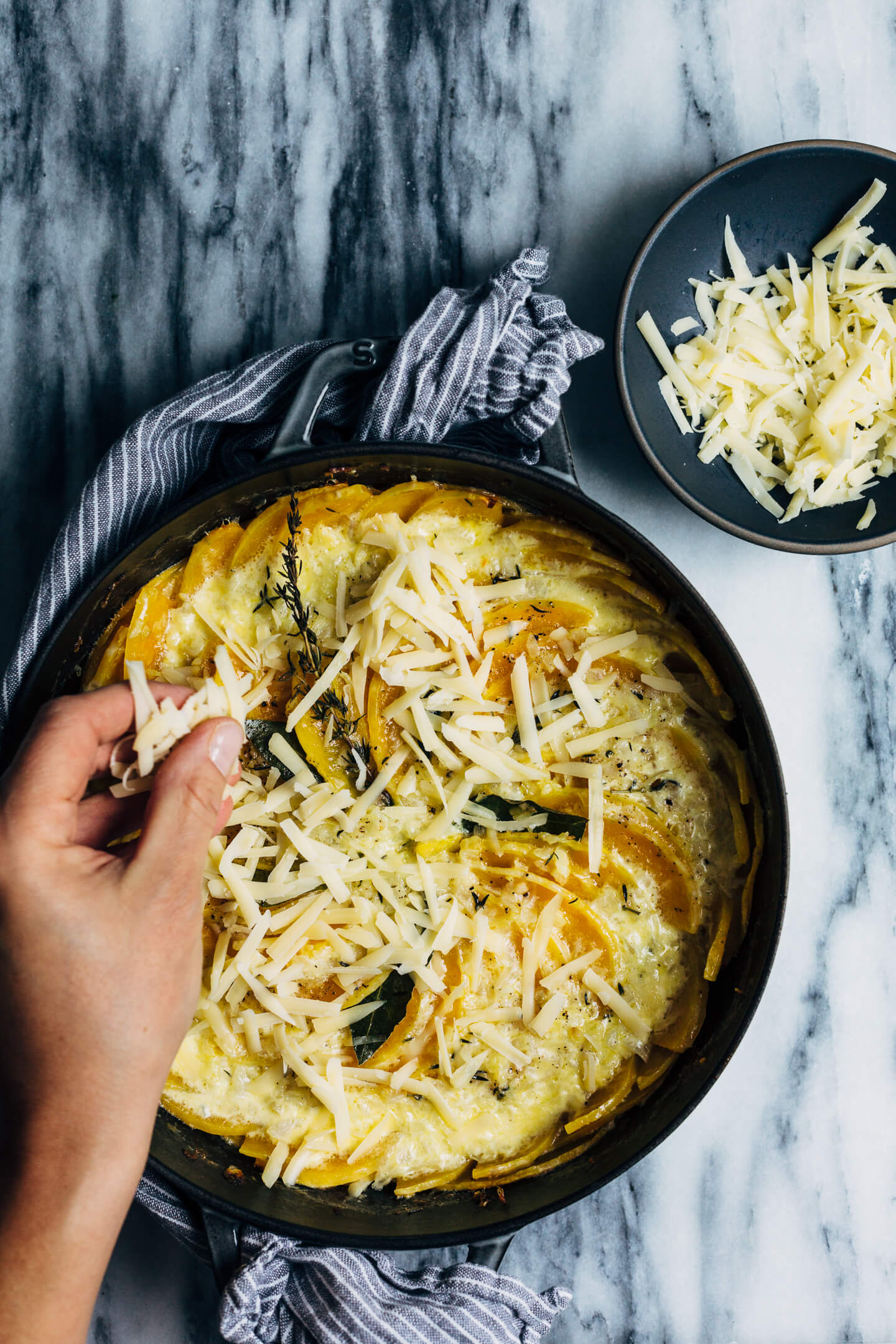 But in all the cooking and fussing, I missed something key about fall cooking: complex flavor can be simple to achieve. So I stripped the recipe down to its most essential layers and arrived at a butternut squash gratin recipe that's as comforting and rich and delicious as a fall casserole should be, but much easier to make.
No matter the season, the key to cooking simply is starting with the best ingredients. Here, that meant a well-cured butternut squash, a sweet yellow onion, fresh thyme and bay leaves, and a mix of Emmi USA Emmentaler AOP and Le Gruyere AOP cheeses. In a recipe that pairs sweet butternut squash with nutty, creamy cheese, it's important to get the balance right. Here, a bit of Gruyere lends savory depth without overwhelming the dish, while creamy Emmentaler carries the fragrant thyme and bay beautifully.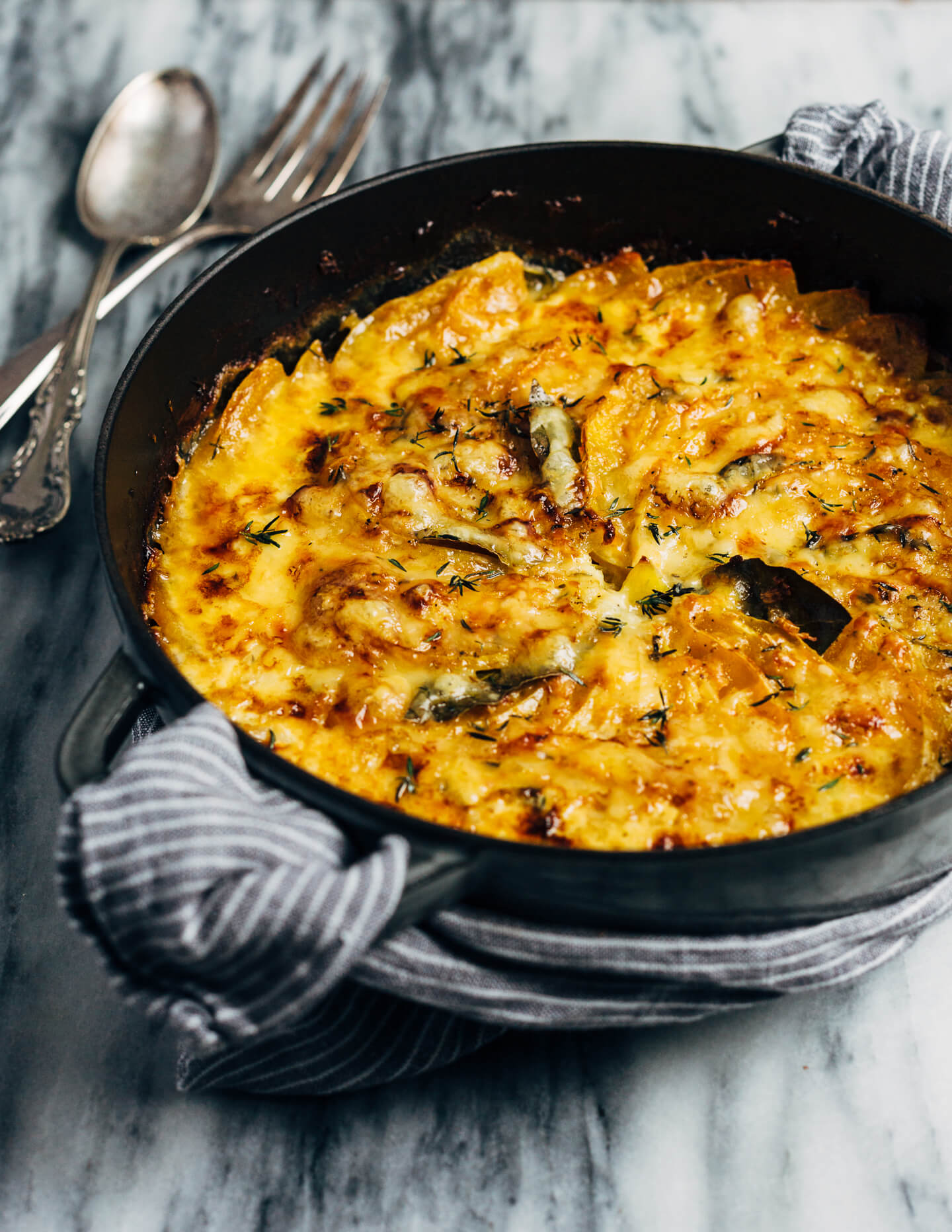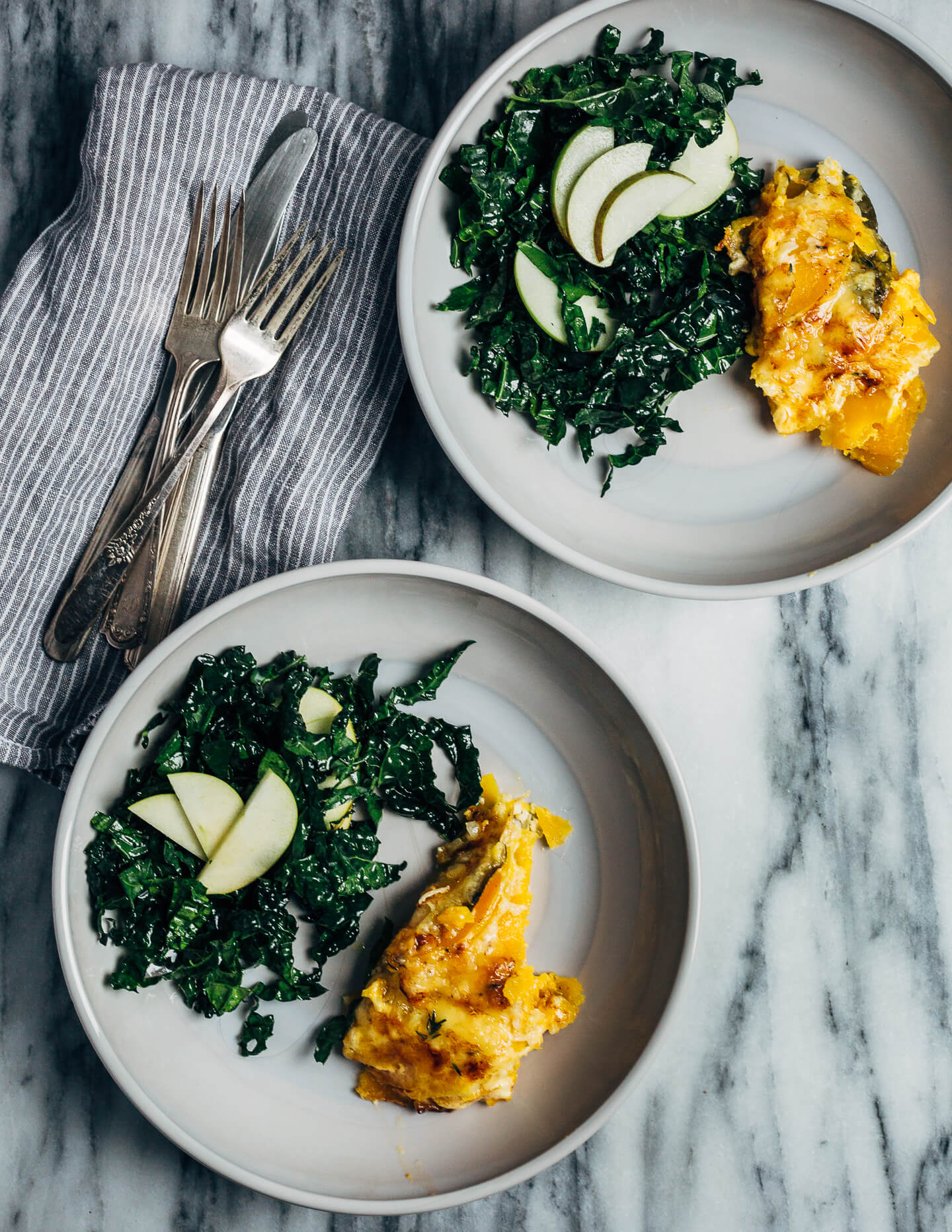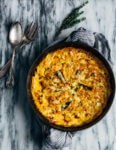 Butternut Squash Gratin
An autumnal butternut squash gratin recipe made with a mix of
Emmi USA Emmentaler
and
Gruyere
cheeses and fresh thyme and bay leaves.
This recipe would absolutely be at home on the Thanksgiving table, but I'd also like to make the case for butternut squash gratin as a weeknight alternative to mac and cheese. Serve with a lemony, slightly bracing green salad and you have a complete meal.
Ingredients
1

tablespoon

unsalted butter

1

medium butternut squash

(about 2 pounds), stem trimmed and peeled

1

cup

heavy cream

1/2

yellow onion,

minced (about 3/4 cup)

4

cloves

garlic,

smashed, peeled and minced

4

sprigs fresh thyme,

plus more for finishing

4

bay leaves,

preferably fresh

1

teaspoon

sea salt

1/2

teaspoon

fresh ground pepper

3

ounces

Emmi USA Emmentaler,

shredded

2

ounces

Emmi USA Gruyere,

shredded
Instructions
Preheat oven to 400 degrees F. Grease a 3-quart round or oval casserole dish with butter; set aside.

Pour cream into a medium saucepan and set over medium heat. Stir in onion, garlic, thyme sprigs, bay, sea salt, and pepper. Stirring often, cook until mixture starts to steam. Turn heat to low and steep, stirring occasionally, for 15 minutes. Remove from heat. Fish bay leaves and thyme from cream mixture and reserve. Add Emmentaler and stir until smooth.

Meanwhile, prep the squash. Halve squash lengthwise. Scoop seeds from the base. Cut squash into even half moons about 1/8-inch thick, ideally with a mandoline slicer. If using a knife, work carefully to keep things thin and even.

Layer squash in the prepared casserole. Place arch-shaped slices from the base of the squash on the bottom and sides of the dish. Then, using two-thirds of the slices, pick up 6 - 8 of the half moon shaped slices at a time and fan them out in a circle along the edge, using the arch-shaped base pieces to prop them up. Carefully spoon in half of the cream mixture. Fan remaining squash in a circle in the center of the casserole. Tuck reserved bay leaves between squash slices. Carefully spoon remaining cream mixture over top.

Cover, either with a lid or tightly fitting foil. Bake 30 minutes.

Remove from oven, remove lid or foil, scatter Gruyere on top, and bake another 25 - 30 minutes or until cheese is a rich golden brown hue and quite bubbly.

Cool 10 minutes. Garnish with fresh thyme leaves, slice, and serve.