A bright winter salad with radicchio, carrot ribbons, Cara Cara orange slices, and bulgar.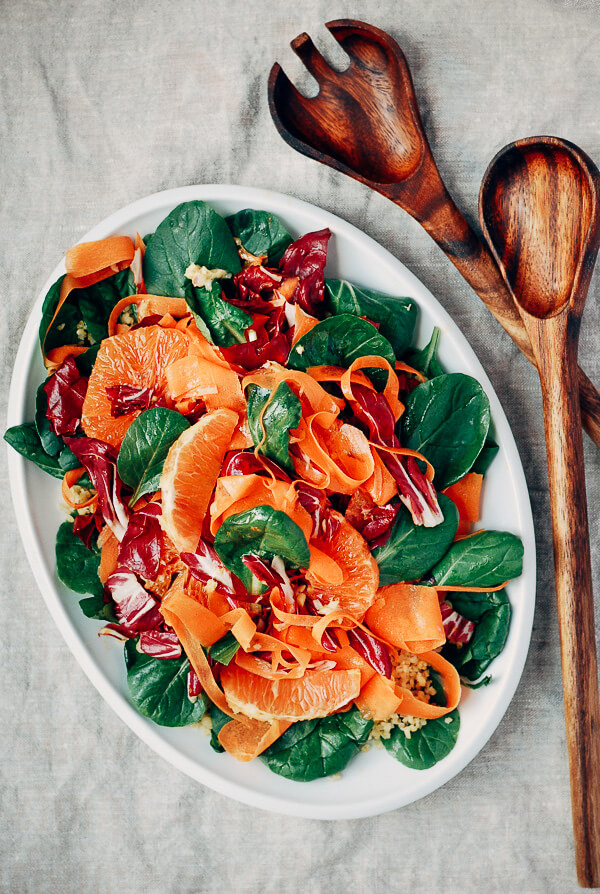 This is a strange week–we've been working as hard as ever, but there's a lightness to things. Brian and I have been having fun after putting the girls to bed, drinking beers, typing away on our respective laptops, talking into the night, and making future plans. Even the baby's recent decision to stop napping and our oldest coming home with a tiny fever haven't dampened spirits in our drafty little apartment. Could it be the brighter days? The buds forming on the trees? The fluffy clouds hanging in the crisp February sky over the East River? Whatever it is, I'll take it.
For an oddly cheery day, we have an oddly cheery lunch. This vivid and brightly flavored salad brings together the disparate flavors of sweet carrots, mild radicchio, crunchy tat soi, and Cara Cara oranges and marries them with a fresh ginger- and mustard-infused dressing that offers tiny bursts of spice. The bulgar quietly supports the whole messy thing, lending texture and nuttiness while also absorbing the sweet orange juice and mustardy dressing.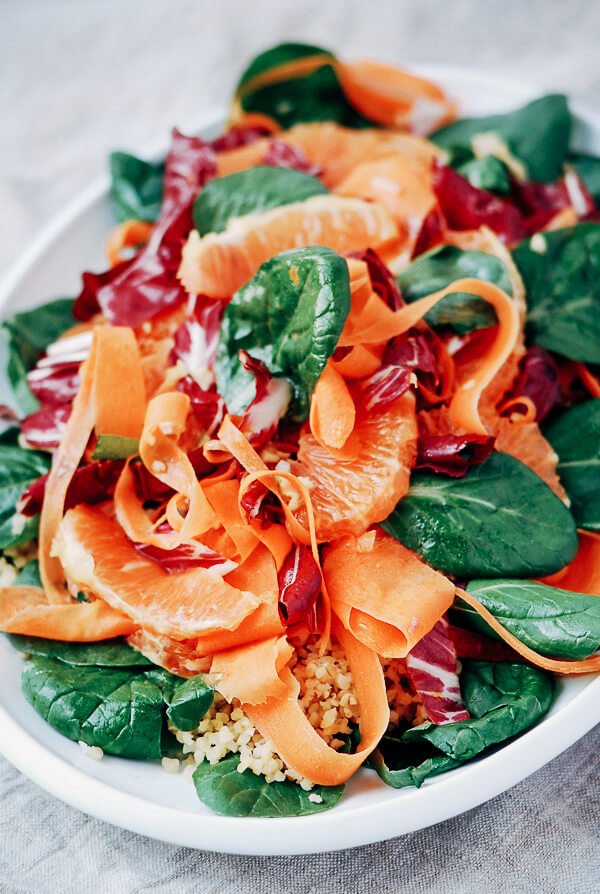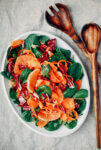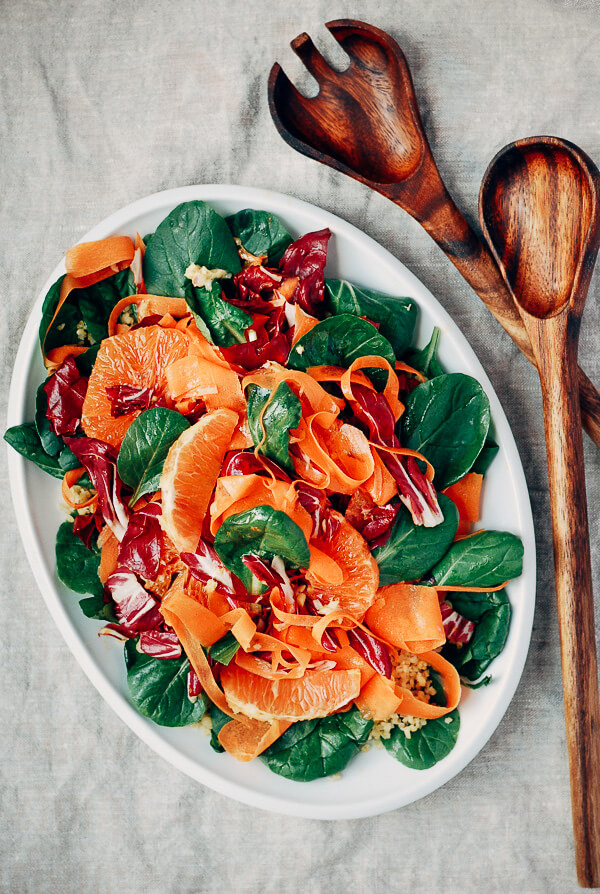 Radicchio, Carrot, and Cara Cara Orange Bulgar Salad
Ingredients
1-

inch

segment of fresh ginger,

peeled

1

small shallot,

peeled

2

teaspoons

Dijon mustard

2

tablespoons

apple cider vinegar

4

tablespoons

olive oil

sea salt as needed

1/2

cup

dry bulgar

2

large carrots,

washed and peeled

1

small head radicchio,

washed and trimmed

2

cups

tat soi leaves,

or other robust greens, washed

2

Cara Cara oranges,

or other sweet citrus
Instructions
Mince the shallot and ginger. Scrape into a small bowl or jar. Add a pinch of sea salt, the mustard, and 2 tablespoons vinegar. Emulsify with a fork, and then slowly add the olive oil, continuing to whisk until nice and thick. I like this dressing better as it marinates a bit–that's why I've listed it first.

Next, heat 1 cup of water over high heat. When boiling, add a big pinch of salt and 1/2 cup bulgar. Bring back to a boil, cover, and turn heat down to simmer for 10 minutes. Remove lid and fluff.

Use a peeler to slice the carrot into long ribbons. Slice the radicchio into thin strips.

Toss the bulgar, carrots, radicchio, and tat soi with the dressing. Zest one of the oranges, and toss it into the salad. Supreme the oranges, and just before serving, place them throughout the salad, drizzle with a bit more dressing and gently toss.