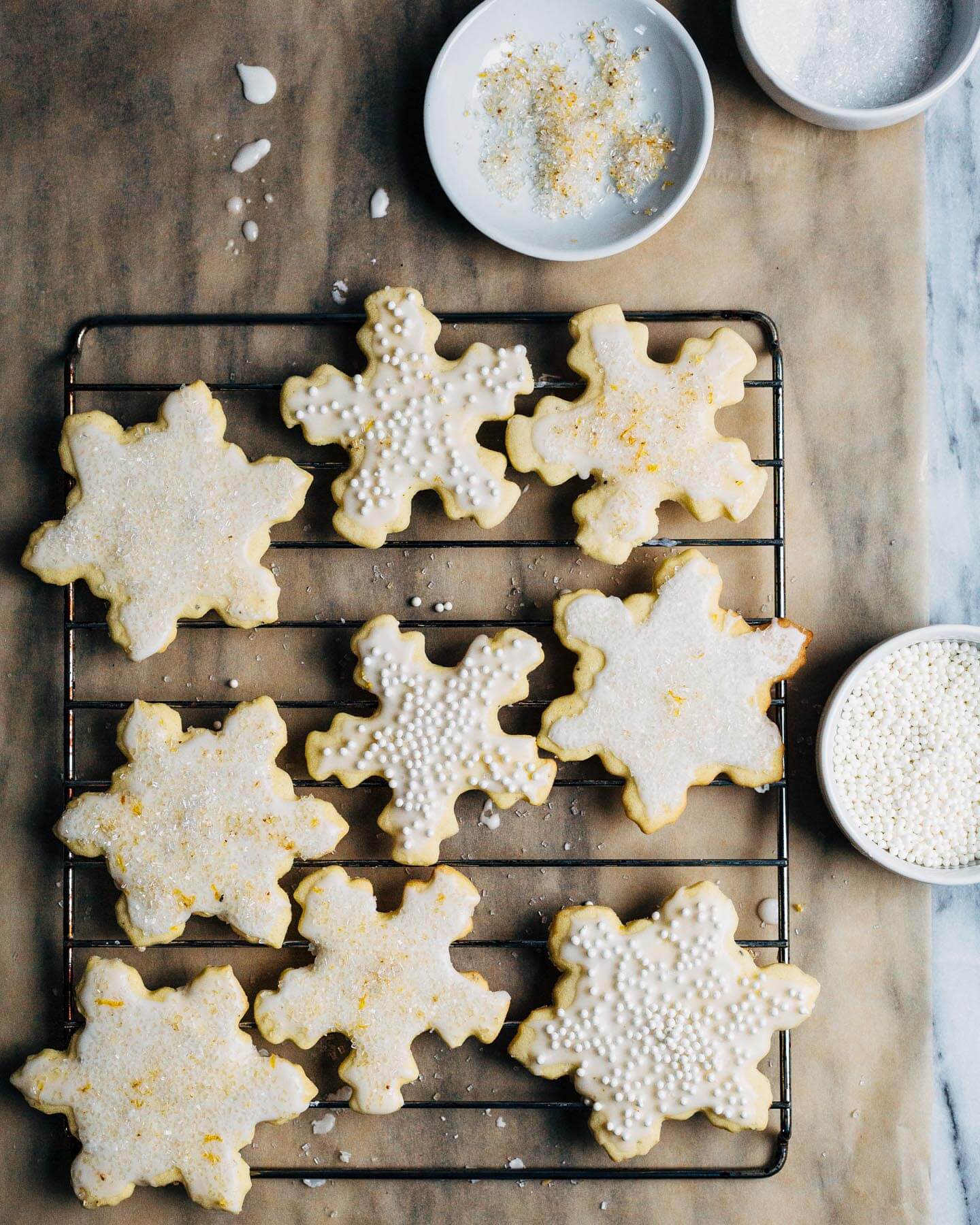 Creating and sharing our holiday traditions, and a recipe for fragrant cardamom orange sugar cookies.
A few weeks back, my five year-old informed me that painting salt dough ornaments was one of our holiday traditions. I didn't have the heart to tell her that the tradition only stretches back five years to when my friend Lily shared her family's recipe with us. But the two or three times that we've made them in my daughter's five years of life constitute a good chunk of the Christmases she remembers. So just like that, it's a holiday tradition.
To prove it, our littlest told her kindergarten class about the tradition and I was invited to come in and paint cookies with everybody. I brought in a box of 4 dozen salt dough ornaments (baked in the wee hours the night before) and we painted them.
The kids were eager, bright, and heartwarmingly enthusiastic. I got hugs and thank yous and loved every single ornament they made. I spent a good amount of time emphasizing exactly why these cookies should not be eaten and I think I got my message across.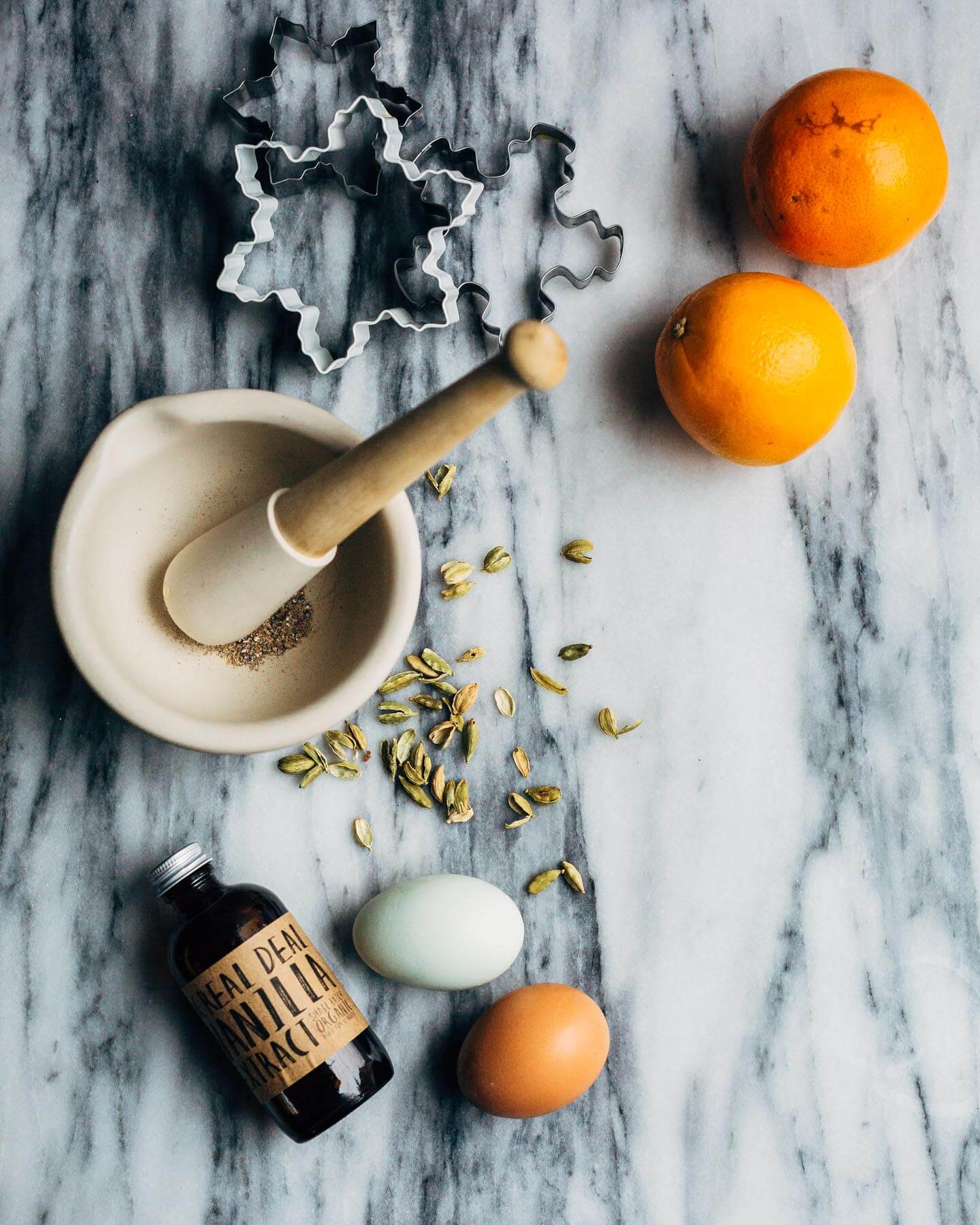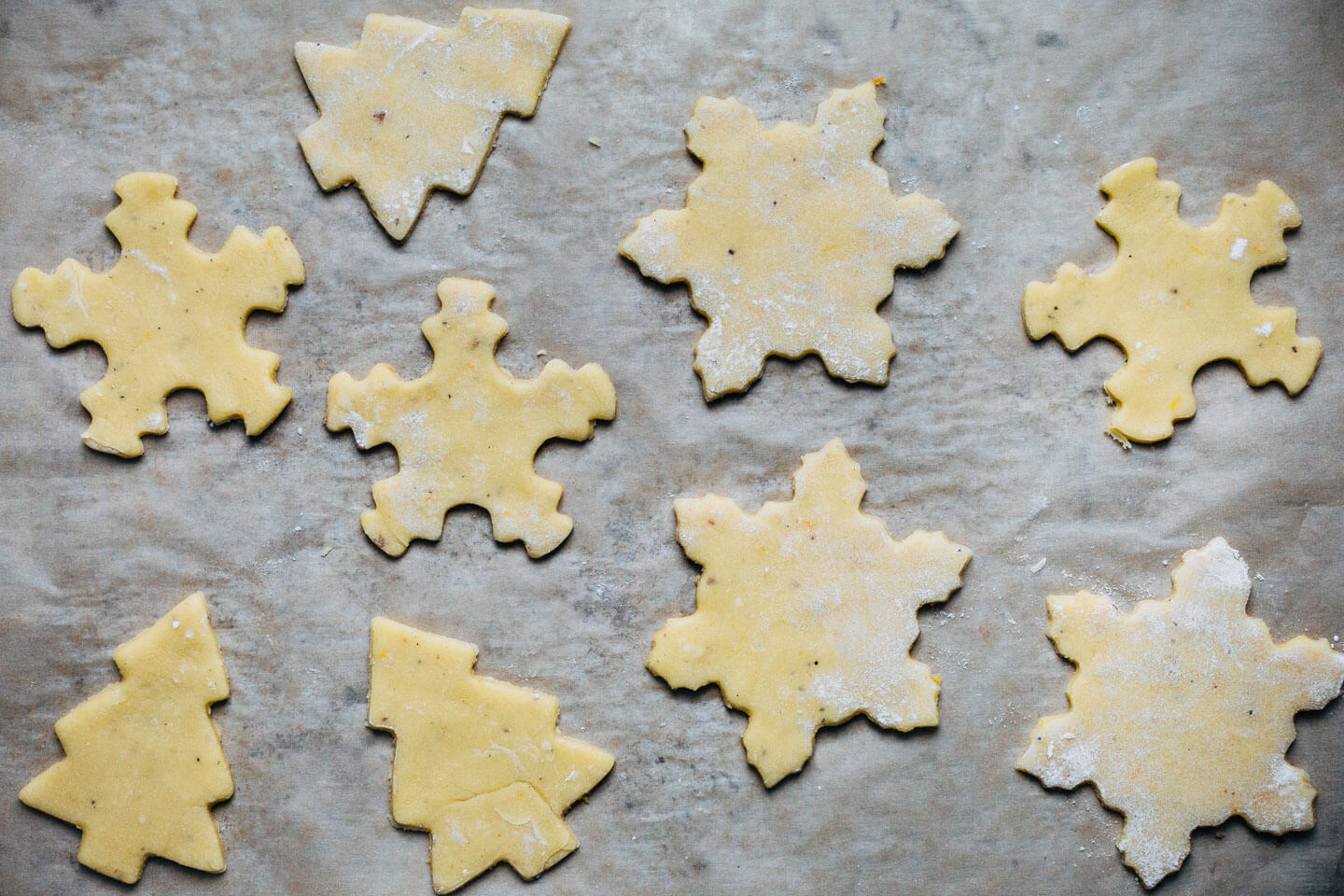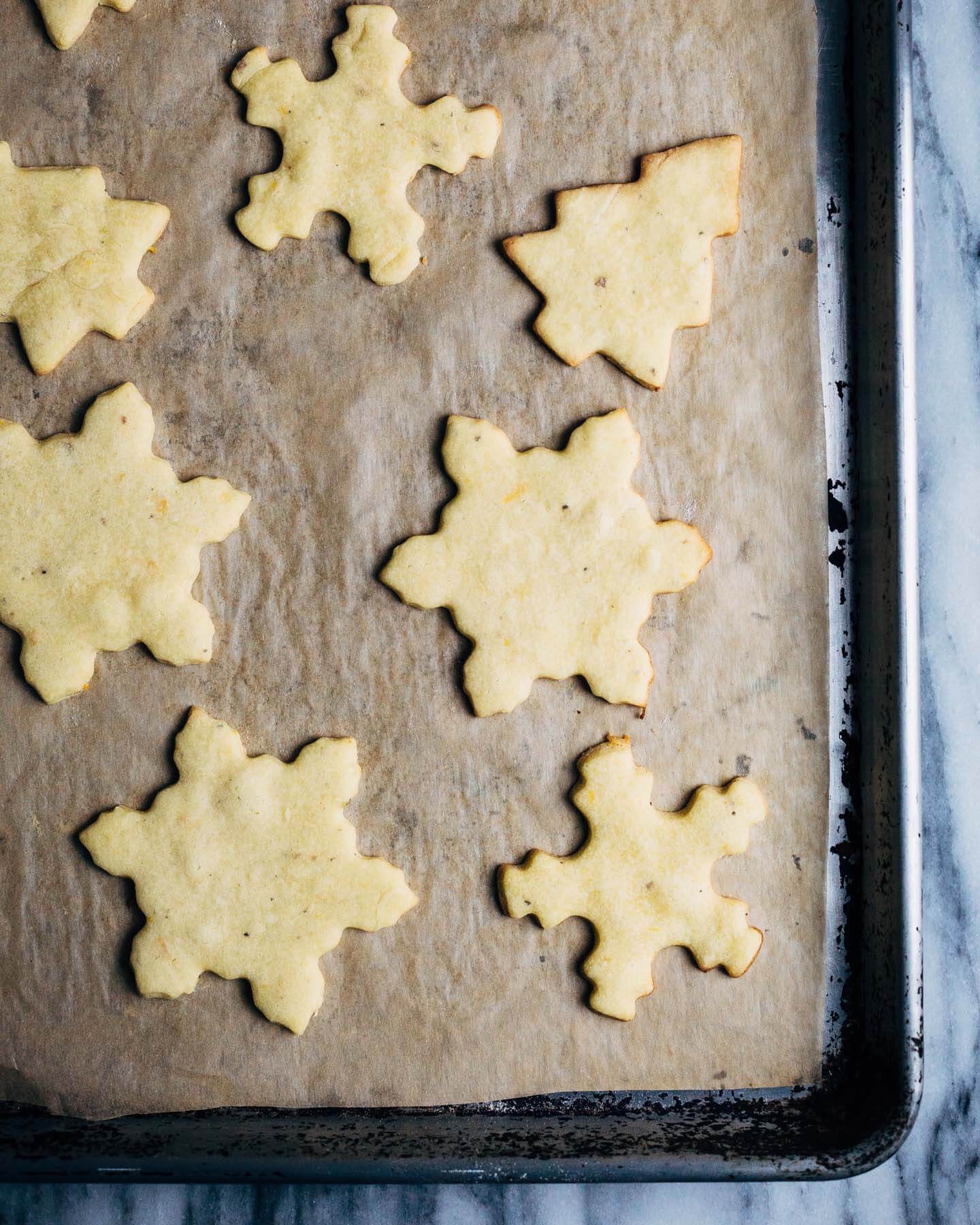 It was a much needed moment of warmth and simplicity amidst the tumult of terrible, heartbreaking news and the uncertain future faced by the country and the world. And now, even though we've had an unsettled week, I'm answering yes to every holiday invitation I receive, making tarts and pies and cookies, packing up donations for my local IRC, and doing my damnedest to celebrate the season, even if I'd way rather be in bed.
I can't save the world with cookies, but I'm going to make them anyway.
Here's my salt dough ornament recipe. And below, a merry (highly edible) recipe for cardamom orange sugar cookies. They're the kind of cookie that's just right to make and share. They start off restrained – crunchy sugar atop a crisp, then tender sugar cookie, faintly sweet with a pleasant aroma, while the finish is all cardamom and orange.
This cookie dough is easiest to work with when very cold. Allow dough to chill thoroughly before rolling and use parchment and plenty of flour as you go. If dough gets sticky, set it in the fridge to re-chill. If making cookies with kids, roll dough between two sheets of parchment, set on a tray, and place in freezer for 10 minutes. This will make for more resilient, kid-friendly dough.
Lastly, a few weeks back I was interviewed by Jenée Libby for her podcast, Edacious. We discuss blogging, cookbook dilemmas, eating well in a small city versus a gigantic one, and negotiating for what you're worth. I'd be thrilled if you'd give it a listen!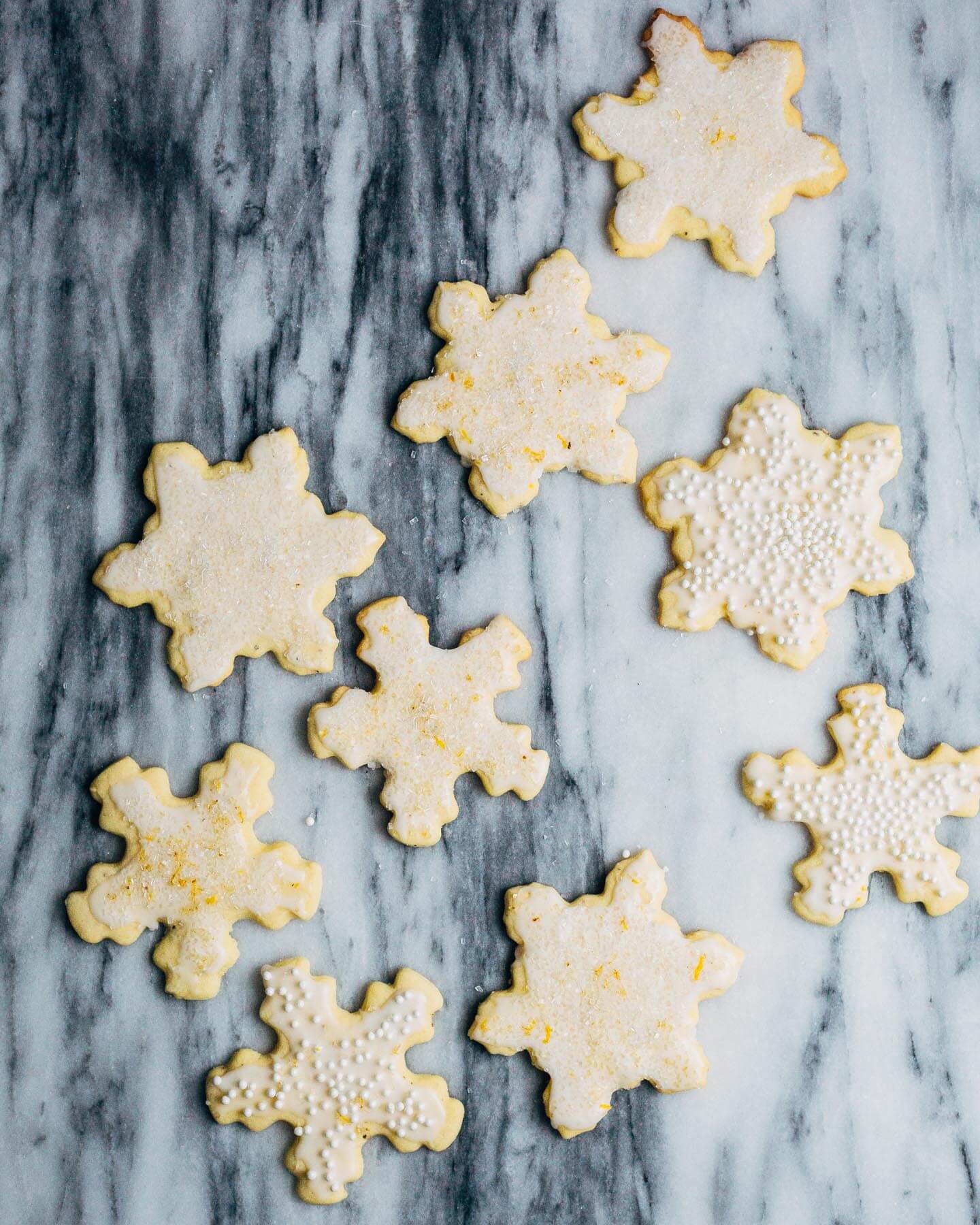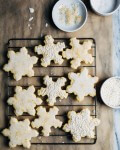 Cardamom Orange Sugar Cookies
A fragrant spiced cardamom orange sugar cookie recipe for the holidays.
Makes
:
4
dozen 4-inch cookies
Ingredients
For the Sugar Cookies
1

teaspoon

freshly ground cardamom from about 2 tablespoons cardamom pods

16

tablespoons

unsalted butter,

room temperature (2 sticks)

3/4

cup

sugar

1

egg

1

teaspoon

vanilla extract

1

teaspoon

orange zest

1/2

teaspoon

freshly grated nutmeg

1/2

teaspoon

sea salt

2 1/4

cups

all-purpose flour
For the Cookie Icing
2

cups

powdered sugar

1 1/2 - 2

tablespoons

milk or cream

decorating sugar

sugar pearls

pinch each ground cardamom and orange zest
Instructions
Use a mortar and pestle to bash cardamom pods and carefully remove seeds. Clean out mortar and pestle, and then grind seeds as finely as possible.

In the bowl of a stand mixer fitted with the paddle attachment, beat butter on medium-low speed until light and fluffy, about 2 minutes. Add sugar and beat another 2 minutes. Beat in egg, stopping to scrape down sides as needed. Beat in vanilla, orange zest, cardamom, nutmeg, and sea salt. Switch mixer to low and add flour in two batches, mixing just until incorporated.

Divide dough into 4 discs, wrap tightly with plastic, and chill at least 2 hours or preferably overnight.

Preheat oven to 375 degrees F. Line 2 cookie sheets with parchment. 

Set up a large piece of parchment dusted with flour. Working quickly, and using plenty of flour as you go, roll chilled dough into a 1/4-inch thick rectangle. Dip cookie cutters in flour, and cut out cookies. Arrange on cookie sheets, spacing 1/2-inch apart.

Slide into oven and bake 7 - 10 minutes, or until cookies have puffed up slightly and edges turn a very light golden hue. Cool on cookie sheet 5 minutes, then remove to a wire rack to cool completely.

Wait until cookies are completely cool to decorate. To make cookie icing, and 1 1/2 tablespoons milk or cream into powdered sugar and whisk until smooth. Then, adding a 1/2 teaspoon milk or cream at a time, thin icing or add additional powdered sugar as needed. Use a spoon to spread icing on cookie, and top with decorating sugar (I rubbed a tiny pinch zest and cardamom into mine), sugar pearls, or the cookie decor of your choice. Allow sugar to set completely, then place cookies in a sealed container. Cookies will keep covered at room temperature for a week or more.