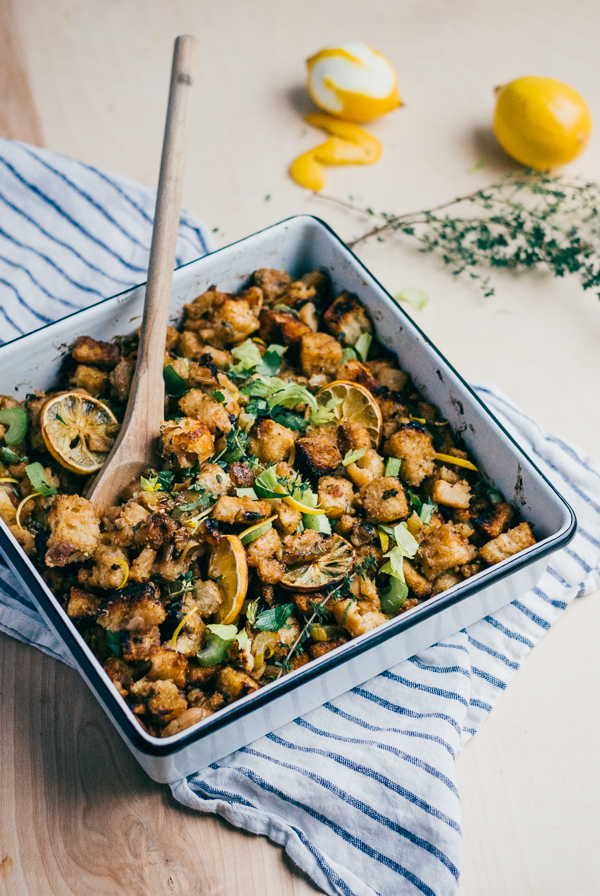 A standout celery root stuffing recipe with buttery roasted Meyer lemons. Jump to recipe.
There are weekends that stretch out, with golden evenings and long, eventful days. The ones where you look back Sunday evening and feel like Friday is only a distant memory because you've had a week's worth of fun in two days.
This wasn't one of those weekends.
With the holiday crunch starting to take hold, and already too many to-dos crowding our time, a certain stress has set in. And, as if on cue, the children sensed their parents' restlessness and resorted to all kinds of frustrating behaviors that lasted the whole weekend through. To add to the fun, our youngest had a stomach bug.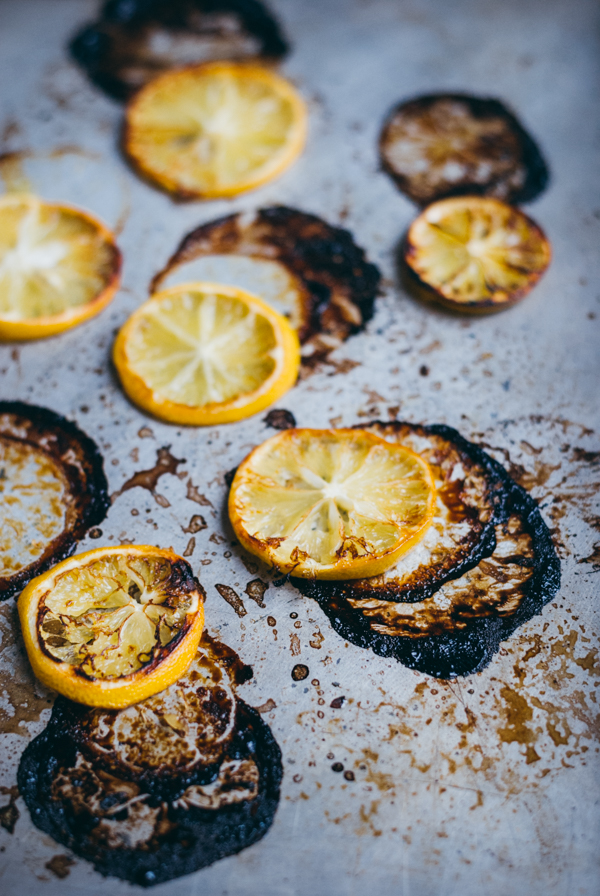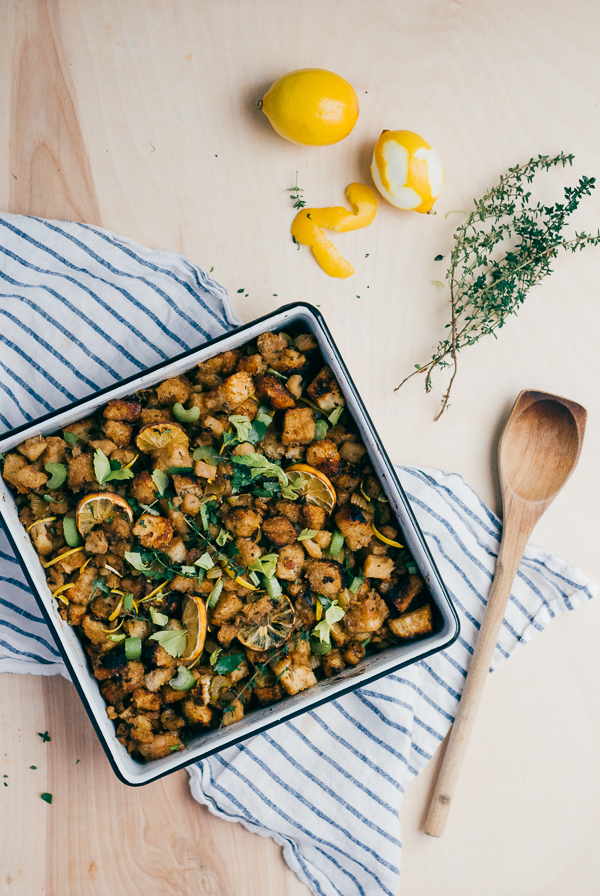 By Saturday evening, the stress, frustration, and malaise had wedged between me and Brian. Even Sunday morning coffee wasn't enough to smooth things over. By the evening, we'd reconciled, but were exhausted and hungry. So it was a good thing that I had spent part of the day putting the finishing touches on this thoroughly satisfying stuffing recipe. First debuted a few weeks ago at our Friendsgiving celebration, it was every bit as comforting and good this time around. It may not have been enough to temper all the tantrums, but it made for a good dinner, as well as a momentary peace.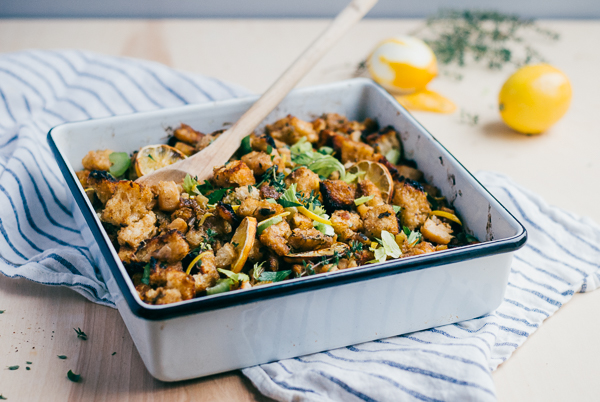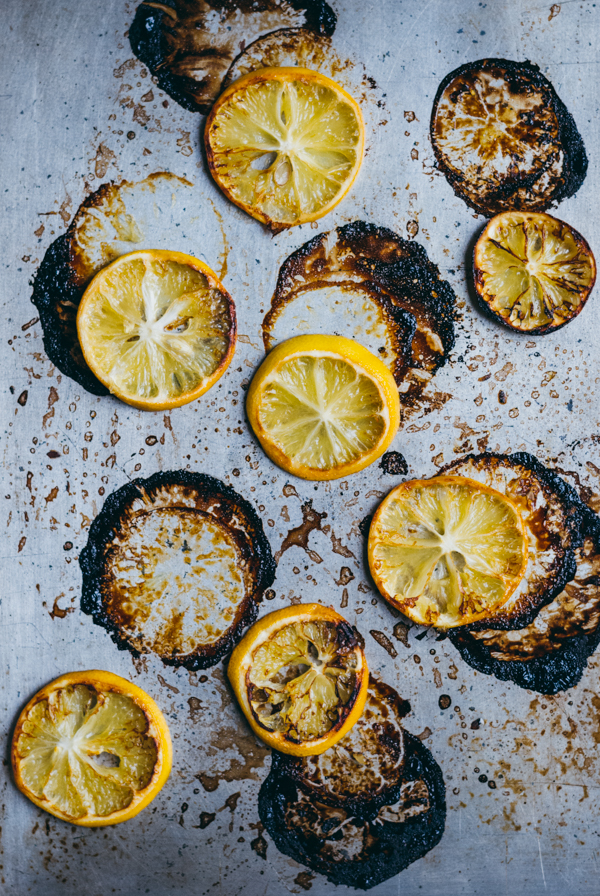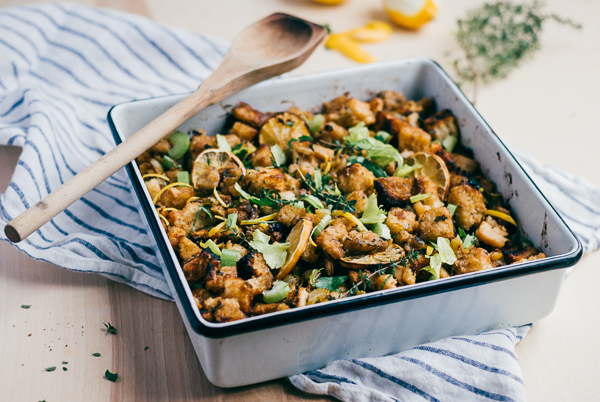 About that celery root stuffing. Mine starts with a good, tangy sourdough and, of course, plenty of butter. There's also a lot of celery root and regular old celery, both of which lend texture and subtle flavor undertones (also: vegetables!), plus fresh herbs, zest, and roasted Meyer lemon slices for balance. This stuffing isn't your standard sausage and butter and sweet and crunchy and nutty affair. You see, Thanksgiving stuffing, (and I know there are you sticklers out there who want me to call it dressing since it's not cooked in the turkey, but my mom's from Ohio and we grew up on Stovetop, and so, stuffing it is) is meant to be served on a plate with meat and cranberry sauce, and so much other rich goodness, that what I really want my stuffing to be is a light, crispy, buttery carb. At it's best, something to be relished all by itself on the fork, and then later in the meal, mashed around to absorb all kinds of delicious this or that.
For those of you following along, over the past weeks, we've been sharing recipes from our Thanksgiving menu. In case you missed it, find the recipe for a grill-smoked turkey breast here and a kabocha squash pie with black pepper and ginger here.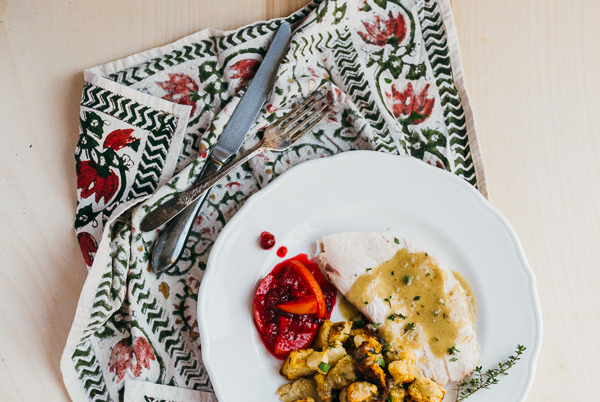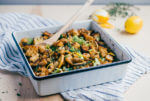 Celery Root Stuffing with Roasted Meyer Lemons
A standout celery root stuffing recipe with buttery roasted Meyer lemons.
Ingredients
For the celery root stuffing

1

small loaf sourdough bread

, cut into 1/2-inch cubes

5

tablespoons

unsalted butter

, plus 1 tablespoon more

1

large red onion

, rough chopped

8

stalks celery

, trimmed and roughly chopped, leaves reserved for garnish

1

large celery root

, bumpy exterior and roots cut away and cut into 1/2-inch cubes

1 1/4

cups

vegetable or chicken stock

(homemade or low sodium)

1/2

cup

parsley

2

tablespoons

sage

2

tablespoons

thyme leaves

grated zest of 1 Meyer lemon

, plus 2 tablespoons juice

1/2

teaspoon

chipotle chili powder

sea salt and black pepper to taste

For roasted Meyer lemon slices

1

Meyer lemon

, cut into thin slices

drizzle extra virgin olive oil

(1/2 teaspoon or so)
Instructions
The night before, cut the sourdough into cubes and spread out on a cookie sheet. If possible, leave bread out overnight or bake at 150 degrees F for an hour until bread is crunchy stale, but not hard or browned at all.

The next day, preheat the oven to 350 degrees F. Butter a 9 x 9-inch baking pan and set aside.

In a very large, deep skillet or Dutch oven, melt 5 tablespoons butter over medium heat. Add onions and celery and cook until tender, about 10 minutes. Add the celery root and a generous sprinkle of sea salt, edge heat to medium-high (hot, but not enough that the butter is smoking) and cook 10 minutes longer, until pieces are tender and lightly browned on the edges. Pour in a splash of stock and scrape up any brown bits. Then add remaining stock, bring mixture to a boil, and simmer for 5 minutes. Turn heat off and stir in bread crumbs, minced herbs, and Meyer lemon zest and juice. Add chili powder, and sea salt and black pepper to taste.

Spoon into prepared baking pan, dot with remaining tablespoon butter, and slide into oven and bake for 35 - 45 minutes, or until the top of the stuffing is a rich golden brown and stuffing is piping hot.

Meanwhile, make the roasted Meyer lemons. Drizzle olive over lemon slices and arrange on a rimmed baking sheet.

Roast 10 minutes in a 350 degree oven, flip, and roast 10 minutes more. Cool and cut slices into half moons.

Before serving, tuck slices of roasted Meyer lemon throughout, and garnish stuffing with minced celery leaves, parsley, sage, and thyme leaves.
SaveSave
SaveSave
SaveSave