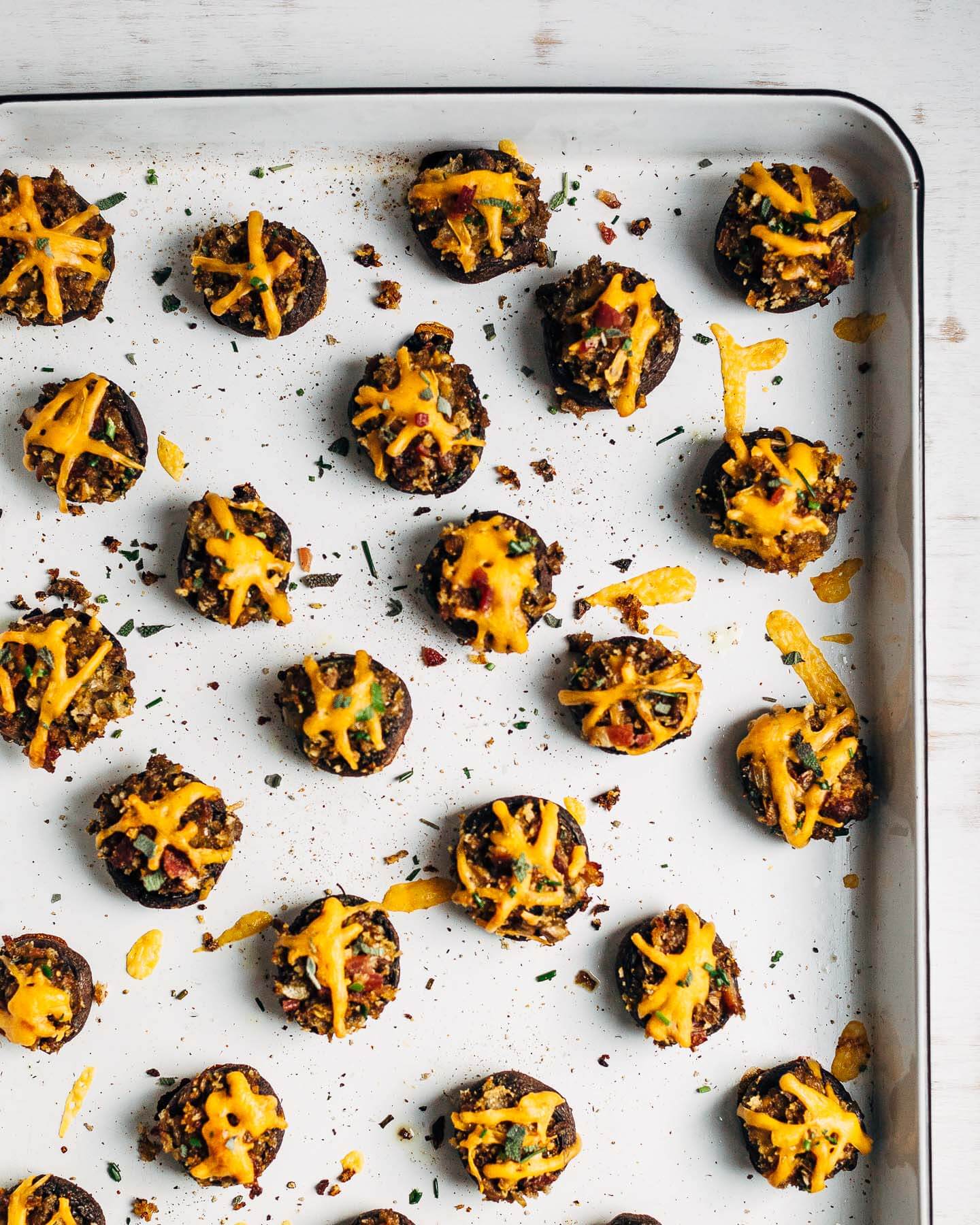 We've partnered with Progresso to make a batch of smoky bacon and cheddar stuffed mushrooms with panko breadcrumbs. Jump to recipe. 

Mushrooms are astonishingly versatile, but that versatility is often lost on me. I like them so much with just butter, lemon, and salt that it's hard for me not to fry them up to devour on the spot. For this stuffed mushroom recipe, I managed restraint, though.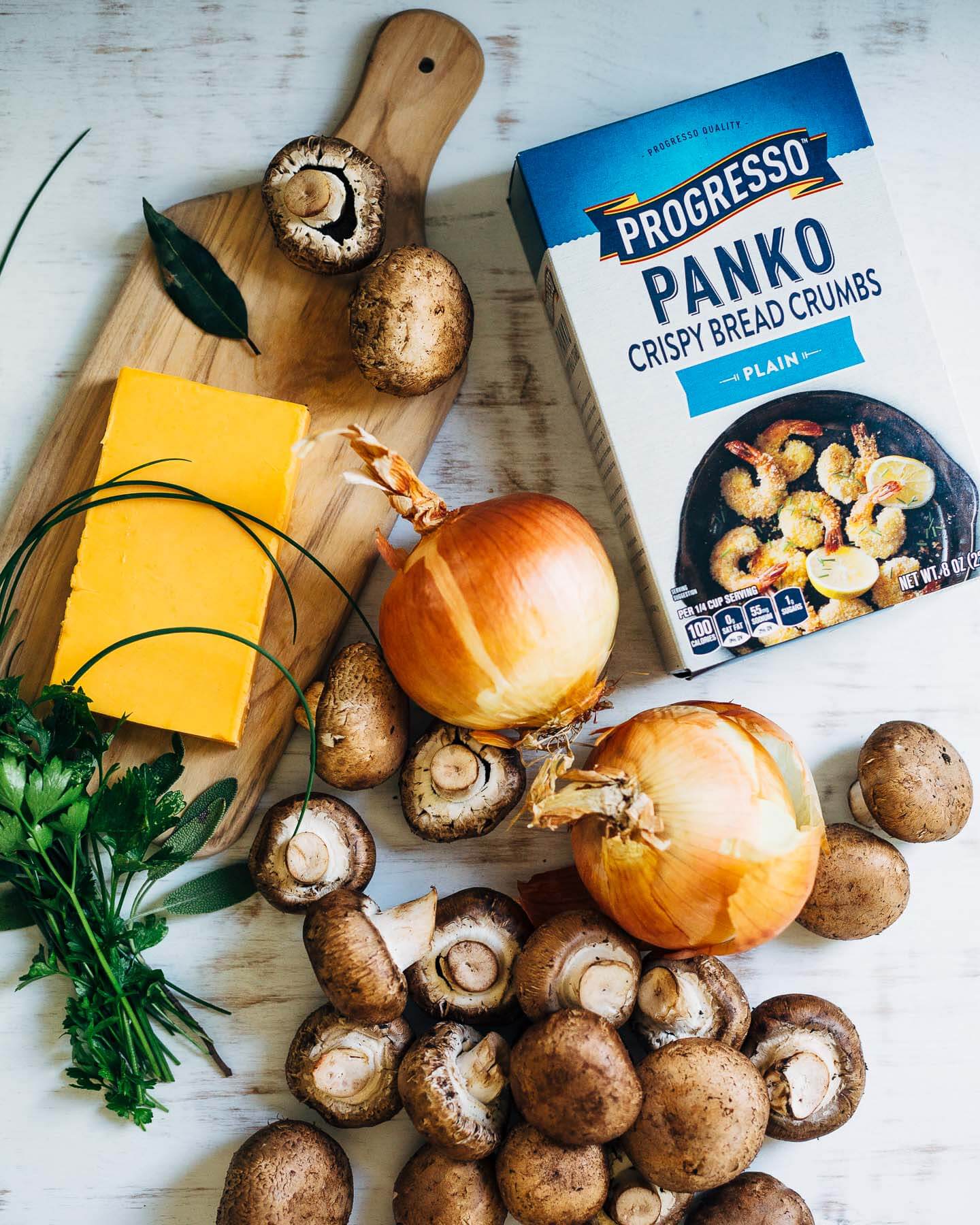 Stuffed mushrooms are a nostalgic food for me. They were THE appetizer when I was growing up, served during Sunday afternoon football games and in the lead up to Thanksgiving. According to the rules of my childhood, stuffed mushrooms are party food.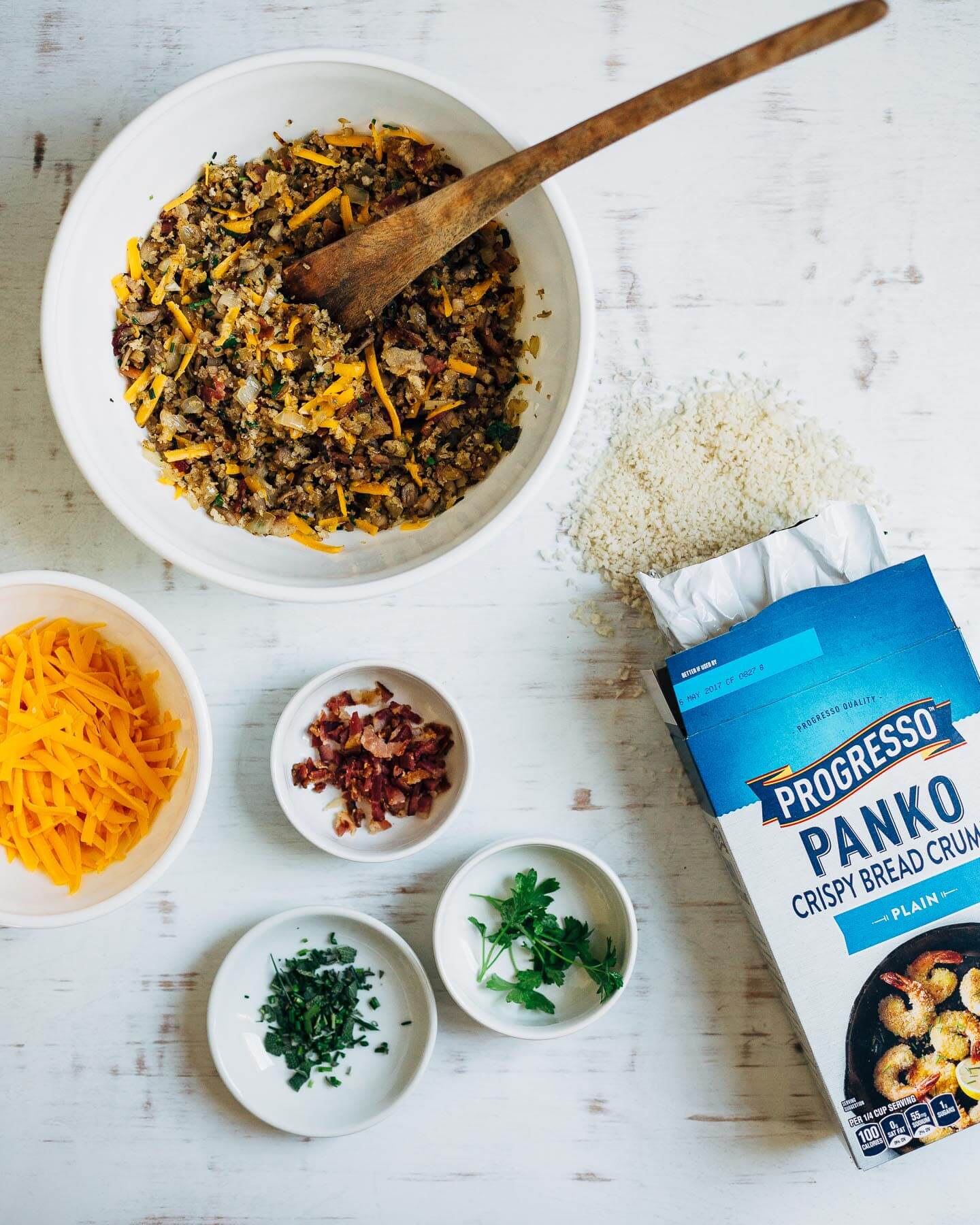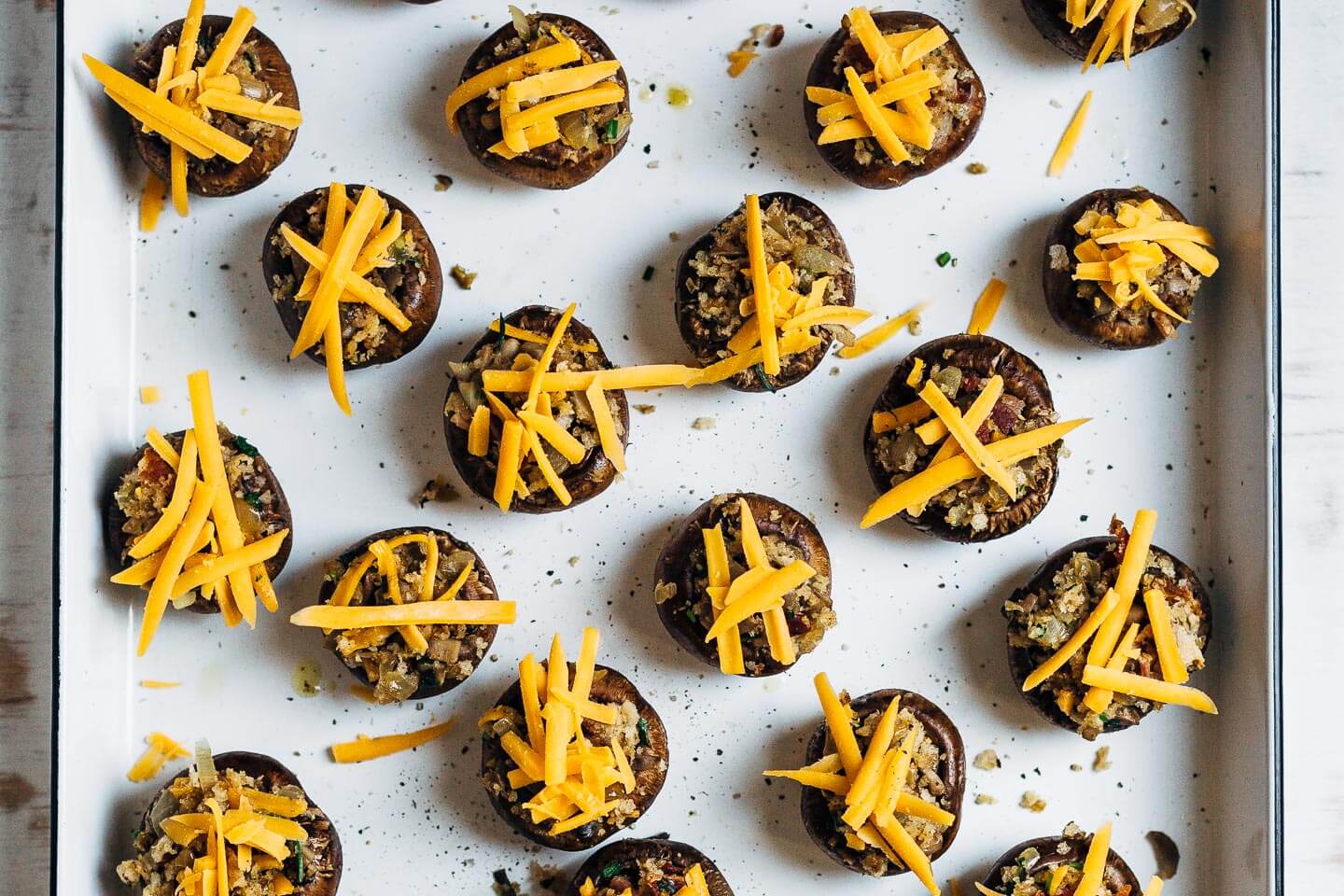 In making these, I stayed pretty close to my mom's traditional recipe with a few swaps and subs along the way. Instead of sausage and breadcrumbs, I went for bacon, cheddar, and Progresso Plain Panko Crispy Breadcrumbs. The panko, toasted with bacon fat to a deep golden hue, lends crunch and lightness to the filling. 

These mushrooms were fun to eat. In each bite, I found the beloved flavors I remember from being a kid and also discovered something new – smoky bacon, tangy cheddar, crisp panko, and the bite of black pepper.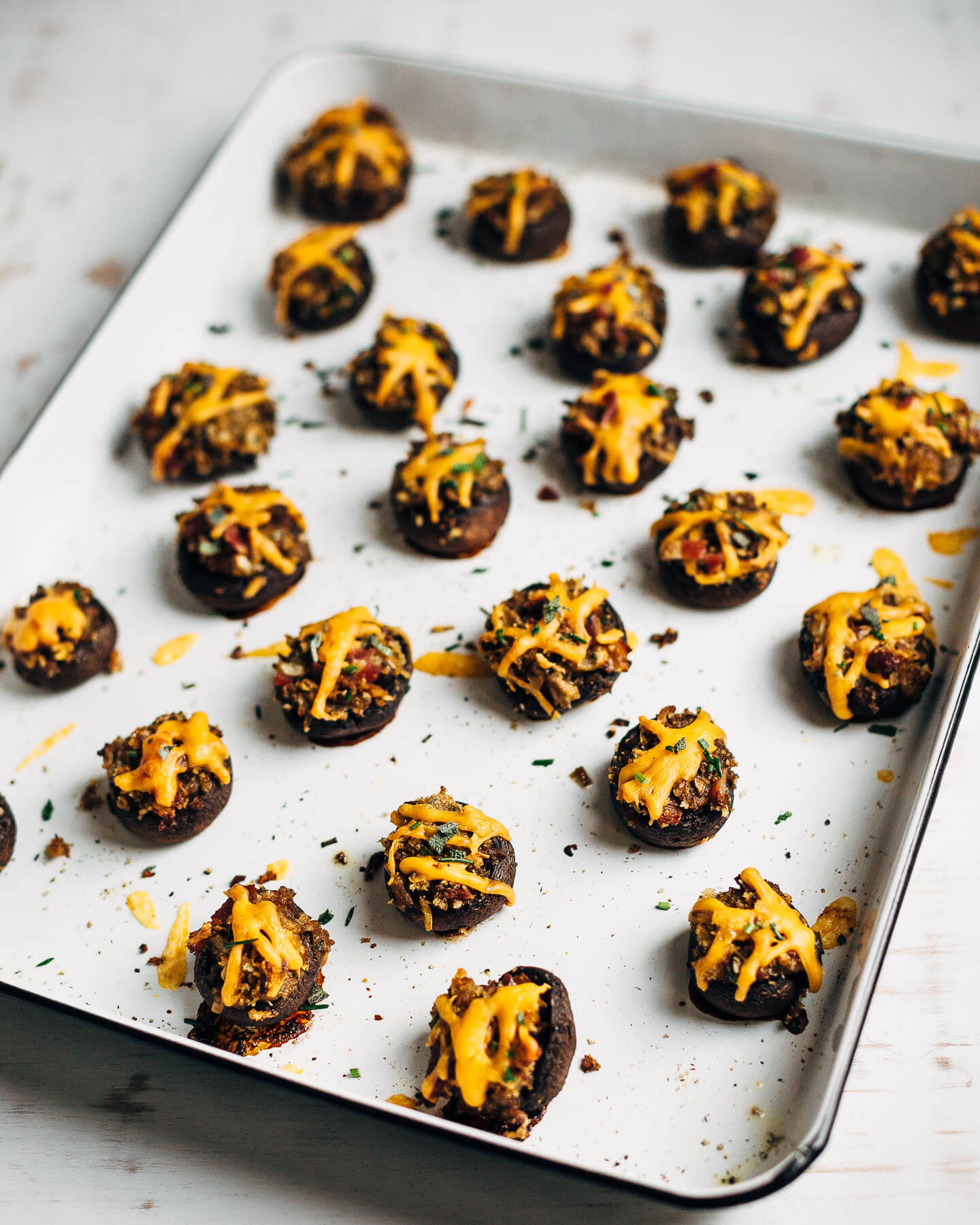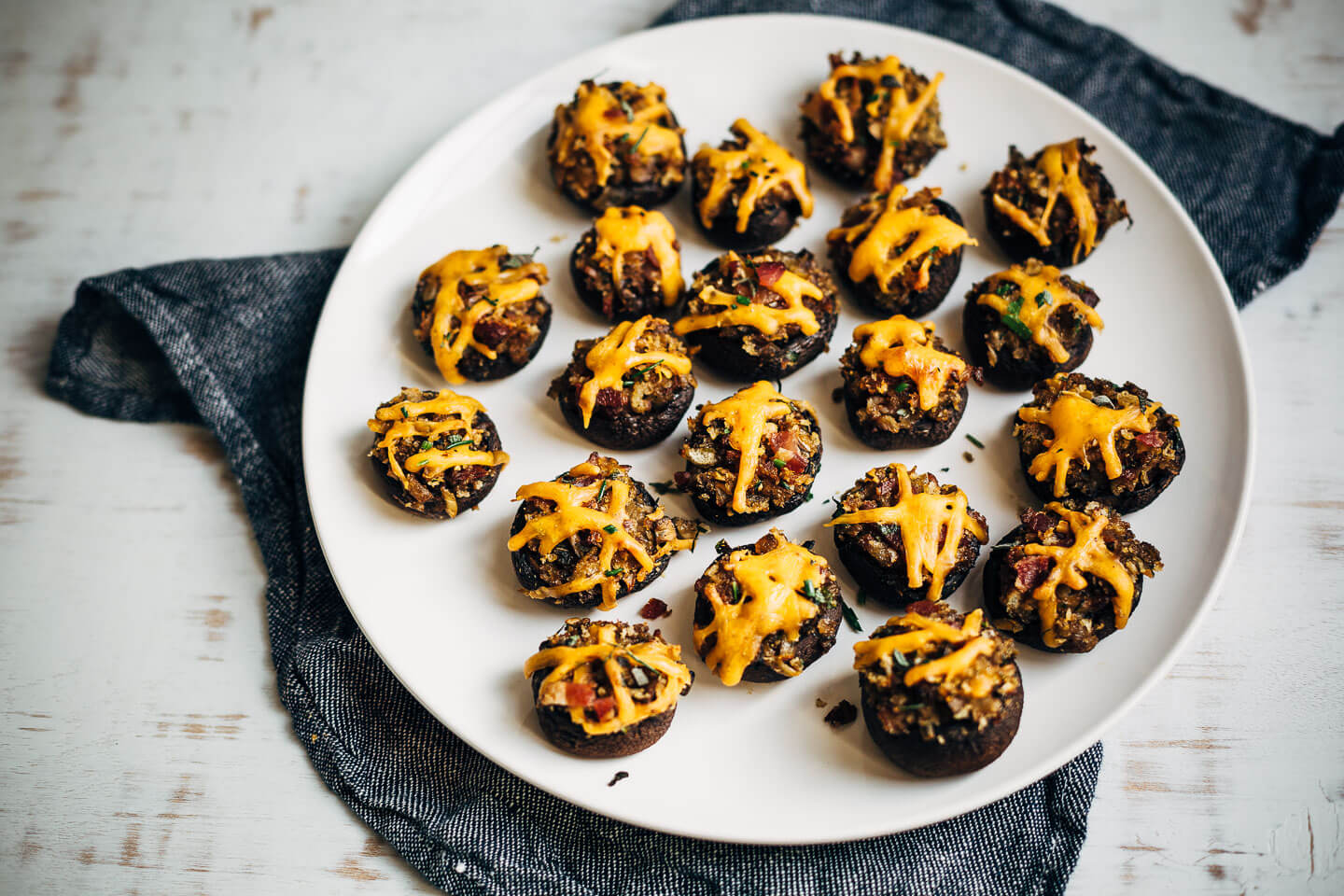 The mushrooms and filling can be prepped ahead, but for the best taste and texture, stuff and bake mushrooms just before serving.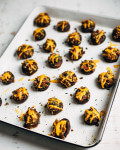 Cheddar Bacon Stuffed Mushrooms
Smoky cheddar bacon stuffed mushrooms made with panko breadcrumbs.
Ingredients
30

largish crimini mushrooms,

wiped clean

1 - 2

tablespoons

extra virgin olive oil

1/2

teaspoon

sea salt,

plus more to taste

fresh ground black pepper

6

slices

bacon

1/2

cup

Progresso Plain Panko Crispy Breadcrumbs

1

yellow onion,

minced

2

tablespoons

dry vermouth or sherry

1/4

cup

minced mixed herbs

(such as parsley, chives, sage, or rosemary, plus more for garnish)

1/3

cup

grated sharp cheddar cheese,

divided
Instructions
Preheat oven to 350 degrees F. Set out a rimmed baking sheet.

Remove stems from mushroom caps (you can pull them right off). Set stems aside. Arrange mushroom caps top down on baking sheet. Brush mushrooms on all sides with olive oil, then sprinkle with 1/2 teaspoon sea salt and pepper to taste. Set aside. Mince mushroom stems, and reserve.

Arrange bacon in a large skillet and set over medium heat. Cook on both sides until edges are crisp, 5 - 7 minutes total. Remove bacon to a paper towel-lined plate. Once cool, mince.

Pour off and reserve all but 1 tablespoon bacon grease, and then add panko and a small pinch sea salt to the hot skillet. Stirring often, toast until panko is golden and is very fragrant, 2 - 3 minutes. Scrape toasted panko into a bowl. In the same skillet, still over medium heat, add a tablespoon of reserved bacon fat. Add onions and a small pinch sea salt, and sauté until translucent, 5 - 7 minutes. Add vermouth and cook until it's evaporated. Fold in herbs, toasted breadcrumbs, and bacon; remove from heat. Fold in 1/4 cup shredded cheddar. Taste and add salt or pepper as needed.

Spoon about 2 teaspoons filling into each of the prepared mushroom caps. Top mushrooms with remaining cheddar.

Bake 25 - 30 minutes or until filling is fragrant, and cheese is melted and bubbling. Garnish with fresh herbs and black pepper, and serve.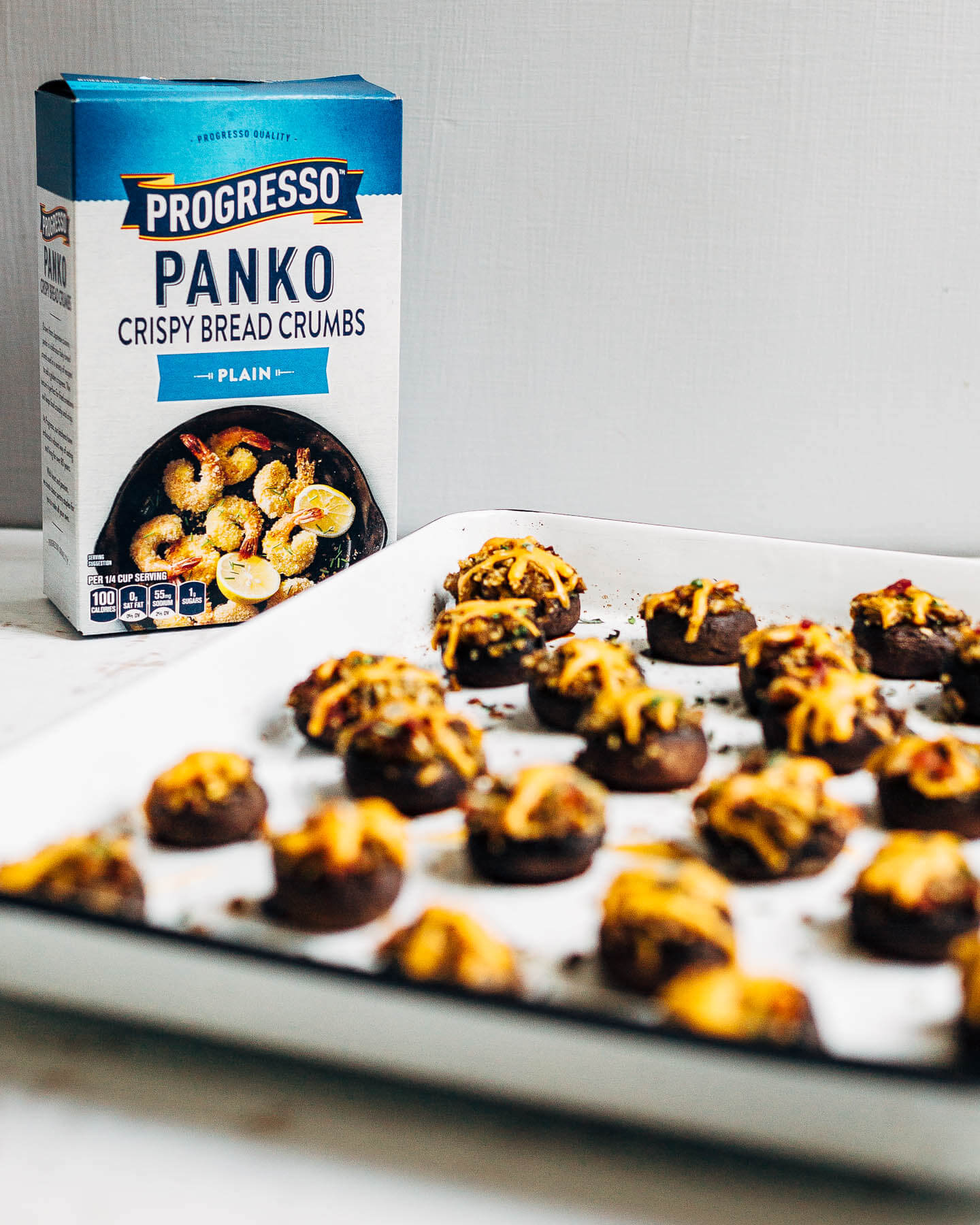 Disclosure: This post is sponsored by Progresso. Thanks for supporting the brands we love!