We've teamed up with Whole Foods Market to create a modern holiday cheese board with red cheddar and brie-style cheeses, winter fruit, and sweet and sour quick-pickled apples.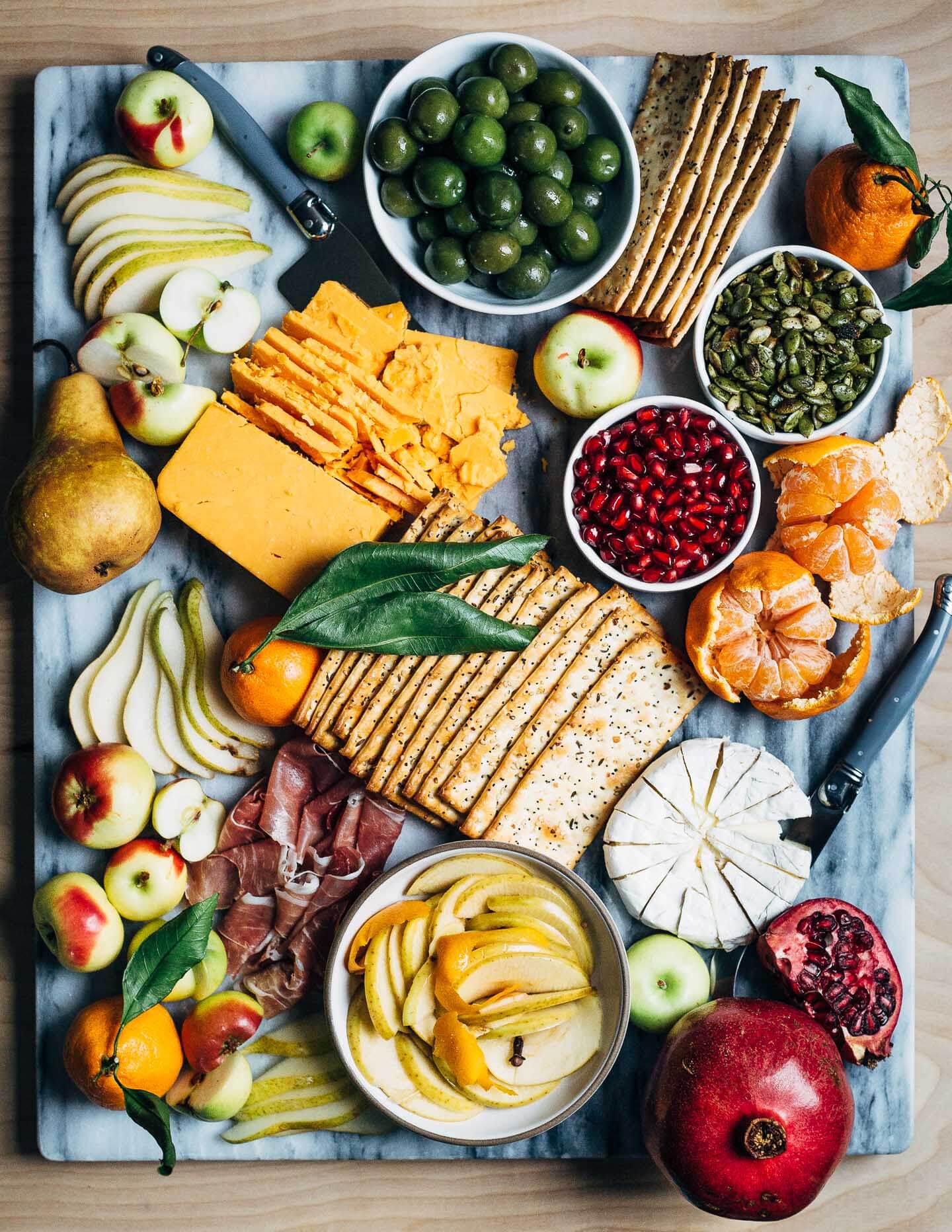 This season of merriment is, among other things, a season of cheese boards, so it feels like a good time to share the ways I put together a knockout cheese board. First off, there's no "right" way to make a holiday cheese board. Aside from picking cheeses that taste good and aren't too similar, I think we can abandon the idea that each kind of cheese needs to be represented. I find the best approach is to put out an array of cheeses and accompaniments that you love and think you guests will love too.
Smaller gatherings can be an opportunity to include challenging flavors or pungent cheeses – foods that are conversational or tell a story. Knowing that I won't always be on hand at larger parties, I keep things simple with cheeses and snacks that are both delicious and easily recognizable.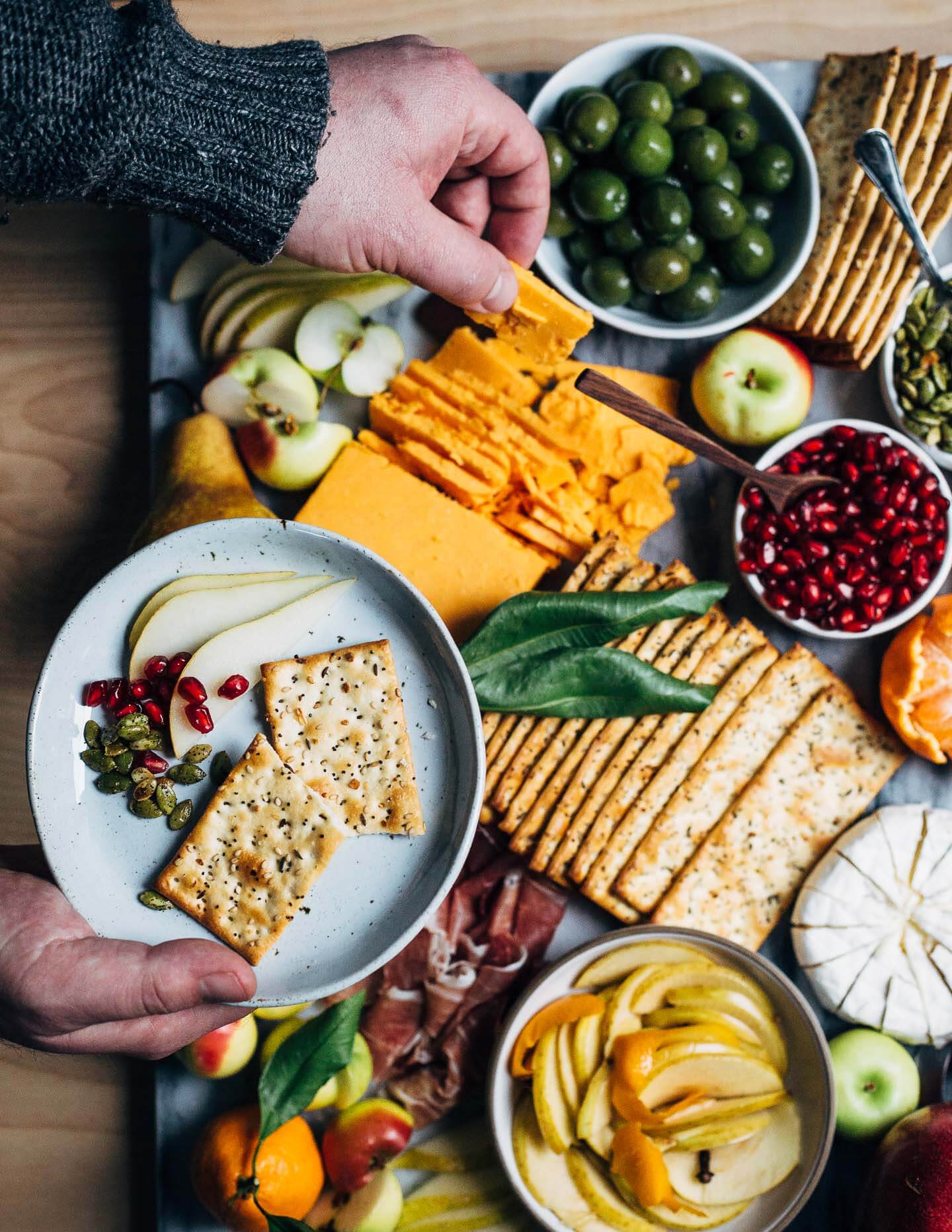 I also like to play with color and flavor. Right now, vibrant seasonal fruits like Satsuma mandarins, fresh pomegranates, pears, and sweet lady apples lend color to any festive spread. On my holiday cheese board, I set out a mix of whole and sliced fruits, both for variety and visual effect. For good measure, I like to include a selection of my favorite snacky things like spicy toasted pepitas, Castelvetrano olives, and prosciutto. Quick pickles are another of my favorite ways to bring fresh foods to the app table, and here a simple batch of quick-pickled apples lends a delightfully sour tang to the offerings on hand.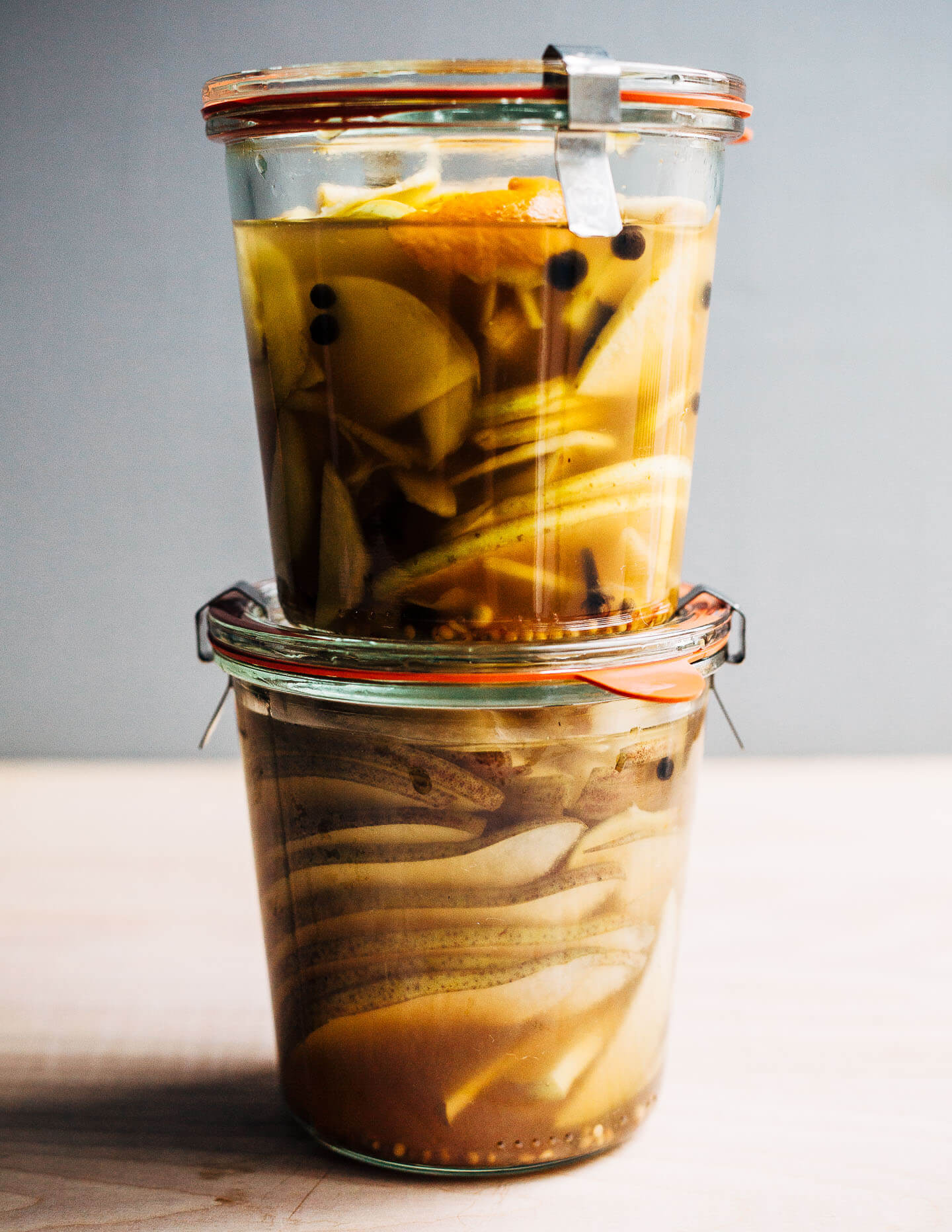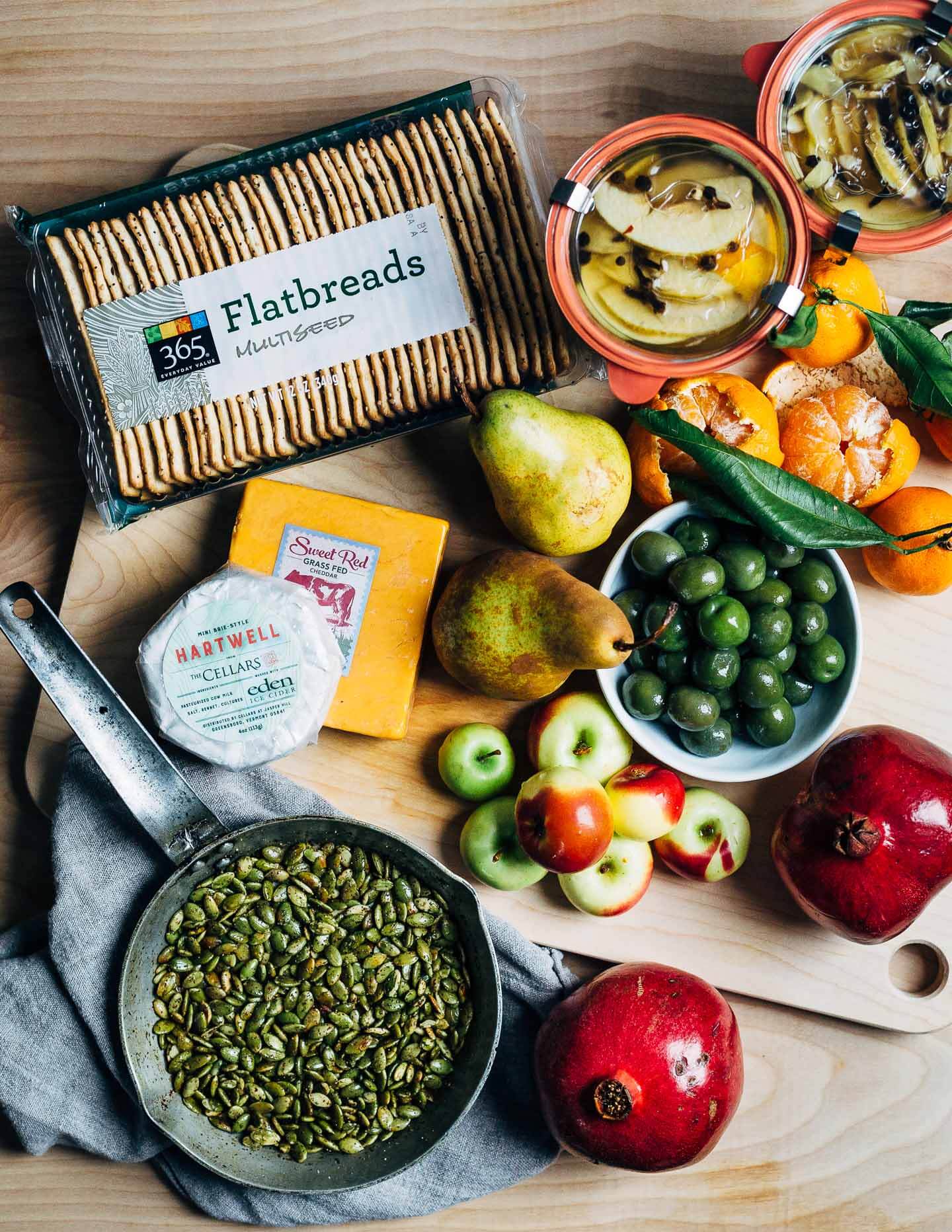 But the star of a cheese board is the cheese. My spread highlights a red cheddar from Sweet Grass Dairy in Georgia and Vermont-based Jasper Hill Farm's brie-style Hartwell cheese, both available exclusively at Whole Foods Market. The Sweet Grass Dairy Red Cheddar is made with pasture-raised cows' milk and has a creamy texture and complex, grassy flavor profile that was the perfect counterpoint to the sour pickled apples. The Jasper Hill Farm Hartwell brie-style cheese has a bloomy rind and ripens to a buttery and assertive flavor profile that complements winter fruits beautifully. The Hartwell with be available for 50% off December 16 as part of the "12 Days of Cheese" promotion at Whole Foods Market. Each day, December 8 through 19, a different delicious cheese will be half price. Get the details here!
Save time this holiday season by shopping Whole Foods Market online and picking up groceries and tasty pre-made holiday fare at your local store.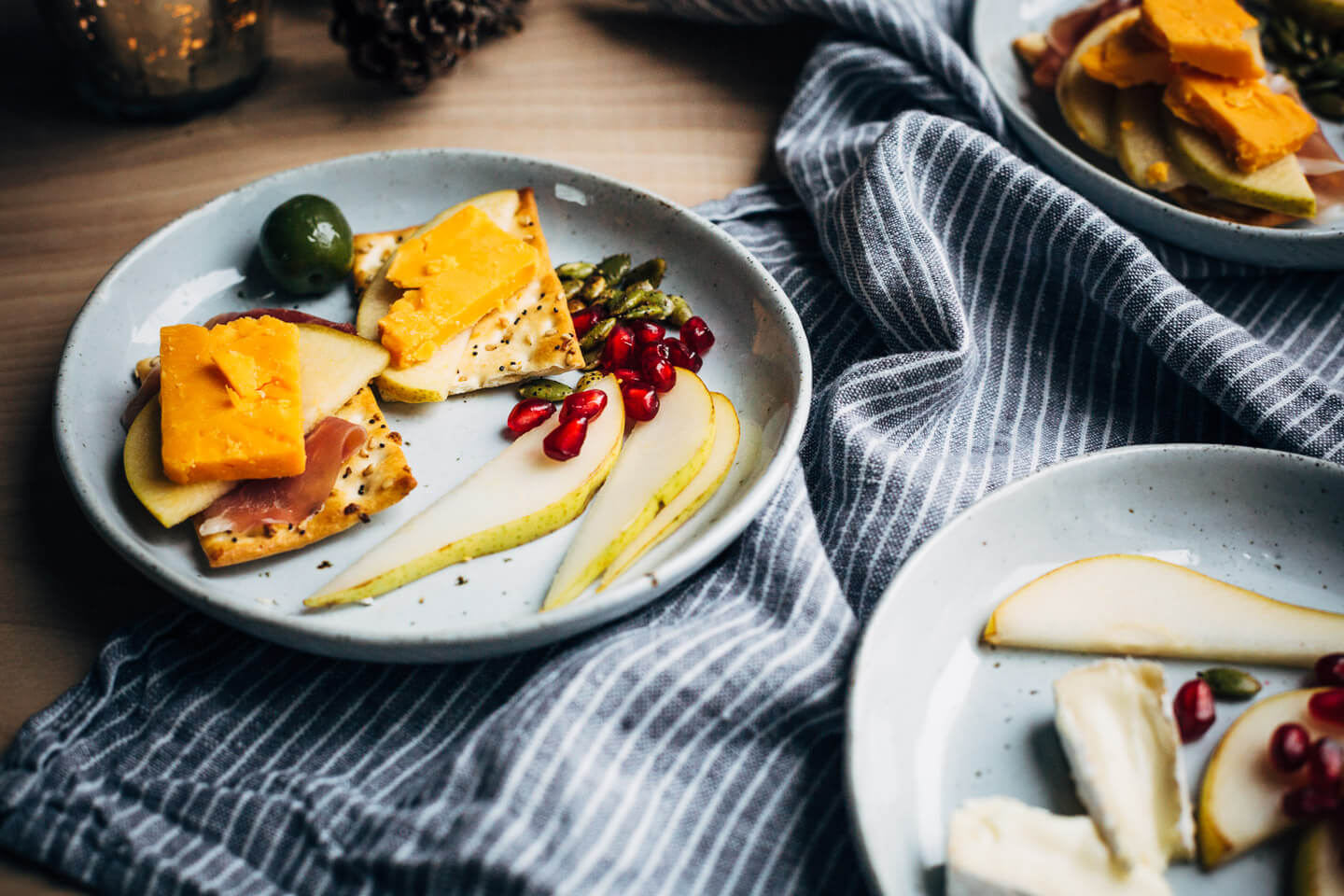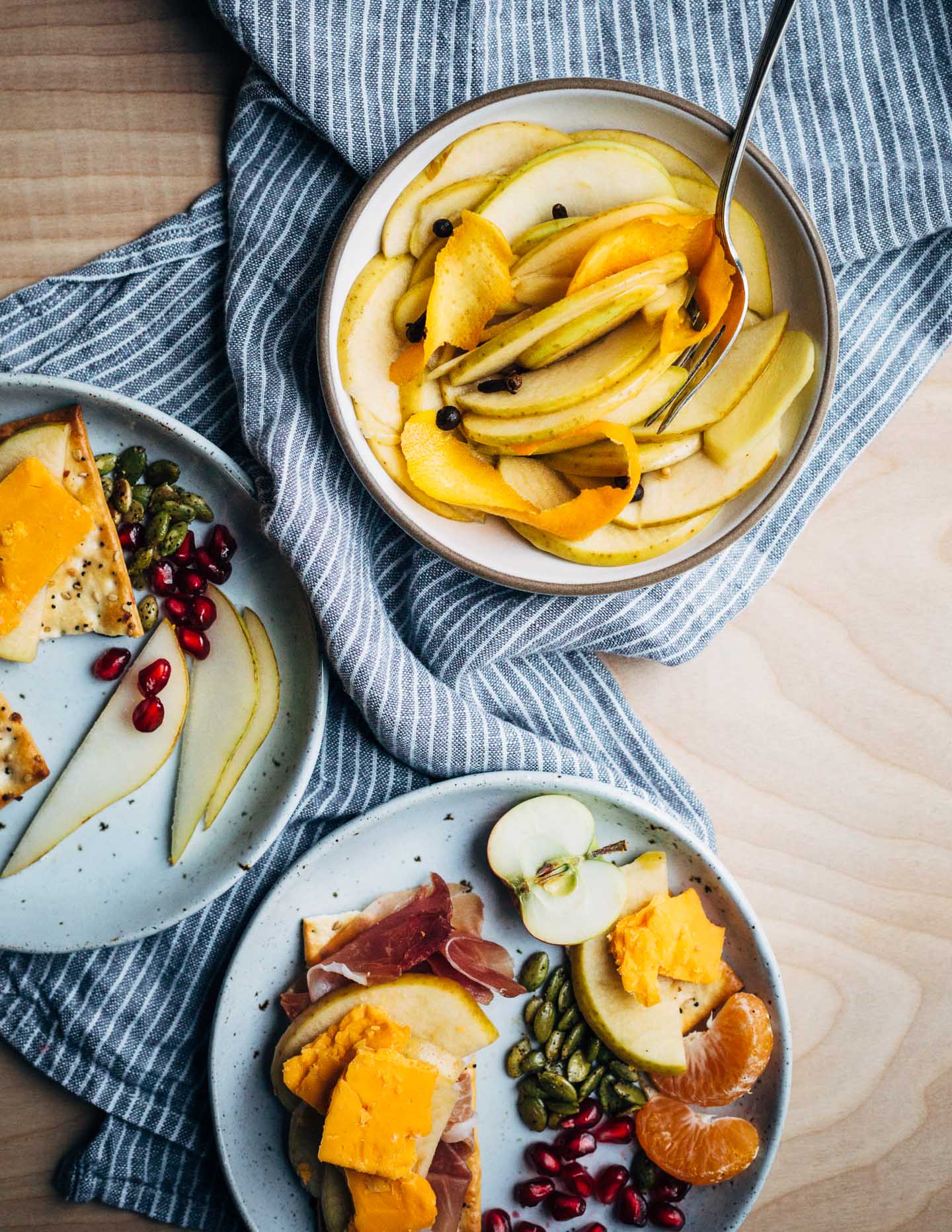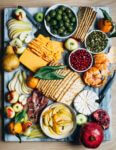 Quick-Pickled Apples
Quick-pickled apples have a wonderful sweet and sour flavor profile that takes on seasonal spices like clove and allspice beautifully. The flavor profile of pickled apples is incredible versatile – for variation. Create a spicier version with cayenne or chili powder or add bay and rosemary for a more herbaceous spin.
These quick-pickled apples come together quickly, but need time to chill in the fridge.
Ingredients
2 - 3

medium apples

(select a crisp, flavorful variety like Jonagold, Honey Crisp, or Granny Smith)

4

5-inch

strips orange zest

1/4

cup

peeled and sliced young ginger root

1

cup

apple cider vinegar

1

cup

water

1/2

cup

maple syrup

1/2

teaspoon

sea salt

1

teaspoon

whole cloves

1/2

teaspoon

white peppercorns

1/2

teaspoon

yellow mustard seed

1/2

teaspoon

red pepper flakes

1/2

teaspoon

allspice berries
Instructions
Core and slice apples into 1/8-inch thick half moons. Gently layer apples, ginger, and orange zest into two pint jars.

Meanwhile, bring cider vinegar, water, maple syrup, and spices to a boil, then set aside to cool for 20 minutes.

Carefully pour warm liquid over apples, being sure to include spices. Let cool unsealed at room temperature, then seal and refrigerate until apples are cold or up to 1 week.

When serving, add whole spices and zest as a garnish. Taste the pickled ginger slices – if too spicy, discard.
SaveSave
SaveSave
SaveSave
SaveSave
SaveSave
SaveSave
SaveSave
SaveSave