These rich and velvety cheesy scalloped potatoes are suffused with the flavors of Pecorino Romano, freshly cracked pepper, and fresh bay, thyme, and chives.
Good scalloped potatoes can have all the creamy deliciousness and satisfying flavor of mac and cheese. And because potatoes can take on loads of flavor – here, lots of freshly cracked pepper, fresh bay, thyme, and chives – the resulting dish is creamy, cheesy, and deeply savory.
Inspired Flavor
These cheesy scalloped potatoes are inspired by the flavors of classic (American-style) cacio e pepe. In fact, I had planned to call them cacio e pepe scalloped potatoes. But as I was researching both traditional and not-so-traditional recipes for the classic Roman pasta dish, I noticed a lot of people freaking out. The comments sections were heated! There were all caps comments and name calling. Why? Because most American cacio e pepe recipes call for a fat – butter or oil – to help bind the cheese and pasta water mixture. This is not how it's done in Italy and, according to these yelling commenters, you are a hack and an idiot if you can't make it without the binding fat.
I decided that the basic cacio elements of freshly cracked pepper and Pecorino Romano cheese would be a nice starting point. And freed from the constraints of the classic recipe, I was at liberty to layer in fresh herbs like bay, thyme, and chives. 

Which is a long way of saying that these are cheesy scalloped potatoes with lots and lots of pepper and herbs. Please do not freak out. (Unless you want to freak out about how velvety and perfect they are. That would be totally justified.)
For the sticklers out there, I'm emphasizing the cheese here since cheese isn't necessarily traditional in scalloped potatoes. Nutty Pecorino Romano rounds out the flavor, lends depth, and just generally does its delicious melty, cheesy thing.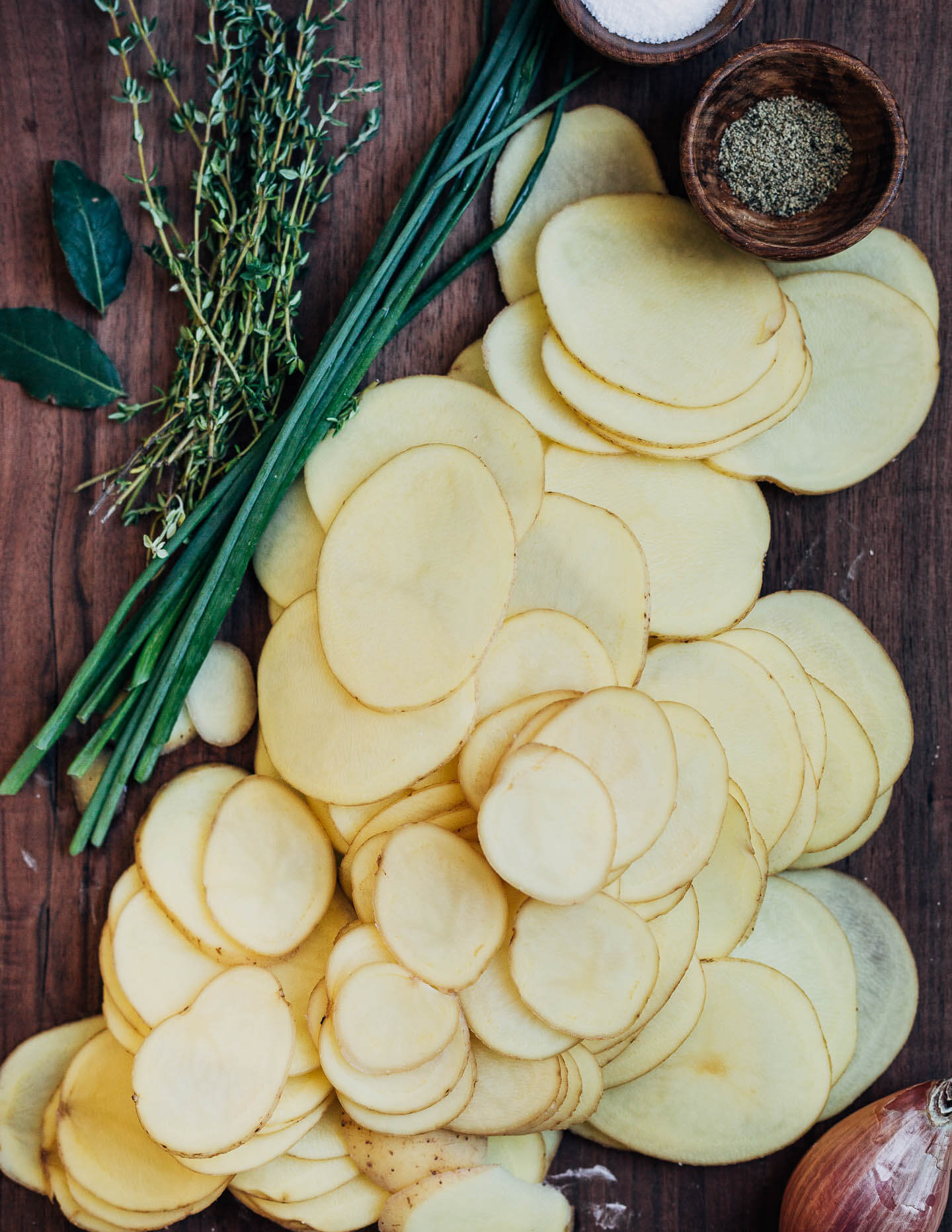 Scalloped Potatoes: The Basics


This recipe comes together pretty simply. It's almost all hands-off time, but there are a few steps and resting places along the way.
First, I recommend a mandoline slicer and a protective glove. A mandoline allows you to slice the potatoes thinly and consistently, leading to a quicker bake time and evenly cooked slices.
Next, you'll simmer the sliced potatoes in the milk and cream mixture along with the pepper, salt, bay, and thyme. This pulls out the starch, gives the cream time to thicken up, and gets the potatoes cooking. After some time to cool, the potatoes are layered with cheese and chives in a buttered casserole dish.
All that's left is to cover the potatoes, bake until tender, and broil the top until bubbly and golden.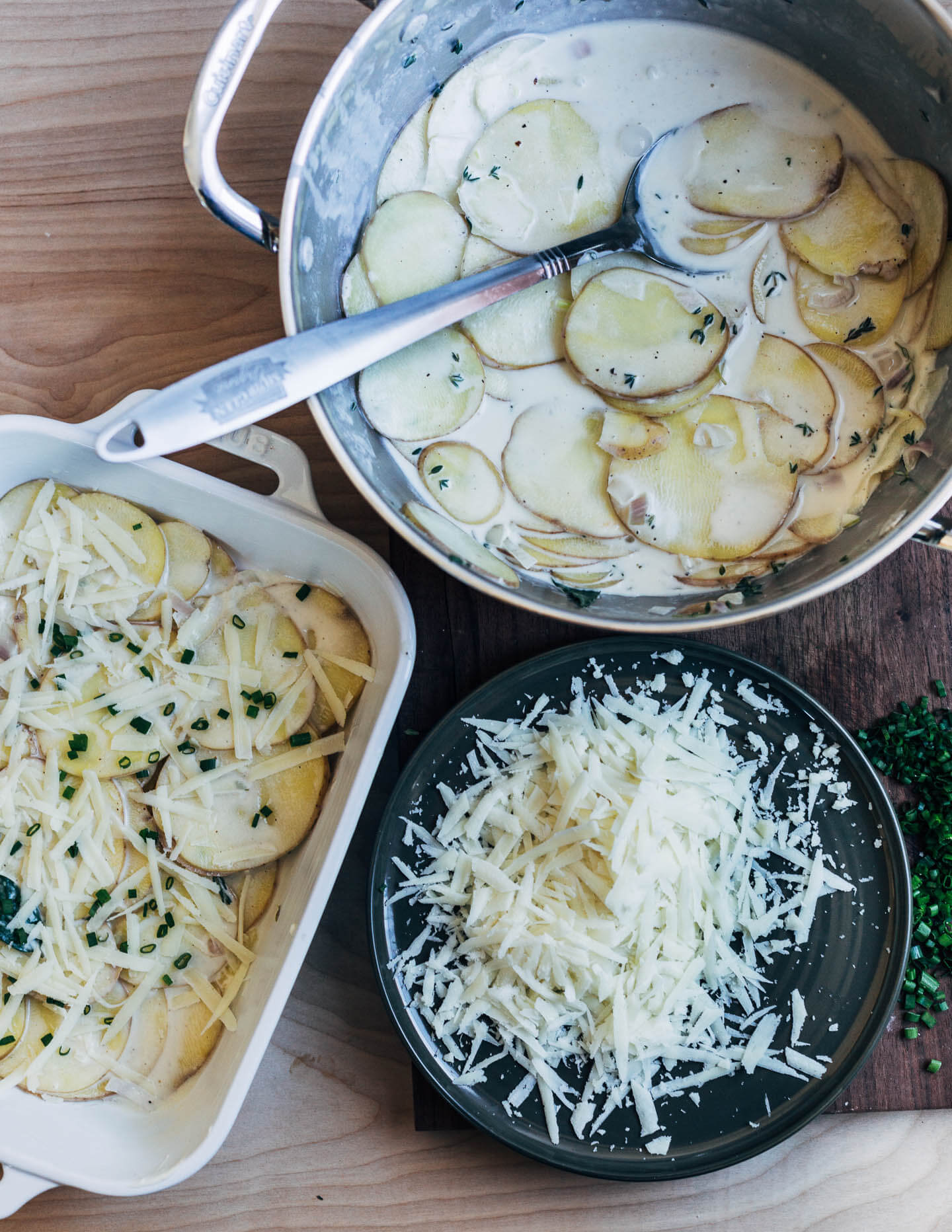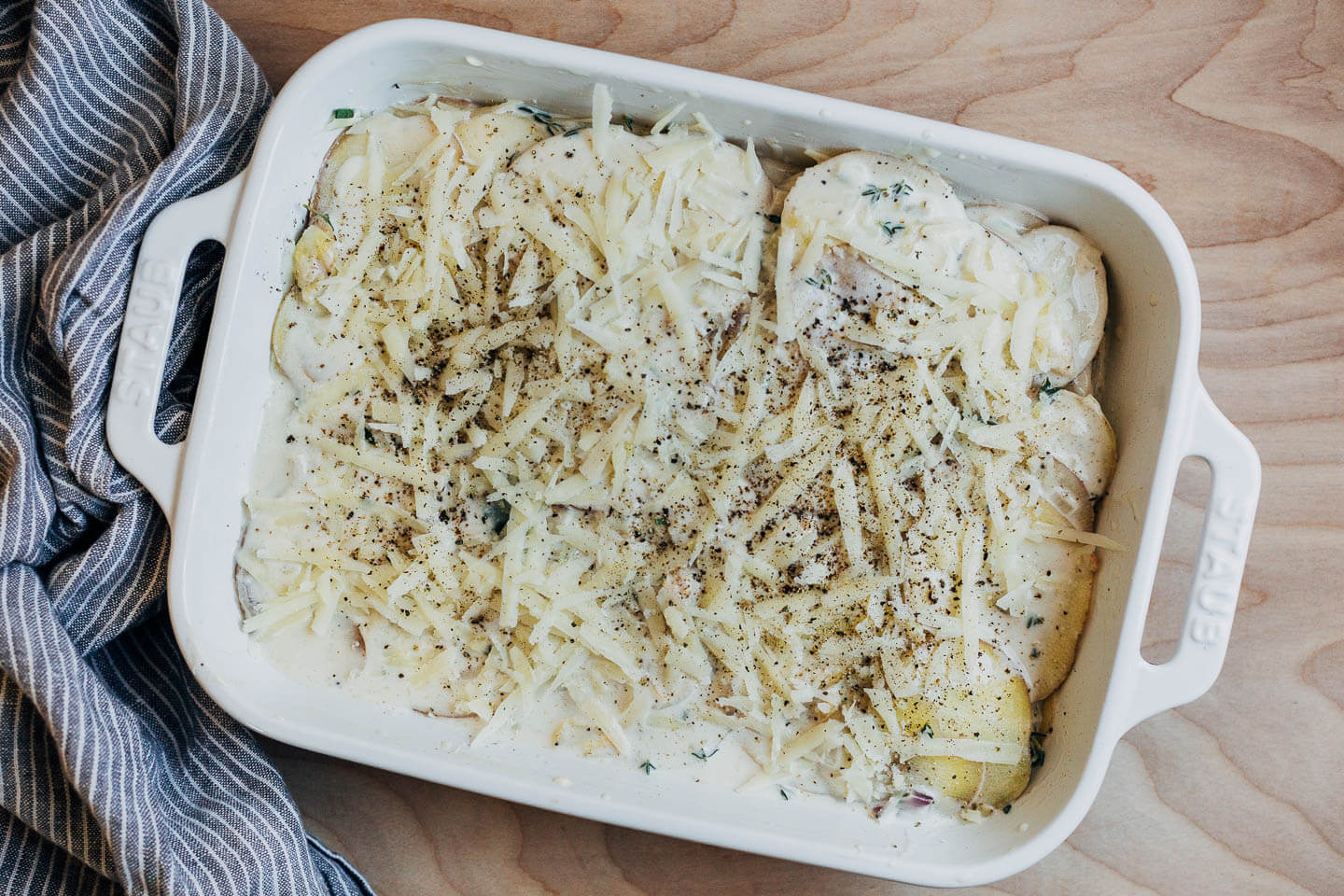 Inspiration
This recipe is based on Martha Stewart's iconic scalloped potato recipe. I picked up some tips, like using a slotted spoon and giving the scalloped potatoes 20 – 30 minutes to rest once they come out of the oven from the Kitchn's excellent scalloped potato bake-off.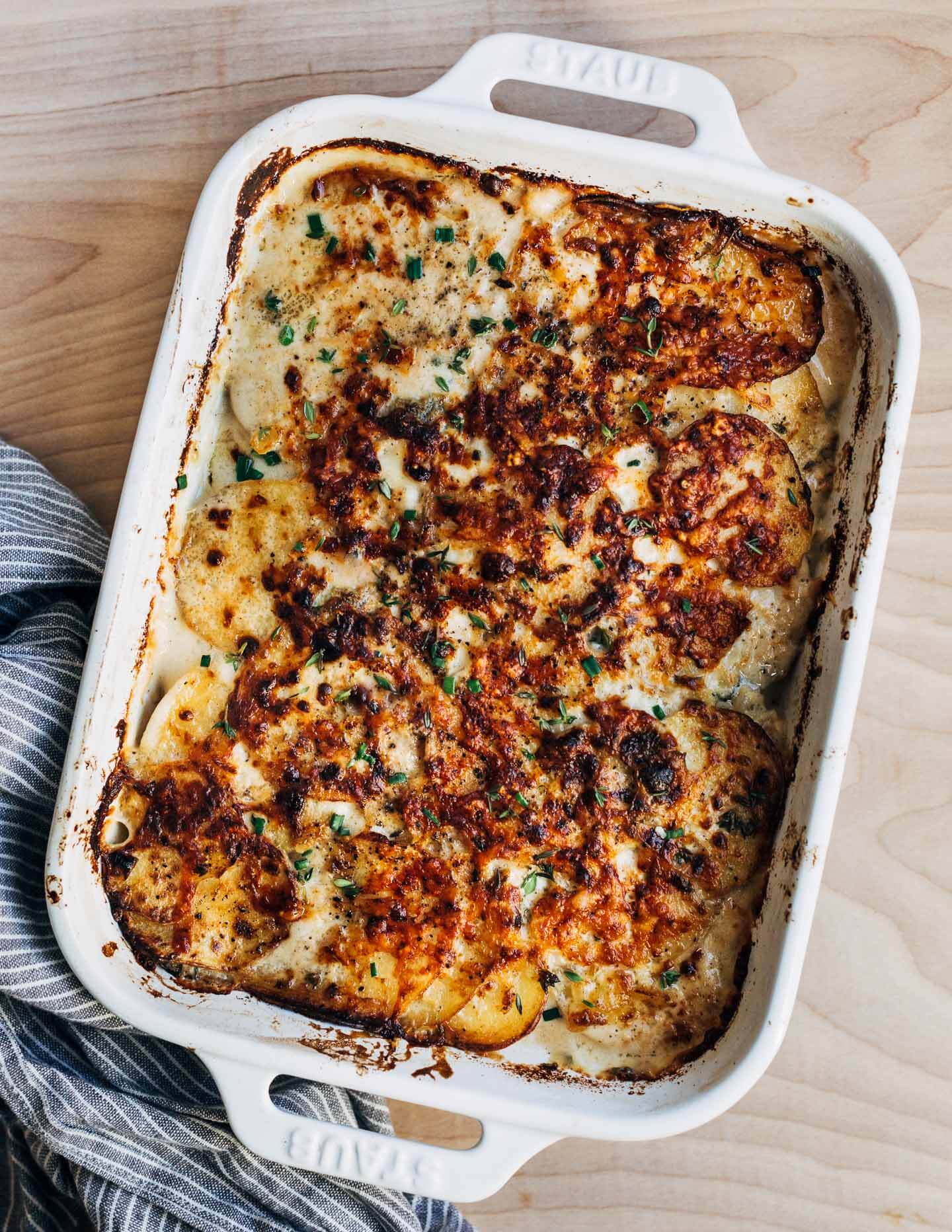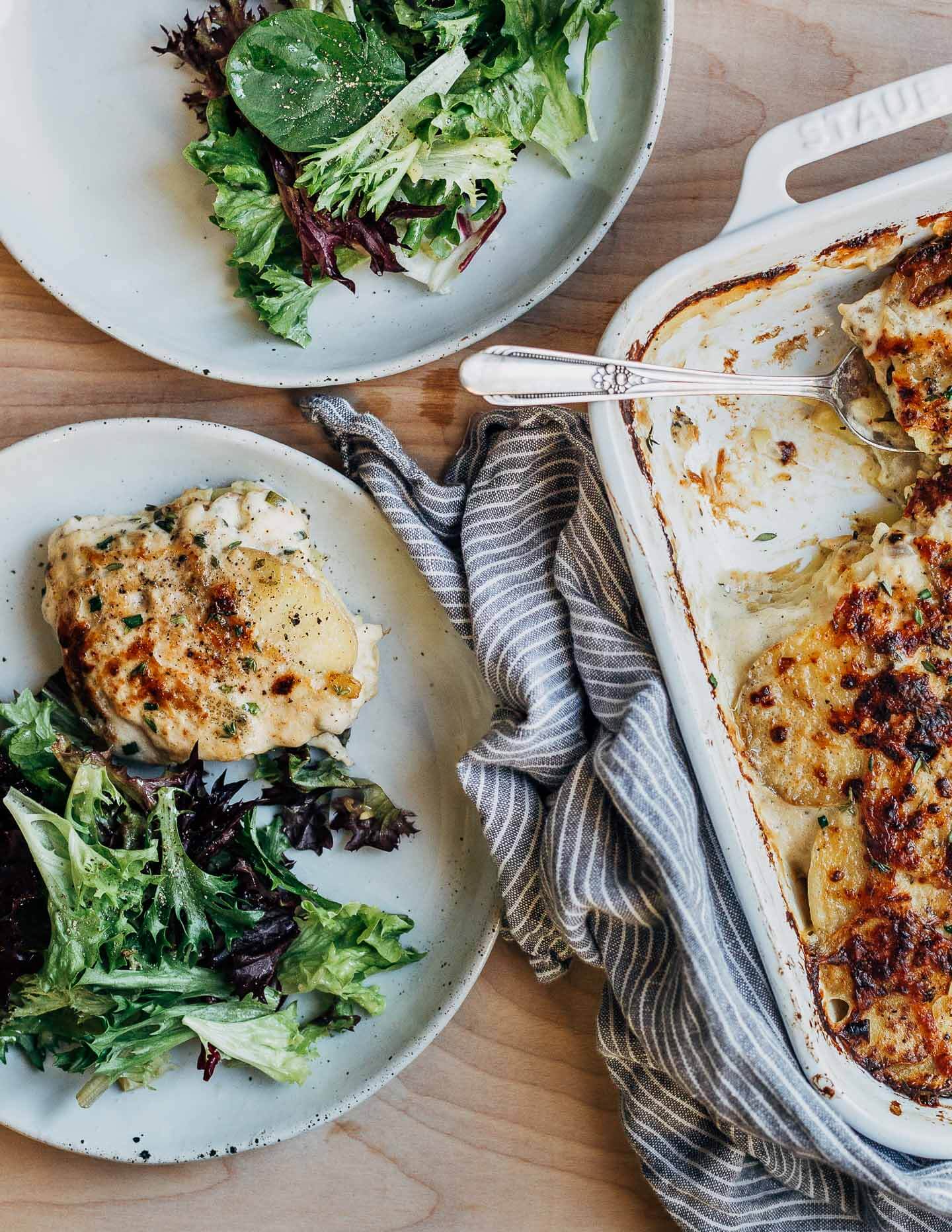 Crafting a Menu and Making It Yours
Cheesy scalloped potatoes are incredibly rich, and my family enjoyed them alongside a big green salad for dinner. They'd also be lovely as part of a celebratory menu or tucked alongside a nice cut of meat for a special meal.
If you'd like to try a lighter version, using only whole milk instead of the milk and cream mixture, works great. And as always, feel free to experiment with the herbs and cheese you have on hand.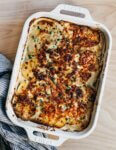 Cheesy Scalloped Potatoes with Pepper and Herbs
Rich and velvety cheesy scalloped potatoes suffused with the flavors of Pecorino Romano, freshly cracked pepper and fresh bay, thyme, and chives.
This dish requires time under the broiler, so make sure to use a broiler-proof baking dish.
Recipe adapted from Martha Stewart.
Keyword:
Scalloped Potatoes
Ingredients
Butter for the baking dish

2

pounds

Yukon Gold or russet potatoes

(4 - 5 medium) , evenly sliced (about 2mm or 1/16th-inch thick)

1

cup

heavy cream

1

cup

whole milk

1

scant tablespoon Diamond Crystal Kosher Salt

(reduce by half if using another salt)

1

teaspoon

freshly ground black pepper

1

tablespoon

fresh thyme leaves,

plus more for garnish

2

fresh bay leaves

4

ounces

grated Pecorino Romano

2

tablespoons

minced chives,

plus more for garnish
Instructions
Preheat oven to 375 degrees F. Generously butter a 7 x 11-inch baking dish.

Place the sliced potatoes in a deep pot. Add the cream, milk, salt, pepper, thyme, and bay, and bring to a gentle boil over medium heat, stirring often and scraping the bottom of the pot so nothing sticks. Cook the potatoes for about 1 minute. Then cover, and set aside for 10 - 15 minutes.

When the potato and cream mixture has cooled, layer 1/3 of the potatoes on the bottom and add 1/3 of the cheese and half the chives. Add another layer of potatoes, another third of the cheese, and the remaining chives. Add the final layer of potatoes, scrape any remaining liquid over the top over the casserole, and add the remaining cheese. Cover with a layer of parchment and a tight-fitting sheet of foil.

Bake 40 - 45 minutes or until potatoes are fork tender and mixture is very bubbly. Place the casserole under a high broiler for 3 - 4 minutes, or until the top is a deep golden hue and the edges are crispy.

Allow the casserole to cool for 20 - 30 minutes. Slice and served with a garnish of pepper, thyme, and chives.