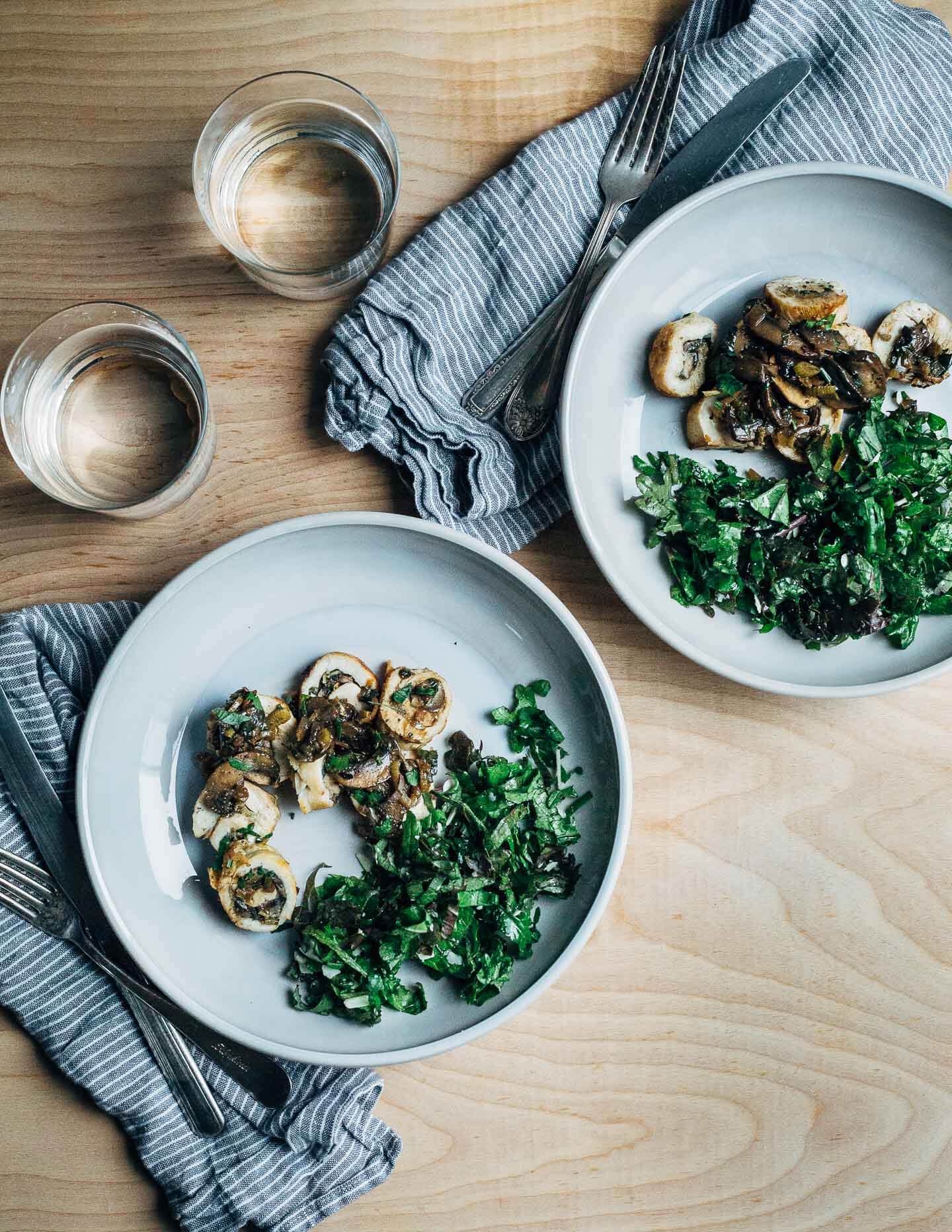 We've teamed up with Shenandoah Valley Organic on a recipe for richly flavored fennel and mushroom chicken roulade topped with a simple white wine pan sauce. 
Autumn eating may call to mind mounds of pumpkins and crates of apples, but my favorite, somewhat under-appreciated, fall ingredients are those that capture this moment just as the first frosts are settling in Virginia. Markets are still brimming with hardy greens, and vegetables like leafy green fennel. Mushrooms are plentiful and highlight earthy fall flavors beautifully. And out in my backyard garden, I still have bushes of parsley, its flavor somehow intensified by the crisp air.
To bring these ingredients together, I turned to another ingredient that captures the moment – Shenandoah Valley Organic Farmer Focus Thin Sliced Chicken Breast, perfect for an herby fennel and mushroom chicken roulade.
SVO chicken is raised just over the Blue Ridge Mountains from here in Virginia's Shenandoah Valley. Last summer, I visited one of their partner farms, and so I know first-hand the care with which SVO partner farmers raise their chickens. More than that, the SVO system supports partner farmers, ensuring they earn a good living while raising animals the right way. SVO's Farmer Focus Thin Sliced Chicken Breast also saves time, since the meat is completely prepped in fast-cooking thin slices. I should also mention here that in freshness, quality, and flavor, SVO is some of the very best chicken I've tasted.
Besides great chicken, the fennel and mushroom chicken roulade filling is made with shallot, lemon zest, parsley, and dry white wine, all of which are complemented beautifully by nutty Parmesan cheese.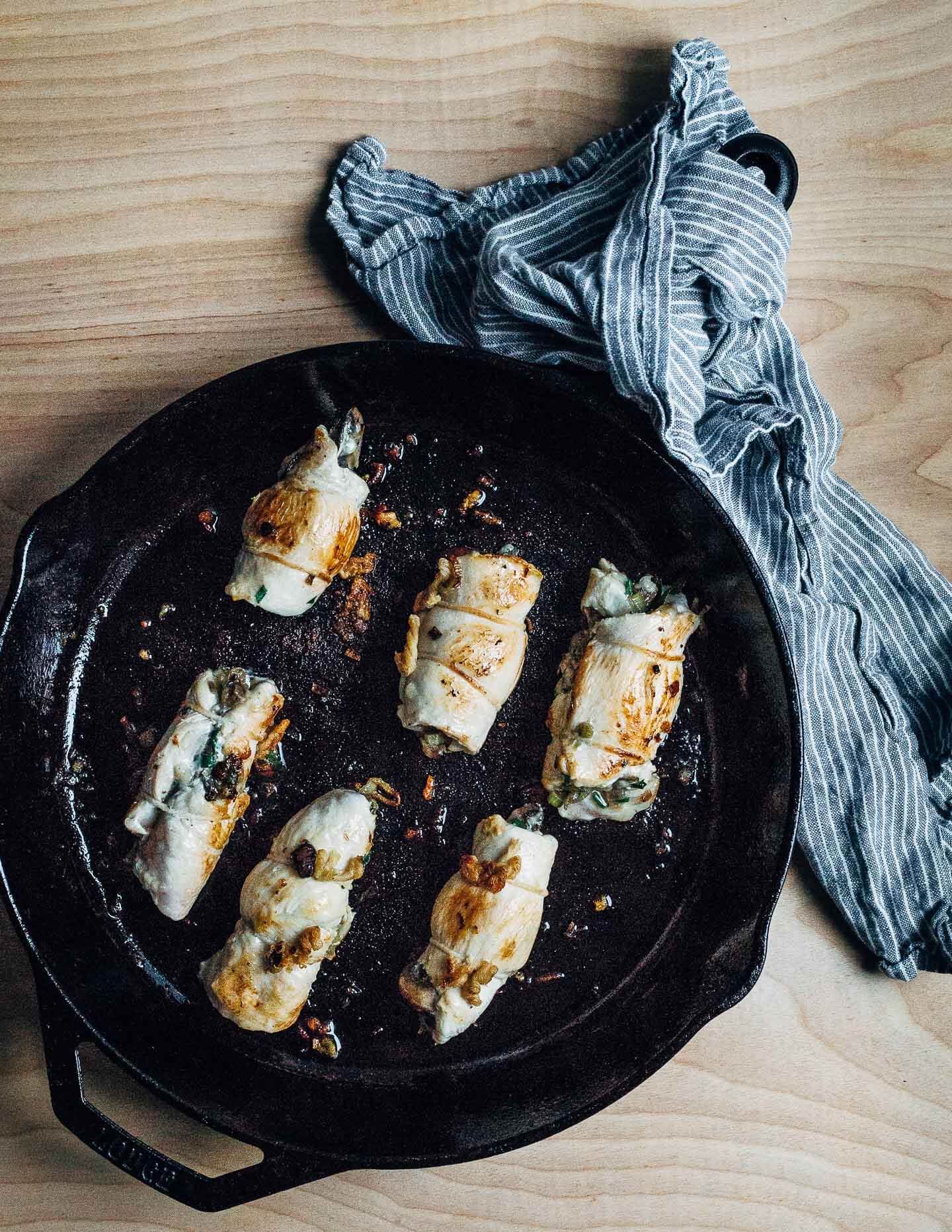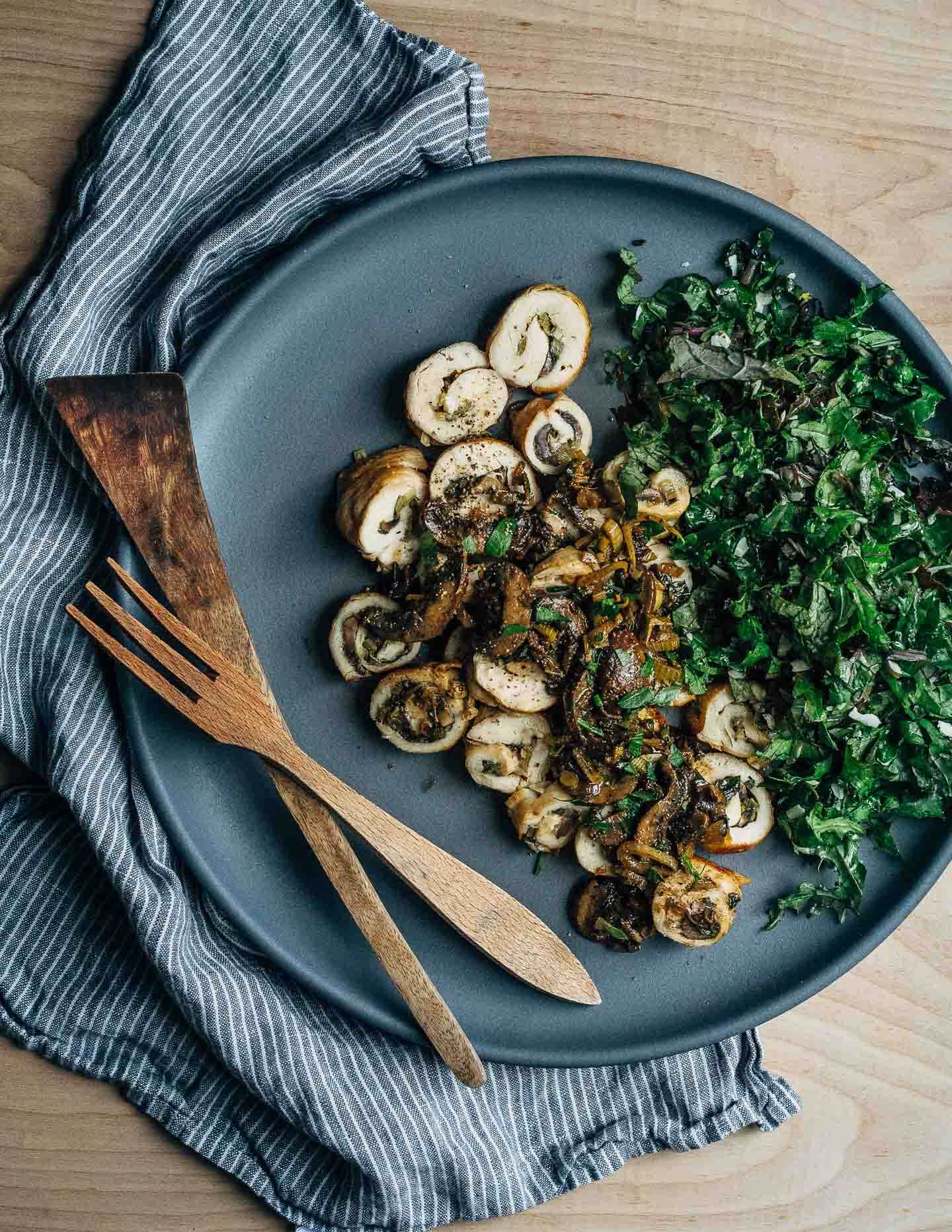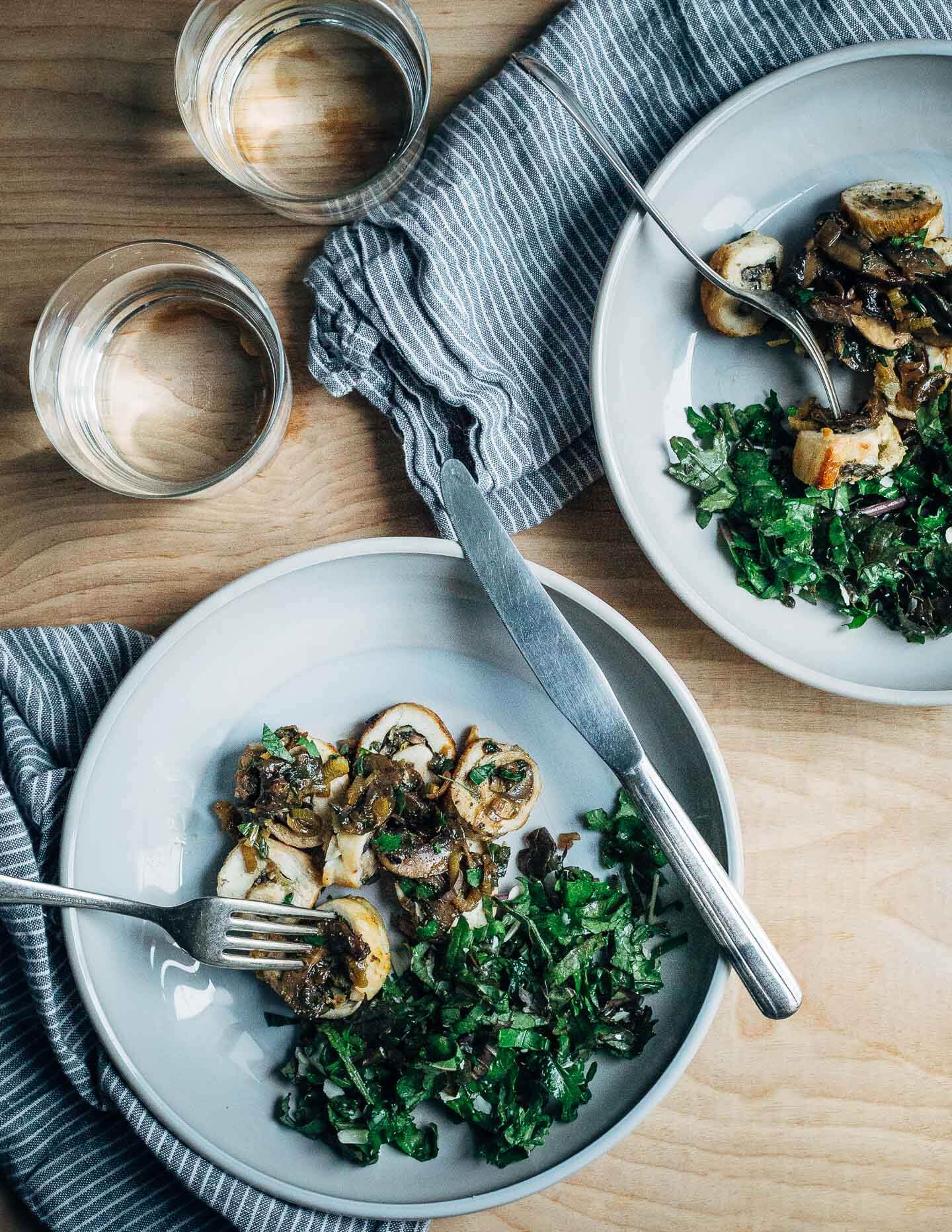 The recipe has a few steps, but comes together quickly. I started by sautéing the shallot, fennel, and mushrooms until everything was quite tender; I spread the filling out on the sliced chicken breast, added a generous sprinkle of Parmesan, and then rolled and tied the roulades. Working quickly, I pan-seared the roulades and finished them in the oven while I made a simple pan sauce with the leftover vegetables and white wine. Add a simple kale salad, and you have dinner.
This recipe uses both a cast iron skillet and a rimmed baking sheet in multiple rolls. To save dishes, line the baking sheet with wax or parchment paper to prep chicken, then remove paper and use to bake roulades.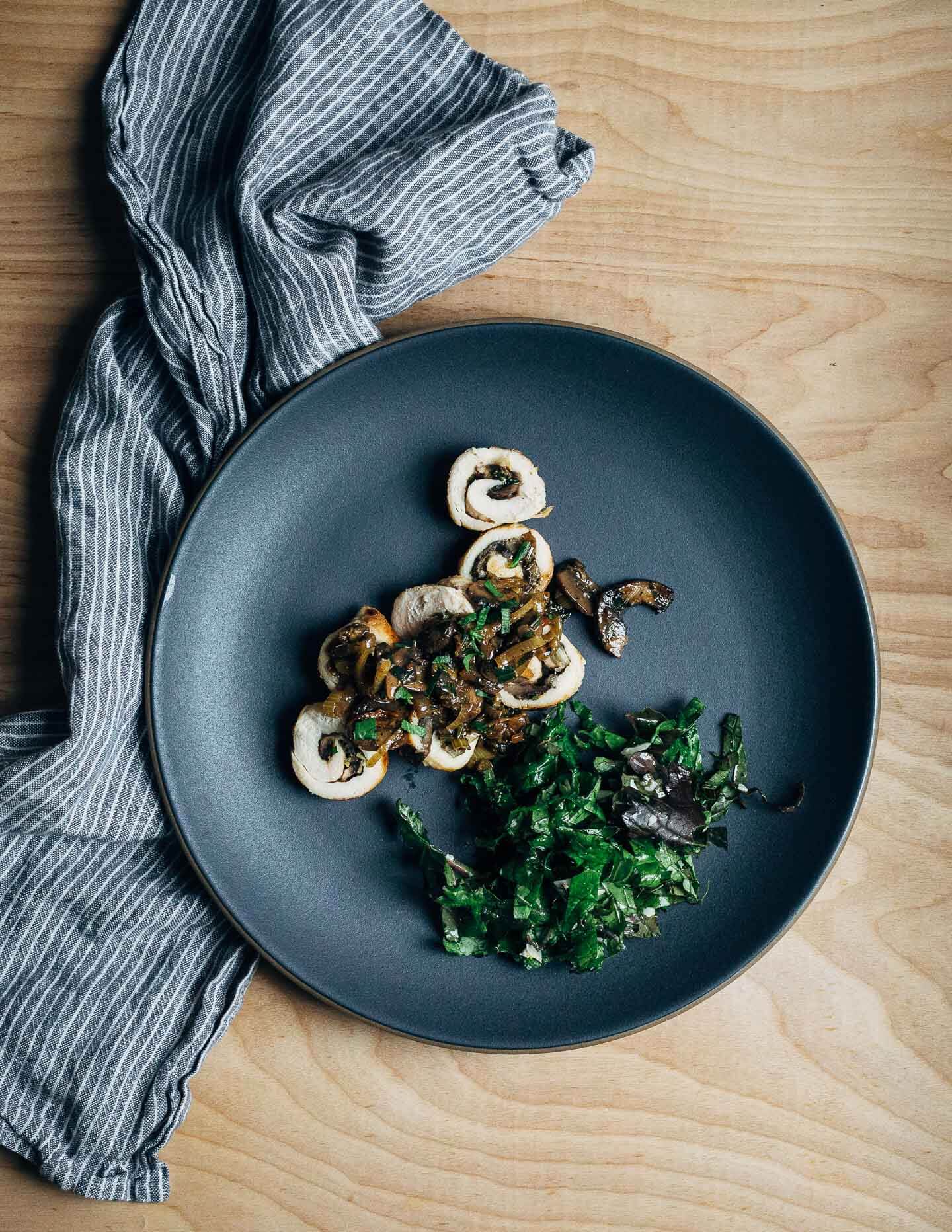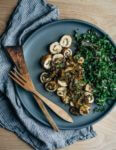 Fennel and Mushroom Chicken Roulade
A recipe for richly flavored fennel and mushroom chicken roulade topped with a simple white wine pan sauce.
Ingredients
1

pound

SVO Farmer Focus Thin Sliced Chicken Breast

(6 slices)

2

tablespoons

extra virgin olive oil,

divided

1

large or 2 small shallots,

peeled and minced

1

medium fennel bulb,

cored and sliced very thin

zest of 1 lemon

2

tablespoons

plus 1/2 cup dry white wine,

divided

1/2

pound

mushrooms,

stems removed and sliced 1/4-inch thick

3

tablespoons

minced parsley leaves,

plus more for garnish

fresh ground black pepper

6

tablespoons

grated Parmesan cheese
Instructions
Preheat oven to 450 degrees F.

Lay thin sliced chicken breasts out in a single layer on a parchment or wax paper-lined rimmed baking sheet. Brush both sides of chicken with olive oil (about 1 tablespoon total) and sprinkle generously with sea salt. Set aside while you prepare filling.

Set a large, deep sided skillet over medium heat. Add 2 tablespoons olive oil, shallots, and a pinch sea salt. Sauté 5 minutes, stirring often. Fold in fennel, sprinkle with sea salt, and sauté 4 minutes more. Finally, add lemon zest, 2 tablespoons white wine, mushrooms, another pinch sea salt, and several twists black pepper. Cook, stirring often, until mushrooms are cooked through, 4 minutes more. Taste mixture and add sea salt as needed. Spoon mixture into a bowl, fold in parsley, and set aside to cool. Wipe out skillet and set aside.

Measure and cut 12 (12-inch) lengths of butcher twine.

To make roulades, spoon 2 tablespoons filling onto each chicken breast slice. Top each with 1 tablespoon grated Parmesan. Starting at the small end, roll chicken breasts tightly, but not so tight filling squeezes out. Tie each roulade in 2 places; trim excess string.

Set the same pan used to cook filling over medium-high heat. Add 2 tablespoons neutral cooking oil. When hot, add chicken roulades and sear on all sides, turning frequently, 10 minutes total. Arrange seared roulades on baking sheet and bake 8 - 12 minutes, or until a thermometer inserted horizontally into the thickest part of the chicken reads 165 degrees F.

Meanwhile, in the same pan used to sear chicken, over medium-high heat, add a splash white wine and deglaze pan. Fold in any remaining filling (about 1 cup), and the remaining white wine. Turn heat down to medium, and cook until sauce thickens and color deepens. Taste, and add salt as needed. Keep sauce over a low flame until chicken is ready.

Rest roulades 5 minutes and then use a very sharp knife to cut ties and slice into 3/4-inch thick rounds. Top with pan sauce, and finish with parsley and fresh ground pepper. Serve immediately.
SaveSave
SaveSave
SaveSave
SaveSave