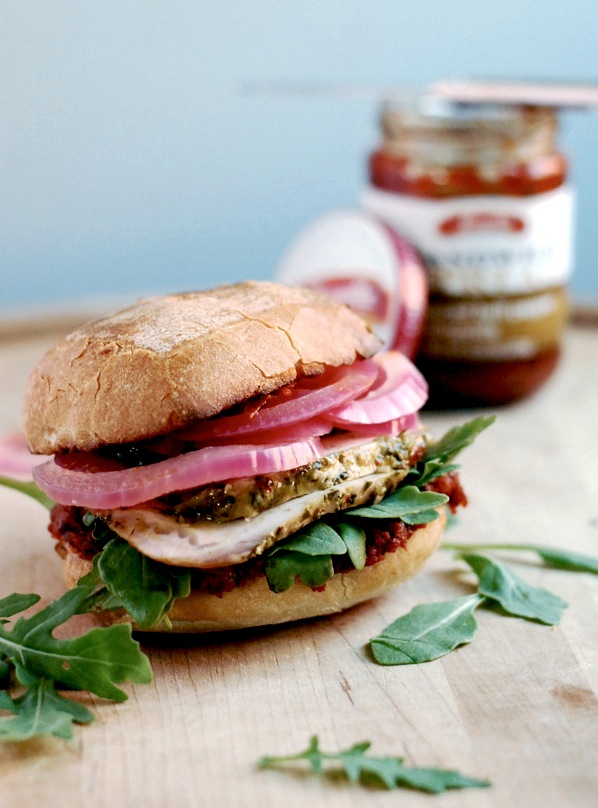 This post is sponsored by Mezzetta; thanks for supporting Brooklyn Supper's terrific sponsors!
Back in Brooklyn, busy Saturdays would often lead to a kind of desperate hunger that ended with Brian heading out for sandwiches. If we were flush, we'd either stop by one of our favorite neighborhood places like Saltie, otherwise there were plenty of plain old delis that could be counted for a good sandwich for not much money. And either way, we only had to walk a block from our front door.
Here in Virginia, things are different. We knew when we moved here that we'd be giving up the incredible NYC food culture, and we've run into a few painful reminders, like trying to find dinner at 10pm on a Tuesday or a decent sandwich on a Sunday afternoon. To cope, we've gotten better at cooking the favorite foods we used to outsource. Good sandwiches are a necessity for us, and over the past few months, we've honed our skills.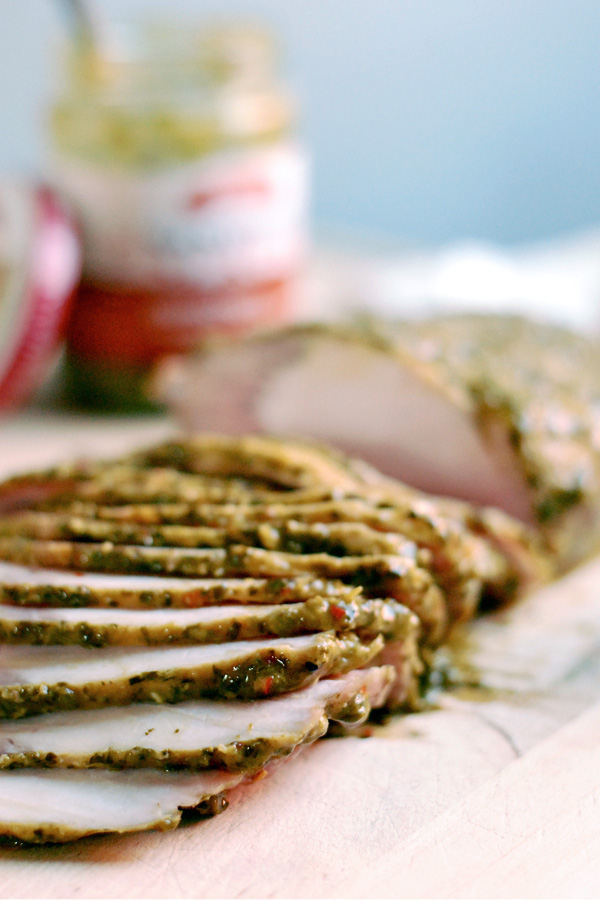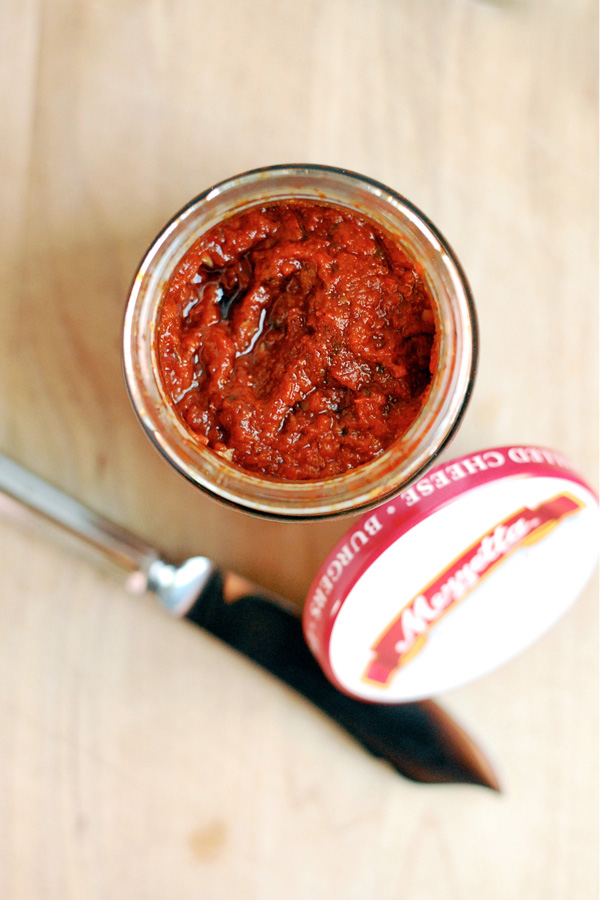 So we were pretty excited when Mezzetta reached out to us to help promote their "Make That Sandwich Contest." For starters, they sent us samples of their great products. Though I loved everything, I was particularly into the Chimichurri Sandwich Spread which is lively and herbaceous, with a delicious piquancy and a rich, creamy texture. I'm also pretty in love with their Roasted Red Bell Pepper & Chipotle Spread, which has an impressive depth and a surprisingly fresh texture.
I tested a few recipes, and decided on something that featured both of the sandwich spreads––a flavorful roast pork sandwich. Mezzetta's Chimichurri Sandwich Spread is fresh and bright, with plenty of salty goodness, so it was the perfect thing to slather on a reasonably-priced pork loin roast. Brian slow-cooked the roast for almost three hours, and the resulting roast was, as you might imagine, incredibly flavorful and moist. Quick-pickled onions balance things out with a satisfying, tangy crunch, and Mezzetta's Roasted Red Pepper & Chipotle Spread is every bit as smoky, sweet, and delicious as it sounds, and blends beautifully into the doughy center of a ciabatta roll.
If all this sandwich talk has sparked inspiration, create your own sandwich recipe and enter it in the Mezzetta "Make That Sandwich" contest (the winner will receive $25,000, and two runners up will be awarded $1,000 each). Click here for entry information and contest rules.
If you'd like to sample a few Mezzetta products yourself, you're in luck! One Brooklyn Supper reader will be selected at random to receive a selection of Mezzetta's tasty peppers, olives, and spreads. To enter, fill out the entry form and "Like" Brooklyn Supper on Facebook. Contest runs through midnight, August 17. Giveaway open to US residents only.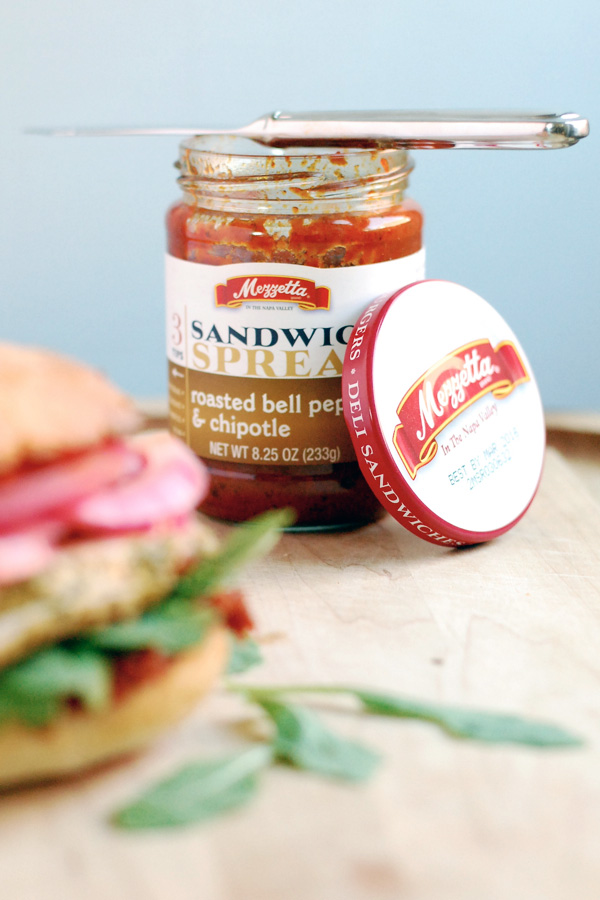 Chimichuri Roast Pork Sandwich with Roasted Red Bell Pepper & Chipotle Spread and Quick Pickled Onions
for the chimichuri roast pork
(makes enough meat for eight sandwiches)
1 1/2 pound pork loin roast (tied)
1 tablespoon sea salt (reduce by half for regular salt)
1/2 cup Mezzetta Chimichurri Sandwich Spread
Preheat oven to 250 degrees.
Rub the roast all over with sea salt. Next, rub the roast with Mezetta's Chimichurri Sandwich Spread.
Place the roast in a small roasting pan and slide into the oven. After 30 minutes, flip the roast. After another 30 minutes, flip again. When the roast has been cooking for two hours and 15 minutes check the meat's temperature (overcooking this roast would be a pity). Continue cooking until the internal temperature reaches 145 degrees Fahrenheit. Our roast cooked for a total of 2 hours and 45 minutes.
Pull from oven and rest for 10 minutes. If serving immediately, set roast on a cutting board. Otherwise, leave roast whole, cover, and refrigerate until ready to serve.
Slice pork as thinly as possible and reserve for your sandwiches.
to assemble the sandwiches
(directions for two sandwiches)
2 soft ciabatta rolls, sliced in half and toasted
1/2 cup Mezzetta Roasted Red Bell Pepper & Chipotle Spread
2 thick slices quick pickled onions (here's our recipe for super quick-pickled onions)
handful of arugula, washed and dried
Spread Mezzetta's Roasted Red Bell Pepper & Chipotle Spread on all the slices of bread. Set out the bottom slice and add a layer of arugula, a layer of roast pork, arrange the quick-pickled onions, add a few twists of fresh ground black pepper, followed by the top layer of bread.
Plate your sandwiches, garnish with arugula, and enjoy!