Spicy salmon tacos make for a delicious springtime feast. Tender, crisp skinned salmon is suffused with chipotle chili powder, cumin, and coriander, tucked into toothsome corn tortillas, and layered with a fennel and red cabbage slaw and an easy cilantro-avocado blender sauce.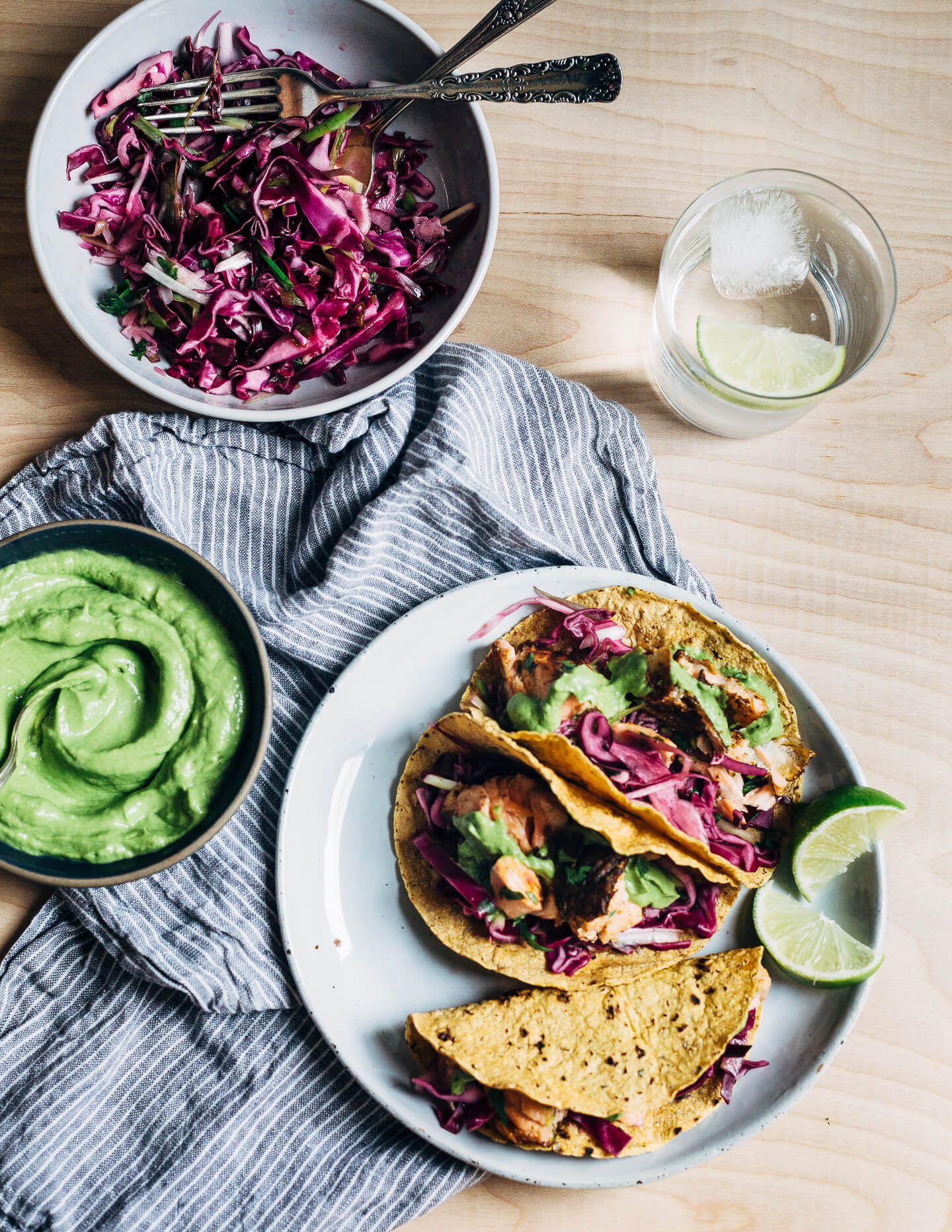 A friend once told me he could wash any amount of dishes as long as there was a window above the kitchen sink and a decent view. I'm lucky to have both.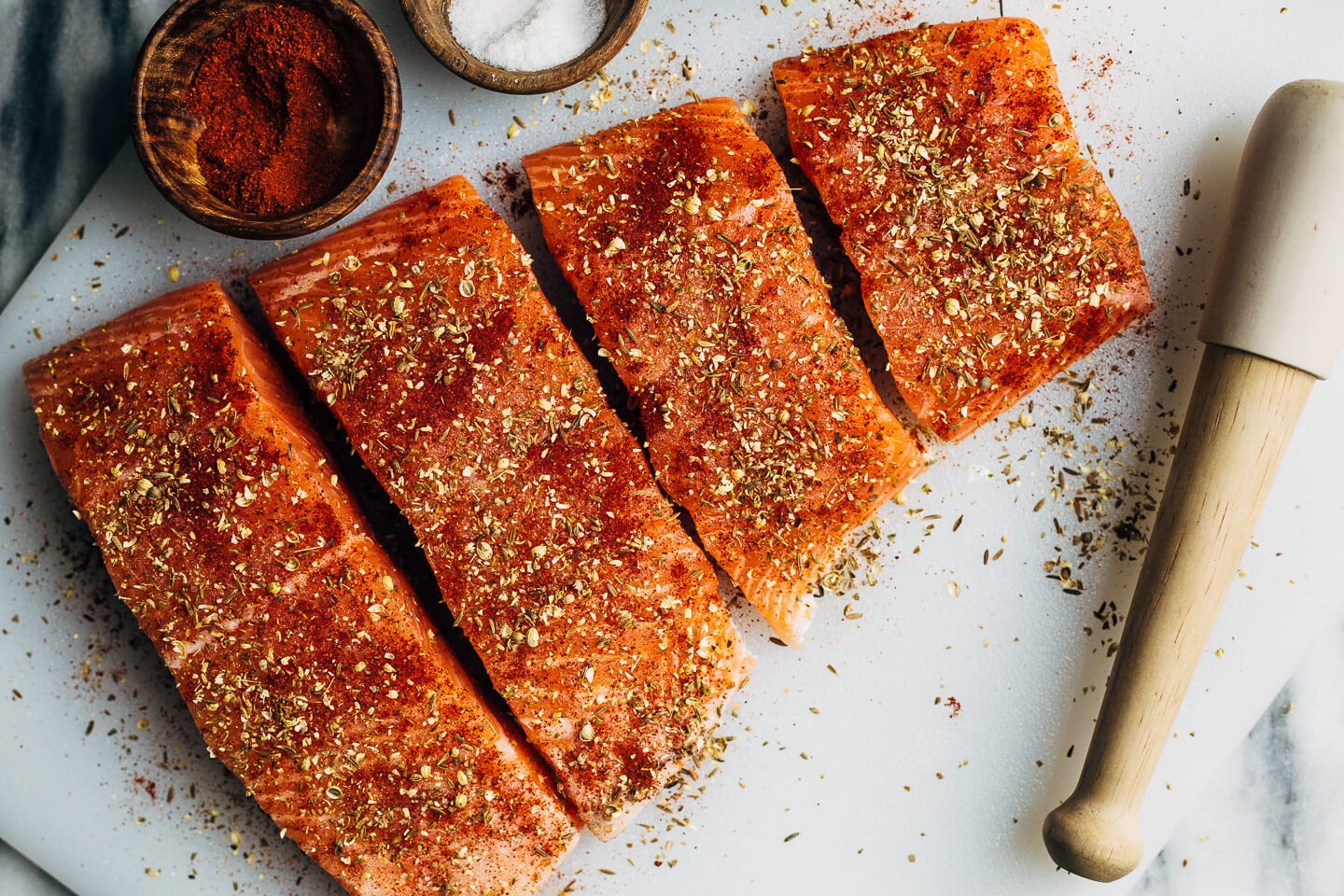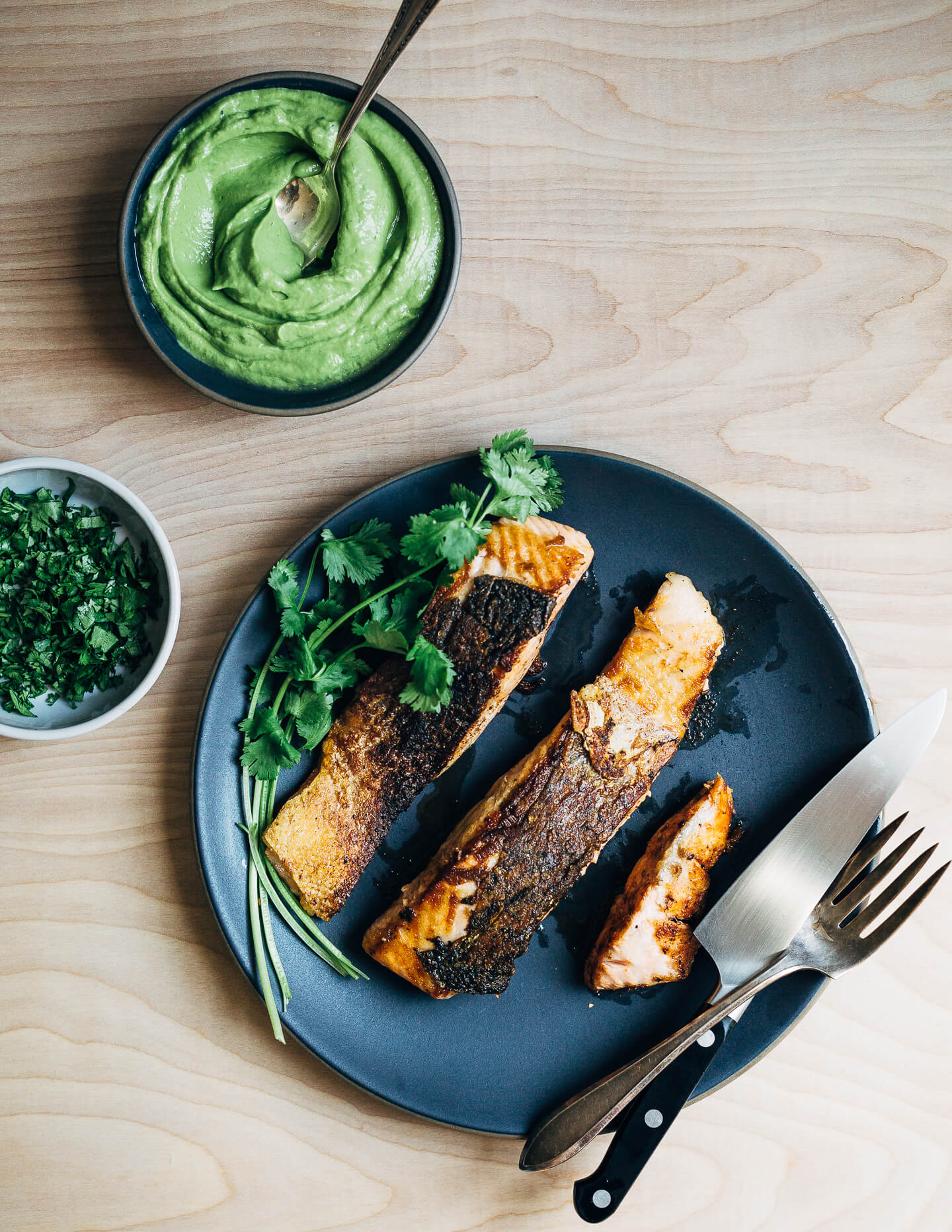 During a terrifying thunderstorm last week, looking out that very window, I watched as a huge silver maple fell in our backyard. No humans or homes were harmed in its felling, but it left me feeling shaky during all the storms we've had since.
Though our little family is fine, the past weeks have been filled with worry, heartache, and loss. Through it all, I've mostly maintained my composure. But these storms have been my undoing, inducing a mild panic every time steely gray clouds coalesce over the mountains. On a walk with a friend yesterday, I figured it out: the storms are an in-the-moment excuse to feel all the pent up fear and worry and sadness of the past few weeks. It's a reminder that we have to feel the things we're going through; emotions always find a way. And just as the woods will fill in the void left by the missing maple, I'll also go on, a little changed.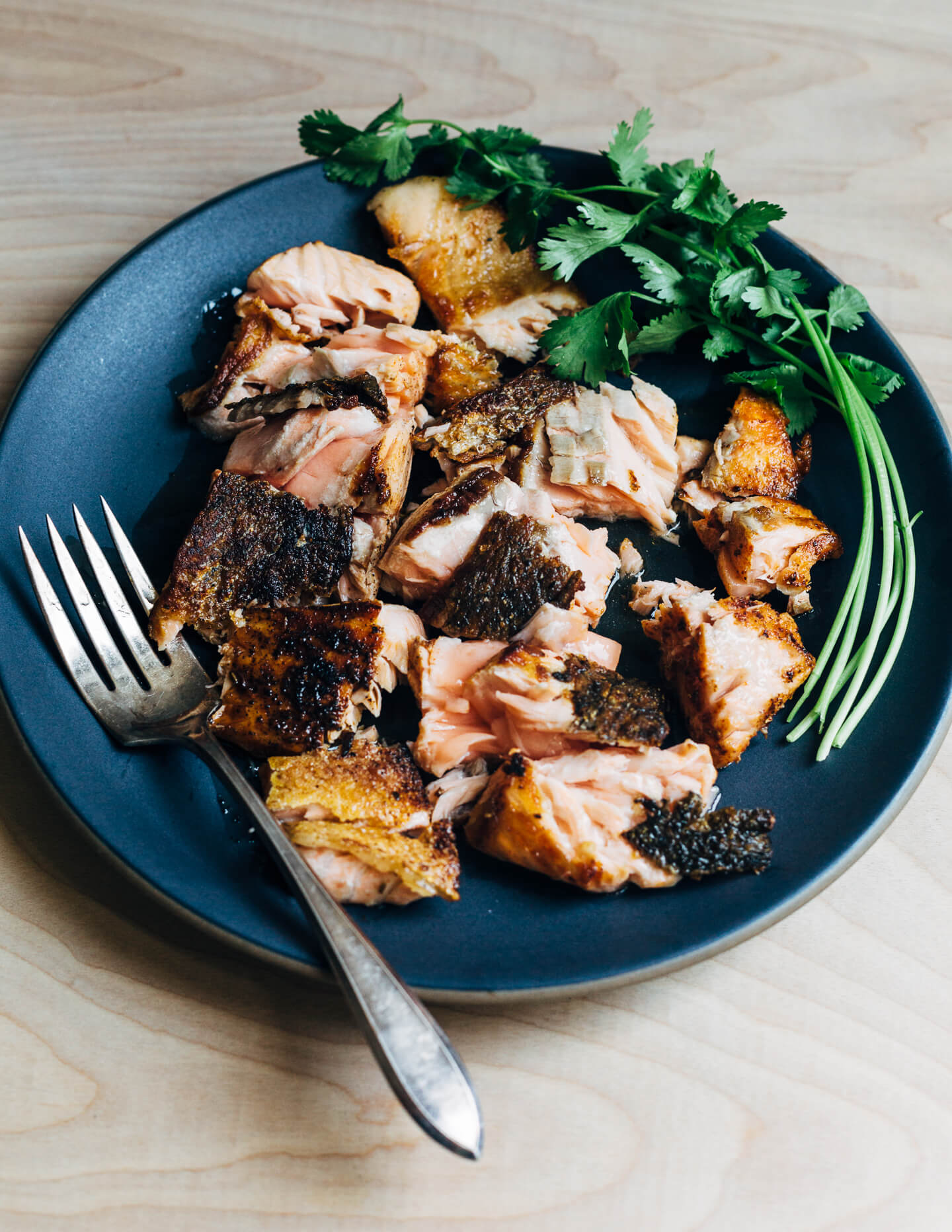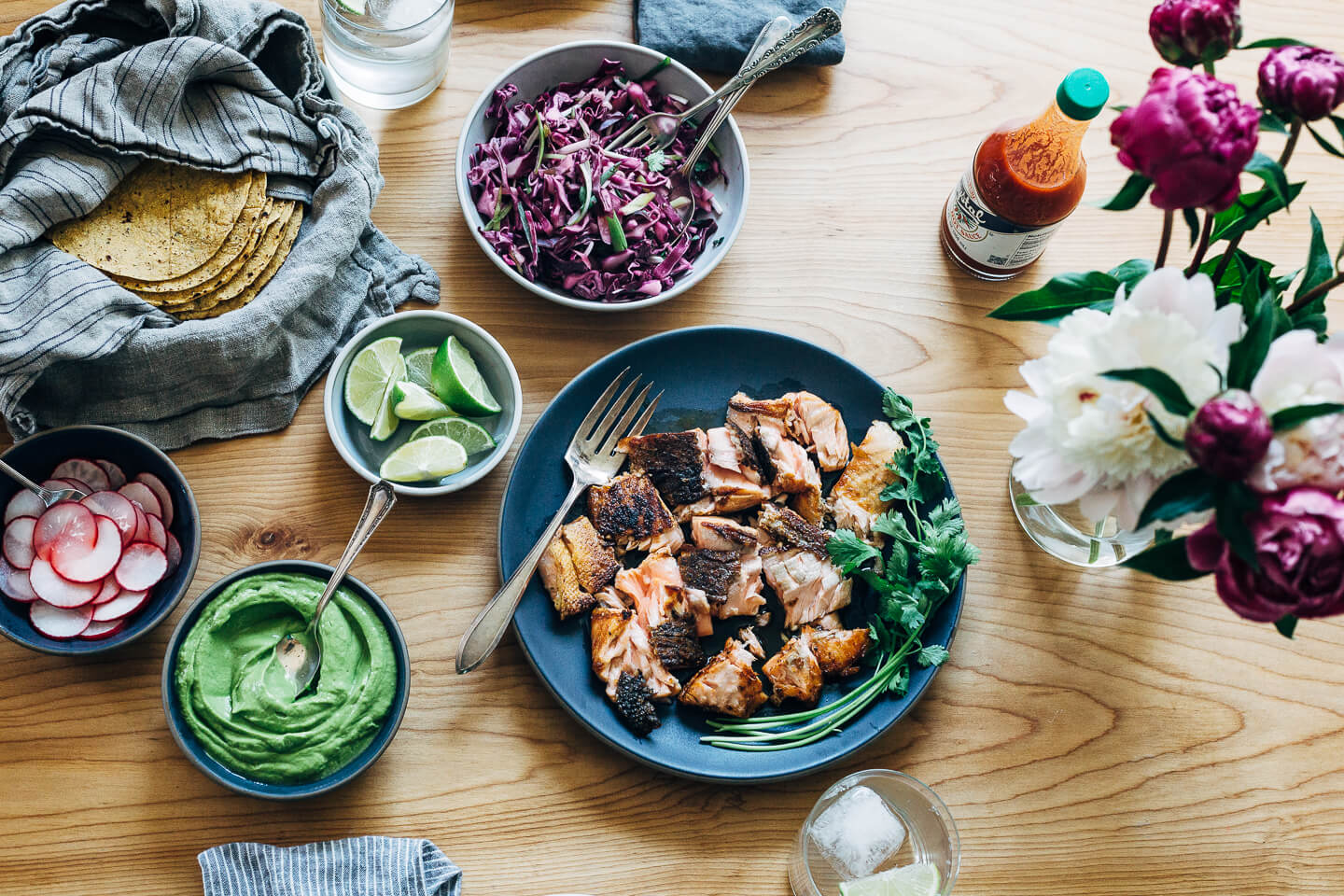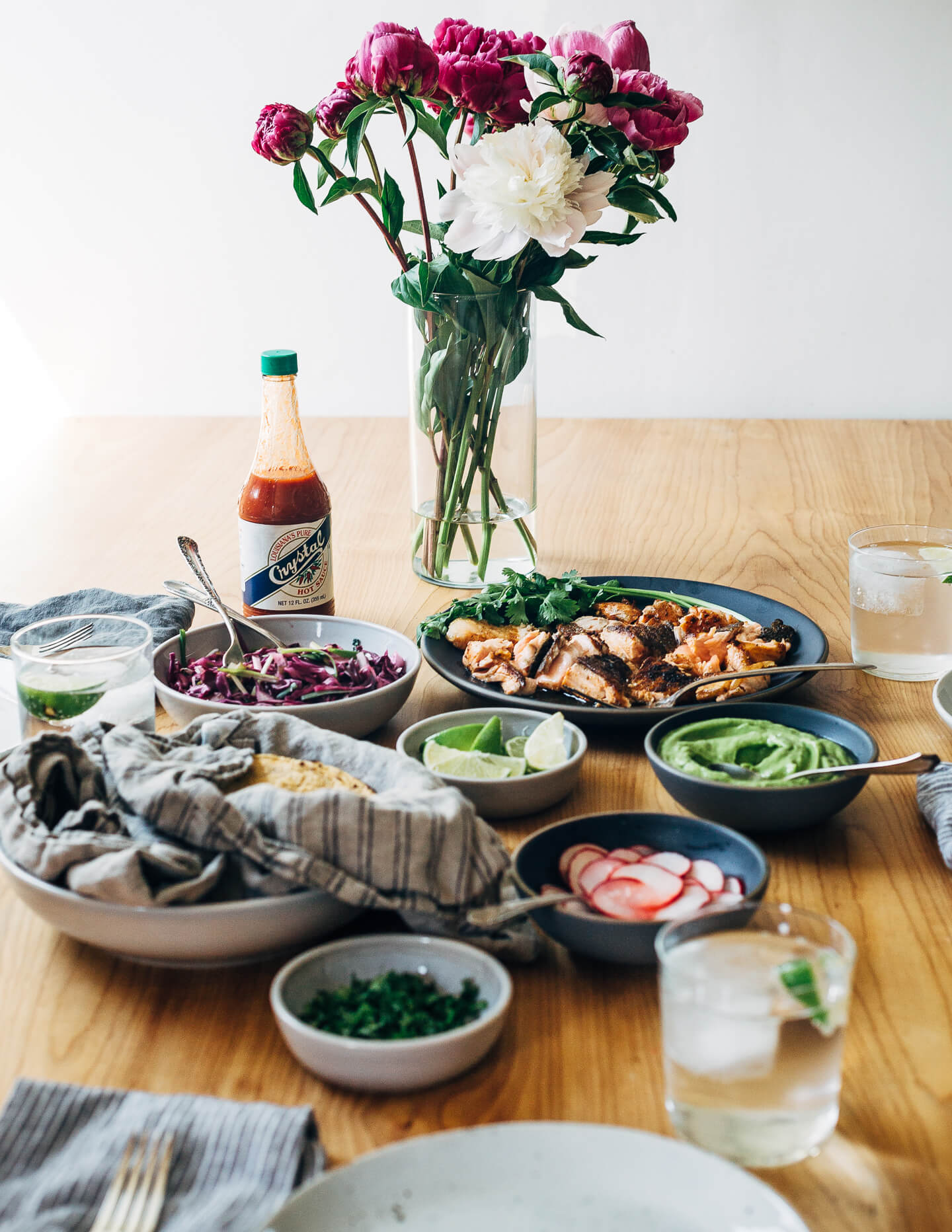 I'd planned to post this recipe sooner, but lost the light to yet another evening storm. Salmon tacos aren't traditional, but they're very good. I rubbed my salmon with sea salt, chipotle chili powder, and fresh ground coriander and cumin seed, then seared it until the flesh was cooked just enough to flake and the skin was beautifully crisp. To accompany the fish, I made a simple shaved fennel and red cabbage slaw, and a cilantro-avocado blender sauce. Paper thin radishes tossed with lime and sea salt, minced cilantro, and sliced limes rounded the spread out.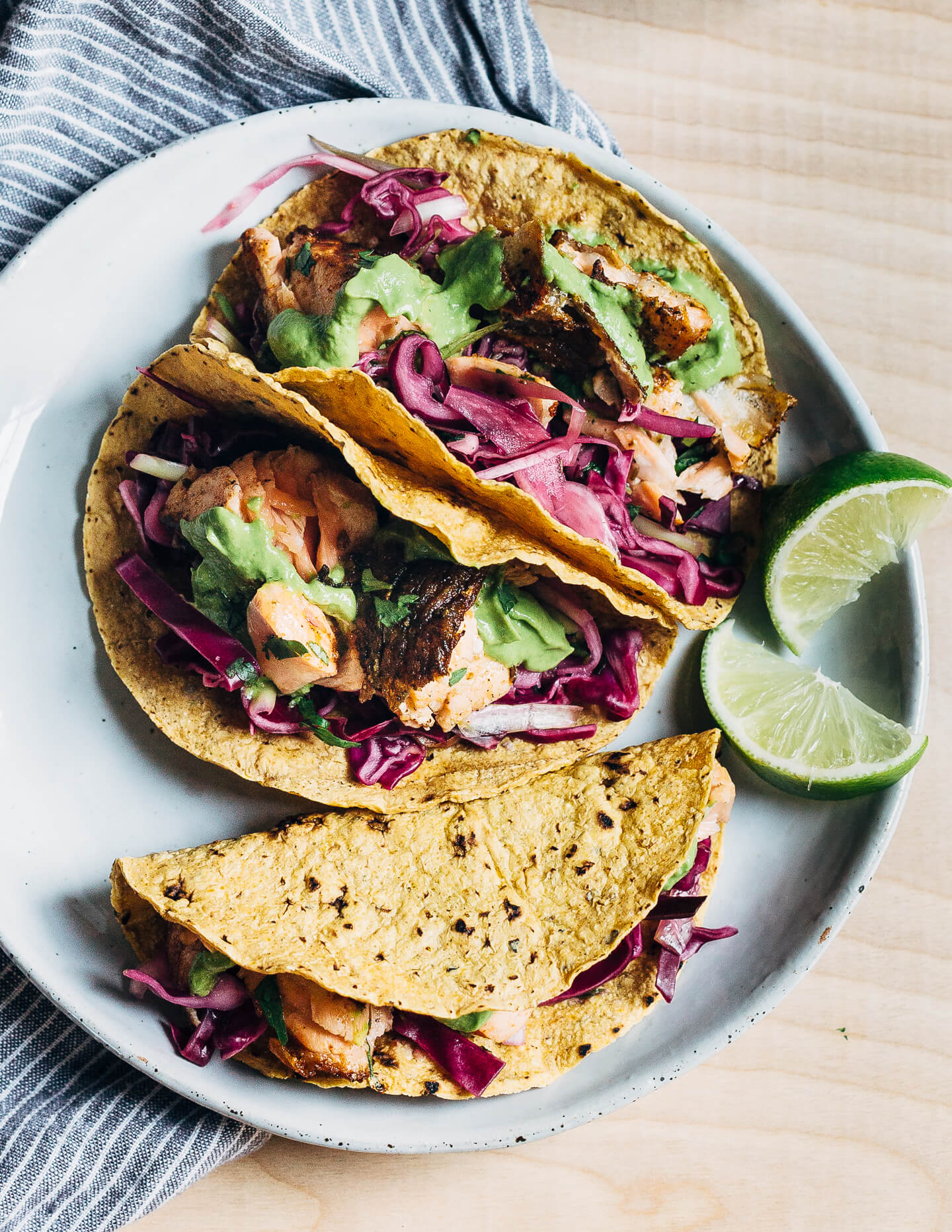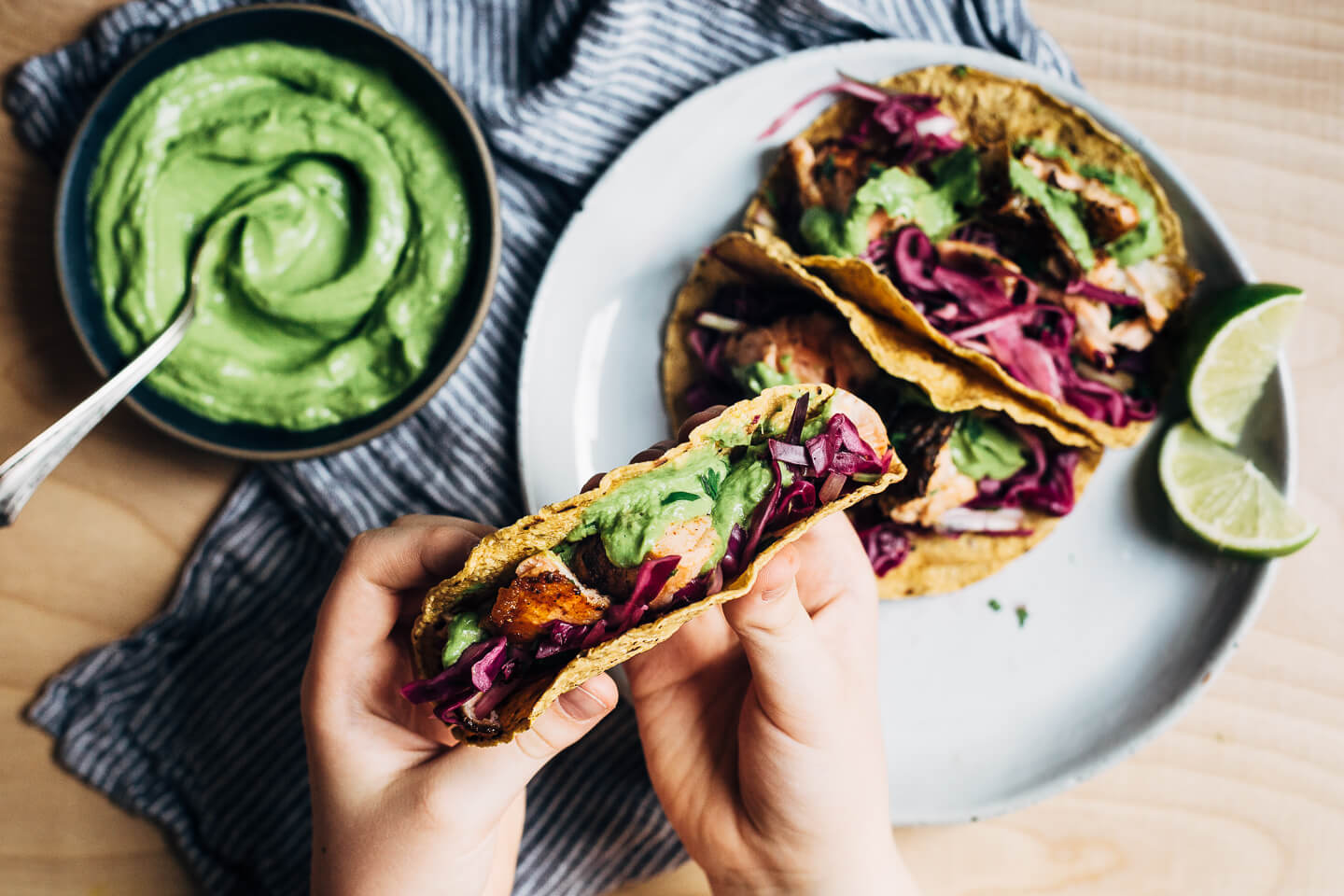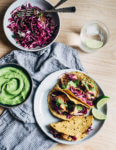 Spice Rubbed Chipotle Salmon Tacos with Cilantro-Avocado Sauce and Red Cabbage Slaw
A rub of sea salt, chipotle chili powder, and fresh ground cumin and coriander enhances the flavor of fresh salmon without overwhelming it. These salmon tacos are served alongside two simple sides: fennel and red cabbage slaw and an easy cilantro-avocado blender sauce.
If you're in a hurry, skip the other ingredients and make the slaw with just shredded cabbage, lime juice, and sea salt. The other ingredients lend complexity and punch, but aren't required. And feel free to riff, too; shredded carrots, radishes, and all kinds of onions would be great additions if you need to clean out the fridge. The slaw keeps well for days – don't be afraid to make extra.

Ingredients
Salmon
2

teaspoons

cumin seed

2

teaspoons

coriander seed

2

pounds

1 - 2-inch thick salmon fillet,

with skin

2

teaspoons

sea salt

2

teaspoon

chipotle chili powder

(use up to 4 teaspoons for spicier salmon)

1 - 2

tablespoons

avocado oil,

or other neutral, heat-tolerant oil
Slaw
1/2

head red cabbage,

cored and sliced thin

1

medium bulb fennel,

greens trimmed, cored, and sliced paper thin (either with a knife or mandoline)

3

green onions,

trimmed and cut into thin, 2-inch long strips

1/4

cup

minced cilantro

1/4

cup

lime juice,

from 1 - 2 limes

3/4

teaspoon

sea salt,

plus more to taste
Sauce
2

avocados,

pitted and peeled

3/4

bunch cilantro,

stems and all, chopped

2

green onions,

trimmed and chopped

1/4

cup

lime juice,

from 1 - 2 limes

1

teaspoon

rice wine vinegar

1/2

teaspoon

sea salt,

plus more to taste
To Serve
8

corn tortillas,

warmed in a skillet

1

lime,

sliced

remaining cilantro,

minced

radishes,

sliced paper thin and tossed with sea salt and a squeeze of lime
Instructions
Slaw
Toss to combine the cabbage, fennel, and green onions. Add sea salt, and massage ingredients with your fingers. Drizzle with lime juice, and toss. Set aside for 30 minutes. Before serving, add sea salt to taste.
Sauce
Set cilantro in a blender and pulse to reduce slightly. Add avocado, green onions, lime juice, vinegar, and sea salt, pulse several times, and then process until smooth. Spoon into a bowl.

Leftover sauce will keep well sealed in the fridge for 2 days. To prevent browning, place a sheet of plastic wrap right on the top of the sauce and cover with lid as usual.
Salmon
Grind the cumin and coriander seed with a mortar and pestle or spice grinder.

Remove salmon from the fridge, rinse, and pat dry. With a sharp chef's knife, cut salmon fillet(s) across the grain into 3-inch thick segments.

Set on a tray or plate, and sprinkle with sea salt and chili powder. Next, sprinkle with ground spices and press gently into the flesh. Add just enough to cover the surface (any more and it will burn while it cooks). Set salmon aside for about 30 minutes while it comes to room temperature.

Set large a cast iron or other heavy skillet over medium-high heat. Add oil, and when hot, add salmon, skin side down. Nudge it with a spatula a couple time to keep skin from sticking, then cook undisturbed for 4 minutes. Carefully, flip, and cook 2 - 3 minutes longer, or until the flesh is just cooked through and an instant read thermometer reads 120 degrees F. Set on a platter and rest 10 minutes. Using a sharp knife and fork, cut and tear salmon and its skin into bite-sized hunks.

Serve salmon with warm tortillas, red cabbage slaw, cilantro-avocado sauce, radishes, minced cilantro, and lime wedges.
SaveSave
SaveSaveSaveSave
SaveSave
SaveSave
SaveSave
SaveSave
SaveSave
SaveSave
SaveSaveSaveSave
SaveSaveSaveSave
SaveSave
SaveSave
SaveSave