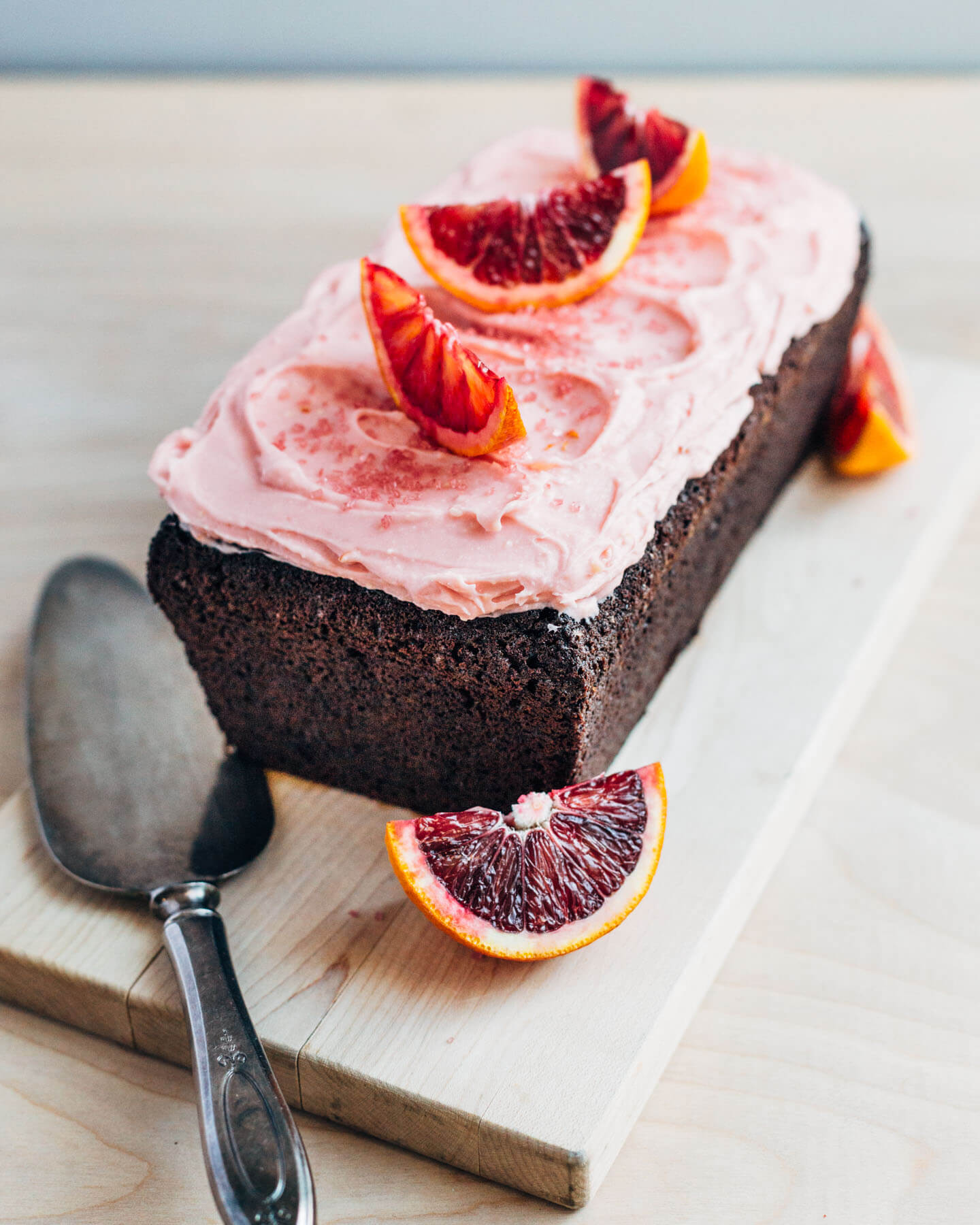 Chocolate beet cake with a silky chocolate and olive oil crumb and pretty pink cream cheese frosting dyed naturally with blood orange juice and beets, and some thoughts on current events.
In the weeks and months to come, I hope you'll stick around as I figure things out and adjust to what is, undeniably, a new normal. Brooklyn Supper will always be first and foremost about sharing great seasonal dishes. But I don't want to sit on my hands because I have a narrow idea of what I can write about. Simply put, I will not keep quiet as I watch my country turn its back on values that are dear to me. I know there will be critics who won't appreciate politics on a food blog and that's ok. But I've always tried to tie the dishes I share to the things going on in my life, and right now there's no way for me to do that honestly without talking politics.
That means that I'll have days like today where I can't offer a clear transition from activism to a chocolate beet cake (which really was quite excellent), but it feels better to just include both rather than contriving a story about how this dessert will really lift your spirits when you're feeling tired after going to a protest (or something similarly saccharine). I hope you'll bear with me.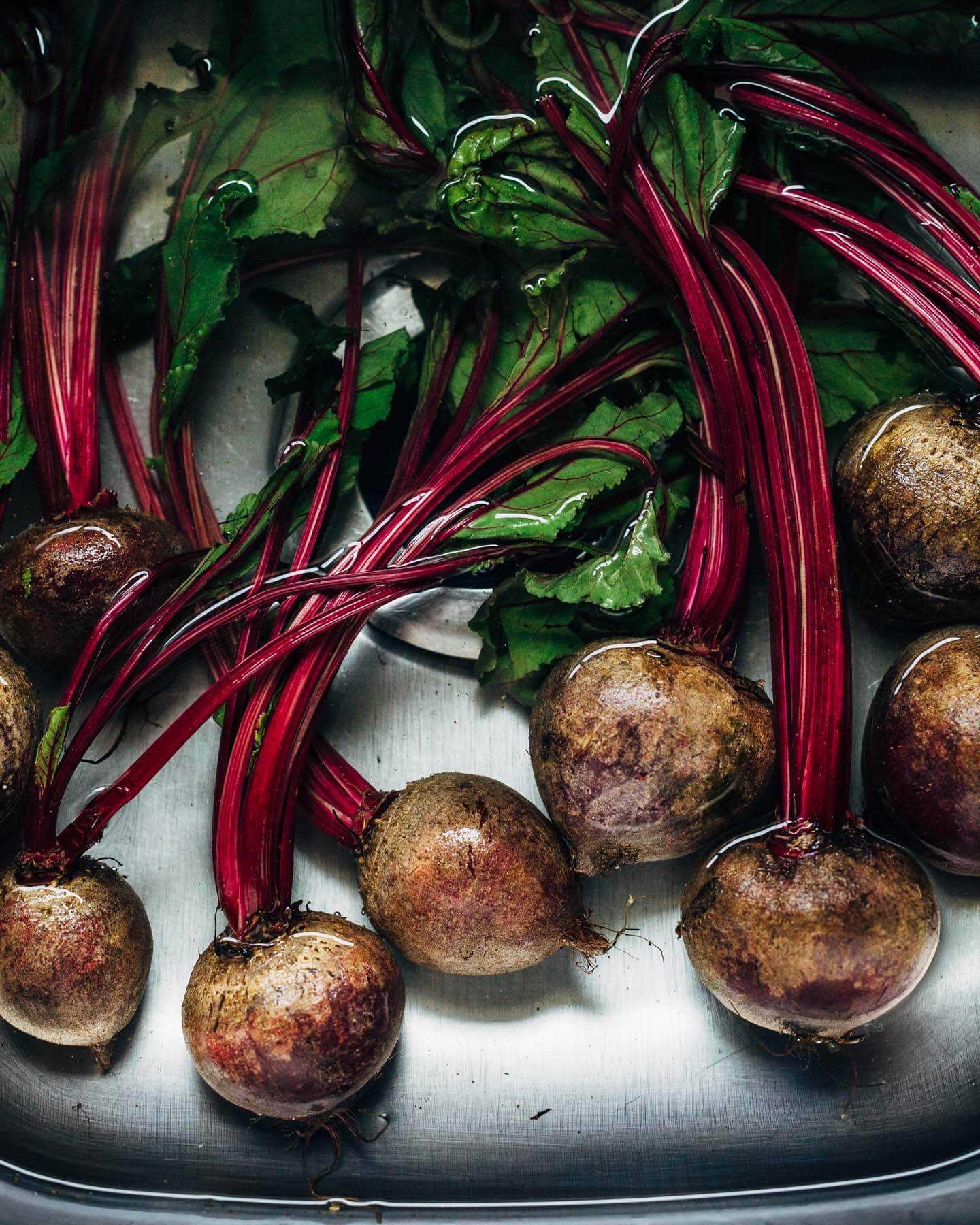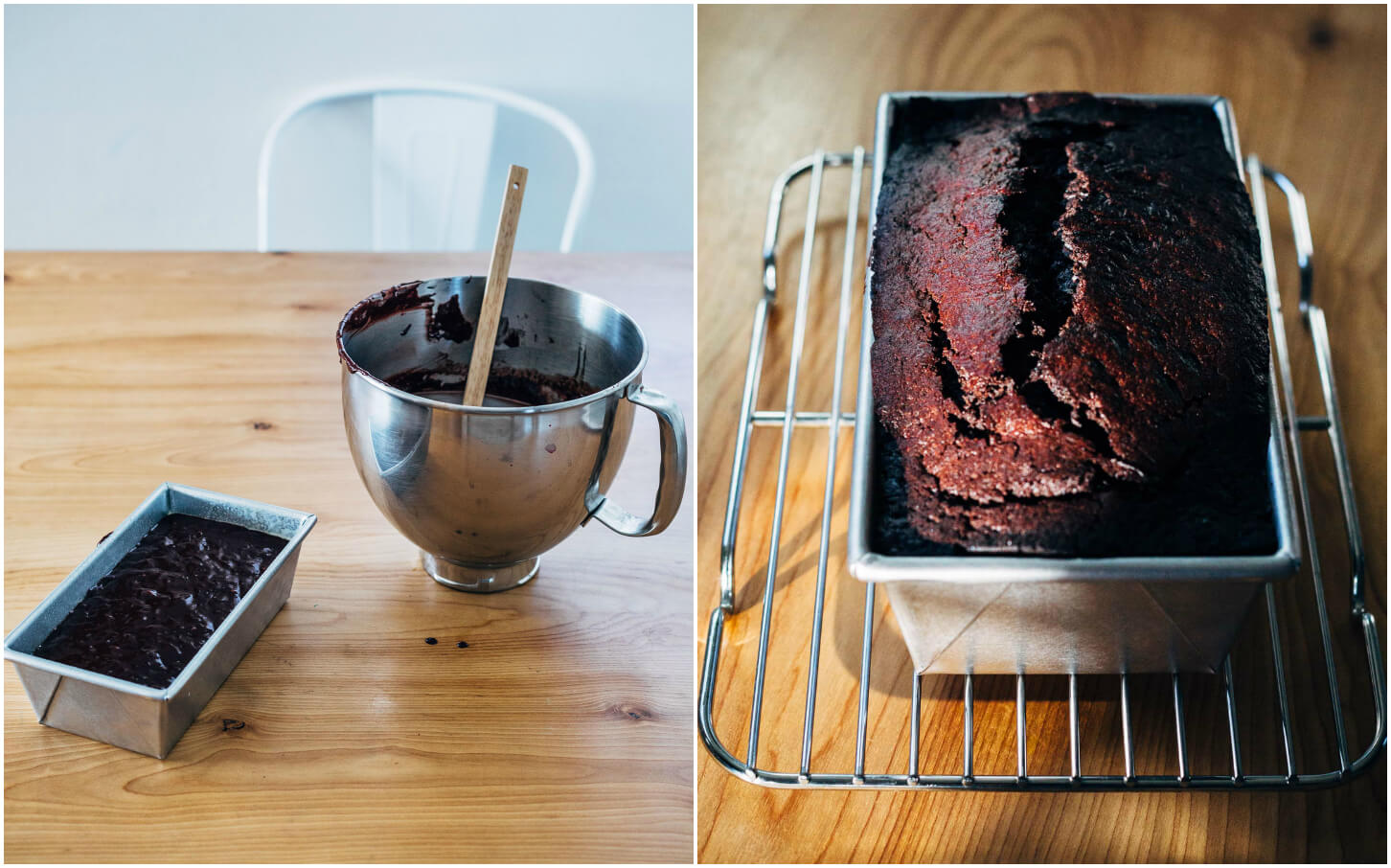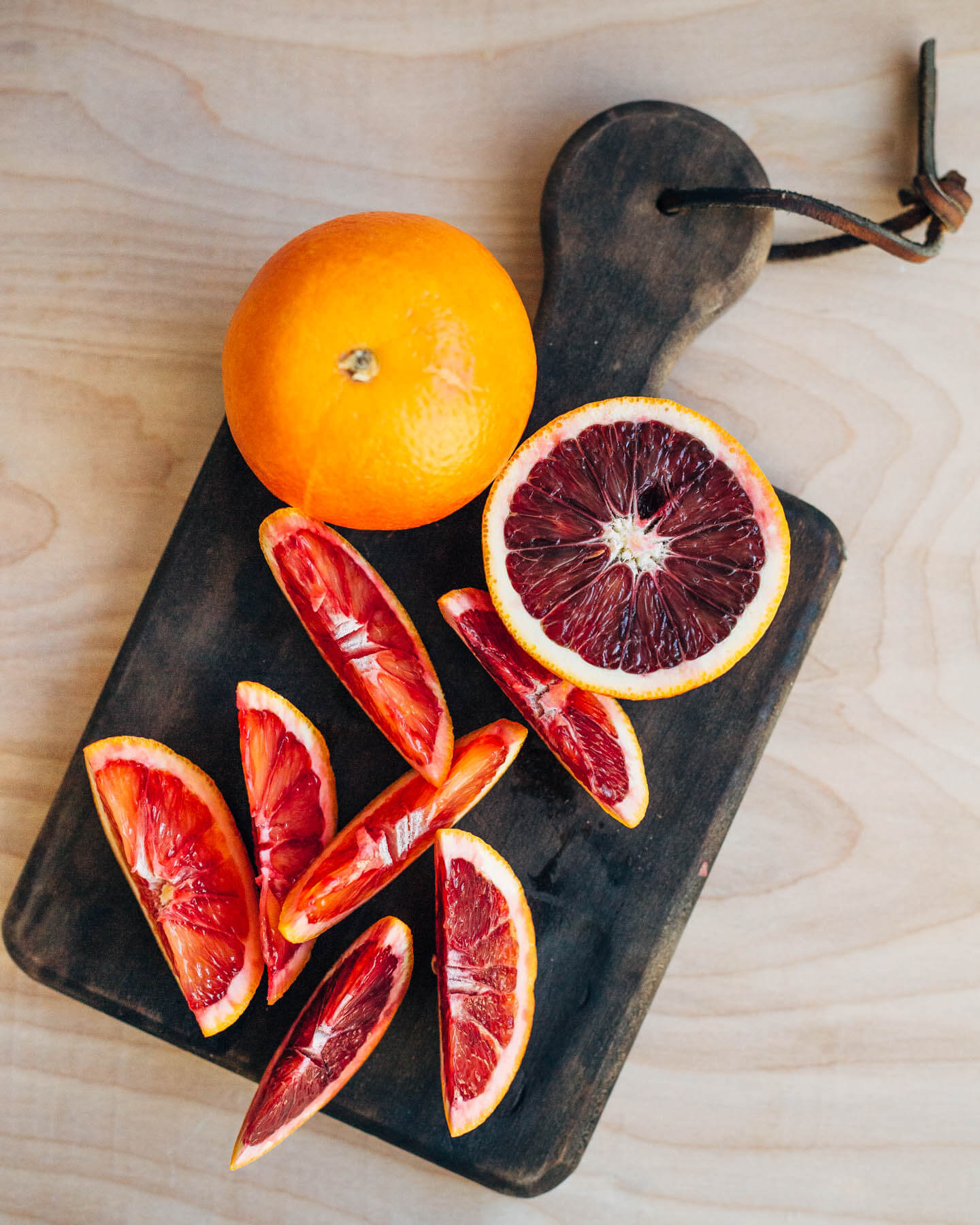 Last week, I marched in DC for the America I believe in. It turned out that a lot of us out there believe in a country that's inclusive, diverse, and just. An America where women's bodies and privacy are respected and supported. Where the words 'liberty and justice for all' carry weight. Where public schools support young people of every background and help them to become smart, active citizens. A safe harbor for the very neediest at home and around the world. It was exhilarating and heartening to know that I am most definitely not alone in my beliefs.
Then the rest of the week happened. Exhaustion and runny noses set in, and alongside, a sense of foreboding.
Then, on Saturday, I attended a local organizing meeting of the Indivisible Guide with about 400 others. We made a plan to visit our Representative this week. I spent that evening closely following the spontaneous protests of the immigrant ban, ACLU court cases (and amazing fundraising – I'm proud to be a monthly supporter), and the eventual reunification of some of the families at airports across the country. In the faces of the protestors and lawyers who dropped everything and fanned out to airports and city centers across the US, I saw MY country. I saw the values I care about represented by thousands and it gave me some much needed hope.
If you have yet to make your voice heard, please get involved. Support the ACLU, call or visit your representatives, get involved with organizing groups like Indivisible Guide, MoveOn, or the Women's March. Finally, I'm not sure it's possible to face the daily news feed and not feel overwhelmed. Take care of yourself, focus on the work that's most meaningful for you, and speak out.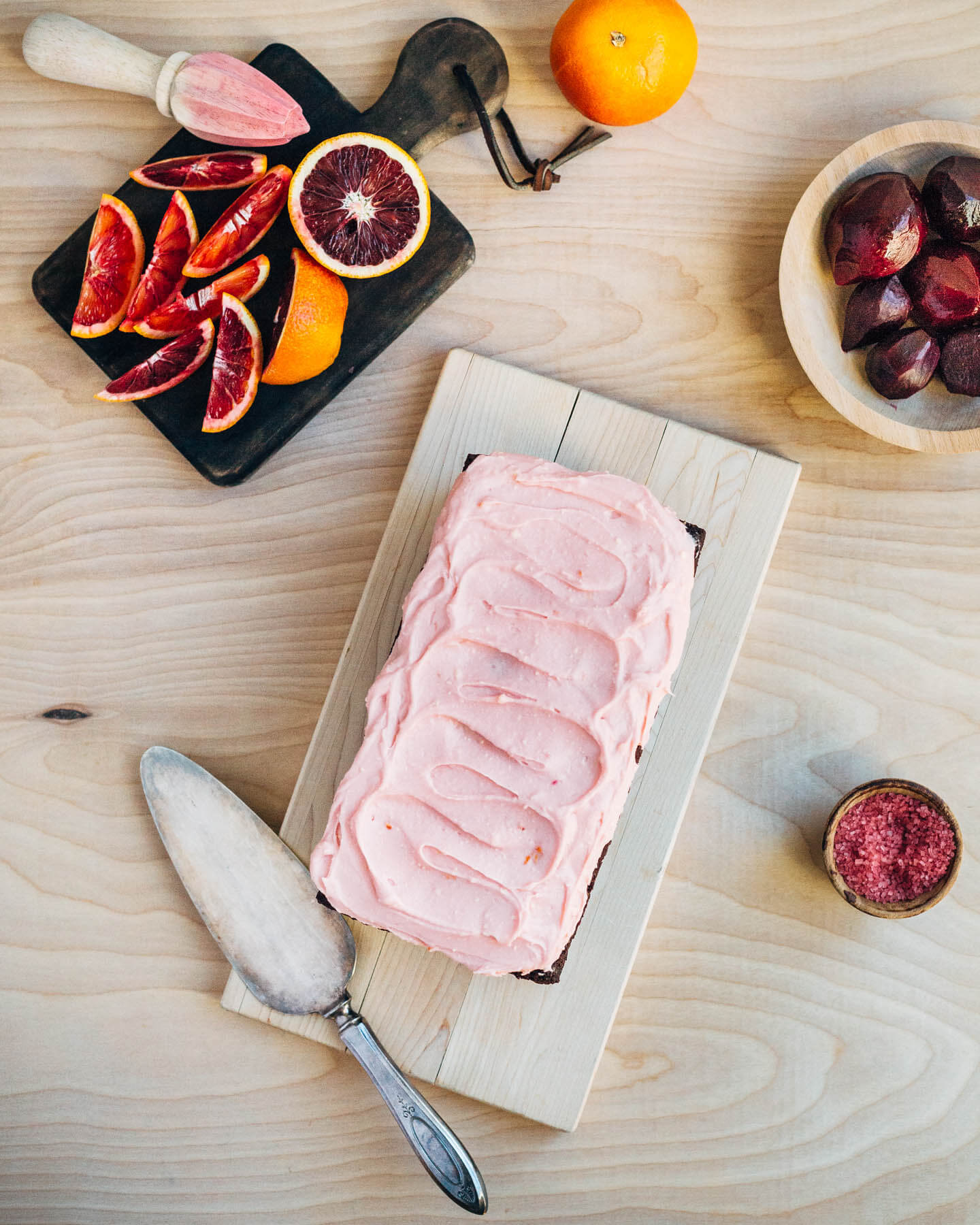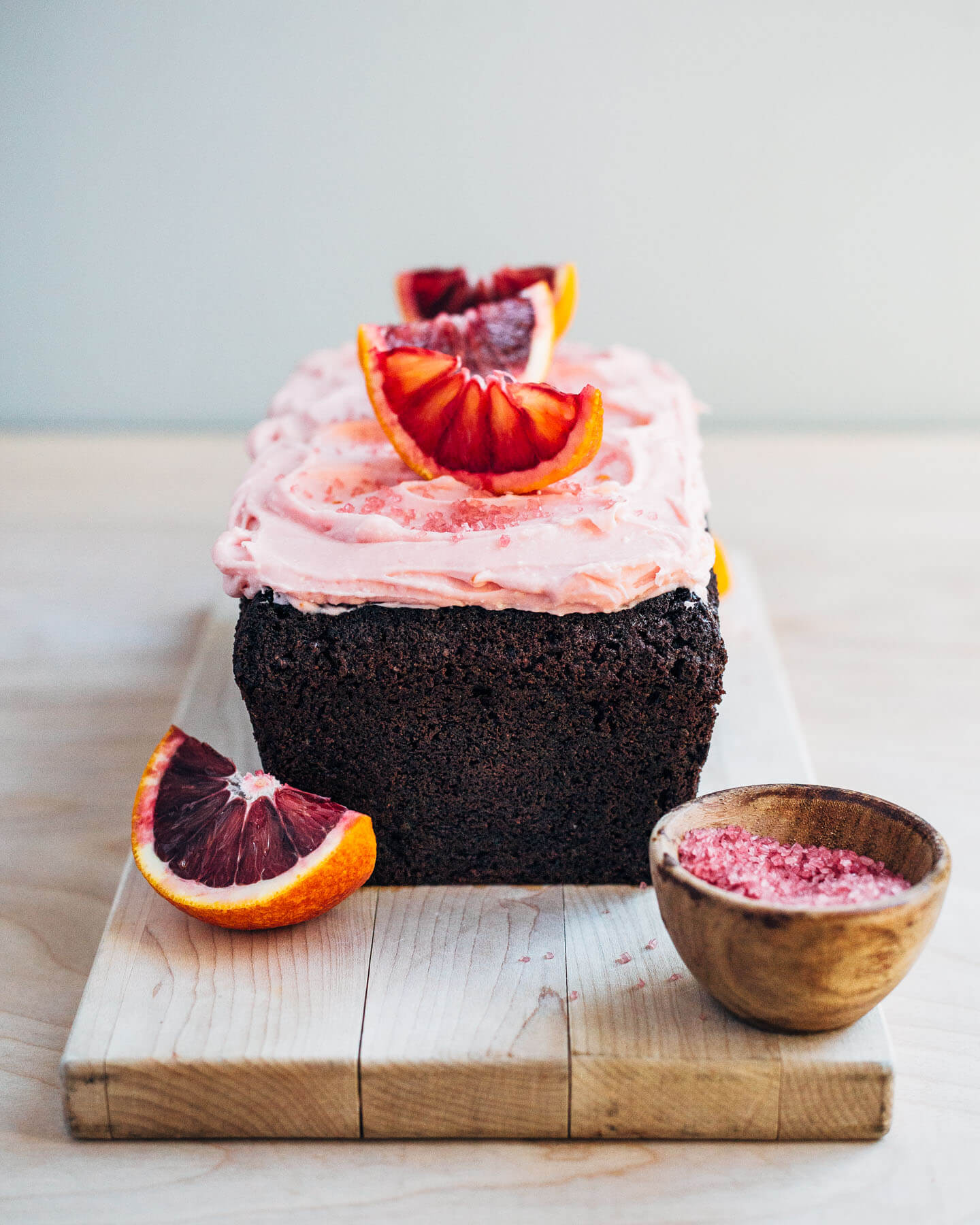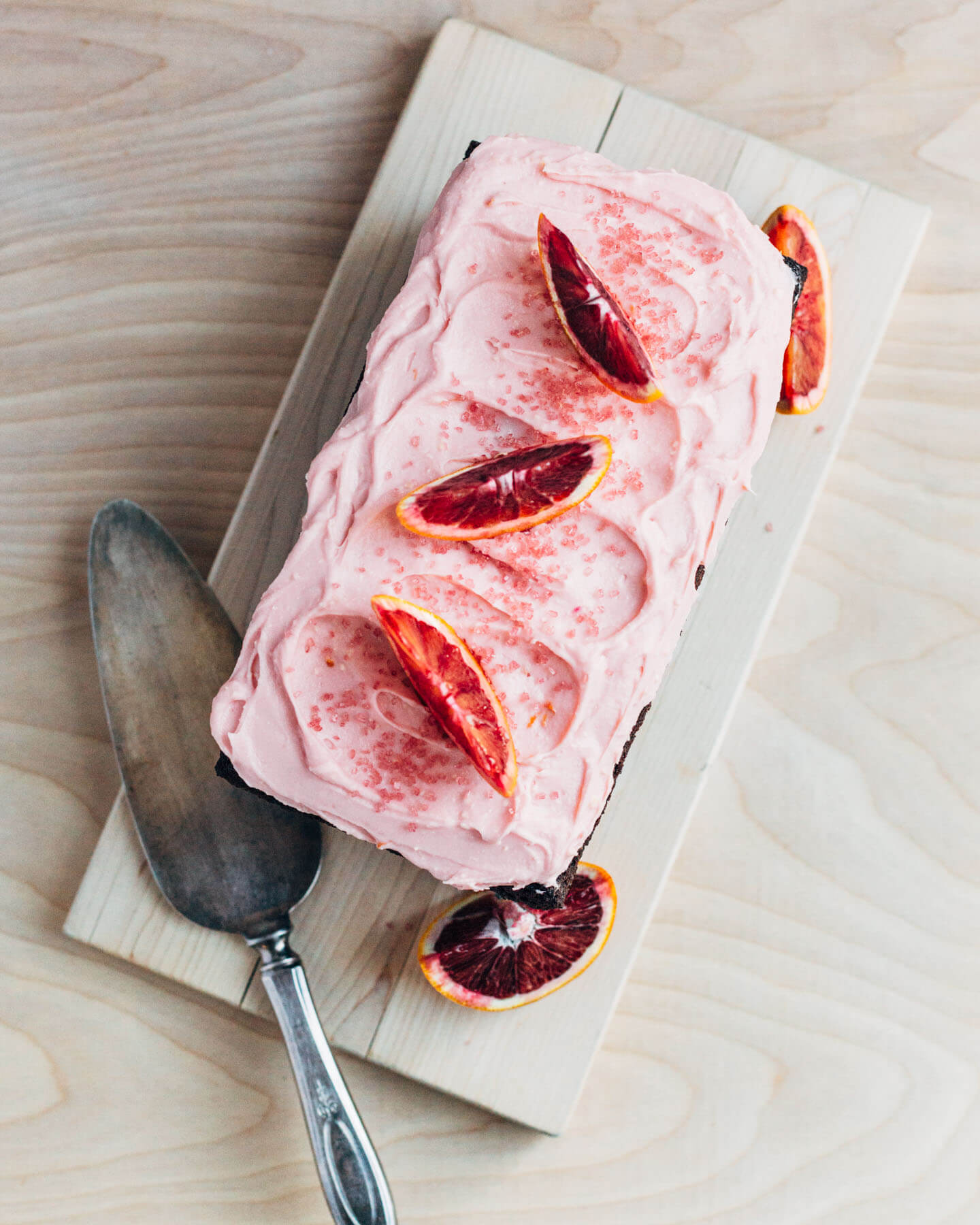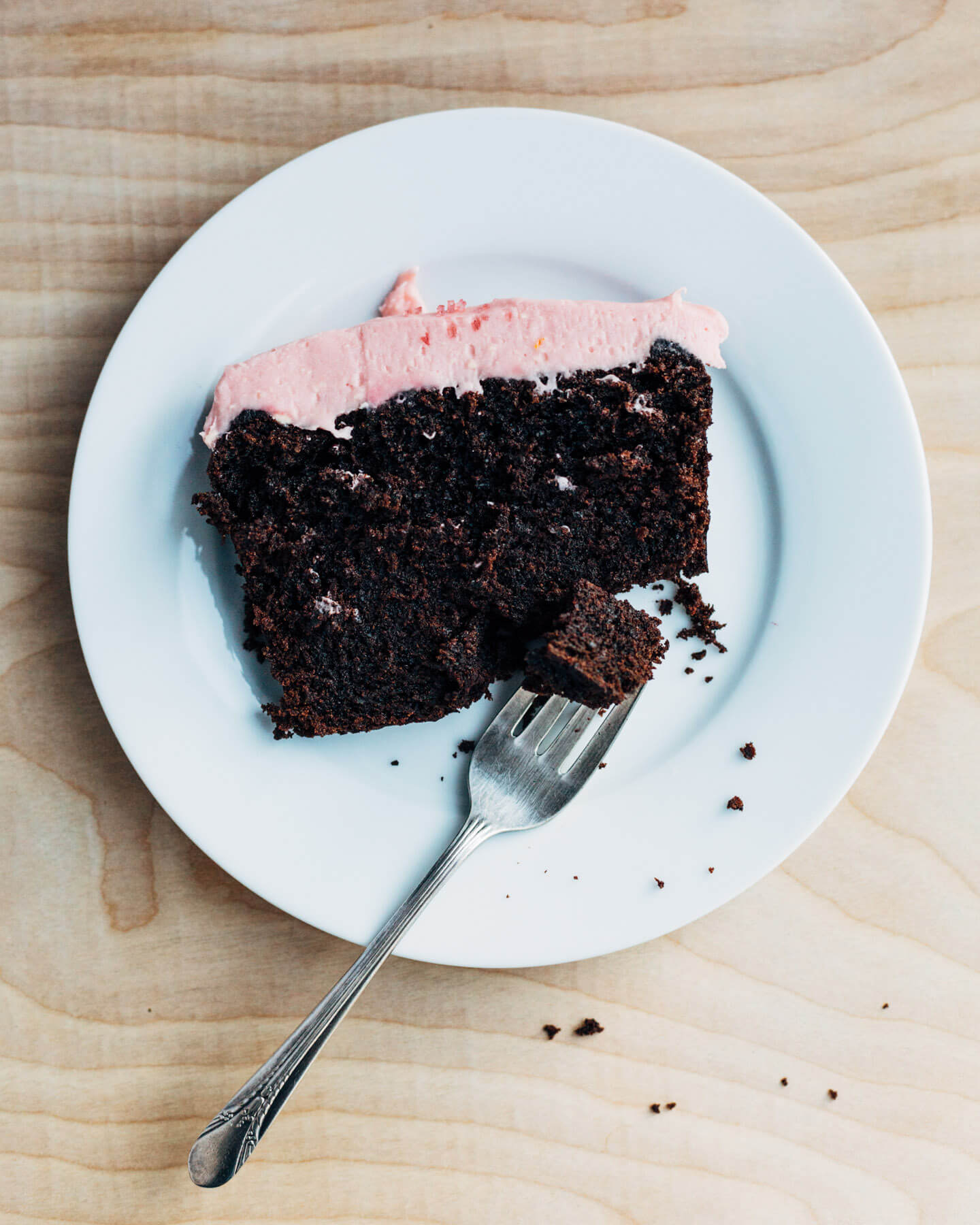 About this cake: it's made with beets and olive oil. The beets lend a silkiness to the crumb that deepens the chocolate flavor without overwhelming it in the least. Olive oil makes for a tender, moist crumb. The cream cheese frosting, made with blood orange and beet juice, is light, tangy, and naturally pink. Share it with someone you love.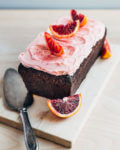 Chocolate Beet Cake with Tangy Blood Orange Frosting
Chocolate beet cake with a silky chocolate and olive oil crumb and pretty pink cream cheese frosting dyed naturally with blood orange juice and beets.
Ingredients
3 - 4

medium beets

1 1/4

cup

all-purpose flour

3/4

cup

cup unsweetened cocoa powder

1

teaspoon

baking powder

1/2

teaspoon

baking soda

1

teaspoon

sea salt

3

eggs

1 1/4

cups

sugar

1

teaspoon

vanilla extract

1

cup

extra virgin olive oil

4

ounces

cream cheese

room temperature

8

tablespoons

unsalted butter

room temperature

1/4

cup

powdered sugar

sifted

pinch sea salt

1

tablespoon

beet juice

squeezed from reserved grated beets

1

teaspoon

blood orange zest plus 1 tablespoon juice plus several blood orange wedges for garnish

pink sprinkles

optional
Instructions
Preheat oven to 400 degrees F. Remove beet greens and scrub beets. Arrange beets in a small baking dish, add 1/2-inch cold water and cover tightly with foil. Bake until beets are fork tender, 50 - 60 minutes, depending on size. Use caution when lifting foil as the steam plume will be very hot. Drain hot water and set beets aside to cool. Under cold running water, rub peel off with fingers or use a peeler. Trim beets. Beets can be prepped ahead to this point and refrigerated until needed.

When ready to make the cake, preheat oven to 350 degrees F. Grease a 9 x 5-inch loaf pan and dust with cocoa powder or use a baking spray.

Grate enough of the cooked beets to make 1 1/4 cups. Reserve 1/4 cup grated beets to color frosting.

In a small bowl, combine flour, cocoa powder, baking powder and soda, and sea salt.

In a large bowl, or the bowl of a stand mixer fitted with the paddle attachment, beat eggs and sugar on low speed for 4 minutes. Add grated beets and vanilla and mix until incorporated. With mixer still on low, fold in half the flour mixture, all of the olive oil, and then the remaining flour. Mix just until everything is well combined.

Spoon into prepared pan and slide into oven. Bake 65 - 75 minutes or until a wooden skewer inserted in the center comes out with just a few crumbs attached.

Cool cake on a wire rack for 20 minutes, then carefully unmold and set on wire rack to cool completely.

To make frosting, beat cream cheese on low speed in the bowl of a stand mixer fitter with the paddle attachment or a large mixing bowl for 3 minutes. Add the butter and beat 3 minutes more, scraping down sides as needed. Sift in powdered sugar, add sea salt, and beat 4 minutes longer, scraping down sides as needed. Add blood orange juice and zest, and beat until well incorporated. Add beet juice a little at a time, until the desired color is achieved.

Frost cooled cake, garnish with blood orange segments, and pink sprinkles. Cake and frosting can both be made ahead (frosting should be refrigerated); set cold frosting on counter to warm slightly before frosting cake.