We've partnered with Emmi Roth to celebrate Fondue Day with a creamy and complex hard apple cider fondue and seeded rye pretzel bites for dipping. Jump to recipe. 
A pot of fondue graced the cover of my Mom's flame orange copy of the 1970 Betty Crocker Cookbook. And while many of the first things I cooked came from that book — lots of cookies, jelly roll sandwiches, and brownies — I never tried my hand at fondue. By the time I came into the world our fondue pot (also flame orange) had been tucked away and forgotten.
That 70s fondue fad casts a long shadow over fondue in the States. But for the Swiss, fondue is a traditional food that highlights the depth and delicacy of classic Swiss cheeses. One that gathers people around a pot of melted cheese warmed by a tiny flame to dip and eat and taste. And in our present moment, where quality ingredients and thoughtful preparations are center stage in a way that they weren't in the 70s, it's the perfect time to revisit fondue not as a fad, but as a chance to explore a complex and delicious dish that brings people together. Besides, today's National Fondue Day and any holiday that celebrates melted cheese is a fantastic one.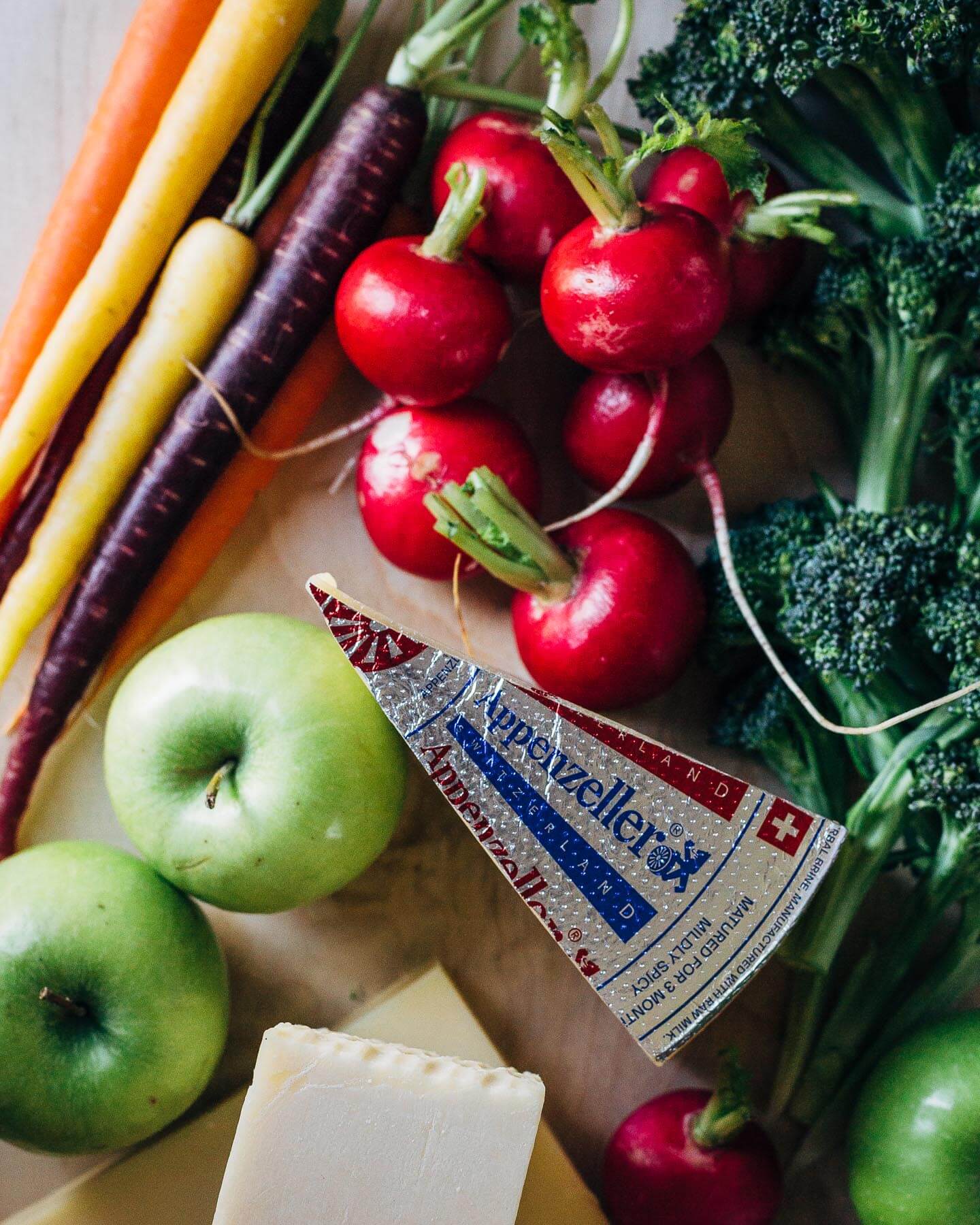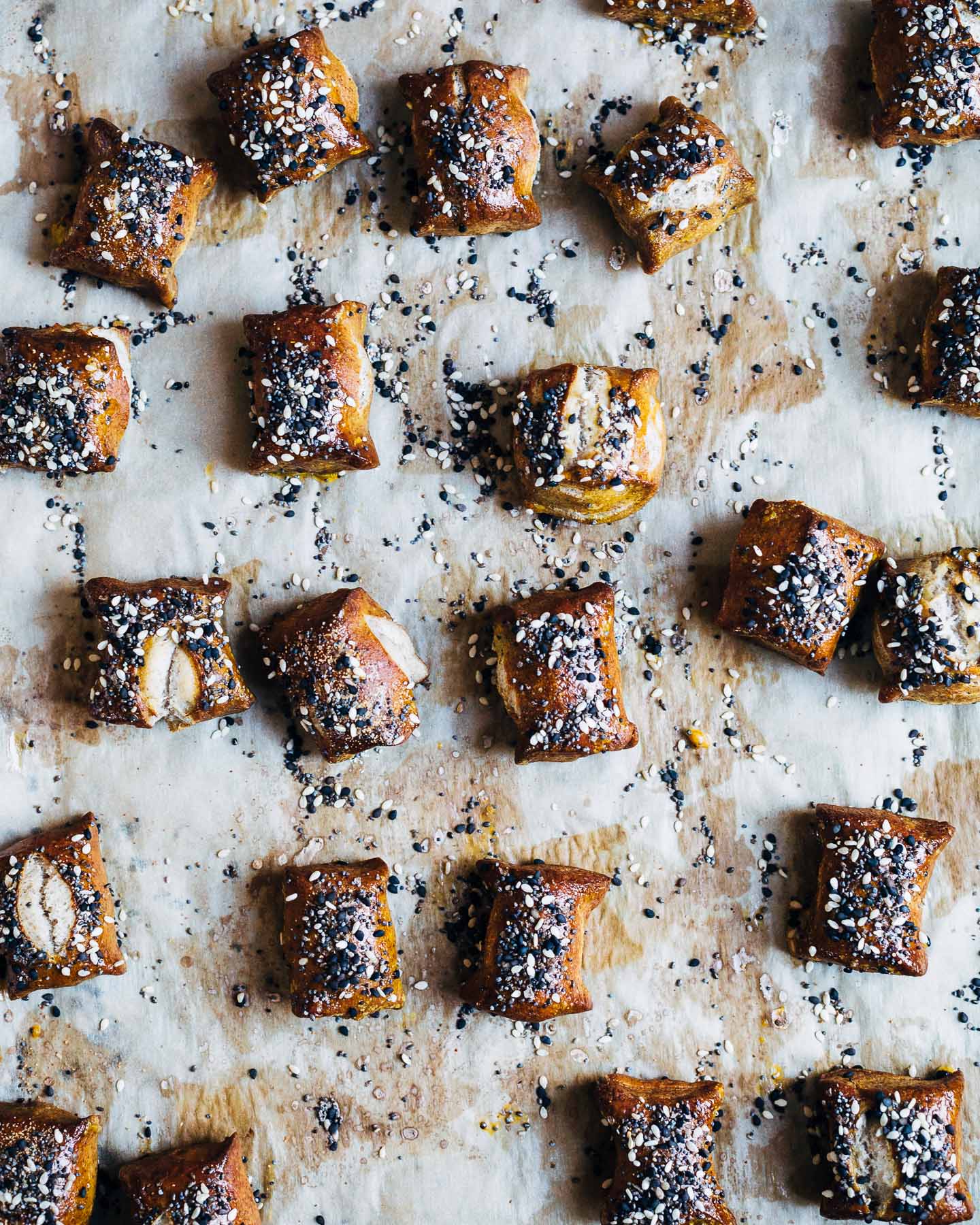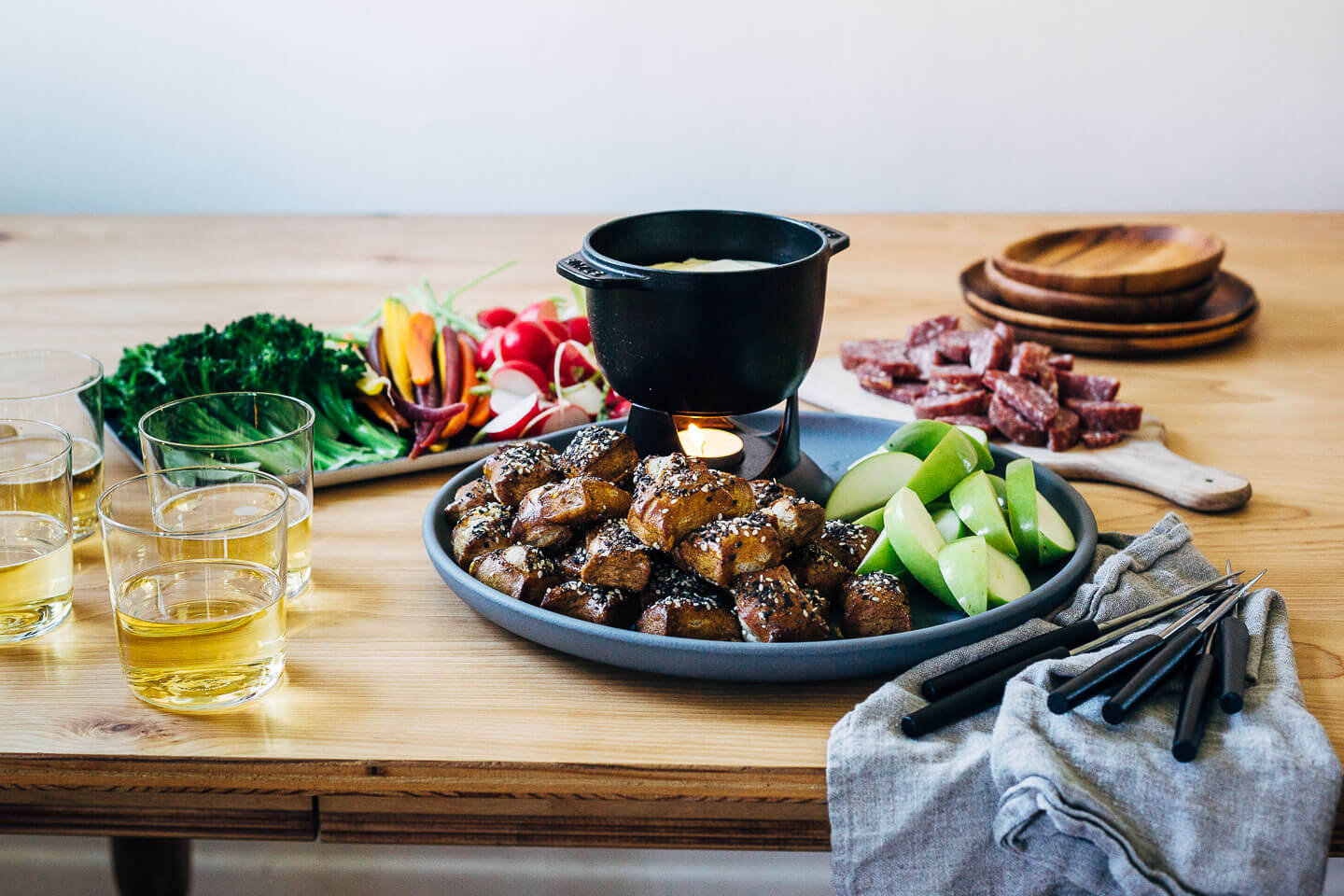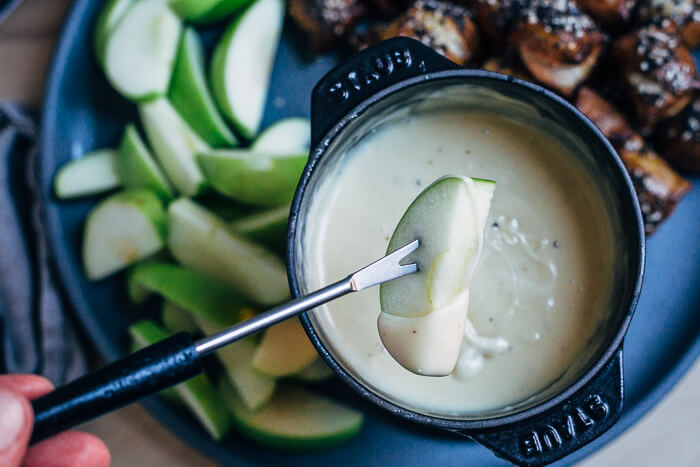 This apple cider fondue has notes of sweetness from the cider, a pop of vinegar, and the tang of fresh bay leaf, not to mention a blend of delicious imported Swiss cheeses from Emmi Roth: Gruyere – creamy, with a buttery depth – is a fondue mainstay. Emmentaler, a subtlely piquant Alpine cheese, is as well. To these two classics, I added a bit of Appenzeller, a robust semi-soft cheese with a delicious kick of grassy funk that added complexity to the blend of flavors.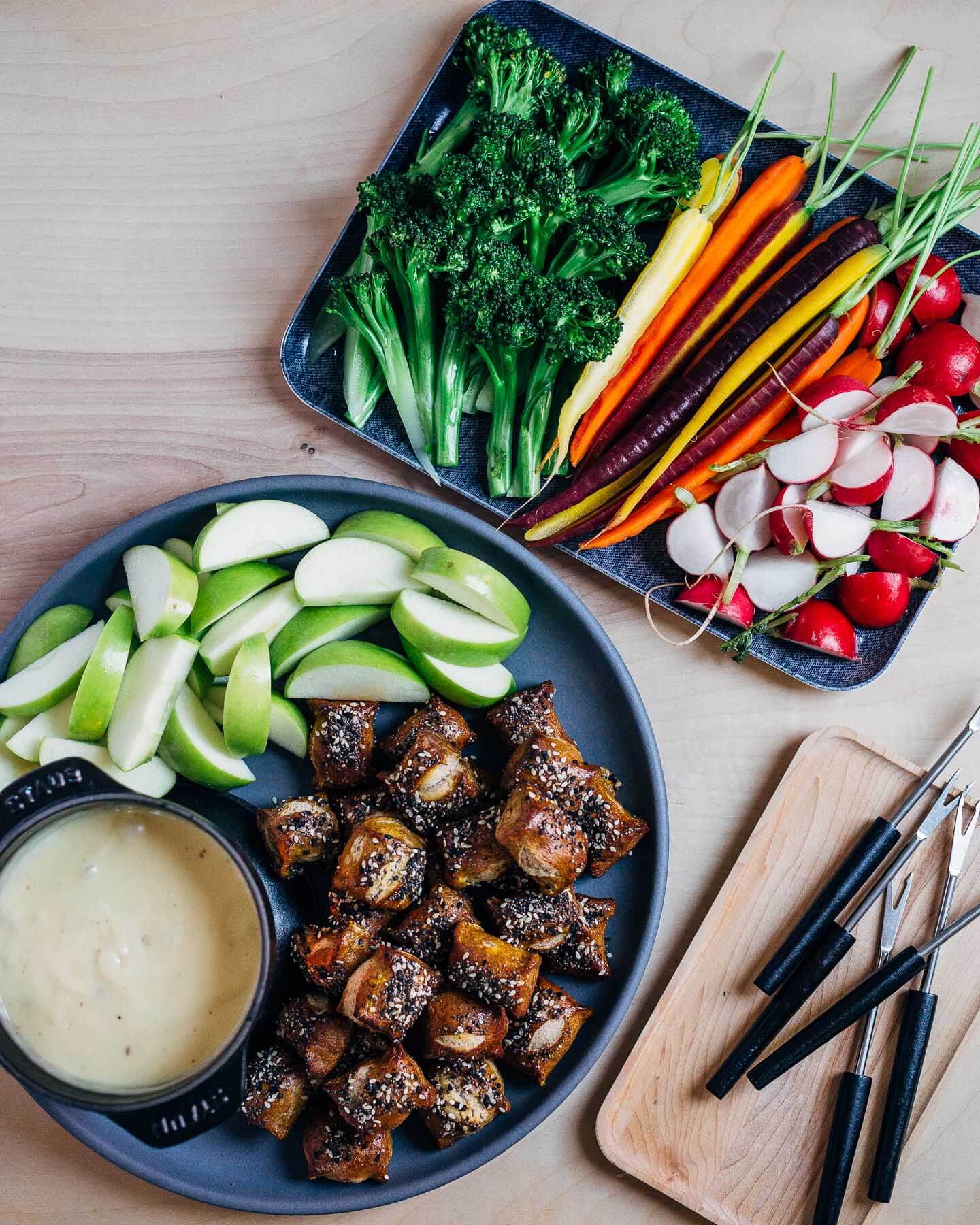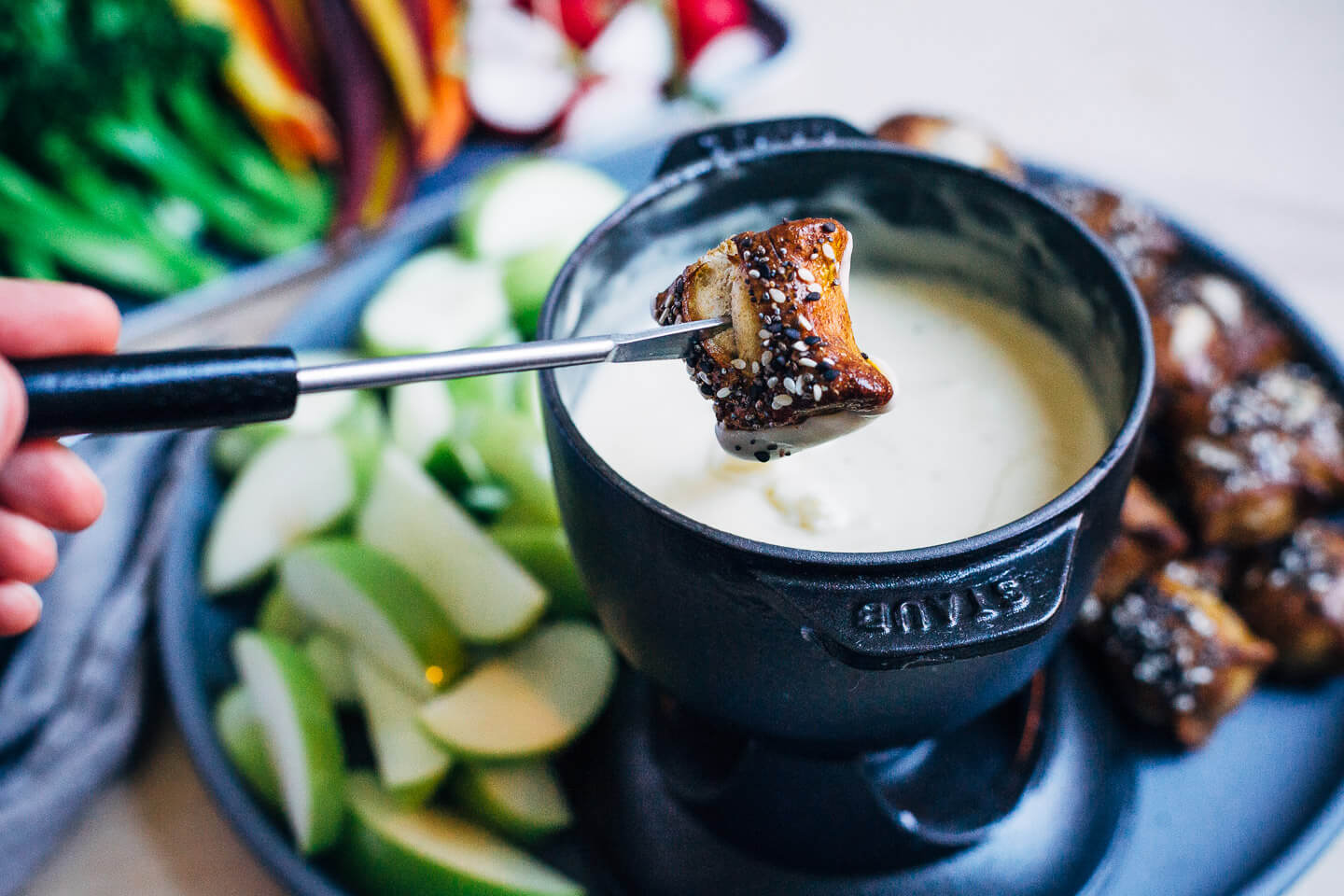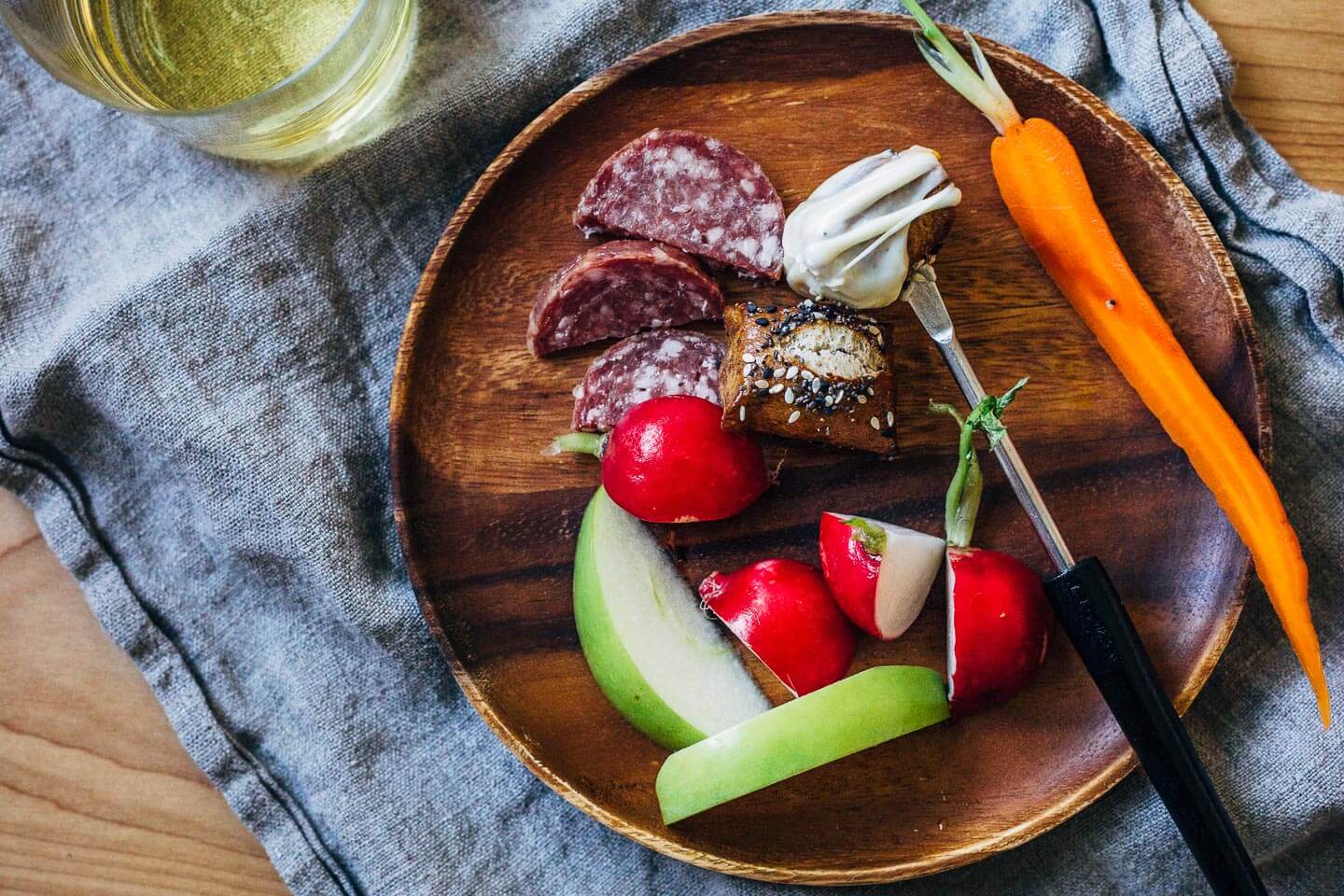 And because I want my dippables to be awesome, I made seeded rye pretzel bites. Right out of the oven these had a golden brown, chewy exterior and a nutty, stretchy center. The seeds were crunchy and salty, and gave the pretzel bites a distinctly wholesome edge. I also served blanched carrots and broccoli, lemony radishes, tart apples, and summer sausage with my fondue.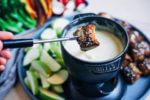 Apple Cider Fondue with Seeded Rye Pretzel Bites
This apple cider fondue recipe is delightfully complex and fun to eat. Dry apple cider gives the fondue a hint of sweetness and a little bite, while a blend of traditional Swiss cheeses lend richness and a hint of funk. Other additions like fresh bay leaf and apple cider vinegar round out the flavor with brightness and pop. Serve with seeded rye pretzel bites (recipe below), tart apples, sliced sausage, blanched young carrots and broccoli, and lemony radishes.
Instructions
For best texture and temperature, fondue should be made just before you'd like to serve it. Prep everything else, and then melt the cheese into the cider just as the first guests arrive.

Toss grated cheese with cornstarch and mustard powder.

Pour apple cider, vinegar, and bay leaves into a heavy bottomed saucepan and set over medium heat. 

When mixture begins to bubble and steam, turn heat to medium-low, and stirring constantly, add cornstarch-covered cheese a handful at a time. Wait until cheese has completely melted before adding another handful. When all the cheese has been added and mixture is smooth and velvety, add pepper, pour into fondue pot with a warmer, and serve with pretzel bites (recipe below), tart apples, vegetables, and sausage.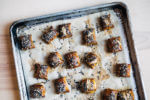 Seeded Rye Pretzel Bites
Homemade soft pretzel bites are just as chewy and delicious as those from a street side cart. A bit of rye flour gives these pretzel bites a hint of nuttiness while the seeded topping lends wholesome crunch and texture. They're excellent dipped in a creamy fondue or served up with your favorite mustards.
Ingredients
For Rye Pretzel Dough
2 1/4

teaspoons

active dry yeast

(1 packet)

1 1/2

cups

lukewarm water

1

tablespoon

honey

2

teaspoons

sea salt

3

cups

all-purpose flour

1

cup

rye flour

6

cups

water,

divided

6

tablespoons

baking soda,

divided
For the Seed Topping
1

egg yolk

1

teaspoon

water

1

tablespoon

poppy seeds

1

tablespoon

white sesame seeds

1

tablespoon

sesame seeds

1

tablespoon

chia seeds

1

teaspoon

pretzel or large grain sea salt
Instructions
To make pretzel dough, pour water into a small bowl and stir in honey. Sprinkle yeast over top and leave undisturbed in a warm spot for 10 minutes. After 10 minutes, yeast should be foamy and bubbly. If not, discard and begin again with a fresh packet of yeast.

Pour yeast mixture into the bowl of a stand mixer fitted with a dough hook. With mixer on low, slowly add sea salt and flours. Knead dough on low speed with dough hook until dough is smooth and stretchy, and has pulled away from the sides, 4 - 5 minutes. (Alternately, stir to combine ingredients and then knead by hand 10 minutes.)

Set dough to the side, lightly oil the bowl, and replace dough. Cover loosely with plastic wrap and top with a damp towel. Set dough in a warm place to rise until doubled in size, about 60 minutes.

Line two large baking sheets with parchment. Preheat oven to 400 degrees F.

Set dough on a lightly floured surface and divide into eights. Roll each piece of dough into 1-inch thick logs. With a sharp knife, slice logs into 1 1/2-inch lengths. Pinch corners and indent center to make a rectangular pillow shape. Set dough bites on prepared baking sheets.

In a large saucepan, bring 3 cups water to a boil. Stir in 3 tablespoons baking soda (use caution – the water will bubble up as you do). Working in batches of 8, boil dough rectangles 30 seconds. Use a slotted spatula to strain, and then arrange on lined baking sheet. Halfway through, discard water, bring a fresh 3 cups to a boil, and add another 3 tablespoons baking soda.

Mix up seed topping in a small bowl.

Whisk 1 teaspoon water into egg yolk. Working in batches, brush yolk mixture over dough rectangles, sprinkle with seed topping, and press lightly into top.

Bake pretzels 12 – 15 minutes, or until deep golden brown. Cool 5 minutes and serve.