This classic pumpkin pie recipe, made from scratch using fresh pie pumpkin, is the perfect Thanksgiving dessert.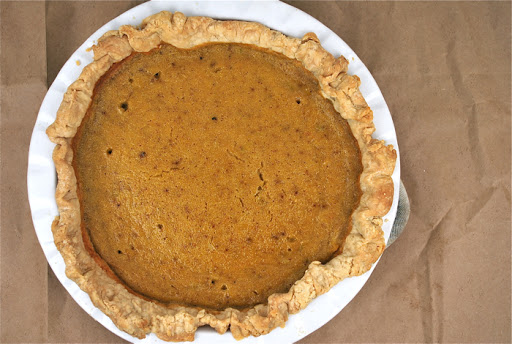 I love pumpkin pie. Deeply. And for me, canned pumpkin is not up to snuff. We buy little sugar pie pumpkins (adorable and useful) and make ours from scratch. This pie is rich and flavorful, with a little bit of kick from fresh ginger and fresh ground pepper.
It's also relatively easy to make. I know there are some that would have you preheat the filling or add in other laborious steps. Since you already have to make the crust and prebake, I like to keep the filling simple. This classic homemade pumpkin pie is simple and delicious.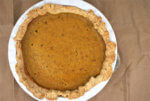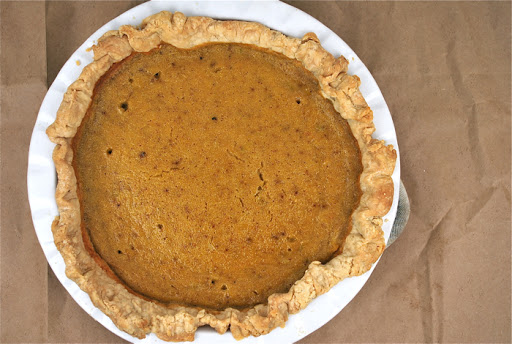 Classic Pumpkin Pie from Scratch
A classic pumpkin pie recipe made from scratch.
Ingredients
Pumpkin Puree
1

large sugar pie pumpkin or another large winter squash,

peeled and seeded
Crust (adapted from Cooks Illustrated)
1 1/4

cups

all-purpose unbleached flour

1/2

teaspoon

sea salt

1/2

tablespoon

sugar

8

tablespoons

unsalted butter,

cold and cut into cubes

1/6

cup

ice water

1 1/2

tablespoons

sour cream
Filling
1

cup

heavy cream

2

tablespoons

all-purpose flour

1 1/2

cups

pumpkin puree

or canned pumpkin puree

3

room-temperature eggs

1/2

cup

brown sugar,

more for a sweeter pie

2

tablespoons

granulated sugar

1

teaspoon

fresh ginger,

grated

1

teaspoon

ground ginger

1/2

teaspoon

ground cinnamon

1/2

teaspoon

ground cloves

1/2

teaspoon

ground nutmeg

1/2

teaspoon

sea salt

several grinds of black pepper

(white pepper is even better if you have it)
Instructions
Pumpkin Puree
Preheat oven to 375 degrees F. Slice prepared pumpkin into 1-inch slices and lay flat on a rimmed baking sheet. Drizzle with 1 teaspoon olive oil and sprinkle with a pinch sea salt. Cover tightly with foil and bake 25 minutes, or until the pumpkin is cooked through and quite soft.

Remove pumpkin to a bowl and mash with a potato masher, or puree in a food mill or food processor for a smoother texture.
Crust
Combine flour, sea salt, and sugar in the bowl of a food processor. Cut in butter by pulsing food processor 4 or 5 times. The dough should be sandy and crumbly at this point. Stir together ice water and sour cream, drizzle over dough; pulse 4 or 5 times, or just until dough holds together.

Dump dough onto a floured surface and press into a mound. If you need to add a splash more water, go ahead. Form dough into a disc and wrap tightly with plastic wrap. Refrigerate for at least 1 hour, overnight, or up to 4 days.
Filling
Preheat oven the 375 degrees F. Butter pie pan and set aside. Sprinkle flour on a large, clean surface. Unwrap disc of dough and allow it to soften a few minutes. If you have parchment, roll dough out on a lightly floured sheet, other wise just be sure to use plenty of flour and check for sticking. Roll dough into a 12-inch circle. Fold into quarters and carefully unfold in the prepared pie pan, pressing the dough into sides. Put pie shell in freezer for 15 minutes or the refrigerator for 30.

Remove chilled shell, poke holes all over with a fork. Fold a piece of foil so that it will fit in the middle and place pie weights, rice, or dry beans in the center. Set on a baking sheet and bake 15 minutes. Remove foil and bake for another 5. Remove from oven and cool.
Filling
In a medium sauce pan, whisk to combine 1/4 cup of the cream and the flour over medium heat. When mixture is quite thick, slowly whisk in remaining 3/4 cup cream, adding a little at a time to maintain thickness. Stir in sugars and spices and set aside.

In a medium mixing bowl, combine eggs and squash, whisking thoroughly. Fold into custard and whisk to combine.

Gently pour custard into the shell, place on a baking sheet, and bake for 45 minutes, or until edges are set and the center is a little jiggly, but not watery. Keep an eye on the crust – if it starts to turn a shade darker than golden, shield it with thin strip of tin foil.

Remove from oven and cool completely, 1 hour or more. Serve with a heaping dollop of lightly sweetened whipped cream.