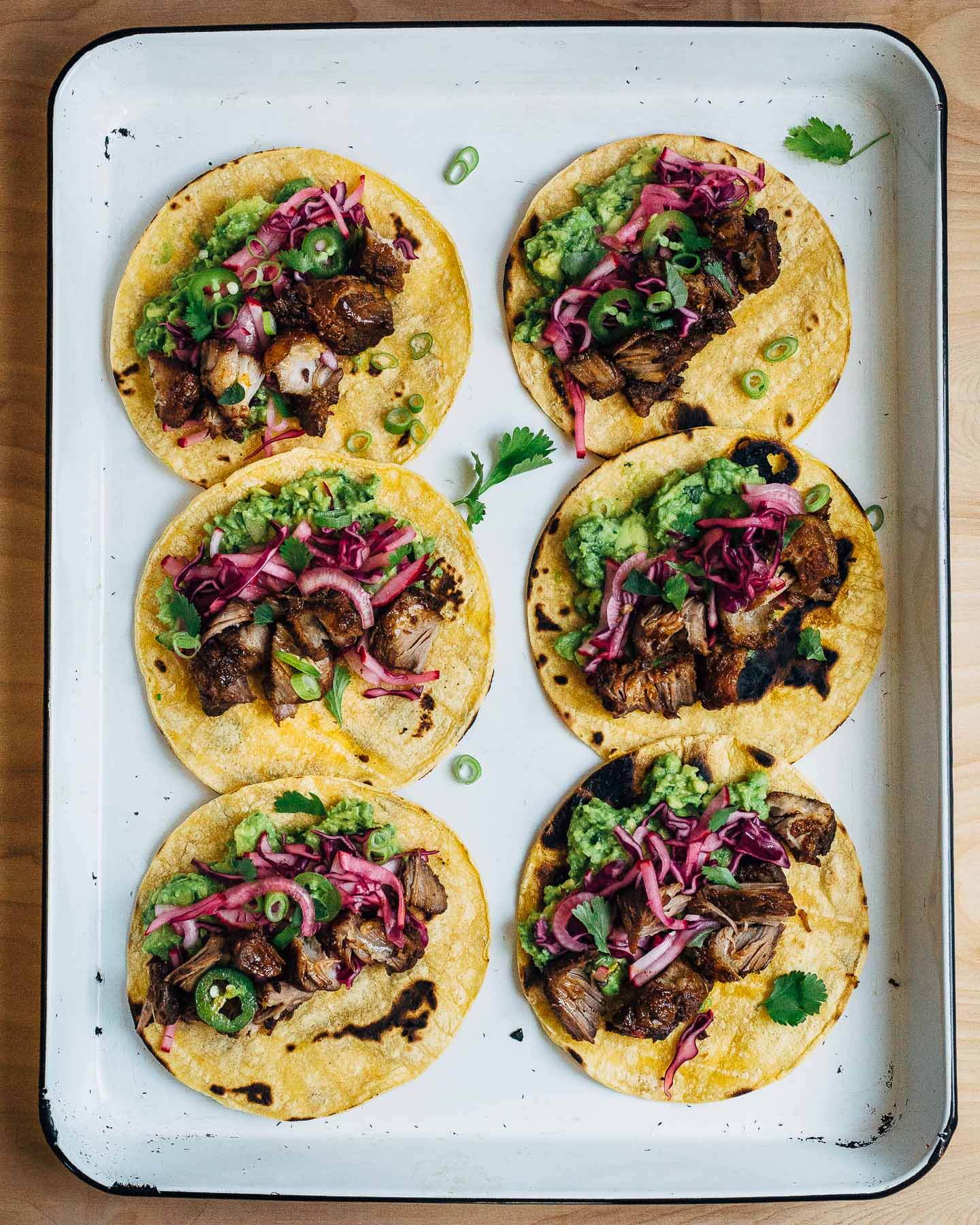 A simple recipe for carnitas tacos – cinnamon- and clementine-infused carnitas served up in corn tortillas with zesty guacamole, and red cabbage and radish slaw. This post is in partnership with Avocados From Mexico. Jump to recipe.
Life's felt a little easier lately. The cloudless blue skies and warm breeze are part of it, but there's also a new ease in just living, as though all the intangibles have fallen into place. With a mostly clean house and with mostly calm children, there's a sense we can exhale. Relax, even.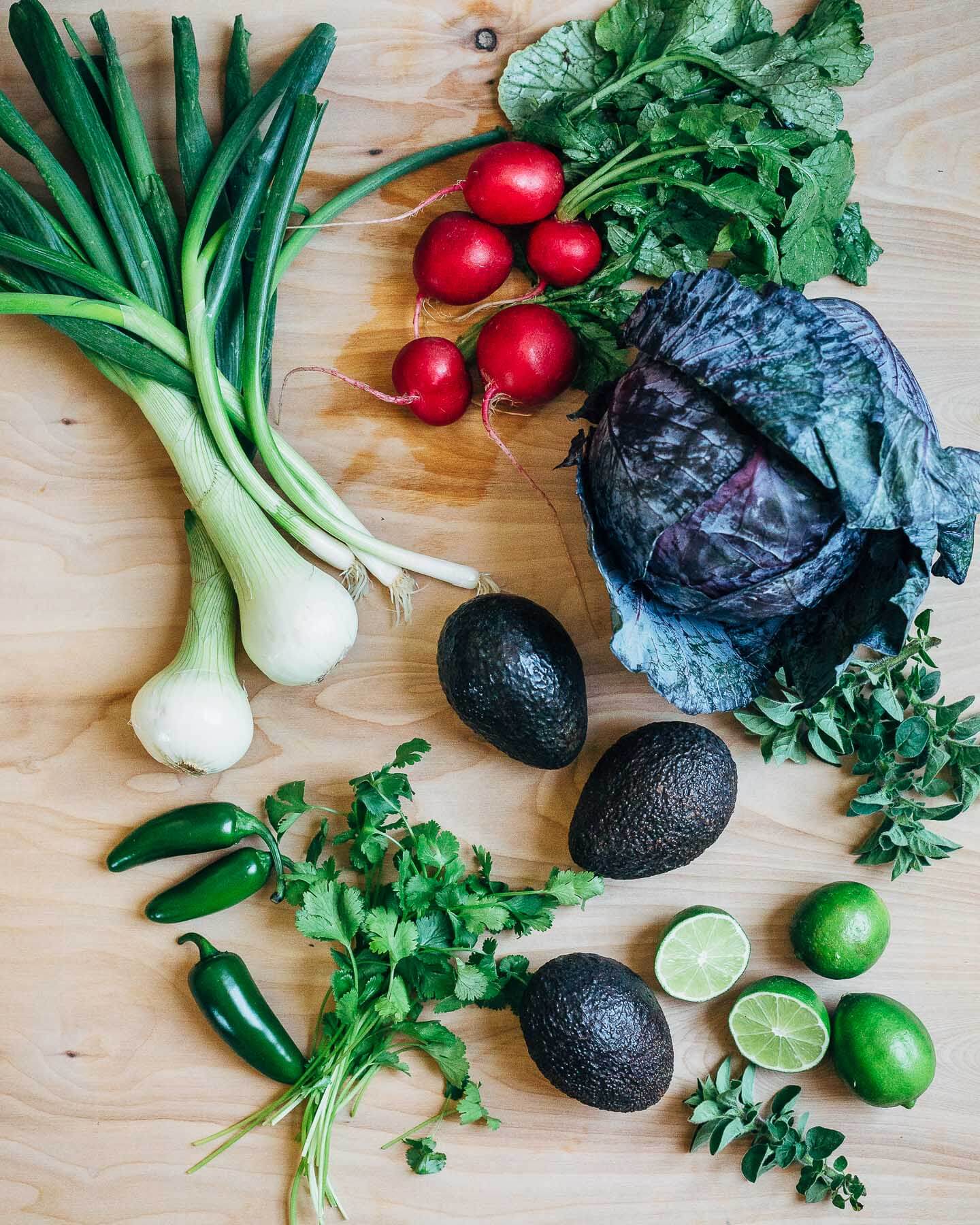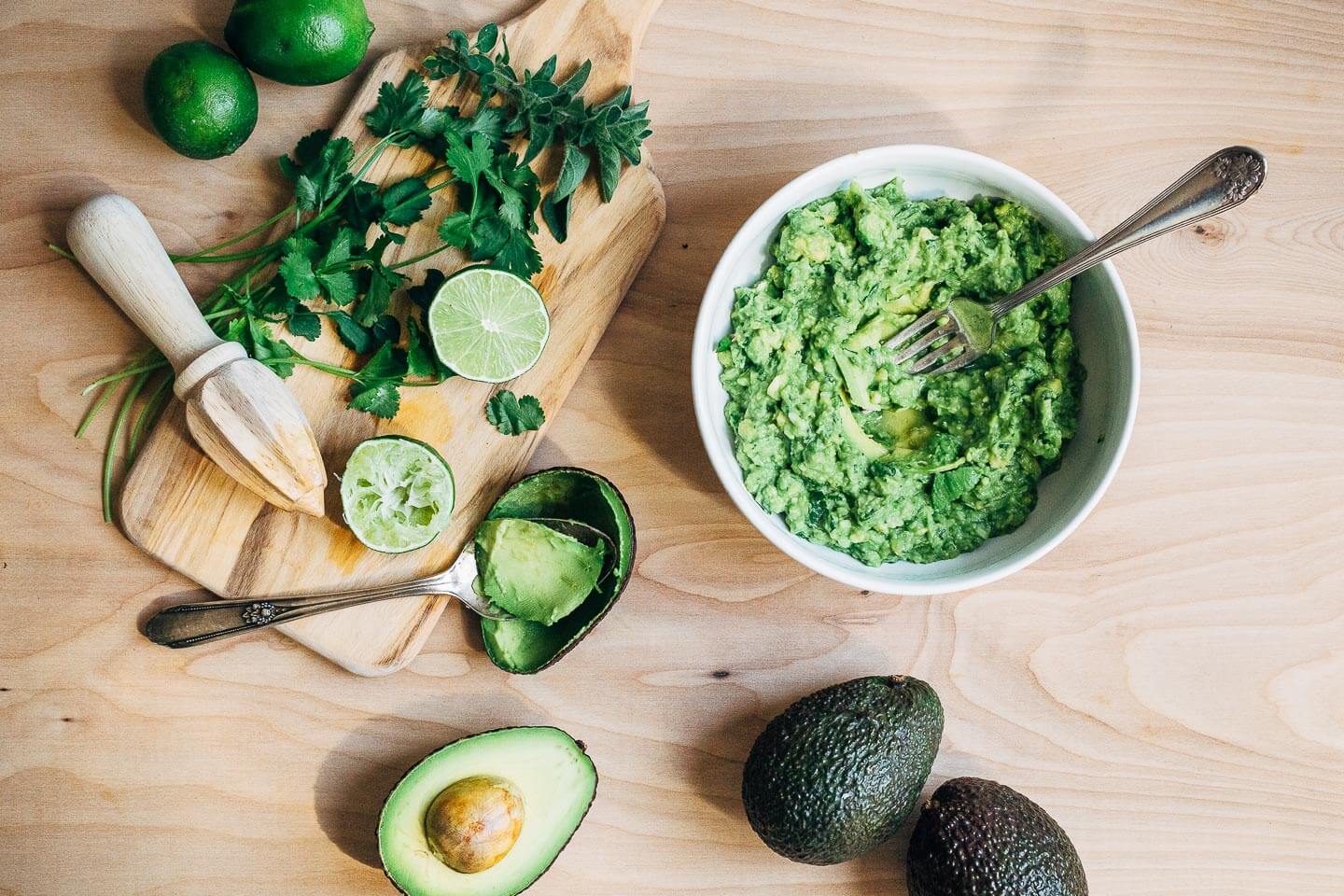 With good weather and a little bit of free time, we've been able to see friends and enjoy this gorgeous spring. Our evenings have been all low-key cookouts and dinners at home with friends. To get the most of these relaxing times, we're keeping things simple with easy recipes and old favorites. So, carnitas tacos have been on the menu a lot lately. They're easy and familiar and are wonderful for combining all the great regional spring ingredients like locally raised, pastured heritage pork, spring onions, red cabbage, and radishes, with those from farther afield like limes and perfectly ripe avocados from Mexico.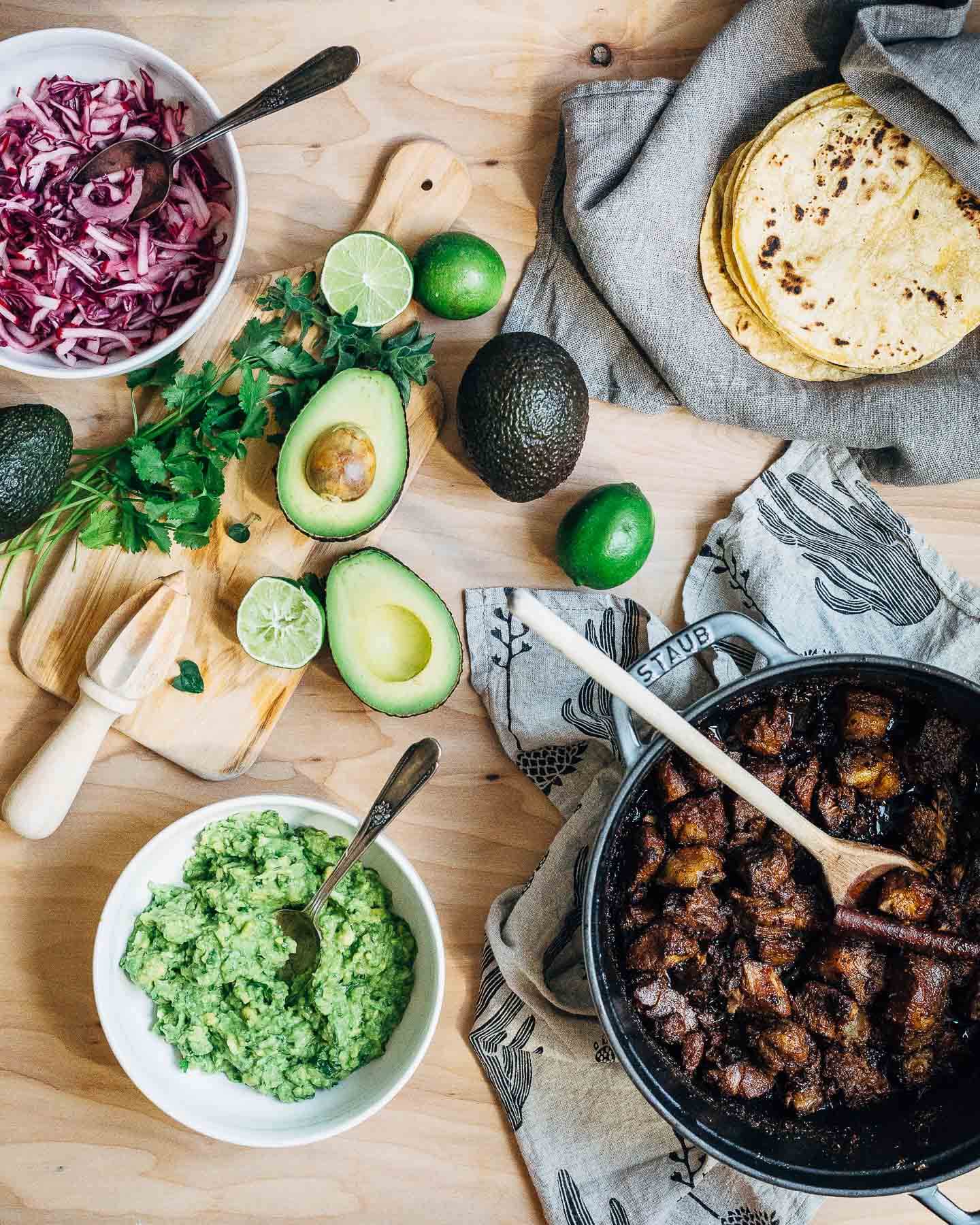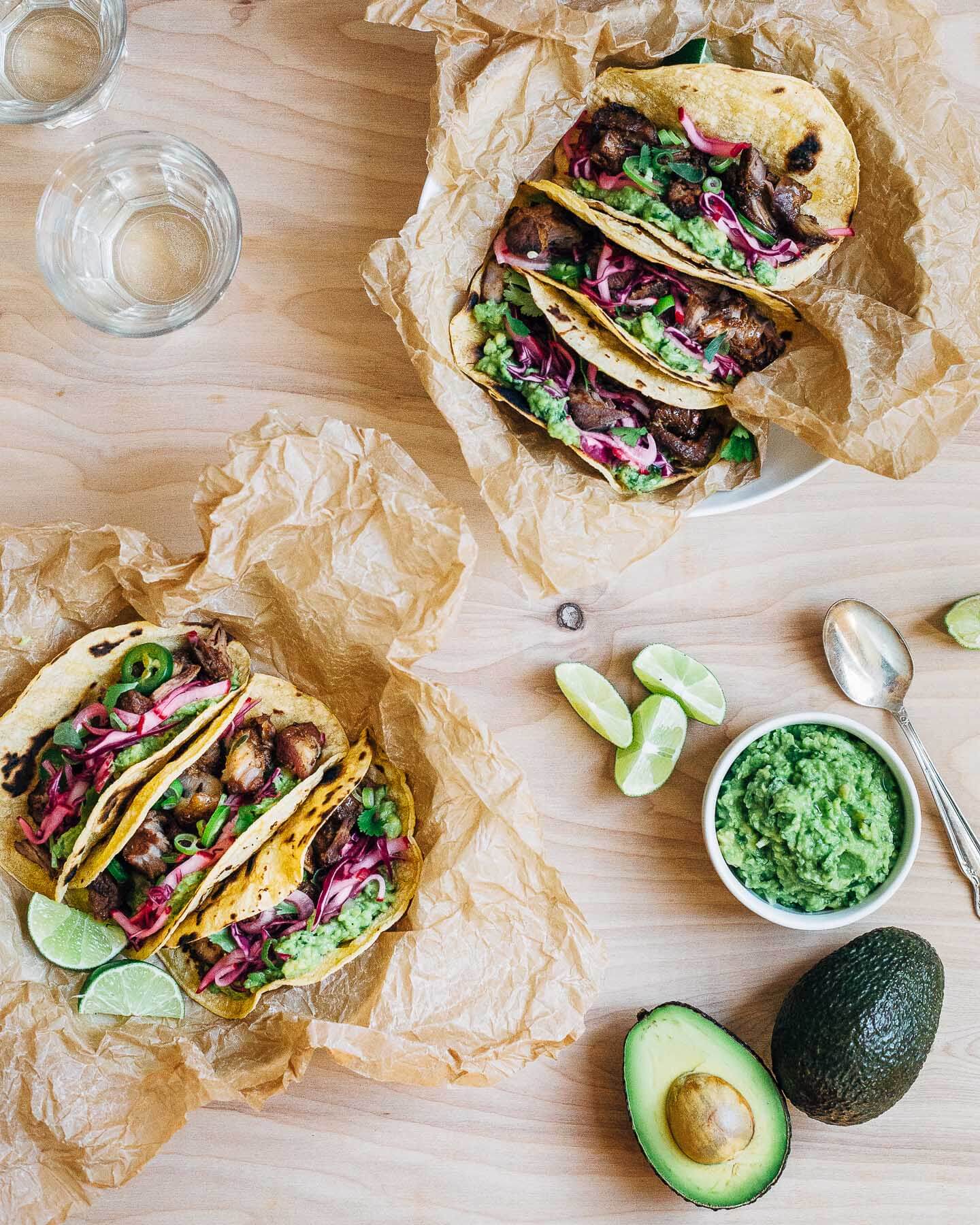 Although avocados find many uses in my kitchen, my favorite way to use them is in a simple guacamole. It just takes a hint of sea salt, lime, jalapeño, onion, and cilantro to make fresh avocados sing. To complement the guacamole, I made a batch of clementine and cinnamon-infused carnitas tacos with a quick and easy red cabbage and radish slaw. Though carnitas take a few hours to cook up, they reheat beautifully, making these carnitas tacos an ideal meal for a relaxed gathering.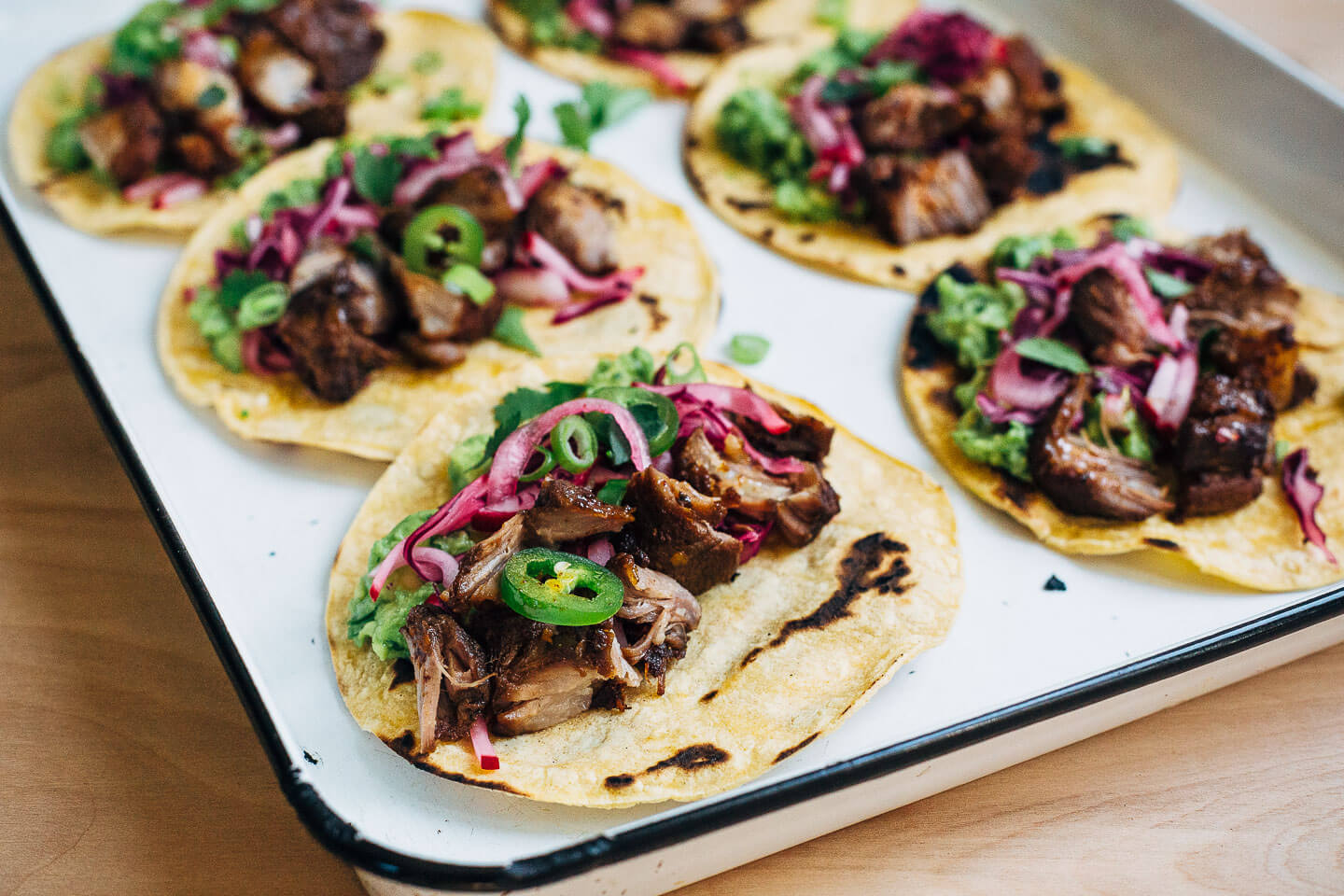 To ensure buttery ripe avocados every time, I buy firm avocados one to two days ahead and ripen them in a sealed paper bag with a banana (it sounds weird, but you can't argue with the results). Check daily, and use as soon as avocados yield slightly to the touch.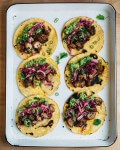 Clementine-Cinnamon Carnitas Tacos with Guacamole
A recipe for tender carnitas tacos infused with clementine and cinnamon served up with a simple guacamole, and red cabbage and radish slaw.
Ingredients
For the Carnitas
2

pounds

pork shoulder,

fat trimmed and cut into 1-inch chunks

1/4

cup

lard,

bacon fat, or vegetable oil

1

yellow onion

minced

5

cloves

garlic

2

tablespoons

minced dried ancho chili pepper

1

tablespoon

chili powder

1

tablespoon

minced fresh oregano leaves

2

clementines,

halved with any visible seeds removed

2

bay leaves

1

stick cinnamon

1

teaspoon

sea salt,

plus more to taste

water
For the Guacamole
2

ripe Avocados From Mexico,

halved and pitted

1/4

cup

minced salad onion or yellow onion

1/4

cup

minced cilantro

juice of 1 small lime

plus more to taste

1

tablespoon

minced and deseeded jalapeño

1

teaspoon

minced fresh oregano leaves

sea salt to taste
For the Slaw
2

cups

shredded or very thinly sliced red cabbage

1

cup

radish matchsticks

1/2

cup

thinly sliced salad onion or yellow onion

1 - 2

tablespoons

freshly squeezed lime juice

1/4

teaspoon

crush cumin seed

pinch sea salt,

plus more to taste
For the Tacos
12

corn tortillas

sliced jalapeno

sliced green onion

cilantro leaves

lime wedges
Instructions
To make the carnitas, combine all carnitas ingredients except water in a small Dutch oven or pot. Fill with enough cold water to barely cover the ingredients. Bring mixture to boil and then turn down to medium-low/medium for a bubbling simmer. Cook, stirring often, 1 1/2 - 2 hours, or until pork is very tender. Towards the end of cook time, the liquid will cook off and the meat will begin to fry in its fat. Keep a close eye and stir often. If meat starts to burn at all, add a bit more water; otherwise, cook until pork has crisp, browned edges.

Just before serving, pork can be shredded with a fork, but I prefer to break the meat into bite-sized bits.

For the slaw, toss to combine red cabbage and radishes. Add 1 tablespoon lime juice, a pinch of sea salt, and cumin. Toss, and set aside. Just before serving, taste, and add lime juice or sea salt as needed.

Towards the end of the pork cook time, scoop out avocado flesh, set in a large bowl, and mash with a fork. Fold in onion, jalapeño, cilantro, lime, and sea salt. Taste, and adjust lime or sea salt as needed.

Warm corn tortillas in a hot oven or skillet. Add several tablespoons each of guacamole and carnitas, and a small bit of slaw. Finish with sliced jalapeño, green onions, and cilantro leaves. Serve tacos with several lime wedges.
Disclosure: This post is sponsored by Avocados From Mexico. Thanks for supporting the brands that make Brooklyn Supper possible!