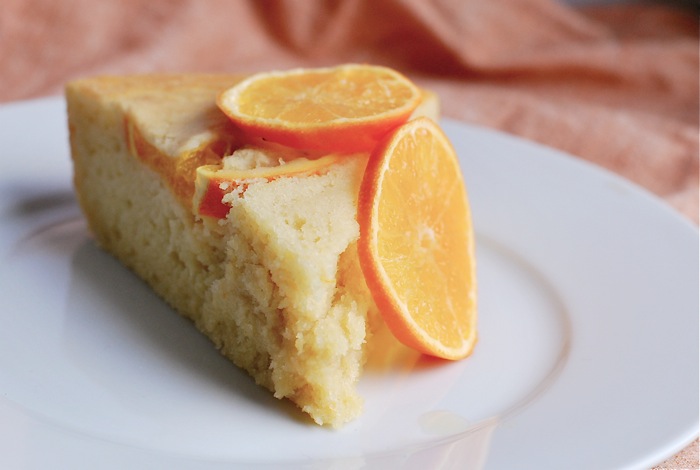 With an upcoming exhibition of my paintings looming, I headed home from the studio late on New Year's Eve. The streets were oddly quiet for a Saturday evening, though the air was somehow supercharged with anticipation. Though I've long loved dressing up and singing "Auld Lang Syne" with something sparkly in my glass, New Year's Eve babysitters are hard to come by in the city, so this year we planned to celebrate at home. 
Brian had set to work making a beautiful roast, and, since it would be one of the first New Year's that our oldest daughter really remembered, I made a cake. We lit candles, and enjoyed a relaxed family dinner.
After dinner, we toasted with wine and water to a great year ahead, and then dug in to this clementine olive oil cake. Quick and easy to make, and with a light, tangy crumb, this cake's a dream. I've made other versions before (see the basic recipe here), and continue to be impressed with it's unending adaptability. I served the cake as is, but if you'd like to sweeten things up, douse the warm cake with a quick clementine syrup –to make, dissolve 1/2 cup sugar in 1/3 cup clementine juice.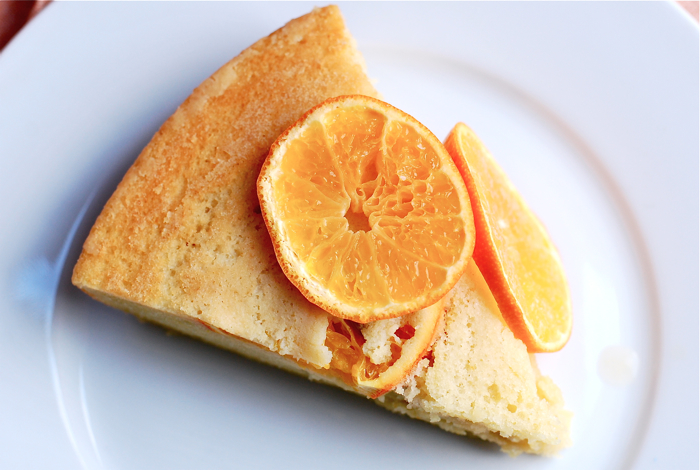 I added whole citrus slices to the cake and loved the tangy bites they lent–go ahead and eat them. Since this recipe does call for eating more of the skin, do try and source organic clementines.
Clementine Olive Oil Cake
for the cake
1 1/2 cups all-purpose flour
2 teaspoons baking powder
1 teaspoon sea salt
1 cup plain yogurt
3/4 cup sugar
3 eggs
zest of 1 tangerine
1/2 teaspoon vanilla extract
1/2 cup olive oil
1 clementine, sliced thin and seeds removed
optional glaze
1/2 cup sugar
1/3 cup clementine juice
Preheat the oven to 350 degrees. Grease and flour a 9″ cake pan, and set aside.
In a medium bowl combine the flour, baking powder and salt, and set aside. In a large bowl, or the bowl for your mixer (in this case use the paddle attachment), combine the yogurt, 3/4 cup of the sugar, the eggs, zest, and vanilla. Either stir in, or with your mixer on low, add the flour mixture a little at a time. When the ingredients are fully combined, slowly fold in the oil.
Pour a small amount of batter into the cake pan, and spread around. press the clementine slices into the batter, and then pour all of the remaining batter in, and cook 35 – 40 minutes, until a toothpick inserted into the middle comes out clean, and the top of the cake is just golden. Set the pan on a wire rack and cool for twenty minutes.
If making the glaze, combine the 1/2 cup sugar and 1/3 cup clementine juice in a small sauce pan over medium heat. Stir until the sugar has dissolved and set aside.
Carefully flip the cake onto a large plate (and drizzle with the glaze if using). Cool for at least 20 minutes. Serve with fresh clementine slices.